GPU-ACCELERATED NAMD
The fastest, easiest way to improve simulations performance by up to 7x.

NAMD Benchmark Datasets
This section demonstrates GPU acceleration for selected datasets. Note that you may need to update the input files to reduce the output energy/timing frequency. The benchmarks are listed in increasing number of atoms order. It is recommended to run large test cases like STMV on systems with multiple GPUs.
APOA1
Apolipoprotein A1 (ApoA1) is the major protein component of high-density lipoprotein (HDL) in the bloodstream and plays a specific role in lipid metabolism. The ApoA1 benchmark consists of 92,224 atoms and has been a standard NAMD cross-platform benchmark for years.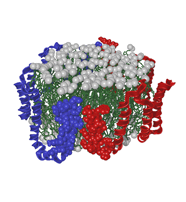 ATPase
ATP synthase is an enzyme that synthesizes adenosine triphosphate (ATP), the common molecular energy unit in cells. The F1-ATPase benchmark is a model of the F1 subunit of ATP synthase.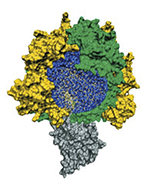 STMV
Satellite Tobacco Mosaic Virus (STMV ) is a small, icosahedral plant virus that worsens the symptoms of infection by Tobacco Mosaic Virus (TMV). SMTV is an excellent candidate for research in molecular dynamics because it is relatively small for a virus and is on the medium to high end of what is feasible to simulate using traditional molecular dynamics in a workstation or a small server.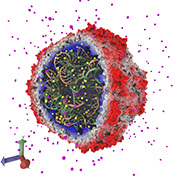 Reading the Output
The figure of merit is "ns/day" (the higher the better) but is printed in the log as "days/ns" (the lower the better). Note that most molecular dynamics users focus on "ns/day", the inverted value of "days/ns". It is recommended to take the average of all occurrences of this value for benchmarking purposes; the frequency of the output can be controlled in the corresponding *.namd input file. Due to initial load balancing the "Initial time:" outputs should be neglected in favor of the later "Benchmark time:" outputs.
Expected Performance Results
See the reference results below for different system configurations with dual-socket CPU and NVIDIA Tesla boards for 1 to 4 nodes connected with 4xEDR InfiniBand.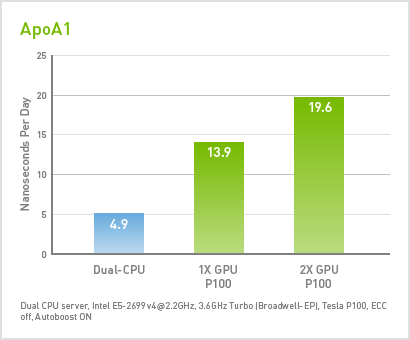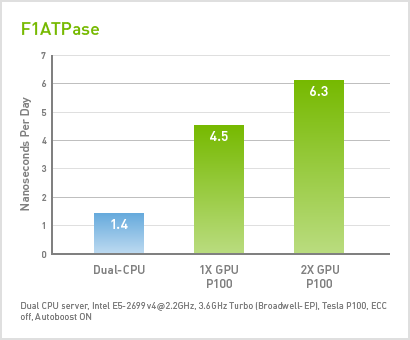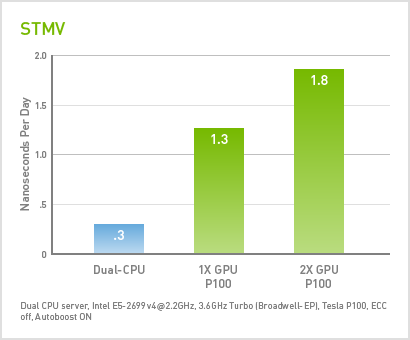 Create your ideal solution.