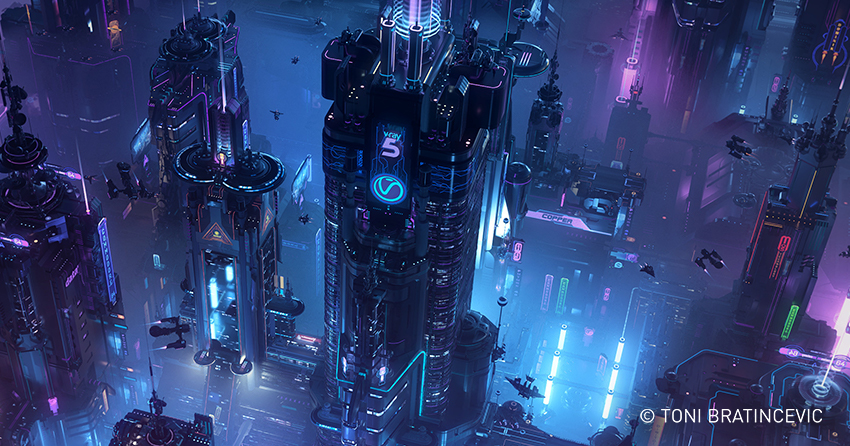 It's a big month for RTX-powered content creation, with the release of many RTX-accelerated app updates from Adobe, Autodesk, Blender, Chaos and Corel; plus a big update for the DirectX 12 API from Microsoft. Today, we released a new NVIDIA Studio Driver that provides the best performance and reliability for content creators working with these new app and OS updates.
DirectX 12 Ultimate Defines Next Generation 3D Graphics
In 2018, NVIDIA RTX graphics cards launched with numerous "world's first" graphics technologies: hardware-accelerated ray tracing, variable rate shading, mesh shading and more.
These technologies represent the biggest leap in graphics since the invention of programmable shaders in 2002, bringing real-time, cinema-quality reflections, shadows, and lighting to both games and 3D content creation tools.
Microsoft recently began rolling out the DirectX 12 Ultimate graphics API alongside the Windows 10 Version 2004 update, codifying NVIDIA RTX's innovative technologies as the standard for multi-platform, next-generation 3D graphics.
With the new NVIDIA Studio Driver, DirectX 12 Ultimate is fully supported on RTX GPUs running Windows 10 operating systems using version 2004 or newer.
For further details on the ray tracing, variable rate shading, mesh shading and sampler feedback technologies in DirectX 12 Ultimate, head on over to this in-depth article.
The Studio driver also brings support for another new capability in Windows 10 Version 2004 update — hardware-accelerated GPU scheduling. This feature lets the GPU directly manage its video memory, enabling improved performance and lower latency in certain 3D and video applications.
RTX-Accelerated Creative Apps
The new Studio driver is validated against the latest GPU-accelerated creative app releases including Chaos V-Ray 5, Corel Painter 2021, Adobe Premiere Pro, Adobe Substance Alchemist and Blender Cycles.
Chaos V-Ray 5
Chaos Group just released V-Ray 5 for Autodesk 3ds Max, with support for out-of-core geometry for rendering using NVIDIA CUDA to improve performance for artists and designers working with large scenes that aren't able to fit into the GPU's memory — and a host of new GPU-accelerated features for lighting, materials and colour management that include:
LightMix - to freely experiment with lighting changes after you render, save out permutations, and push back improvements you'd like to have in your scene.
Light Path Expressions - to make customer render elements using the physical behavior of light.
Sun & Sky model - for adding the subtleties of twilight when the sun is near the horizon.
Layer Compositing - to fine-tune and finish your images directly in the V-Ray frame buffer — without the need for a separate post-processing app.
Expanded Materials - including Coat and Sheen layers in V-Ray Material, multiple texture randomising options, and new V-Ray Dirt weathering abilities.
ACEScg support - for the most demanding colour management needs.
V-Ray GPU 5 adds a number of features that were previously only available on the CPU-only version, including 2D Displacement, OSL patterns, Phoenix Particle Shader, tyFlow support, improved shadow catching, and IBL ground projection.
Corel Painter 2021
The newly released Corel Painter 2021 brings a whole suite of updates to artists including double the number of GPU-accelerated brush engines than in Painter 2020. Corel Painter is now up to 15x faster on a GeForce RTX 2080 Ti than a desktop CPU, allowing you to paint with smooth stutter-free brushes.
Adobe Premiere Pro
With the new Adobe Premiere Pro 14.2 update, video creators gain massive time-savings with new GPU-accelerated encoding. Adobe and NVIDIA have optimised Premiere Pro for the built-in NVIDIA hardware encoder on NVIDIA Quadro and GeForce GPUs with staggering results. Editors can now export high-resolution videos up to 5x faster when using popular H.264 or H.265 / HEVC codecs. Less time exporting means more time for editing content and quicker turnarounds on projects.
Adobe Substance Alchemist
Substance Alchemist, Adobe's newest material creation tool, received a recent AI upgrade. Their Image to Material feature allows artists to capture a photo of real-world surfaces and create textures for 3D that can be used in content creation. When run on NVIDIA RTX GPUs, the tool leverages an AI algorithm that recognises shapes and objects in a photograph. It automatically generates a higher quality, accurate texture map that includes base colour, height and normal, allowing artists to focus on creativity instead of time-consuming map refinement.
Blender Cycles
Released earlier this month, Blender 2.83 gives artists the power of AI when denoising — a process that predicts final images from partially rendered results — while they're designing in the viewport. This allows users to explore new ideas and quickly iterate on design choices with full confidence in how it will turn out. It's one of many recent game-changing advancements in Blender that RTX acceleration brings to 3D artists and designers.
Even More Performance
Tested across RTX GPUs running Windows 19H2, the latest driver provides up to 18% increase in creative performance. A few examples can be seen below.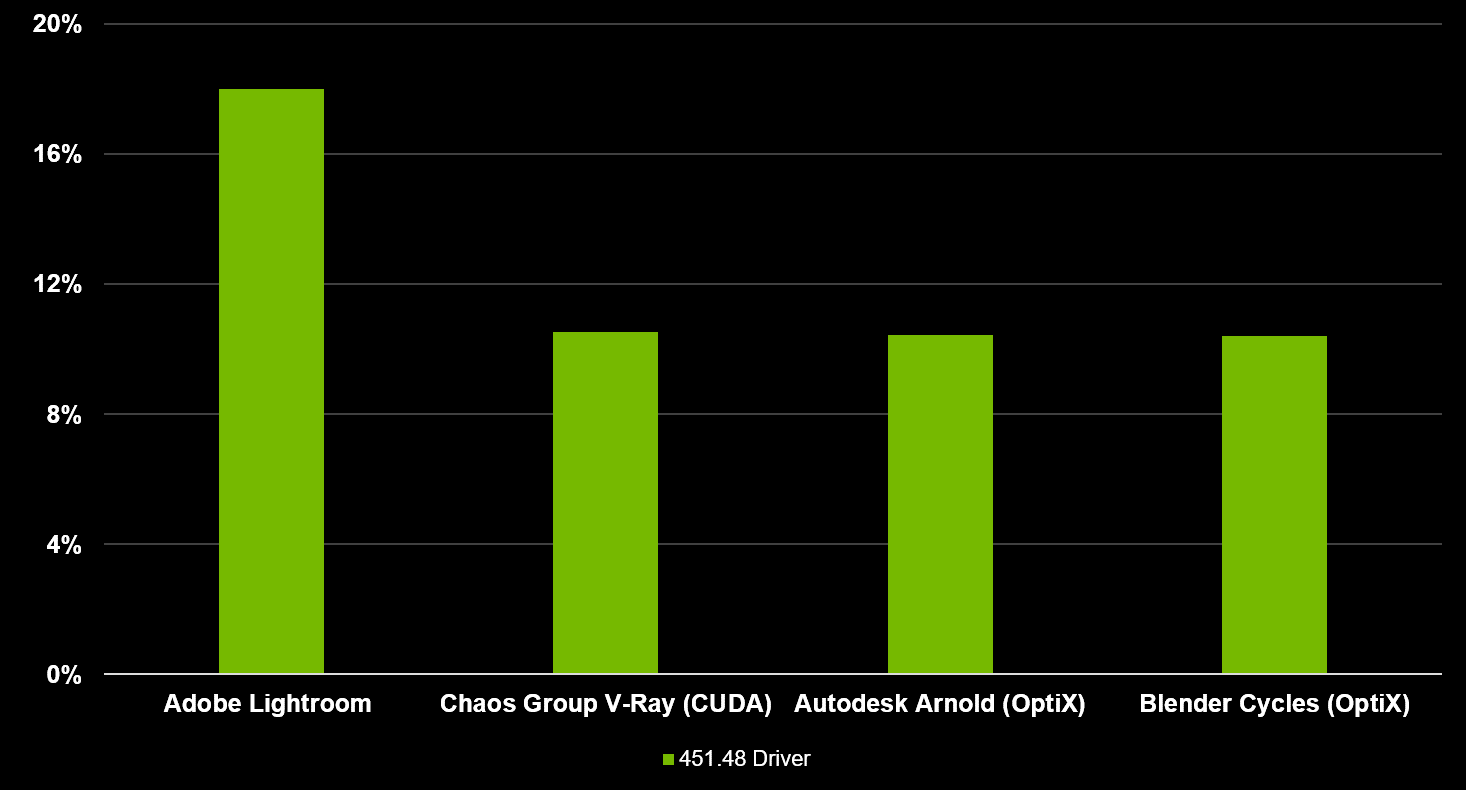 New RTX Studio Laptops Available Now
Looking for a laptop that can handle the latest RTX-accelerated creative apps? There are some great new options available:
Dell XPS 17 was designed to handle intensive creative projects, gaming and VR with up to GeForce RTX 2060 graphics. Packing this much performance into an RTX Studio laptop of this size required engineering ingenuity to keep the system running smoothly. Under the hood is a brand new proprietary thermal design that provides more overall airflow and higher sustained performance to fuel the most demanding projects. It's also accelerated by NVIDIA Studio Drivers and features up to 19 hours of battery life.
HP recently released the ENVY 15 RTX Studio laptop that can be configured with up to a GeForce RTX 2060 GPU for the ultimate in creator performance featuring an all-aluminum chassis with 82.8 percent screen-to-body ratio, up to a 4K OLED VESA DisplayHDR 400 True Black display with touch interface display, 10th gen Intel processors, and gaming-class thermals.
Check out the full catalog of RTX Studio laptops here.
Stay Up-to-Date with NVIDIA Studio
To get the latest performance optimisations and support for the new July creative app updates, download the new Studio Driver (release 451.48) today through GeForce Experience or from the driver download page. Studio Drivers are built specifically for creators and tested extensively against top creative apps and workflows.
You can also stay up to date on the latest apps through NVIDIA's new Studio YouTube channel, featuring tutorials, tips, and tricks by industry-leading artists.