The GeForce RTX 3090 is not only the world's fastest graphics card, but also the world's first to connect, play, capture, and watch games at 8K HDR.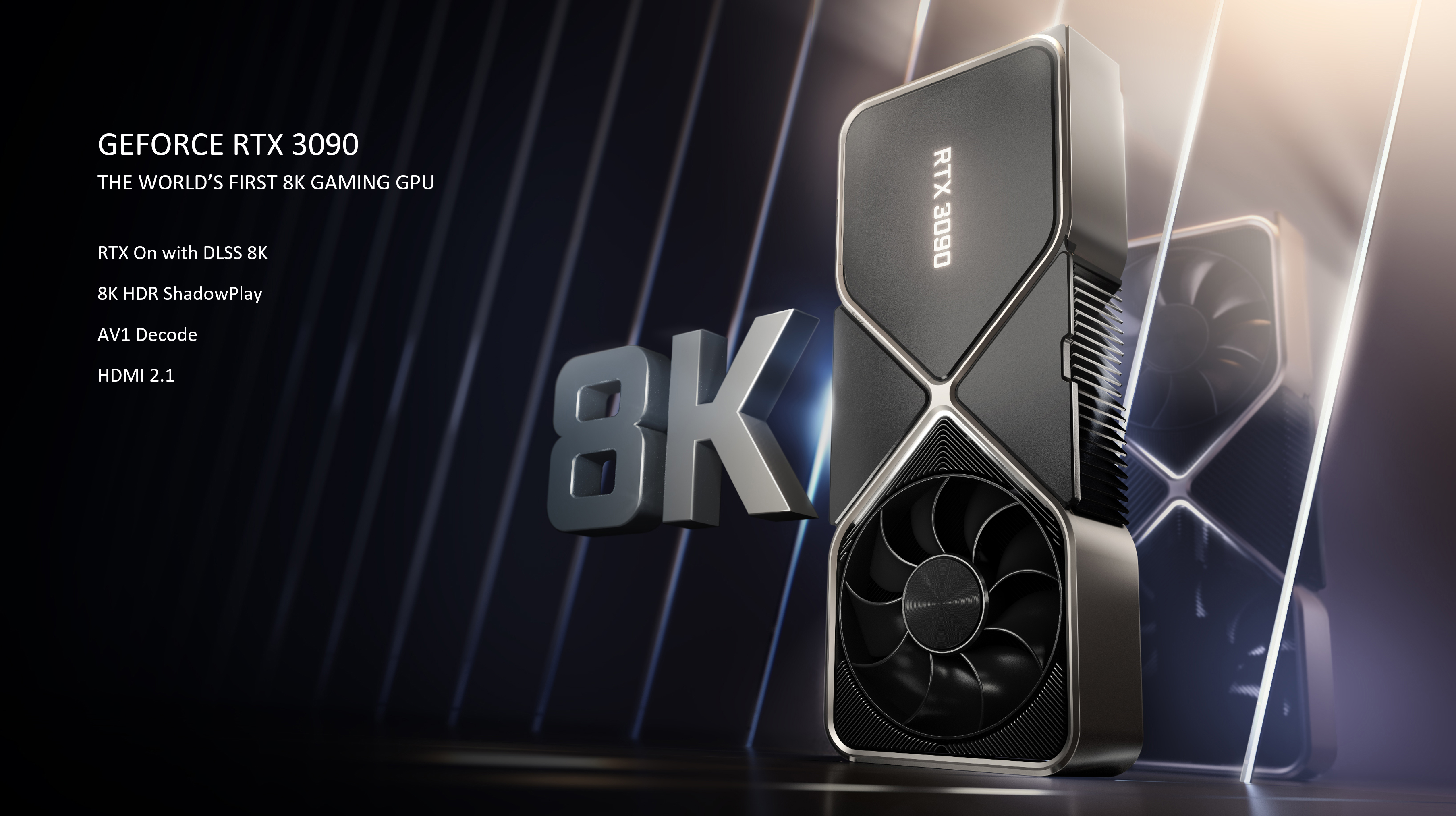 Why Game At 8K?
Visual effects continually improve, and with each generation developers add more polygons, physics, and shaders to make virtual worlds ever more impressive. But if those worlds are viewed at lower resolutions, like 720p and 1080p, detail will be muddy, edges will be aliased, and distant features blurry, decreasing realism and immersion.
By increasing the resolution, more detail is rendered, everything is clearer and sharper, effects are more impressive, anti-aliasing is vastly improved, distant scenes are more visible, and in general, you'll be more immersed in the action. And now, at 8K, detail is so crisp and clear that we can discern individual bricks and blades of grass, distant game elements are instantly recognizable, and from behind the shoulder of your player character, individual hairs, stitching on clothes and wrinkles on skin are appreciable.
8K displays run at 7680x4320, giving them a total of 33 million pixels, in comparison to 2 million at 1080p, and 8 million at 4K. So if you thought the leap from 1080p to 4K was impressive, just wait until you see 8K. With many more pixels per inch of screen real estate, 8K enables you to view your games with unprecedented detail and clarity, and with high-quality HDR the experience will take your breath away.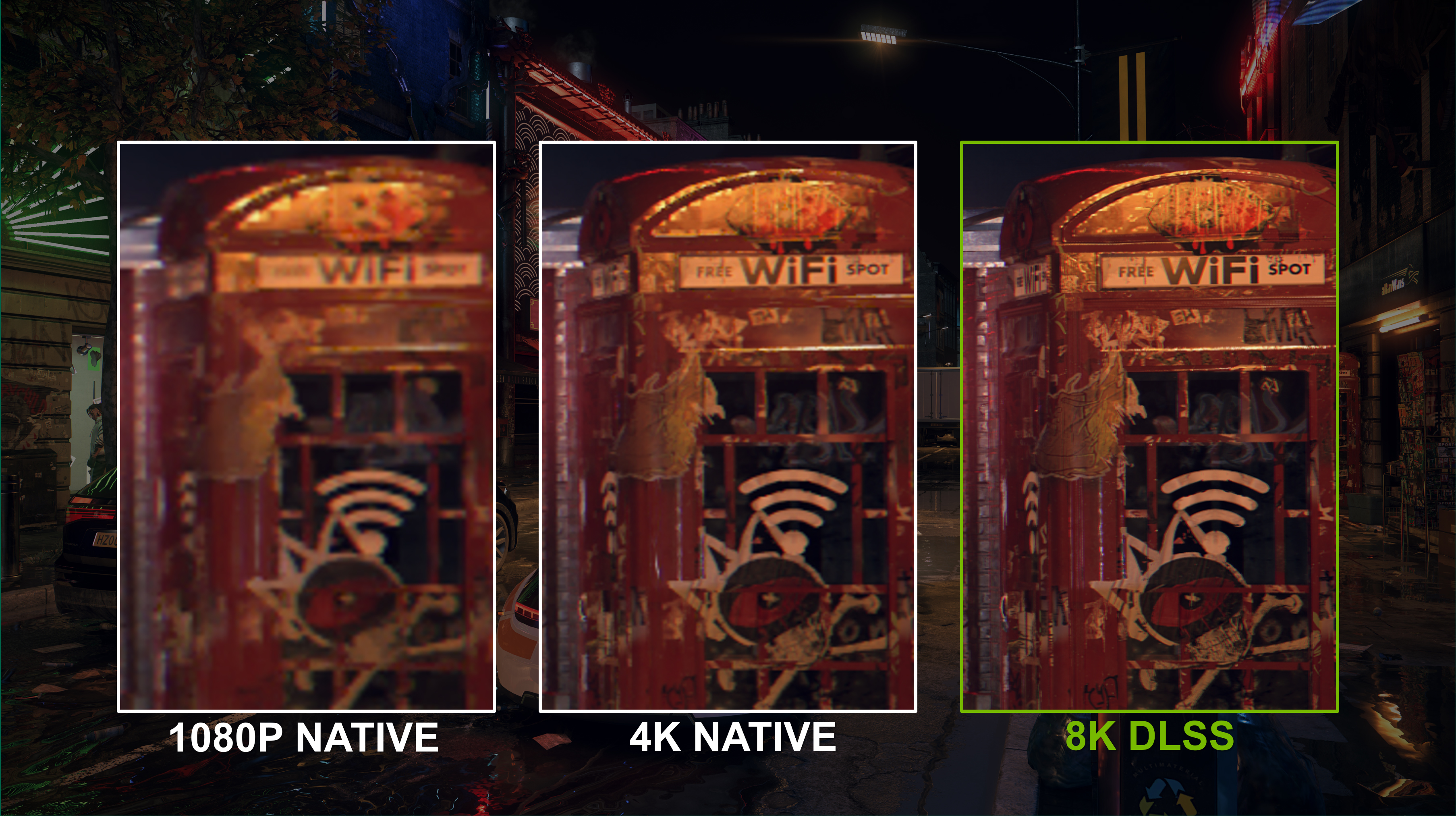 Download: 8K DLSS Screenshot, 4K Screenshot, 1K Screenshot
The Challenges of 8K HDR Gaming
8K HDR TVs are available today from manufacturers including LG, Samsung, and Sony, starting at around $2999, but there hasn't been a PC truly ready to power one. Try to game today at 8K on prior generation hardware, and you'll quickly run into a multitude of challenges:
Demanding Pixel Counts: 8K requires your GPU to draw 4 times as many pixels as 4K (3840x2160), and 16 times as many as Full HD (1920x1080). It also demands a significant amount of video memory (VRAM) to load assets and game data.
Complex Setup: Using previous-gen HDMI 2.0 and Displayport 1.4a standards, 8K HDR gaming requires multiple cables and display outputs due to higher display bandwidth requirements.
Difficulty in Capturing and Watching Video at 8K HDR: Recording 8K HDR is challenging due to the sheer number of pixels, and typically requires a dedicated, professional capture card such as the DeckLink 8K Pro. And watching 8K content using today's H.265 and VP9 codecs is bandwidth intensive, resulting in increased buffering and loading times.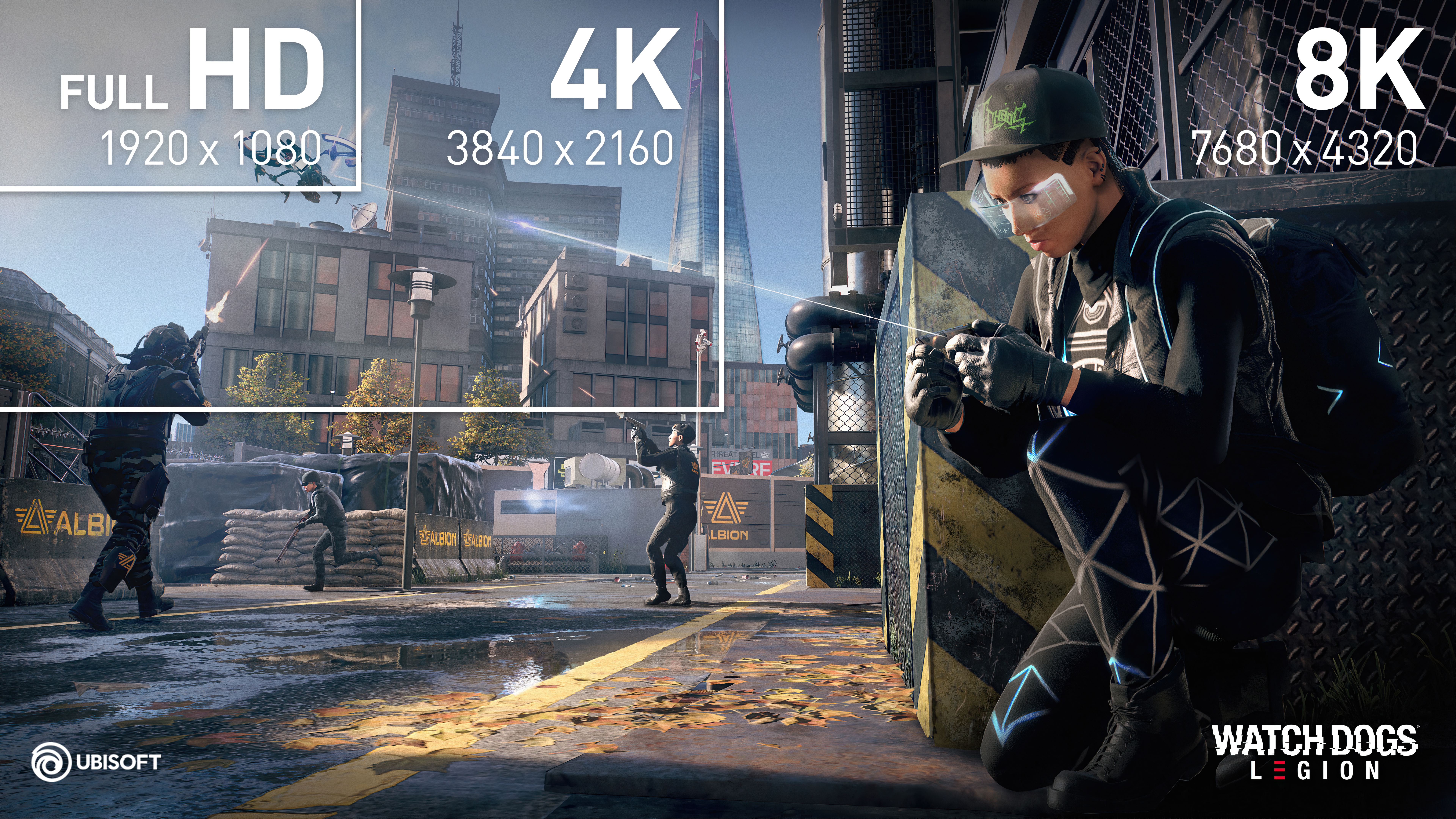 GeForce RTX 3090 Makes 8K HDR Possible
To solve the challenges of 8K HDR gameplay, capture, and playback, NVIDIA has developed a suite of new capabilities and technologies, delivered with the GeForce RTX 3090.
Highest Levels of Performance
The GeForce RTX 3090 is the world's most powerful GPU. It delivers a big leap in performance relative to the prior generation-champ, the GeForce RTX 2080 Ti, giving you the necessary horsepower to tackle high-fidelity games at 8K.
It's also got over 2x the graphics memory of prior generation GPUs, with24GB of cutting-edge GDDR6X, required for the large, high-fidelity game assets used at 8K. GDDR6X also features innovative PAM4 signal transmission technology to double the data rate, delivering unprecedented graphics memory performance to feed data-hungry workloads such as 8K gaming, ensuring assets are loaded and displayed without delay.
NVIDIA DLSS 8K: Ultra Performance Mode
NVIDIA DLSS is our groundbreaking AI rendering technology that boosts frame rates while generating beautiful, crisp game images. For 8K gaming on the GeForce RTX 3090, we've created a new DLSS Ultra Performance mode that accelerates performance in supported games, including Boundary, Bright Memory: Infinite, Control, Death Stranding, Justice, Minecraft with RTX Beta for Windows 10, Ready or Not, Scavengers, Watch Dogs Legion, and Wolfenstein: Youngblood.
The Ultra Performance mode uses a newly trained AI super resolution model, purpose-built for 8K, that offers image quality comparable to native resolution, while rendering only one ninth of the pixels. In supported titles, users will now have up to 4 DLSS image quality modes --Quality, Balanced, Performance, and Ultra Performance-- for even more user choice, and even bigger performance boosts.
The combination of GeForce RTX 3090's graphics horsepower and DLSS's Ultra Performance mode enables smooth 8K gameplay across a host of both ray traced and non-ray traced games:
First GPU with HDMI 2.1
GeForce RTX 30 Series GPUs are the first available to feature HDMI 2.1 support, for single cable output on 8K HDR TVs. This is critical for 8K HDR 60 FPS gaming since you need at least 71.66 Gbps before compression. This was not possible on TVs using HDMI 2.0b.
Previous generation GPUs had HDMI 2.0b (18.1 Gbps) or DisplayPort 1.4a (32.4 Gbps), so an 8K TV would require 4 HDMI 2.0 cables, or a specialized DP-to-HDMI 2.1 converter, making setup more complex and expensive. Now, one HDMI 2.1 cable simplifies connection for 8K HDR gaming.
Record Gameplay At 8K HDR
GeForce Experience updates will enable NVIDIA ShadowPlay to record gameplay at up to 8K 30 FPS, and support HDR capture at all resolutions, so you no longer need to buy a separate and expensive capture card for 8K HDR. These videos can be uploaded right to YouTube from within GeForce Experience, or edited in apps such as Adobe Premiere Pro and Davinci Resolve.
Check out an 8K gaming video with personalities Adam Sessler, Tim Gettys, Alex Cortez and Tatted Poodle, recorded by ShadowPlay, below:
AV1 Decoding For More Efficient Streaming Video Playback
GeForce RTX 30 Series GPUs are the first discrete GPUs to support hardware-accelerated AV1 decoding. More efficient than existing H264, H265 and VP9 codecs, AV1 reduces the bandwidth required to stream high resolution video by up to 50%, making it ideal for the next generation of 4K, 8K and 8K HDR YouTube videos.
LG OLED Real 8K G-SYNC Compatible TVs
NVIDIA is working closely with all leading manufacturers to ensure a great experience with the GeForce RTX 3090. In particular, NVIDIA has partnered with LG to elevate 8K gaming with the release of G-SYNC Compatible LG OLED Real 8K TVs. These TVs feature over 100 million self-lit pixels to produce the deepest, darkest backgrounds, and the brightest highlights for unparalleled clarity.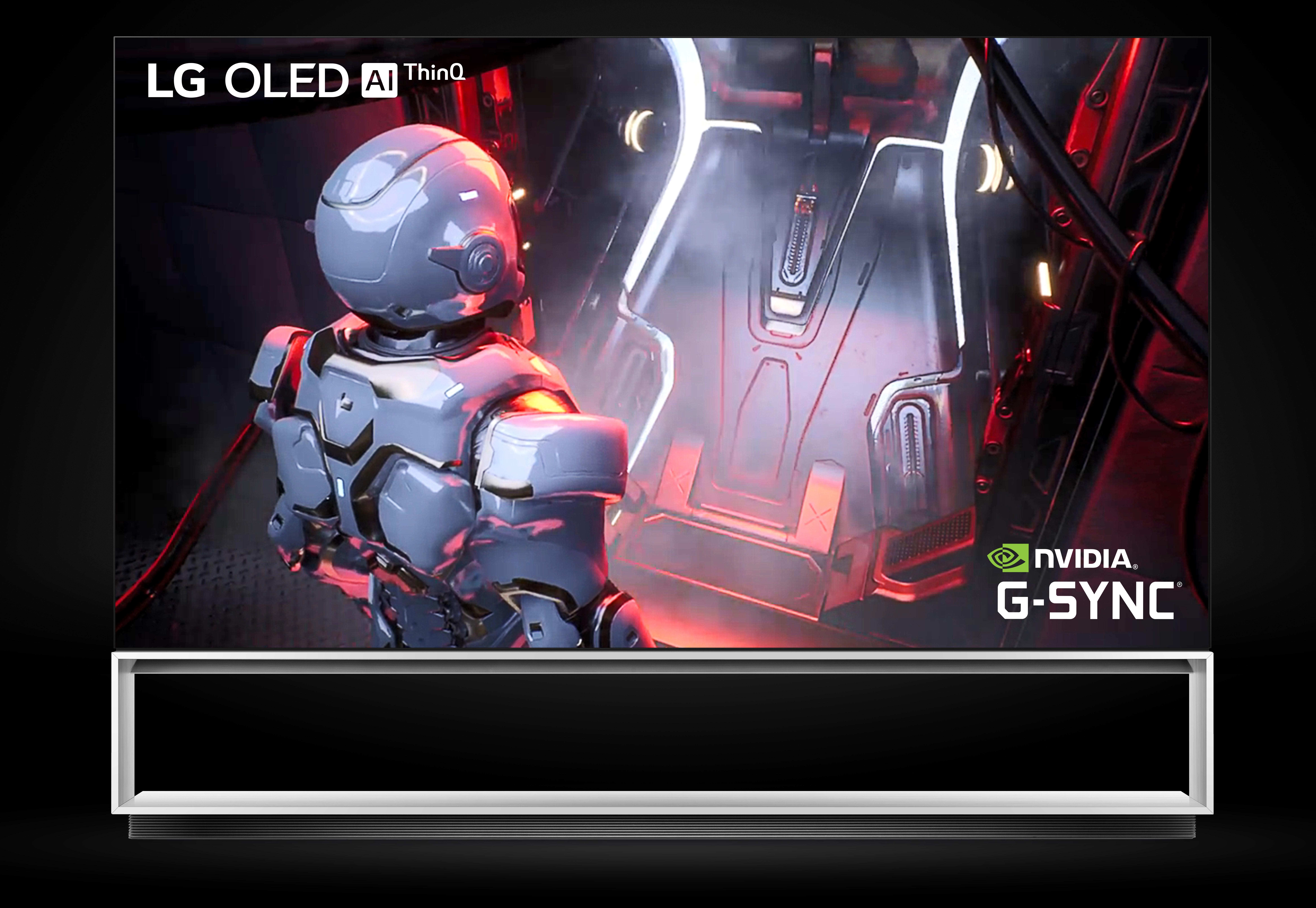 Together with LG's 1ms response time, LG's low latency technologies, and NVIDIA's G-SYNC Compatible technology, LG OLED Real 8K TVs deliver the clearest and most responsive 8K game experiences we've seen to date, which is why we've used them to demonstrate 8K PC gaming.
GeForce RTX 3090: The World's First 8K GPU - Play, Capture, and Watch
For gaming, capture and playback, the GeForce RTX 3090 offers the ultimate 8K HDR experience. Gaming is AI-accelerated with NVIDIA DLSS's new Ultra Performance mode; big-screen 8K TV experiences are possible with a single HDMI 2.1 cable; capturing and sharing 8K HDR content is easier with GeForce Experience; and YouTube 8K HDR playback is faster and more efficient with support for AV1.
Head over to our GeForce RTX 3090 product page to learn more, and to purchase the world's fastest and most advanced 8K-Ready GPU when it's released on September 24th.