Beginning November 4, the 2019 edition of the annual Adobe MAX conference kicks-off, ushering in the latest iterations of Adobe's creative applications.
Available just in time for the latest releases at Adobe MAX, our new NVIDIA Studio Driver provides optimal support for Adobe Dimension, Substance Alchemist, and Premiere Pro, continued stability testing and performance improvements for the most popular creative apps, plus some exciting new features.
RTX Rendering in Adobe Dimension
Adobe Dimension makes it easy and affordable for graphic designers and illustrators to step into 3D with stock assets, point-and-click materials and a powerful new NVIDIA RTX-accelerated ray-traced renderer. And it's all available to Creative Cloud users now.
Dimension makes 3D easy and accessible for graphic designers
Adobe Dimension taps into dedicated ray tracing processors on RTX GPUs to dramatically speed up rendering of 3D environments. This allows you to see dynamic lighting, beautiful reflections and soft shadows — all without the wait.
To turn on RTX Acceleration in Adobe Dimension: select the Render preview icon at the top right of the render preview window and select "Enable GPU Rendering". Then in the top navigation bar, click the "Edit" drop down menu and select "Preferences". Scroll down and ensure that "Reduce Noise in Rendering" is selected.
RTX AI Acceleration in Adobe's Substance Alchemist
Adobe is also releasing Substance Alchemist, a 3D tool that enables artists to create photorealistic textures. All you do is snap a photo of a surface, and the tool magically removes the lighting and shadows so that the texture can be relit in 3D. Just like that, you have a professional-grade texture.

With Substance Alchemist and RTX GPUs, creating new textures is as easy as 1, 2, 3
Substance Alchemist delighting uses deep learning AI that is turbocharged by NVIDIA RTX GPUs. Material creation that used to take an artist hours of painstaking masking and editing to remove lighting can now be done by AI in seconds.
GPU acceleration in Substance Alchemist is turned on by default on systems with NVIDIA GPUs. The RTX accelerated AI feature "Delighter" can be found in the filter list--simply press spacebar and type "Delighter" to find it. Other filters are accelerated by the GPU with CUDA.
New AI-powered Auto Reframe in Premiere Pro
The power of AI comes to video with Adobe's release of a new, GPU-accelerated AI feature in Adobe Premiere Pro called Auto Reframe. It uses Adobe Sensei AI to identify and track the most relevant elements in a video – be it a snowboarder or race car – and intelligently reframes video content for different aspect ratios. And with NVIDIA RTX GPUs, it's up to 400% faster than on CPUs.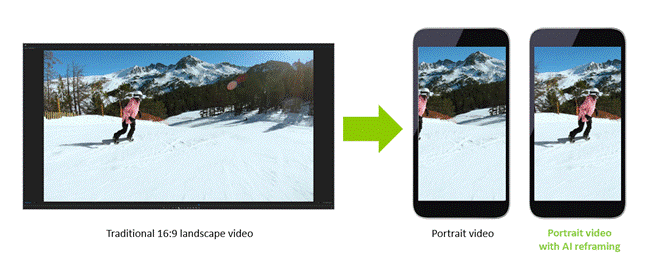 Auto Reframe uses AI to intelligently select the best vertical slice of each video frame
Automating this conversion is a big time-saver. Nearly 60 percent of the world's video is consumed on mobile phones — devices used overwhelmingly in portrait mode. Social media platforms from Facebook to Instagram to Snapchat are increasingly adopting portrait-aspect ratios for videos to increase engagement. Yet, the vast majority of video is still captured in traditional landscape perspective. With the new Auto Reframe tool, you can get your videos on social media faster than ever.
To use the GPU-accelerated AI feature "Auto Reframe", first load your media onto a timeline. Then from the "Sequence" menu, select "Auto Reframe Sequence" to automatically create a duplicate timeline and process all clips in the timeline with the Auto Reframe feature.
NVIDIA OptiX 7 for RTX Renderings
The latest NVIDIA Studio Driver adds support for OptiX 7, a powerful ray-tracing API that is being implemented by leading 3D renderers. The new OptiX 7 introduces a new lower-level API giving application developers direct control of memory and compilation. This means faster ray tracing, more ray tracing effects, and the fastest AI denoiser in production renderers. With this driver, you can test drive the latest ray traced renderers using OptiX 7 including the Blender Cycles 2.81 Alpha.
ReShade Filters In GeForce Experience
Game broadcasters and content creators can now easily tailor the look and feel of games with support for hundreds of Reshade post-process filters. With the new Studio Driver and latest version of GeForce Experience, a vast library of these filters can be utilized in over 650 games to add awesome post-process effects to your gameplay in real-time. To enable Reshade filters, read our guide here.

Customize the look of your games with ReShade Filters -- now accessible via GeForce Experience
A Boost in Creative Performance
But wait, there's even more! The Studio driver delivers up to 12 percent performance boosts in top creative apps, including Adobe Premiere Pro, Autodesk Arnold, Cinebench, and REDCINE-X PRO.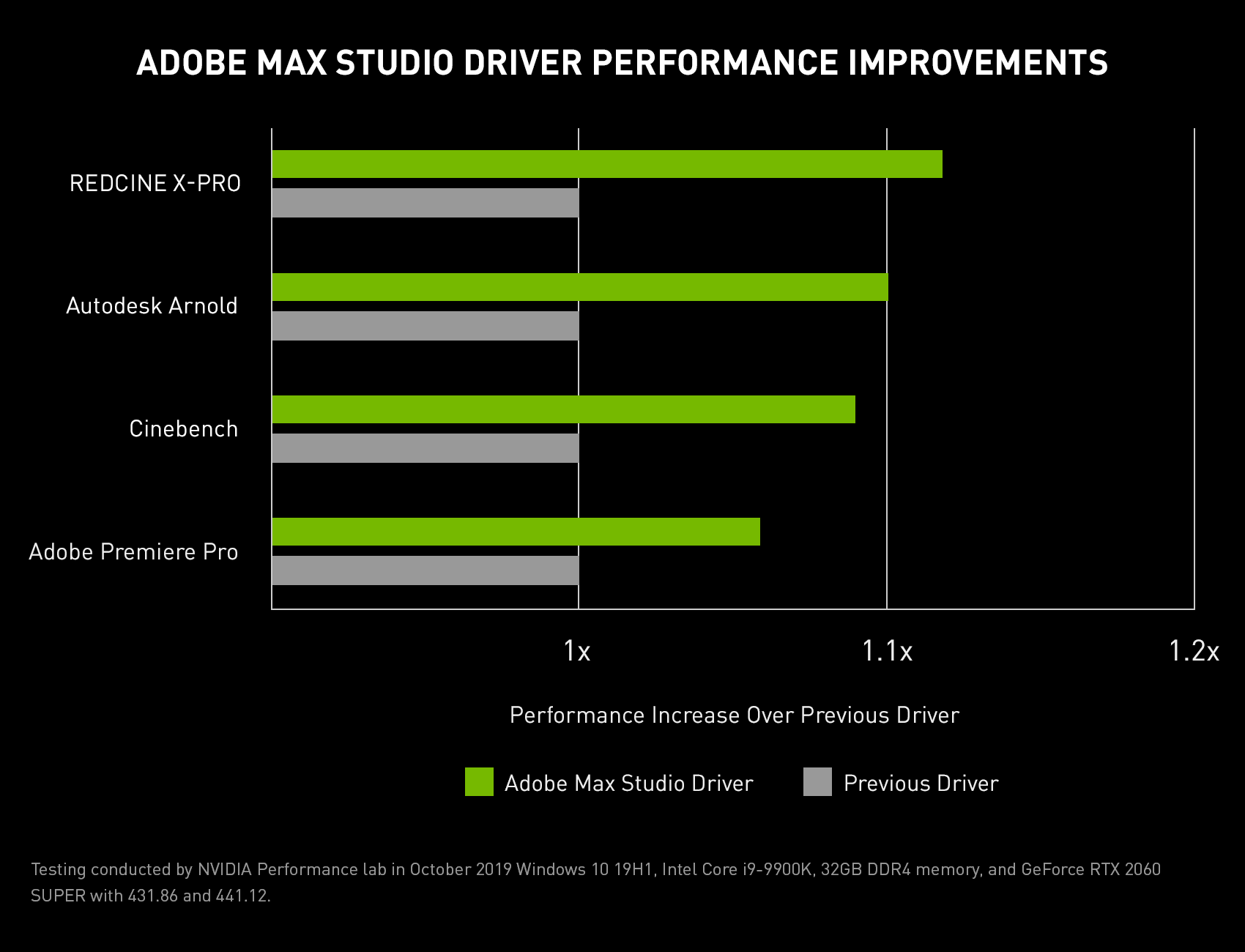 The latest NVIDIA Studio Driver delivers up to 12% increase in performance in top apps*
Learn more about how NVIDIA GPUs accelerate content creation and our new RTX Studio laptops, then download the latest Studio Driver and provide us your feedback on the NVIDIA forums.
*Performance Testing conducted by NVIDIA in October 2019 on Windows 10 19H1, Intel Core i9-9900K, 32GB DDR4 memory and GeForce RTX 2060 SUPER with 431.86 and 441.12 Studio drivers.