Our latest GeForce Game Ready driver delivers launch-day optimizations for BattlefieldTM V: Firestorm, as well as support for the launch of NVIDIA DLSS and NVIDIA Highlights in AnthemTM on March 26th, optimizations for NVIDIA DLSS and DXR Ray Tracing in Shadow of the Tomb RaiderTM, optimizations for Sekiro: Shadows Die Twice, support for G-SYNC Compatible NVIDIA Surround display configurations, and support for a pair of new G-SYNC Compatible gaming monitors.
To download and install, simply fire up GeForce Experience and click the "Drivers" tab.
Game Ready For Battlefield V: Firestorm
Firestorm, Battlefield V's battle royale, is available now. For the best possible experience, install our new Game Ready Driver, and for the competitive edge get a PC that matches or exceeds the speed of DICE's official competitive spec.
Game Ready For Anthem DLSS and Highlights
On March 26th, a new Anthem game update will be released, which includes support for NVIDIA DLSS and NVIDIA Highlights.
With DLSS, performance on GeForce RTX graphics cards will be increased by up to 40%, and with Highlights your best gaming moments will be automatically recorded, with tools for quick, easy editing and sharing once you've finished playing for the day. For all the details, head on over to our dedicated Anthem article.
In other Anthem news, we're running a contest in which you can win a fabulous custom-designed Anthem PC. Check out all the details here, and don't forget, our GeForce RTX Triple Threat Bundle is still available. This gets you a copy of Anthem, Battlefield V and Metro Exodus* with eligible GeForce RTX 2080 Ti or 2080 GPUs, desktops or laptops. Or, if you buy a GeForce RTX 2070 or 2060 GPU, desktop or laptop, you can pick one of the three games to take home and enjoy at high detail levels and framerates.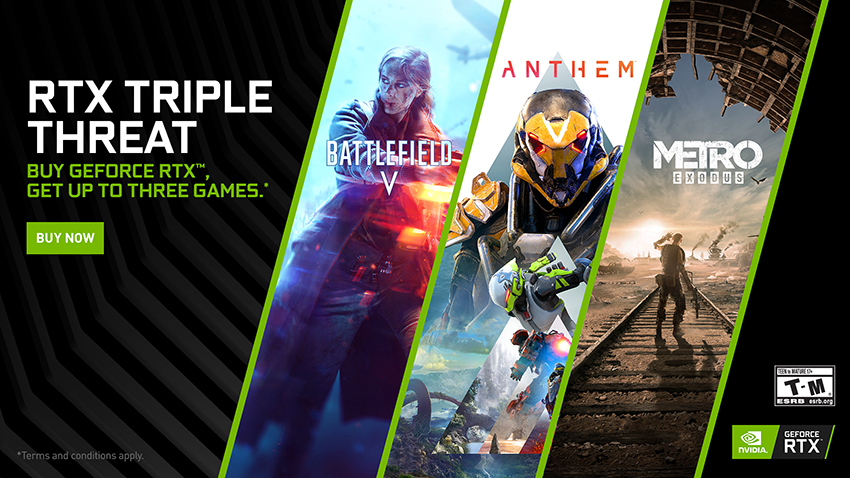 For further details, head here.
New G-SYNC Compatible Displays, Plus Surround Support
In January, our Game Ready Drivers introduced support for G-SYNC Compatible displays - gaming monitors that deliver a baseline Variable Refresh Rate (VRR) experience that makes your gaming smoother, clearer, and more enjoyable.
Now, our newest driver is adding support for an additional two monitors that have passed G-SYNC Compatible validation, following the three added in our last release.
On these validated displays there's no blanking, pulsing, flickering, ghosting or other artificating during VRR gaming. And that they can operate in VRR at any game framerate by supporting a VRR range of at least 2.4:1 (e.g. 60Hz-144Hz), in addition to offering a seamless experience by enabling VRR by default when the driver is installed and the monitor plugged in.
Our newly-validated models are the ASUS VG278QR and ASUS VG258, giving us a total of 17 G-SYNC Compatible gaming displays: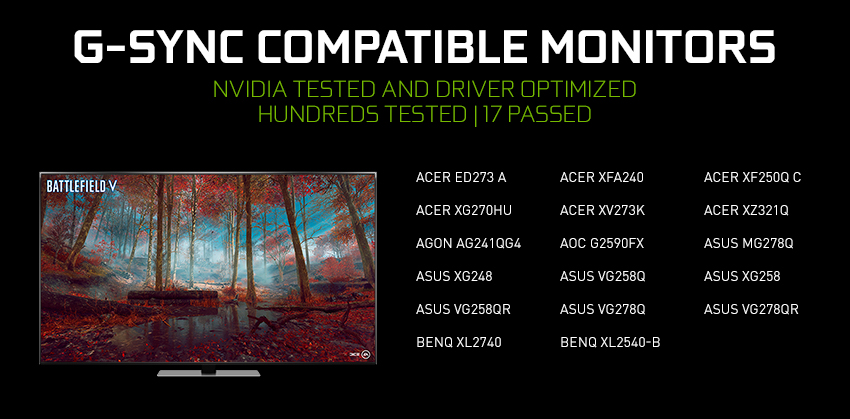 In addition, our new Game Ready Driver also introduces support for NVIDIA Surround when using G-SYNC Compatible displays. That means you can now run three G-SYNC Compatible monitors simultaneously via DisplayPort, and play compatible multi-monitor games with Variable Refresh Rate technology for a smoother, more enjoyable experience.
To enable this mode:
You need a Turing-architecture GeForce RTX graphics card
You need Windows 10, version 1809 or later
All three G-SYNC Compatible monitors must be of identical make and model
In SLI configurations, all monitors must be connected to the primary (master) GPU
The resolution must be set to a Surround resolution, rather than using the three monitors separately.
For example, if you had three 1920x1080 monitors, the resolution in the NVIDIA Control Panel must be set to 5760x1080 in Surround mode, rather than using the three monitors independently.
If you're in the market for an entry level VRR experience, the G-SYNC Compatible program gives you a ton of new purchase possibilities, and the knowledge of which monitors will deliver baseline VRR benefits with your GeForce graphics card.
For further info check out our G-SYNC Compatible article, and the complete list of G-SYNC monitors.
Optimizations For Shadow of the Tomb Raider RTX and Sekiro: Shadows Die Twice
Recently, a Shadow of the Tomb Raider update was released, adding DXR Ray-Traced shadows and NVIDIA DLSS to the game. With our new Game Ready Driver, performance and quality is further optimized, giving GeForce RTX gamers an even-better experience.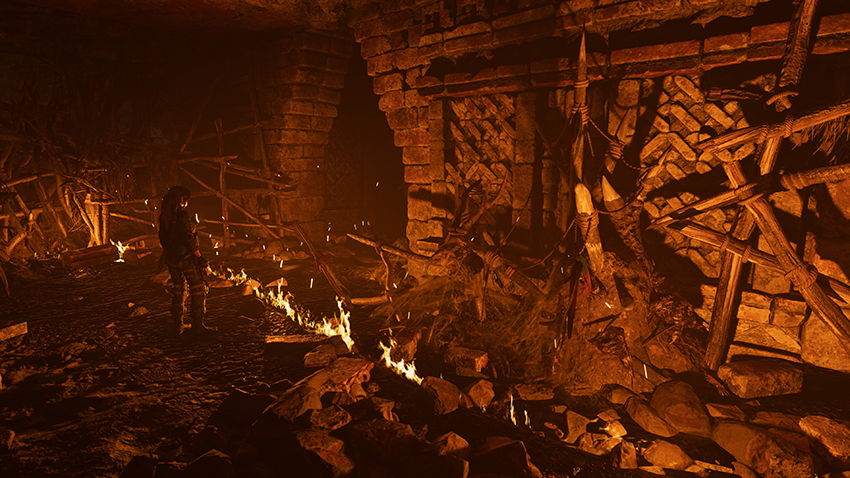 With Ray Tracing enabled, flames splash the wall with pole shadows, which are appropriately hard due to their close proximity. Debris is shadowed with fine detail, and long shadows crawl from Lara's feet, improving the look, feel and mood of the scene. Get further details in our dedicated article
From Software's much-anticipated Sekiro: Shadows Die Twice also launched recently, instantaneously drawing unanimous acclaim from both gamers and press. And if you hadn't guessed already, our new Game Ready Driver optimizes this shadowy game, too.
Furthermore, it supports NVIDIA Freestyle, which we added to GeForce Experience earlier in March. This gives you the power to customize the appearance of a game in real-time through the application of post-processing filters. Add sharpening, adjust color and contrast, or make your own filter by stacking and tweaking any of the 17 available filters. Learn more here.
GeForce Game Ready Driver - Download Now
You can download the new GeForce Game Ready 419.67 WHQL drivers through GeForce Experience, our free, game-enhancing application, which records and streams gameplay, and grants you access to giveaways.
If you experience any technical issues with the new Game Ready drivers please post a detailed report on the GeForce.com Driver Feedback Forum, where our Customer Care team can better assist you. A list of fixes in this driver for previously-reported issues can be found here.
*Anthem Standard Edition; Battlefield V Standard Edition; Metro Exodus Standard Edition