GeForce Experience is a companion application for GeForce GPUs that makes PC gaming accessible and effortless by optimizing game settings, updating drivers, and enabling you to capture and share gameplay with just a few clicks. Earlier this year, GeForce Experience's functionality expanded with the addition of the game-changing Freestyle, new features for NVIDIA Ansel, and the addition of NVIDIA Highlights to Fortnite Battle Royale, one of the year's most popular games.
Today, we're launching "Shot with GeForce", a new website where you can host and share all your Ansel in-game photos; we're kicking-off a NVIDIA Ansel contest with thousands of dollars-worth of prizes; we're announcing that Call of Duty: WWII, Dying Light: Bad Blood, Escape From Tarkov, and Tekken 7 have added NVIDIA Highlights; we're revealing that Star WarsTM BattlefrontTM II and other games have added NVIDIA Ansel; and we're releasing GeForce Experience 3.13.1, which adds new community-requested features to NVIDIA Highlights.
For details on each announcement, keep on reading.
Call of Duty: WWII, One Of Several New Games Enlisting NVIDIA Highlights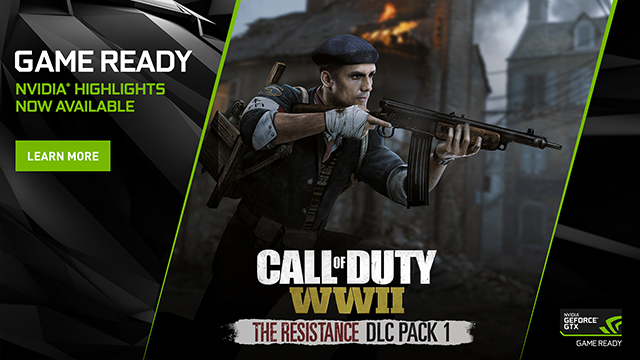 Call of Duty: WWII is adding NVIDIA Highlights in the near future in a new game update, enabling players with GeForce GTX graphics cards to automatically capture and save clips of their best exploits. To date, over half a billion Highlights have been recorded in games with NVIDIA Highlights, and soon fans of Call of Duty: WWII and several other games can get in on the fun.
To enable this fan-favorite feature in Call of Duty: WWII, download and install the game update when it's released, along with our latest driver and the newest version of GeForce Experience. When you load the game, you'll be prompted to activate NVIDIA Highlights, and from that point forward it can be set to automatically record killcams and round-ending highlights, such as 'final kill' and 'play of the game'.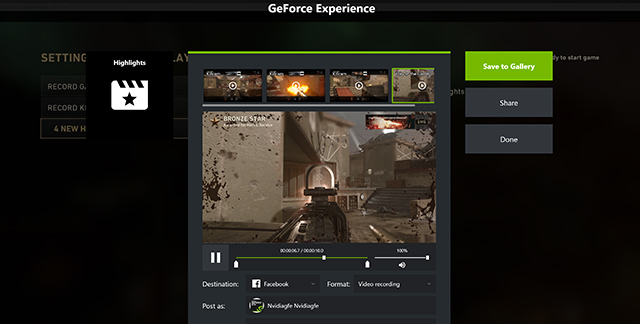 To share your favorite clips after a multiplayer session, simply press Alt+Z and head to the Gallery, where you can pick which videos to save, share or delete. Alternatively, go to the Settings > ShadowPlay menu in Call of Duty: WWII to review clips from in-game.
For info on the addition of NVIDIA Highlights to other games, keep on reading and stay tuned to GeForce.com.
Tekken 7 Knocks It Out Of The Ring With The Addition Of NVIDIA Highlights
Following the addition of NVIDIA Ansel to Tekken 7 last year, Bandai Namco has today added NVIDIA Highlights to the popular fighting game in a new update.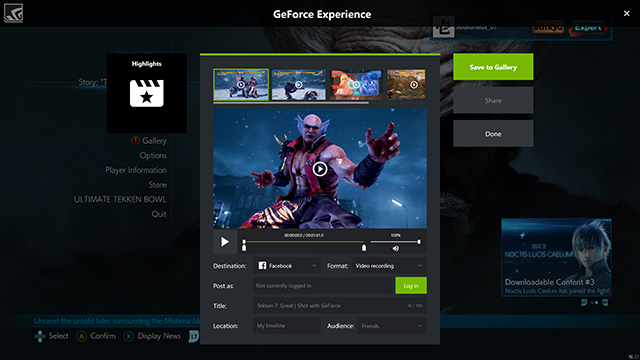 With NVIDIA Highlights, players will be able to record and share wins, losses, multi-hit combos, and many more actions, all of which can be configured through the new in-game overlay, described below.
Shot With GeForce: A Digital Art Gallery To Upload and Share NVIDIA Ansel In-Game Photos
NVIDIA Ansel enables gamers to take stunning in-game photographs in over 40 games, from virtually any angle, at super resolutions, and in full 3D. Since its launch in May 2016, over 5 million unique Ansel shots have been captured on GeForce GTX graphics cards, and now we're enabling you to upload them straight from GeForce Experience to a custom-made website called "Shot With GeForce".
To learn more, check out our Shot With GeForce announcement article.
NVIDIA Ansel, Coming March 21st To Star WarsTM BattlefrontTM II
Star WarsTM BattlefrontTM II allows players to live out their own Star Wars fantasies as a trooper on the ground, an ace pilot dogfighting in space, and an epic hero dominating the battlefront in authentic and beautifully rendered environments from all three eras. Starting March 21st, you'll be able to capture the game's stunning visuals with NVIDIA Ansel in Star Wars Battlefront II's Arcade mode.
Using a compatible NVIDIA graphics card and Ansel's tools in the game's Arcade mode, you'll be able to screenshot the action from virtually any angle, add filters, tweak the look of the shot, and save to extra-special Super Resolution and 360-degree formats, creating stunning, unique in-game photos. And if you hadn't guessed already, we want you to upload your best shots for our first Shot With GeForce contest.

Click here to load an interactive 360° Star Wars Battlefront II NVIDIA Ansel photo
When you've got a photograph you're especially proud of, upload it to the Shot With GeForce website, and share it to Facebook or Twitter. Be sure to tag @NVIDIAGeForce and include the hashtag #SHOTWITHGEFORCE and you may win some amazing prizes.
For our grand prize winner, we've lined up a Razer Blade Stealth laptop, a Razer Core V2 external GPU enclosure, and a Star WarsTM NVIDIA TITAN Xp Collector's Edition graphics card. With that combo of kit, you'll have a thin and light laptop with an amazingly-powerful GPU to connect to it, enabling you to play the very latest games at the highest detail levels.
Two runners up, meanwhile, will each win a Star WarsTM NVIDIA TITAN Xp Collector's Edition graphics card to slot into their existing PC, giving them a massive boost in GPU power.
Be sure to read the complete terms and conditions to ensure you and your entry are eligible. And to see the latest shots submitted by other gamers, you can head over to our contest landing page.
STAR WARS © & TM 2017 Lucasfilm Ltd. All rights reserved. Star Wars Battlefront II game code and certain audio and/or visual material © 2017 Electronic Arts Inc. Star Wars Battlefront II is rated T for Teen by the ESRB.
Share NVIDIA Highlights As GIFs
With the release of our latest GeForce Experience client update, you can now share NVIDIA Highlights as 5 to 15 second-long GIFs on Facebook, Google Photos, and Weibo. This community-requested addition further enhances NVIDIA Highlights' functionality, enabling you to quickly and effortlessly create high-fidelity GIFs for use across the web.
To make a GIF from any Highlight, or ShadowPlay video, simply open a clip via Alt+Z, like usual, and on the "Format" dropdown select "Animated GIF" instead of "Video Recording". Select the start and end points, tweak the duration, and once you're happy share it online just as you would a video clip.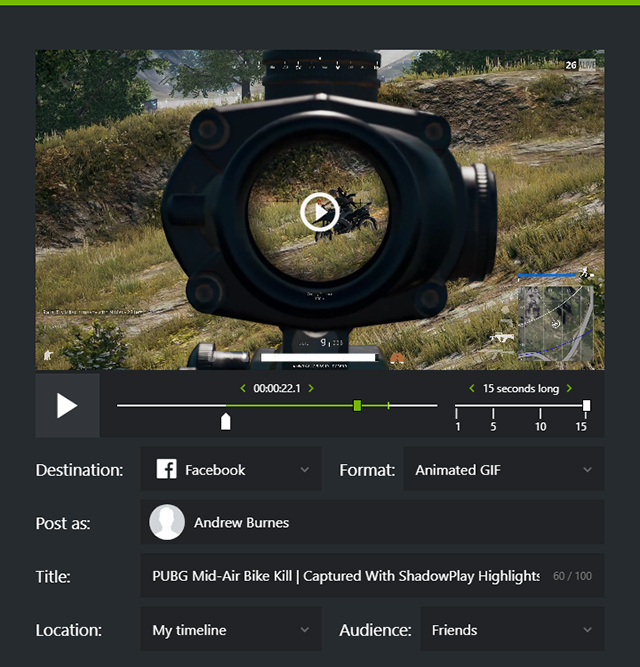 Dying Light: Bad Blood's Best Moments To Be Captured By NVIDIA Highlights
The Dying Light franchise will soon expand with the standalone release of Bad Blood, a competitive PvP and PvE experience that has six players vying for limited space on a chopper out of a zombie-filled zone. As you play, kills, deaths, zombie boss kills, and successful extractions will be captured and saved for you to watch and share.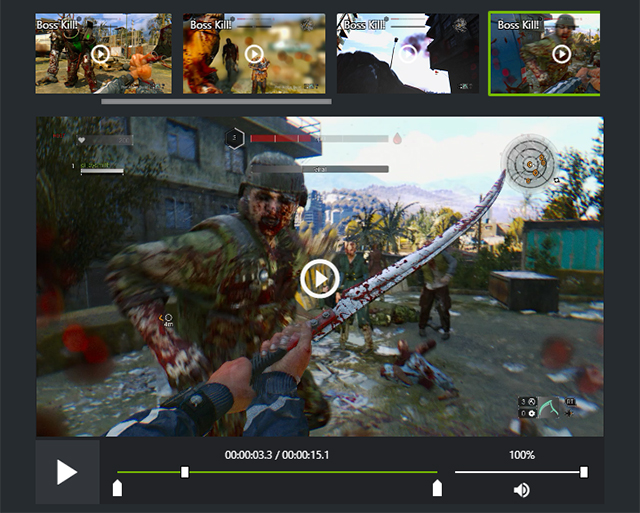 Learn more about Dying Light: Bad Blood and sign up for pre-release playtests on the game's official website.
Escape From Tarkov Captures Your Death-Defying Kills With NVIDIA Highlights
Escape From Tarkov is a realistic, tactical, online first-person action game with a multitude of systems and layers, creating a unique experience unlike any other. Escape From Tarkov's combat is fast and furious, featuring low TTK, so with NVIDIA Highlights you will be able to relive your best and most exhilarating kills at your own pace once you've finished each match. And then, share the very best kills online for others to see.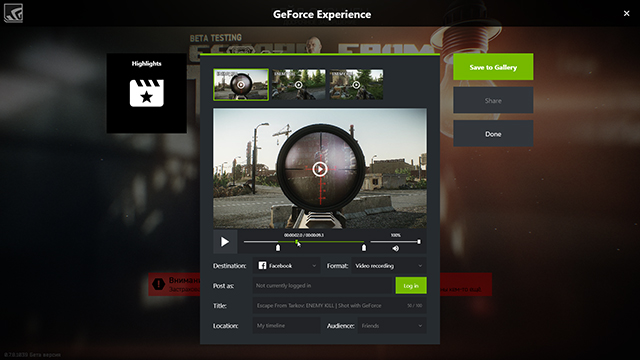 Admire Kingdom Come: Deliverance's Stunning Scenery With NVIDIA Ansel
Kingdom Come: Deliverance is a highly-detailed, realistically-themed, CryEngine-based single-player role-playing game that's sold over a million copies. In the near future, you'll be able to take gorgeous NVIDIA Ansel in-game photos from virtually any angle or position, as exemplified by the 2D and 3D photosphere shots below.

Click here to load an interactive 360° Kingdom Come: Deliverance NVIDIA Ansel photo

Click here to load an interactive 360° Kingdom Come: Deliverance NVIDIA Ansel photo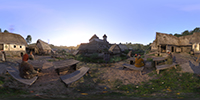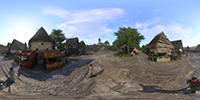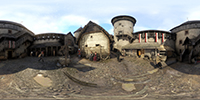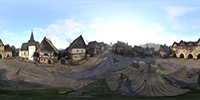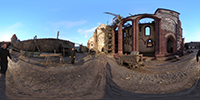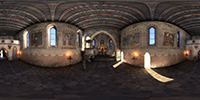 Stay tuned to Kingdom Come: Deliverance's Steam announcement feed to learn when NVIDIA Ansel is being added to the game.
Q.U.B.E. 2 Adds Ansel: Hit Pause On Puzzling To Admire The Beauty
If you like puzzles, Toxic Games' recently-released Q.U.B.E. 2 has over 80 first-person puzzles for you to solve in the ruins of a lovingly-rendered alien world. Such is its style and beauty you'll be oohing and ahhing as you play, so hit Alt+F2 to pause the action and capture some wallpaper-worthy photos with NVIDIA Ansel, like the ones shown below.
Show-Off The Fruits Of Your Labor In Pure Farming 2018 With NVIDIA Ansel
After a long hard day down at the Pure Farming 2018 estate, make sure the world sees your work with a quick NVIDIA Ansel photo, captured by pressing Alt+F2. Several shots from Ice Flames' farm can be seen below, and you can share yours, from your multi-acre farms, by posting to the Shot With GeForce website.

Click here to load an interactive 360° Pure Farming 2018 NVIDIA Ansel photo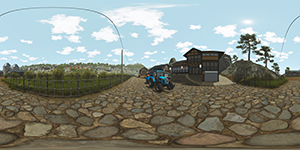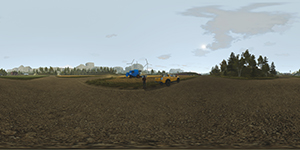 New NVIDIA Highlights Feature: Change Which Highlights Are Captured From A New In-Game Menu
In the new version of GeForce Experience, we've adjusted the process for changing which actions trigger the saving of NVIDIA Highlights video clips. Previously, you had to exit the game, open GeForce Experience, and follow several other steps. Now, simply press Alt+Z whilst playing the game, click the Settings cog, then click "Highlights".
From the new screen you can toggle Highlight types on and off, enable or disable Highlights in that specific game, or completely enable or disable Highlights in every supported game: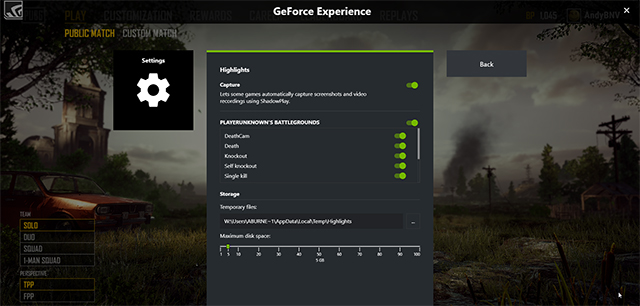 To get the new 3.13.1 update for GeForce Experience, simply open the application and follow the prompts, or manually download and install it via our website.
GeForce Experience: Download Now
If you wish to use NVIDIA Ansel or NVIDIA Highlights in the games announced above, the many games that are adding these features in the future, and the big ol' list of games already using them, you'll need the latest version of GeForce Experience. Download now to enhance your gaming.