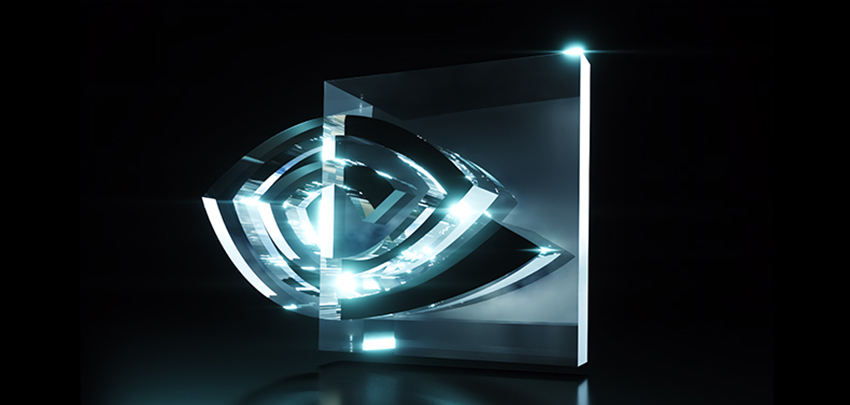 Gamers have logged millions of hours playing PC games with improved performance from Game Ready Drivers. But as NVIDIA GPUs rapidly evolve, we're finding a growing audience of creators using their graphics cards for apps such as Adobe Photoshop CC, Premiere Pro CC, and even renderers such as Autodesk Arnold. If you're a video editor, graphic designer, photographer, broadcaster, or 3D animator, high-performance GPUs can boost your productivity with advanced tech like hardware-accelerated ray tracing, AI-enhanced creative workflows, and advanced video processing.
So we're introducing a new Creator Ready Driver program to provide all creators the best performance and reliability when working with creative apps.
To achieve the highest level of reliability, Creator Ready Drivers undergo extensive testing against multiple revisions of the top creative apps. Whether you just updated to the latest release of your favorite creative app, or are still on the prior version, Creator Ready Drivers are fully tested. We also conduct exhaustive multi-app testing for each type of creative workflow, evaluating driver quality in the same manner that creators work day-to-day. Editing 4K video in Adobe Premiere CC then moving it to After Effects for post production visual effects then back to Premiere to render, an example of a video editor's everyday task, is rigorously tested to ensure the best experience possible.
With Game Ready Drivers and Creator Ready Drivers now available, customers can now select a driver cadence tailored to their priorities. Gamers who are looking for the best gaming performance and optimizations for the latest releases and DLCs will be best served by choosing Game Ready Drivers. Given the frequency of new games, patches, and DLCs, there are a significant number of Game Ready Drivers released over the course of the year. In contrast, creators, whose main focus is on a handful of apps making up their creative workflows, will be better suited to select Creator Ready Drivers. With an emphasis on long-term stability and support, these drivers are only released a handful of times throughout the year and each new Creator Ready Driver has significant bug fixes and enhancements for creative apps over the prior release.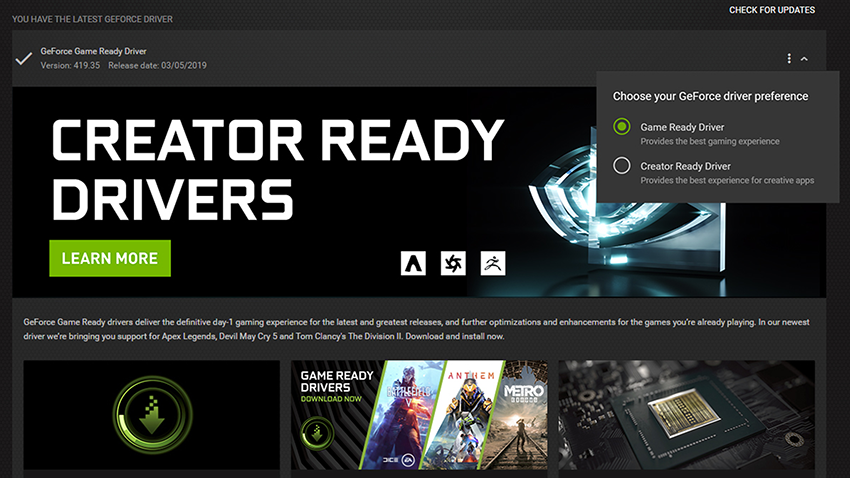 Switching your driver preference between Game Ready and Creator Ready Drivers is quick and simple. Within GeForce Experience, click the menu (three vertical dots in the top right corner) to reveal a toggle. Select your preference and that's what you'll download and install.
Best of all, you can get started today.
The first Creator Ready driver is available today and comes optimized for a number of exciting app updates featuring acceleration for NVIDIA RTX GPUs, including:
Autodesk Arnold 5.3
Unreal Engine 4.22
REDCINE-X PRO 51
Adobe Photoshop Lightroom CC
Substance Designer by Adobe
The new Creator Ready Driver also brings up to 8-12% performance improvements* over R415 drivers for top creative applications such as Blender Cycles, Cinema 4D, Adobe Photoshop CC, and Adobe Premiere Pro CC.
Creator Ready Drivers are supported for Turing-based GeForce RTX, GTX, and TITAN GPUs, Volta-based TITAN V, Pascal-based GeForce GTX and TITAN GPUs, and all modern Quadro GPUs.
*Results are based on our test system using Windows 10 (RS4), Intel Xeon Gold 6154 CPU (3GHz), 64GB DDR4 memory, and GeForce RTX 2080 with driver version 417.04 and 418.91. Your results may vary based on your specific system configuration.