Our new GeForce Game Ready 388.00 WHQL drivers are optimized for Destiny 2 and Assassin's Creed Origins. To download and install, simply fire up GeForce Experience and click the "Drivers" tab.
Game Ready For Destiny 2
Tomorrow, Destiny 2 launches worldwide on the PC. To ensure you receive the best possible experience, download and install our new Game Ready driver, which includes performance optimizations, and a SLI profile for enthusiasts seeking the fastest framerates and highest levels of detail.
If you've yet to gear up for Destiny 2 on PC, we've put our range of GeForce GTX 10-Series GPUs through their paces in an intensive in-game benchmark, to discover the graphics cards capable of delivering a smooth 60 FPS: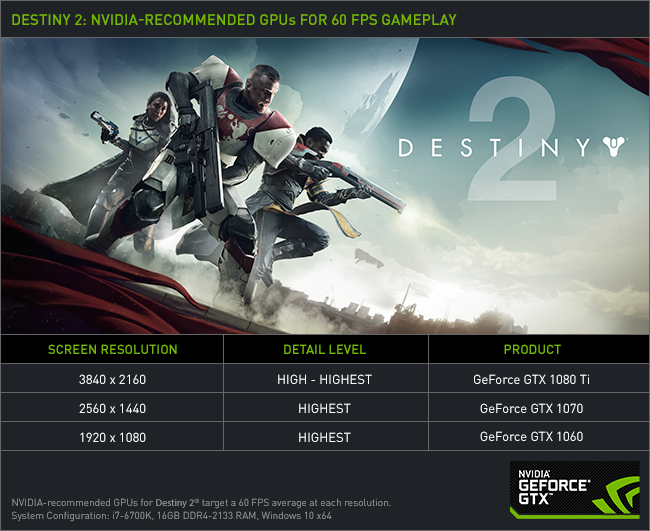 For further info on our recommendations, and to see recommendations for 120 FPS gameplay, head on over to our Destiny 2 Graphics and Performance Guide. This comprehensive deep dive into the PC version of Destiny 2 includes inside info from Bungie themselves, interactive comparisons demonstrating the benefits of each game setting, and benchmarks revealing their impact on your framerate. If there's anything you want to know anything about the PC version's graphics or performance, you'll find the answers in our guide.

After seeing our recommendations, and reading our guide, if you wish to upgrade your system with a GeForce GTX 1080 or 1080 Ti, or buy a pre-built PC or laptop with either of those GPUs inside, check out our Destiny 2 bundle: at participating retailers you'll receive a copy of the game along with your purchase.
Game Ready For Assassin's Creed Origins
Ubisoft Montreal's Assassin's Creed Origins hits the PC on October 27th, giving gamers an Ancient-Egyptian open world to explore and liberate.
For PC system requirements and further info about the PC version of Assassin's Creed Origins, check out the Ubisoft blog. And for the best possible experience, download and install our new Game Ready driver.
GeForce Game Ready Driver - Download Now
You can download the new GeForce Game Ready drivers through GeForce Experience, our free, essential, game and system-enhancing application, which also records and streams gameplay, and grants you access to giveaways.
If you experience any technical issues with the new Game Ready drivers please post a detailed report on the GeForce.com Driver Feedback Forum, where our Customer Care team can better assist you. A list of fixes in this driver for previously-reported issues can be found here.