Our new GeForce Game Ready 385.41 WHQL drivers are optimized for Destiny 2's PC Open Beta, the NVIDIA HBAO+ and ShadowPlay Highlights PlayerUnknown's Battlegrounds update, ARK: Survival Evolved's official release, F1 2017, Pro Evolution Soccer 2018, and Quake Champions' Early Access release. To download and install, simply fire up GeForce Experience and click the "Drivers" tab.
Game Ready For The Destiny 2 PC Open Beta
NVIDIA, Activision and Bungie are collaborating closely on the PC version of Destiny 2, and part of that collaboration entails giving GeForce GTX gamers an excellent experience in the PC Open Beta, which kicks off August 28th for Early Access players.
When you jump into the PC Beta you'll be able to play Destiny 2's opening campaign story mission, "Homecoming"; the team-based co-op Strike, "Inverted Spire"; as well as competitive multiplayer with two different maps, including the never-before-seen "Javelin-4" map.
In terms of the PC Open Beta experience, you'll be able to play in stunning 4K, with uncapped framerates, with a full suite of adjustable graphics settings, with 21:9 monitor support, and with HDR support if you have a compatible monitor or TV.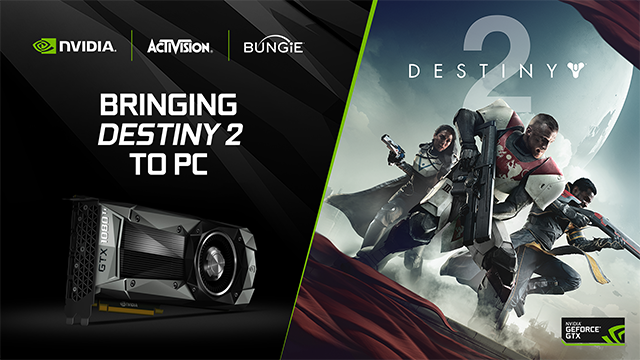 If you want a chance to play the Destiny 2 PC Beta a day early on August 28th, NVIDIA will be giving some lucky GeForce Experience members a code for 24 hours of Early Access gameplay! Recipients will be informed via a notification within the GeForce Experience client on August 25th. Click the image below to learn more.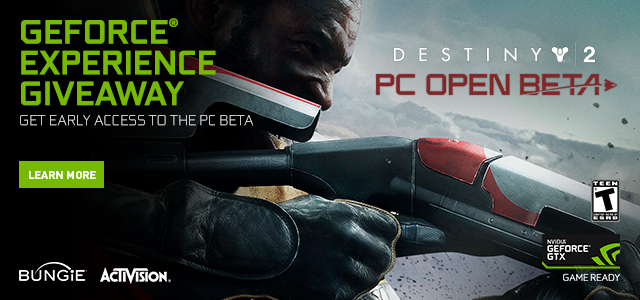 In order to get the optimal performance during Destiny 2's PC beta, you'll need a GeForce GTX 660 (or GeForce GTX 1050 if you're upgrading) to meet the minimum system requirements. However, if you want the level of visual fidelity showcased in the 4K videos above, you'll want to arm your rig with our obscenely fast GeForce GTX 1080 Ti.
Check out the full minimum and recommended PC system requirements below:
Destiny 2 PC Beta Minimum System Requirements
Destiny 2 PC Beta Recommended System Requirements
If you intend to upgrade your gaming rig for Destiny 2, you may be interested in our new Destiny 2 GeForce GTX Bundle, which gets you a copy of the game when you purchase eligible GeForce GTX 1080 and 1080 Ti graphics cards, systems and laptops at participating partners. Learn more here.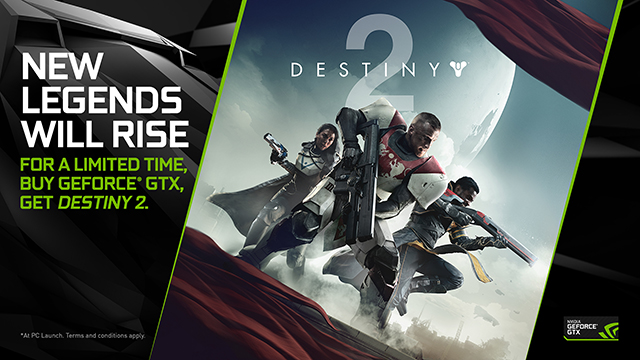 As this is an Open Beta, you're allowed to capture and share gameplay videos and screenshots to your heart's content. For that there's no easier application than GeForce Experience, which is probably already installed on your system. From within our free app you can capture and stream your Destiny 2 gameplay sessions using a couple of hotkeys, take screenshots with a single button, and download and install our newly-released Destiny 2 Beta Game Ready Driver for the fastest and smoothest experience possible. Further details can be found here.
Game Ready For The NVIDIA HBAO+ And ShadowPlay Highlights PlayerUnknown's Battlegrounds Update
PlayerUnknown's Battlegrounds (PUBG) is the biggest breakout hit in years, selling over 8 million copies in 5 months, and hitting peak concurrent player numbers of over 700,000, which only two other Steam games have ever achieved. With 100 players in each match the action can get fast and furious, and crazy things can happen. Now, each amazing kill, amusing death, unbelievable knock-out and Chicken Dinner victory will be automatically recorded and saved with NVIDIA ShadowPlay Highlights, a new GeForce Experience technology that ensures your best PUBG moments are always available for sharing and playback.
To celebrate the release of ShadowPlay Highlights for PUBG we're kicking off a contest, where for the next month we're looking for your best Highlights - submit your most exciting or amusing Highlights to Youtube or Twitter, tag @PUBATTLEGROUNDS, @NVIDIAGeForce and #ShadowPlayHighlights, and enter for a chance to win a GeForce GTX 1080 Ti or GeForce GTX USB Drive. Get all the details and learn how to enter here.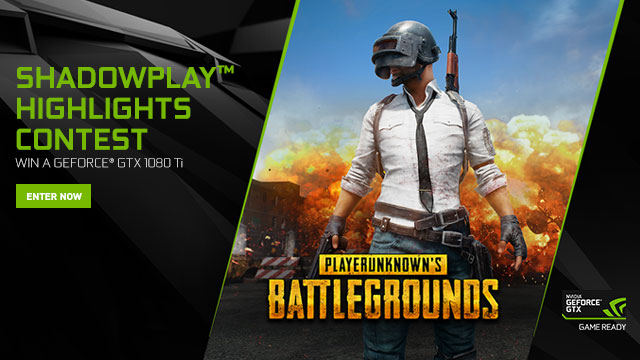 The latest update for PUBG also introduced HBAO+, the industry's leading platform-agnostic ambient occlusion technique. With this fidelity-enhancing tech all PUBG players will now see richer, more realistic shadowing where two surfaces or objects meet, and where an object blocks light from reaching another nearby game element. Every building, room, open field and object in Erangel will benefit, with the improvements being immediately evident when you view the interactive comparison below.
Click here to view the interactive comparison in 4K, in fullscreen. And view more examples here
For the best possible experience when playing PlayerUnknown's Battlegrounds, and when using ShadowPlay Highlights and HBAO+, download and install the newly-released Game Ready driver, either from within GeForce Experience, or from GeForce.com. And for new info about future versions of the game, check out our new Gamescom developer interview, below.
Game Ready For ARK: Survival Evolved's Official Release
ARK: Survival Evolved, the dinosaur-themed survival action game, is exiting Early Access on August 29th. Today's driver adds Game Ready support for the graphically-intensive title, which already includes NVIDIA Ansel support.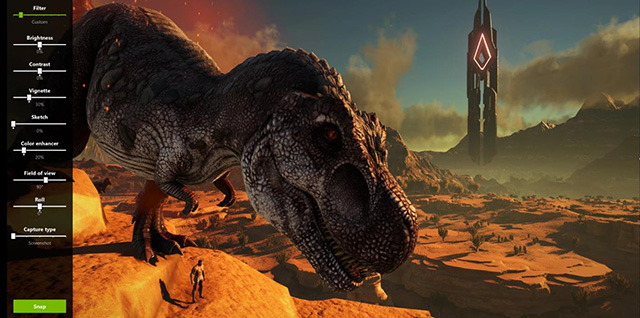 With NVIDIA Ansel you'll be able to capture personally-framed freecam screenshots, adjust the field of view and rotation of the screen, add optional Instagram-style filters, make 360° photospheres, take super resolution screenshots with incredible levels of detail, and save to shareable filetypes with a single click.
To use NVIDIA Ansel in ARK: Survival Evolved, ensure you have GeForce Experience installed, then hit Alt+F2 in solo games and you'll be able to capture incredible screenshots that were previously impossible to frame and snap.
Game Ready For Pro Evolution Soccer 2018
If you you're a football (soccer) fan, KONAMI's Pro Evolution Soccer 2018 launches September 12th in North America, and September 14th in Europe. Included will be NVIDIA Ansel support, enabling you to photograph the beautiful game from any angle, with a full range of adjustments and filters, and in a variety of formats.
For further info check out our Pro Evolution Soccer 2018 NVIDIA Ansel announcement, and for the fastest, smoothest gameplay download and install the new Game Ready driver.
Game Ready For F1 2017
If you like your Formula 1 racing, Codemasters' highly-rated F1 2017 launches August 25th on PC, boasting an expanded career mode, additional behind the scenes management, and a whole lot more.
Get further details on the game here, and download the new Game Ready driver for a blisteringly-fast experience.
GeForce Game Ready Driver - Download Now
You can download the new GeForce Game Ready drivers through GeForce Experience, our free, essential, game and system-enhancing application, which also records and streams gameplay, and grants you access to giveaways.
If you experience any technical issues with the new Game Ready drivers please post a detailed report on the GeForce.com Driver Feedback Forum, where our Customer Care team can better assist you. A list of fixes in this driver for previously-reported issues can be found here.