In the world of Virtual Reality gaming, EVE: Valkyrie is one of the most immersive and action-packed titles available, pitting you against other players in dogfights amongst the stars. Use a controller or flight stick to pilot your fighter, and use your head to look up and down, and all around, searching for enemies to shoot with missiles, cannons, and numerous other weapons.
EVE: Valkyrie was one of the first VR games to be released after the launch of headsets, and in the time since engine technology and game performance has advanced significantly. Using this new tech, plus some custom-built goodies, developer CCP Games has upgraded EVE: Valkyrie with a new "Ultra" graphics settings, designed for use on GeForce GTX 1070, 1080 and 1080 Ti systems.
Included in this update are a number of new effects from CCP, and four from NVIDIA. Of these, NVIDIA's Volumetric Lighting is the most noticeable, adding shafts of bright light throughout EVE: Valkyrie's stunning battlefields. Also referred as "God Rays", these shafts of light come from the sun or other bright sources of light, intersect with objects and the environment, and enhance the look and realism of everything you see.

Click to load an interactive comparison demonstrating how Volumetric Lighting transforms the look of a scene
Anti-Aliasing is a crucial effect in every game, helping smooth out jagged edges, in turn improving image quality and the clarity of detail from the opening scene to the closing credits of a game. In VR it's even more important, as jaggies are far more noticeable when the display is just an inch from your eyes, and you can examine everything in much greater detail.
Before EVE: Valkyrie's Ultra update the game used a fast post-process technique that blurred the scene to reduce the visibility of jaggies, but at the same time reduced the clarity of some game detail. Now, EVE: Valkyrie players can use a superior anti-aliasing technique called Multi-Sample G-Buffer Anti-Aliasing, or "MSGAA" for short. In-game, you'll see fewer jaggies in the cockpit, the user interface will be clearer and smoother, distant detail will be better defined and shimmer less, and Ultra's new specular highlights will look even nicer.

Click to load an interactive comparison demonstrating how MSGAA improves upon FXAA and supersampling anti-aliasing thanks to its increased temporal stability and superior specular highlight anti-aliasing. To try it in-game set EVE: Valkyrie's resolution to 175% in Settings -> Graphics -> Advanced Settings -> Resolution, and then select "MSGAA"
In addition to Volumetric Lighting and MSGAA, EVE: Valkyrie's Ultra mode adds further refinements and enhancements developed by CCP. Most visibly, cockpit lighting has been improved, and the aforementioned specular highlights has been added to shiny surfaces.

Click to load this comparison in fullscreen
Shaders and reflections also see improvements; lighting and shadowing in environments looks nicer than ever before, adding greater depth, beauty and realism to battlefields; and ship projectiles now cast dynamic lights, illuminating their path as they travel. Together, all of these enhancements make a massive difference to the look and feel of the gameplay: space is more realistically illuminated by Volumetric Lighting, battlefields feel more dynamic and active with projectiles lighting your cockpit as they whiz by, and everything looks much clearer and nicer with MSGAA.

Click to load this comparison in fullscreen
As you're probably already aware, playing a VR game at a smooth, non-stuttery framerate means running it at a consistent 90 frames per second. This demands a lot from your graphics card, and by adding these new effects Ultra significantly ups the pressure. For that reason, NVIDIA's VRWorks Lens Matched Shading technology has been added to EVE: Valkyrie for GeForce GTX 10-Series gamers.
In short, Lens Match Shading (LMS) is a unique and innovative rendering technique that allows game developers to significantly improve performance by rendering to the unique shape of the headset lenses, instead of rendering a full rectangle and squeezing it to the shape of the lenses. By using LMS instead you get up to 30% faster performance in EVE: Valkyrie, giving you the headroom to enable extra Ultra effects, or simply to enjoy faster, smoother framerates if your system was struggling with the game.
Below, on the left, you can see what a VR headset renders when a game isn't using Lens Matched Shading. And on the right, what the player actually sees in a headset.

Final image required for correct viewing
through the HMD optics
This process renders 86% more pixels than is necessary, sapping your performance. LMS takes a different tact, rendering a first-pass image far closer to the final image from the off. To achieve this, Pascal's Simultaneous Multi-Projection technology divides the original rectangle output into four quadrants, and adjusts them to the approximate shape of the final image. As you can see from the images below, LMS starts much closer to the final image.
In technical terms, the final image shown in the headset is 1.1 Megapixels per eye, the first-pass image without Lens Matched Shading is 2.1 Megapixels per eye, and with Lens Matched Shading is just 1.4 Megapixels per eye. That's a 50% increase in throughput available for pixel shading, giving EVE: Valkyrie players up to 30% extra in-game performance.
To demonstrate the performance benefits of LMS, and its necessity for smooth Ultra mode gameplay, we turned to FCAT VR, our performance analysis tool that measures VR framerates and smoothness.
Below, you can see the FCAT VR output for the GeForce GTX 1060 in EVE: Valkyrie, using Ultra mode with and without Lens Matched Shading. As shown by the yellow in the lower portion of the chart, the GeForce GTX 1060 delivers a less than ideal experience in this performance-intensive scenario, with almost every other frame being synthetic.
In other words, to maintain a frame rate of 90 FPS, frames are being artificially created to give the impression of smooth gameplay. This below-90 experience can also be seen in the frametime chart in the upper half of the chart, where the time to render each frame is considerably above the 11.1ms required for 90 FPS VR gaming.
As we step up to the GeForce GTX 1070, enabling Lens Matched Shading results in a clear improvement to performance and smoothness, though as there are still some synthetic frames you may wish to disable an Ultra setting or two to get a flawless experience. Alternatively, enable Aggressive Lens Matched Shading, which slightly reduces image quality to further improve performance.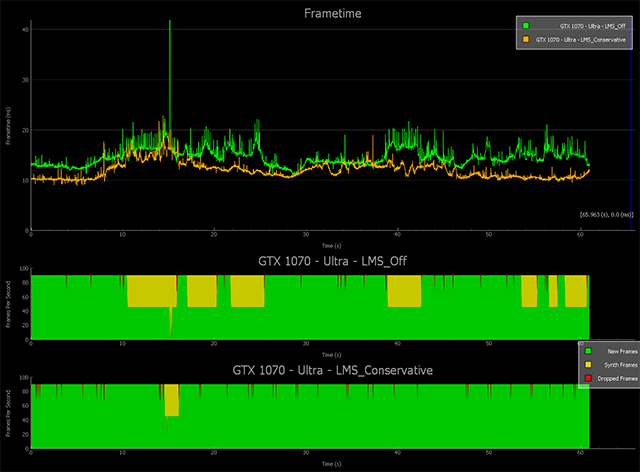 With a GeForce GTX 1080 we receive an even-better experience when Lens Matched Shading is enabled, giving gamers an experience that is smooth as silk throughout every match.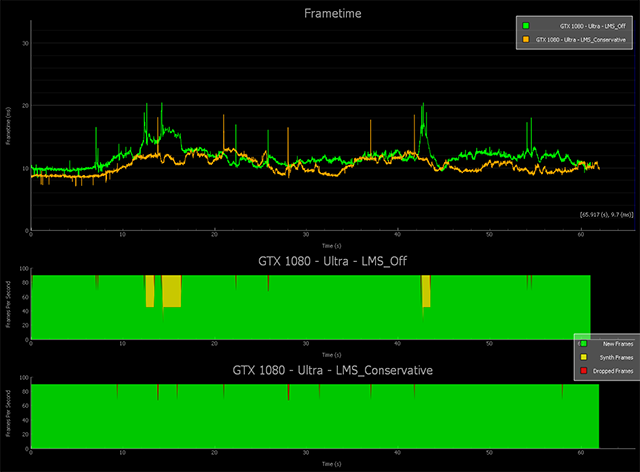 And finally, with the GeForce GTX 1080 Ti a near-perfect result is seen even when Lens Matched Shading is disabled, meaning resolution scaling can be cranked even higher if Lens Matched Shading is also enabled. The result is an incredibly detailed VR picture running at a consistent 90 frames per second, with only a few dropped frames, which won't be noticed during EVE: Valkyrie's frantic gameplay.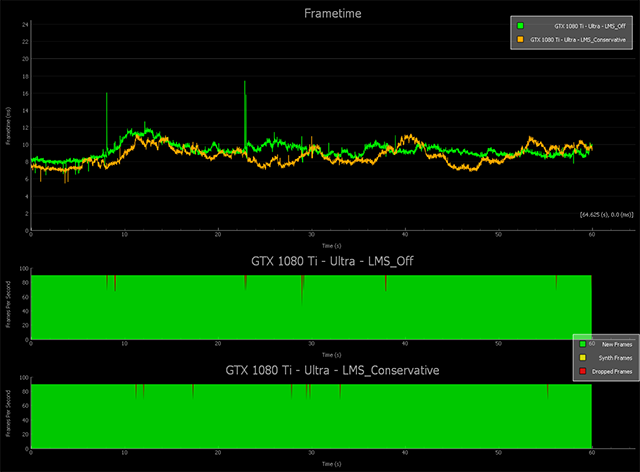 For gamers with GeForce GTX 900-Series 2nd Generation Maxwell-architecture GPUs, such as the GeForce GTX 970, 980 and 980 Ti, NVIDIA VRWorks Multi-Res Shading is available instead, giving you a way to increase your performance and improve graphical fidelity, too.
How it works is by subdividing each eye in a VR headset into 9 parts, enabling us to independently control the resolution of each part. Doing this allows us to decrease the resolution of the image in your peripheral sight, without reducing the quality of the image in your direct vision, increasing performance whilst maintaining overall image quality. In turn you can use the increased performance to enable additional settings.
So there you have it; get better image quality and better performance in EVE: Valkyrie with GeForce GTX graphics cards and the other features of the new Ultra mode. The update is available now for both the Oculus Rift and HTC Vive versions of the game, but first be sure to download our newest Game Ready driver via GeForce Experience or from GeForce.co.uk for the definitive experience. And to learn more about EVE: Valkyrie itself head on over on the game's official website.