NVIDIA is at the forefront of gaming monitor technology, constantly developing new hardware enhancements, and working with partners around the world to launch them in monitors of all shapes and sizes, with variable refresh rates up to 240Hz.
At Computex 2019, we're raising the bar once again with new Mini-LED technology, adding support for more G-SYNC Compatible displays, and demonstrating our partners' new and upcoming G-SYNC, G-SYNC BFGD, and G-SYNC ULTIMATE monitors. For all the details, read on.
Mini-LED Displays To Make G-SYNC ULTIMATE Gaming Monitors Even-Better
Last year we launched 4K 144Hz G-SYNC ULTIMATE gaming monitors with PC-tuned HDR displays, featuring peak 1,000 nit brightness, DCI-P3 color, and 50,000:1 contrast ratios. Renowned tech site PC Perspective rated the ASUS ROG Swift PG27UQ G-SYNC ULTIMATE HDR display as "the best monitor you can buy", but later this year that crown will undoubtedly pass to our new G-SYNC ULTIMATE Mini-LED gaming monitors.
Like their predecessors, these new monitors, coming first from Acer and ASUS, will run at up to 144Hz at 4K, in HDR-10. But instead of a 384-zone LED controllable backlight, the new displays will feature 50% more, bringing the total to 576 zones on a 27" screen.
The ASUS ROG Swift PG27UQX G-SYNC ULTIMATE 4K 144Hz Mini LED HDR gaming monitor
This new, cutting-edge technology shrinks the size of the lights that illuminate the display, enabling the integration of more LEDs per display, which gives the monitor greater control over the brightness and illumination of the picture. This gives you deeper blacks, contrast ratios of up to 1,000,000:1, better visuals, and thanks to LED and display improvements, even-lower click-to-action latency and even-better color accuracy at a peak brightness of up to 1,000 nits.
The ACER 4K 144Hz G-SYNC ULTIMATE Mini LED gaming monitor
Stay tuned to GeForce.com for further details and updates regarding the first ever application of Mini LEDs for gaming.
G-SYNC Compatible: 3 New Monitors Validated
G-SYNC Compatible gaming monitors deliver a baseline Variable Refresh Rate (VRR) experience that makes your gaming smoother, clearer, and more enjoyable. In a new driver, available from 6am PT on May 27th, validation for a further 3 monitors will be introduced, bringing the total number of G-SYNC Compatible validated monitors to 28.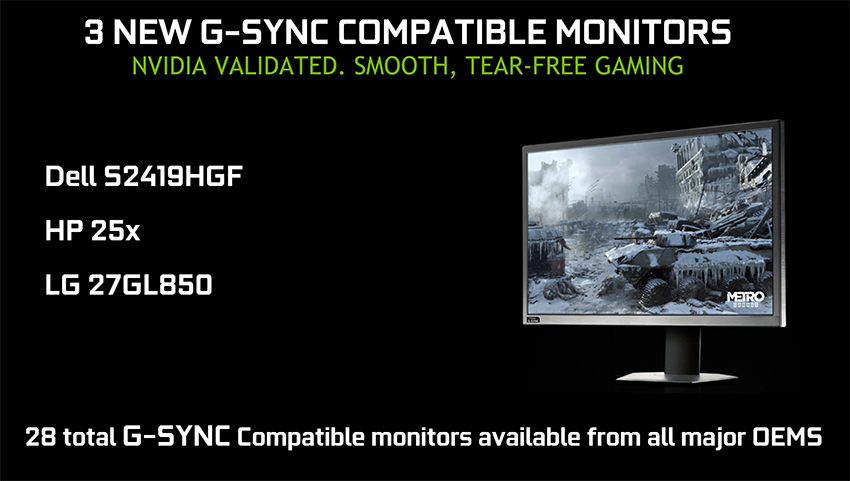 For a complete list of all G-SYNC, G-SYNC ULTIMATE and G-SYNC Compatible monitors, head here
To share more about G-SYNC Compatible and our validation process, we've put together a separate article filled with interesting stats and details about the 503 VRR monitors we've tested to date, and why G-SYNC and G-SYNC ULTIMATE may be a better choice if you're an enthusiast seeking a higher-quality fast refresh rate experience. Check it out here.
ASUS BFGD and 35" Curved G-SYNC ULTIMATE Displays Coming Soon
As we mentioned earlier, G-SYNC ULTIMATE HDR displays are the best gaming monitors around, but they're designed for your desk. That's why we invented Big Format Gaming Displays (BFGDs), for those of you who want to game on a gigantic 65-inch display from the comfort of your sofa.
In the near future, ASUS will launch their first BFGD, bringing all the goodness of their highly rated G-SYNC ULTIMATE display to a supersized format. That means a 65" display running at up to 4K 120Hz, with 1000 nit peak-brightness G-SYNC ULTIMATE HDR, DCI-P3 color, and ultra-low latency. For further details, and a release date, keep an eye on the ROG Swift PG65UQ's official product page.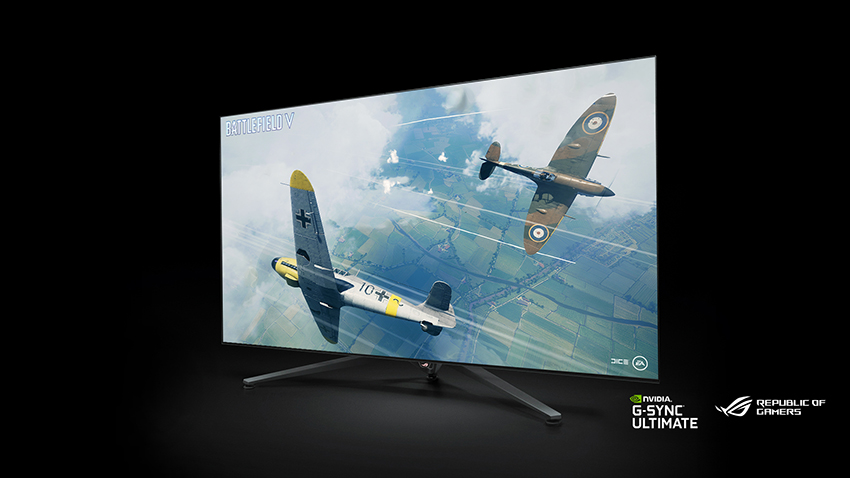 ASUS are also readying their ROG Swift PG35VQ for launch - this 3440x1440 21:9 35" G-SYNC ULTIMATE 1000 nit HDR gaming monitor takes the tech of their ROG Swift PG27UQ into a new, wider form factor, adds a 1800R curve, minimizes three of the bezels to nigh-unnoticable levels, and enables users to crank up the refresh rate to 200Hz.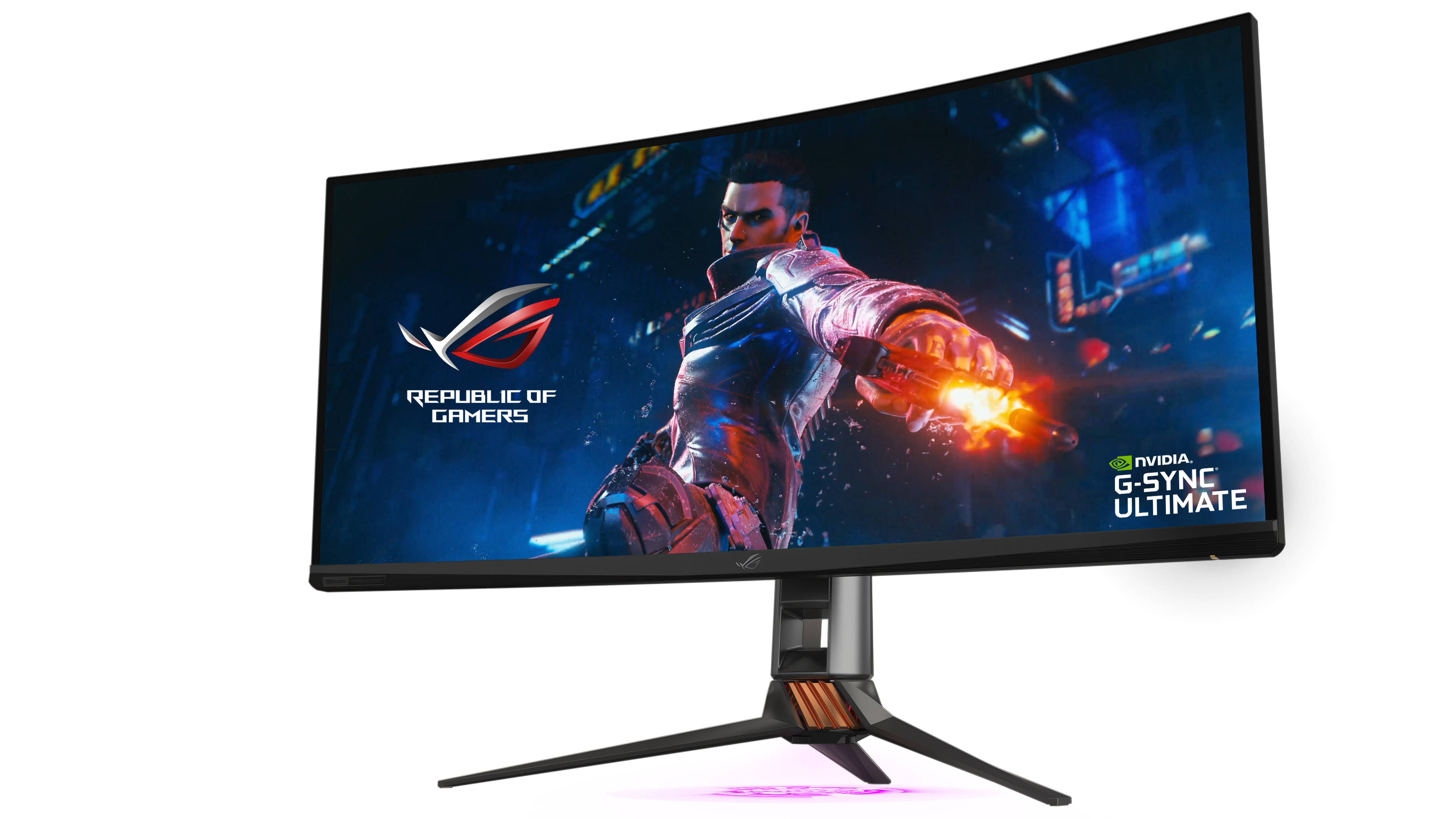 ACER has a similar display, the Predator X35, coming soon. Like the ASUS, it'll have the same features, so games on its 512-zone backlit 1000 nit HDR display will look truly stunning.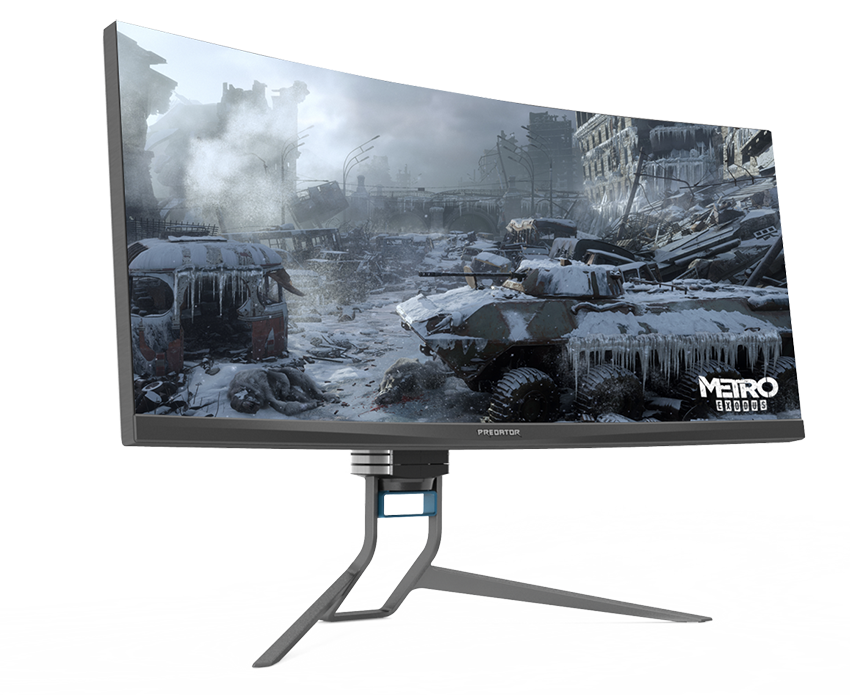 Game Ready Driver
.