Earlier this year we introduced desktop gamers to the GeForce GTX 1660 and 1660 Ti, Turing-architecture GPUs designed to deliver fantastic, fast framerate 1080p experiences in the latest games. Now, we're bringing these supercharged GPUs to laptops, beginning with 80 models from Acer, ASUS, Dell, Lenovo, HP, MSI and Gigabyte, and many other laptop manufacturers.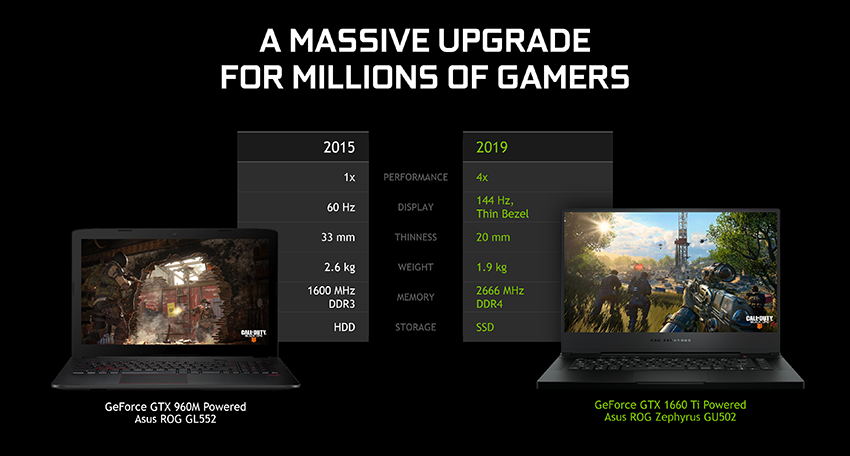 GeForce GTX 16-Series laptops will upgrade every aspect of your experience, giving you a clearer, smoother, more responsive display, faster boot and wake-up times, faster OS and app loading, and much-improved in-app performance
With prices starting at $799, GeForce GTX 16-Series laptops are a great way to step up to speedy on-the-go performance in popular games.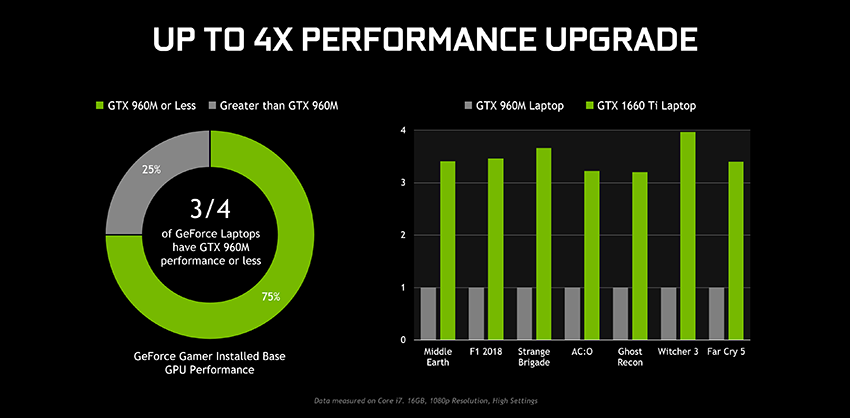 Laptop owners typically upgrade every four years - compared to 4-year old GTX 960M laptops, GTX 16-Series laptops are up to 4x faster in games
And because GeForce GTX 16-Series laptops use the same Turing-architecture GPUs as desktops, our new laptops feature the same exact architectural enhancements that further accelerate performance, and enable the use of next-gen technology like Adaptive Shading. Learn more in this deep dive.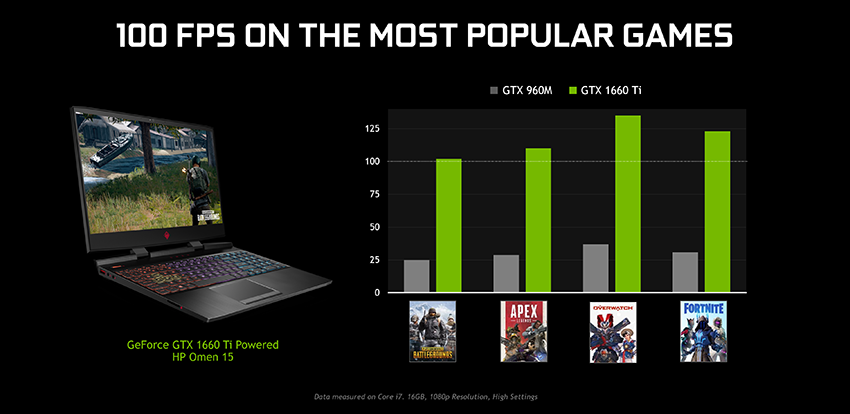 GTX 16-Series laptops run at 100 FPS+ in the world's most popular games, at home and on the go
If you desire even faster performance, in the smallest, slimmest form factor possible, Max-Q design GeForce GTX 16-Series laptops are also available. Dimensions are as thin as 20mm, screen bezels are narrower, and displays run at up to 144Hz.

In addition to excellent gaming performance, GeForce GTX 16-Series laptops accelerate creative tasks up to 5x faster thanks to faster hardware and GeForce GPU graphics acceleration. Access advanced video effects in Adobe Premiere Pro CC, pan and zoom smoothly in Adobe Illustrator CC, regardless of display resolution, and create stunning art and photographs in both Adobe Photoshop CC and Lightroom CC with GPU-accelerated effects like Path and Spin Blur.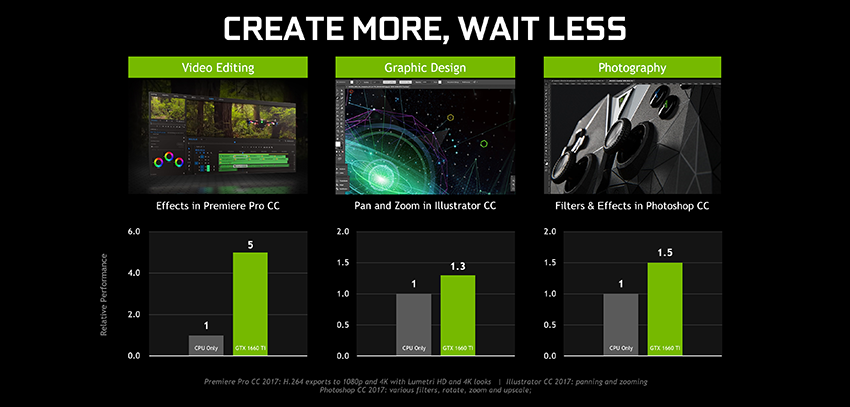 Beyond hardware and performance, GeForce GTX 16-Series laptops are supported by NVIDIA's unprecedented line-up of game and experience enhancing features.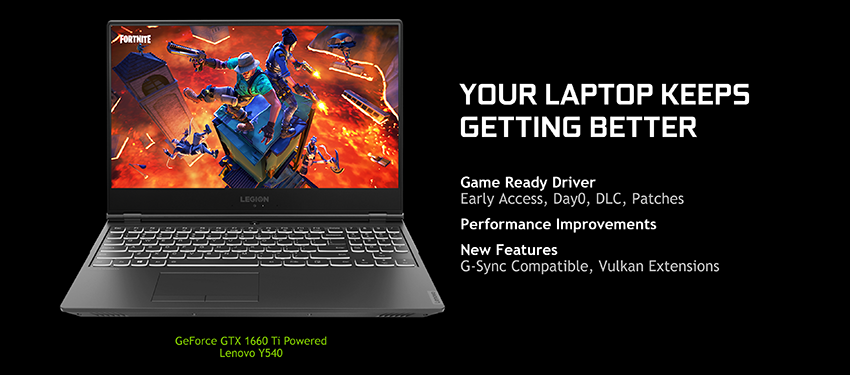 GeForce Experience delivers game setting recommendations and updated, optimized drivers for all the biggest games;Ansel enables you snap in-game photos in hundreds of titles; Freestyle transforms the look of your game in real-time; Highlights captures your best gameplay moments from Fortnite, Metro Exodus, PUBG, and other titles; ShadowPlay enables you to stream and record uninterrupted gameplay; GameWorks effects enhance Metro Exodus, Shadow of the Tomb Raider and other leading titles; and GameStream enables you to stream your PC games to your TV.
GeForce GTX 16-Series laptops also come equipped with our newest NVENC broadcasting features, enabling you can game and stream from the same system, without compromise, which was previously impossible given the demands of live broadcasting. For further details, head here.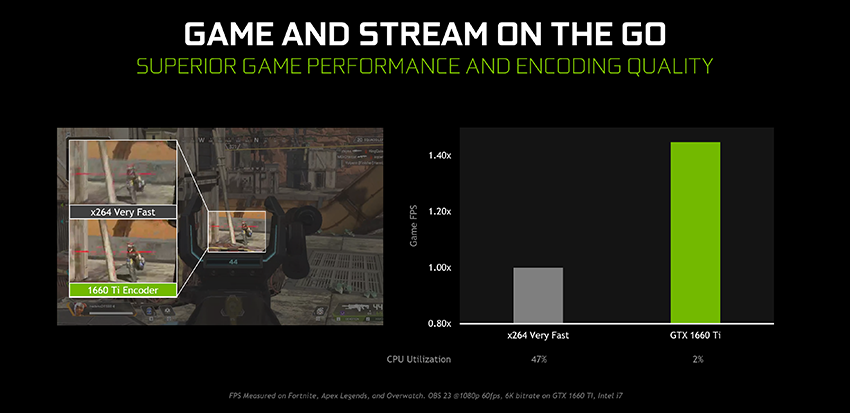 All of this tech and all of these features are crammed into GeForce GTX 16-Series laptops that are as thin as 18mm, and as light as 4 pounds. They're perfect for gamers wanting excellent 1080p performance in popular games, and can also crunch through creativity and productivity tasks with ease, making them excellent all-round laptops for just about anyone.
They're available now, with prices starting at $799, and for a limited time select models are bundled with a Fortnite bonus containing 2000 V-Bucks and the Fortnite Counterattack Set. Head here to find retailers and manufacturers that sell directly.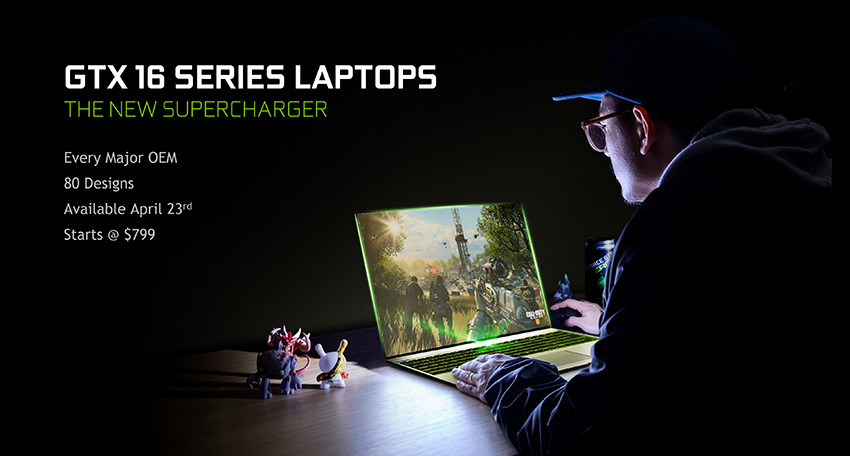 If, however, you desire even-faster framerates, higher resolutions, higher detail levels, and cutting-edge ray-traced effects, step up to a GeForce RTX laptop for unprecedented power and performance.