At CES 2019, we've unveiled the GeForce RTX 2060, revealed powerful GeForce RTX laptops, extended our G-SYNC line of gaming monitors, and announced new tech for broadcasters that enables high-quality single-PC streaming.
We're also showing new games, tech demos, and benchmarks featuring RTX ray tracing and DLSS technology. Blockbusters BattlefieldTM V and AnthemTM are adding RTX DLSS. And new Justice, 3DMark, and Atomic Heart ray tracing tech demos and benchmarks were unveiled. For all the details, read on.
Battlefield V Accelerates Performance With DLSS
EA, DICE and NVIDIA partnered to deliver the world's first game with real-time ray tracing,which added genuine, dynamic real-time reflections throughout the blockbuster game, adding an extra level of realism, immersion and detail to DICE's stunningly-rendered depiction of World War 2. And now, we're announcing that Battlefield V will also be adopting DLSS.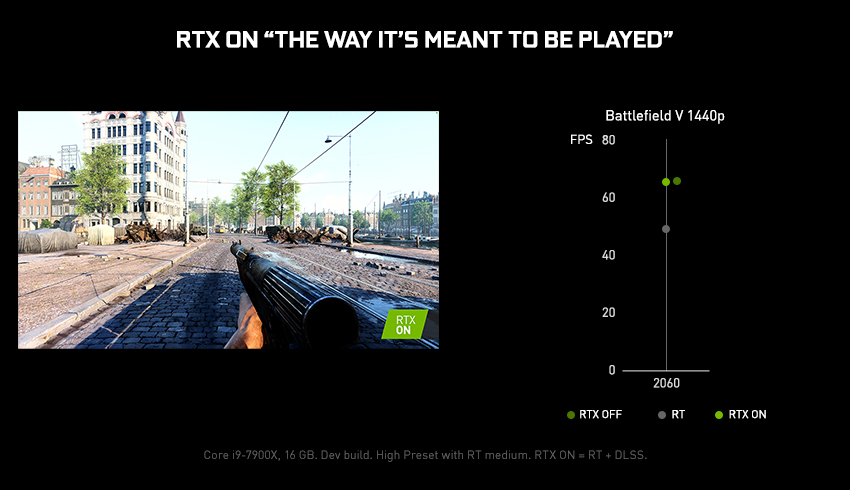 With RTX ON in Battlefield V, gamers will get the best of both worlds; beautiful real-time ray tracing and smooth frame rates with DLSS. Get RTX ON with performance similar to RTX OFF.
"With the realistic visuals of ray traced reflections and the higher resolution DLSS brings, RTX On is the way to play Battlefield V" - Eneko Bilbao, Head of Technology, EA Studios Europe
We're also announcing the GeForce RTX Game On bundle, which can net you a copy of Battlefield V and/or Anthem with the purchase of qualifying GeForce RTX 2080 Ti, 2080, 2070 or 2060 graphics cards, desktops and laptops. Learn more here.
Anthem Adds DLSS
Anthem, EA and BioWare's big new game, launches February 22nd. It's a fast-paced, graphically advanced online action role-playing game, with a heavy dose of third-person shooting, so a fast, fluid framerate is recommended.
To deliver maximum performance, Anthem will also be adding DLSS.
"By merging traditional computer graphics and deep learning, DLSS provides a big leap in performance. We are excited to partner with NVIDIA to bring GeForce RTX technology to Anthem." - Jon Warner, Game Director, BioWare
Justice Tech Demo Debuts At CES 2019, and Launches Online Soon
In November we demonstrated an early version of Justice, one of China's most popular MMOs, with ray-tracing and DLSS. And now, we're debuting a standalone Justice tech demo at CES that'll soon be available for download worldwide.
With RTX ON, users will experience real-time ray-traced shadows, reflections and caustics at similar performance to RTX OFF, enabling the GeForce RTX 2080 Ti to run at over 60 FPS, at 4K, with vastly-improved image quality.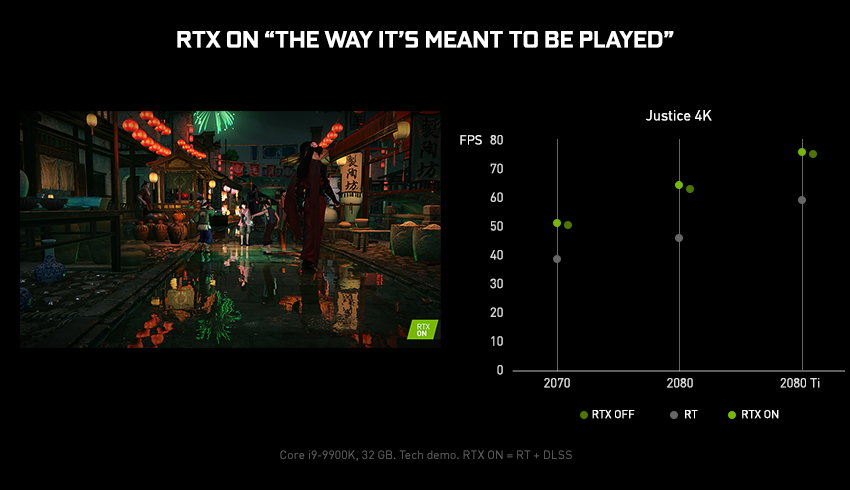 "NVIDIA RTX real-time ray tracing and DLSS are the perfect combination. Justice can smoothly present the colorful environment brought by real-time ray tracing without additional performance cost. It makes Justice's world even more vivid." - Zhipeng Hu, Head of Studio/VP NetEase
3DMark's Ray-Traced Benchmark Launches January 8th
On January 8th, United Laboratories is launching 3DMark Port Royal, a new benchmark that measures the ray-tracing performance of GPUs.
The Port Royal benchmark will feature ray tracing for realistic specular reflections and pixel-perfect hard shadows, and DLSS in a forthcoming update.
Atomic Heart Shows Off Ray Tracing and DLSS
Mundfish's Atomic Heart has captured gamers' interest with its unique setting and fantastical visuals, which Mundfish further enhanced with ray tracing.
At CES, we're showing off the latest preview of Atomic Heart, which features improved ray-traced graphics accelerated by the addition of DLSS.
"RTX will change PC gaming forever. Ray tracing and DLSS make the impossible, possible." - Robert Bagratuni, CEO, Mundfish

RTX ON
Developers around the world are working with RTX to give their games faster performance and lifelike visual effects, and to utilize advanced technologies introduced by the NVIDIA RTX platform.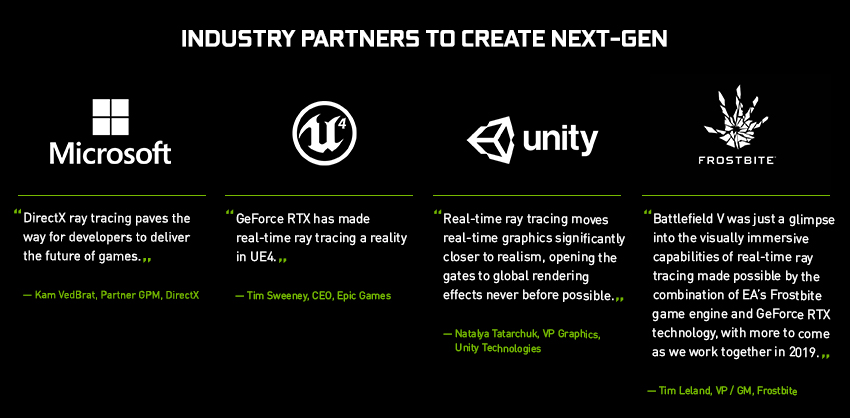 Throughout 2019 you'll experience many of their RTX technology integrations first-hand in new blockbusters and indie-darlings, so stay tuned to GeForce.com for all the details and exclusive unveils.
To close, here's a look at our latest ray tracing demo, Project Sol Part 2: