Since 1988, game developers have gathered at GDC each year to share insights on programming and game design, helping everyone up their game. NVIDIA has been a regular participant, and this year we're making several exciting announcements, presenting numerous panels, and helping developers worldwide add RTX technology to their titles.
For all the details, read on.
Epic Games and Unity Add Ray Tracing Support To Game Engines, Accelerating Adoption
Unreal and Unity are the world's most popular game engines, powering everything from AAA blockbusters to 8-bit indie darlings. Unreal Engine 4 support for ray tracing is out now in preview, and has been used by Epic to craft "Troll", and by Nexon in Dragonhound, details of which are below.
And now, Unity has announced that starting April 4th, they will offer optimized, production-focused, real-time ray tracing support with a custom experimental build, available on GitHub to all users with full preview access in the 2019.03 Unity release.
A visually stunning ray-tracing demo rendered in real-time using Unreal Engine 4.22, powered by a single GeForce RTX 2080 Ti. Learn more here
"In the near future, I believe every AAA title will incorporate real-time ray tracing," said Jon Peddie, president of Jon Peddie Research. "The integration of real-time ray tracing by the two dominant game engines illustrates the game industry's belief that real-time ray tracing is the future of gaming graphics. Historically, game engine integration represents a tipping point for technology, and is followed by industry-wide adoption."
Ray-Tracing Capable GPU Installed Base Grows to Tens of Millions
NVIDIA GeForce GTX 1060 6GB and higher GPUs, powered by Pascal and Turing architectures, will be able to take advantage of ray tracing in games via a driver, expected in April. The new driver will enable tens of millions of GPUs for games that support real-time ray tracing, accelerating the growth of the technology and giving game developers a massive install base.
With this driver, GeForce GTX GPUs will execute ray tracing on shader cores. Game performance will vary based on the ray-tracing effects and on the number of rays cast in the game, along with GPU model and game resolution. Microsoft DXR and Vulkan APIs games are all supported.
However, GeForce RTX GPUs, which have dedicated Ray Tracing Cores (RT Cores) built directly into the GPU, deliver the ultimate ray-tracing experience. They provide up to 2-3x faster ray tracing performance with a more visually-immersive gaming environment than GPUs without dedicated ray tracing cores.
For further details, head to our dedicated article.
Quake II RTX: A Ray-Traced Remaster of a Classic Game
Quake II is one of the greatest shooters of all time, and thanks to its open source release it has been a perennial favorite for modders and graphics gurus wanting to enhance a classic. Now, we're getting in on the action by showing off a demo of Quake II RTX, a substantially-enhanced and upgraded version of Q2VKPT, which made headlines in January by adding ray tracing to Quake II.
For more screenshot comparisons and info, check out our Quake II RTX article
With the blessing and assistance of Q2VKPT's creators we've improved just about everything, and added a ton of additional ray-traced awesomeness, all of which you can read about in our dedicated Quake II RTX article.
Dragonhound Announces Support For RTX Technology
Nexon's Dragonhound is a mounted-combat online action RPG that has players hunting big ol' dragons and monsters in a massive world. At GDC, Nexon announced that game will feature real-time ray-traced reflections and shadows, as demonstrated in this trailer from a work-in-progress version of the game, powered by Unreal Engine 4.22:
New Control Real-Time Ray Tracing Trailer
Remedy Entertainment's Control launches late Summer. Published by 505 Games, it's a third-person action-adventure set in the shape-shifting building of the Federal Bureau of Control (FBC), a secret government agency that keeps the supernatural out of the public eye. On PC, Control will be enhanced with glossy ray-traced reflections, ray-traced diffuse global illumination, and contact shadows for the most-influential light sources.
Check out the latest version of the game on PC, with ray tracing effects enabled in this exclusive video below:
Vampire: The Masquerade - Bloodlines 2 Announced; Will Feature NVIDIA RTX Technology
As the official graphics partner of Vampire: The Masquerade - Bloodlines 2, NVIDIA will be working closely with Paradox to integrate Ray Tracing and NVIDIA DLSS, and to deliver the best possible experience for PC gamers.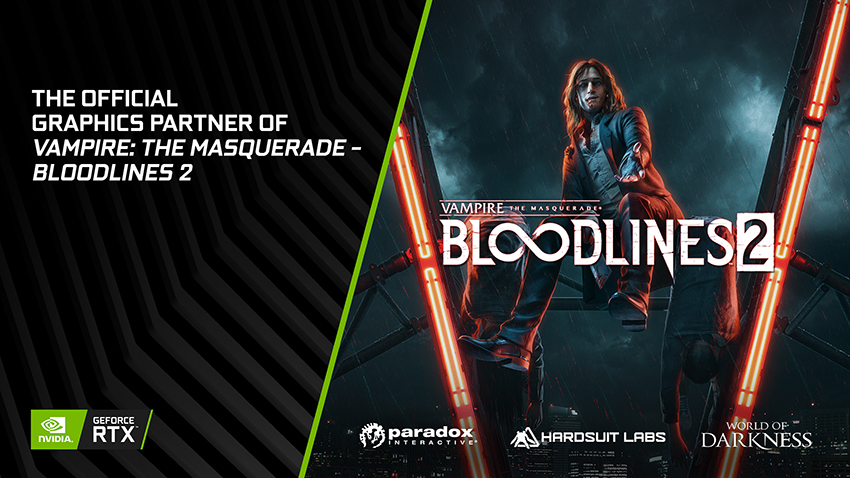 Learn more about the long-awaited, much-anticipated sequel in our dedicated Vampire: The Masquerade - Bloodlines 2 article.
GameWorks RTX Released, Aiding Development of RTX Content
Why write a new physics engine, or develop a visual effect, when top-notch versions already exist? That's the benefit of GameWorks, and it's why developers the world over have used PhysX, our visual effects, and our invaluable debug tools in their games.
Now, at GDC, we've launched GameWorks RTX, a comprehensive set of tools that help game developers implement real-time ray tracing effects in their games. It's available to developers in open source form under the GameWorks license, includes plugins for Unreal Engine 4.22 and Unity 2019.03's preview release, and includes the following features:
RTX Denoiser SDK – a library that enables fast, real-time ray tracing by providing denoising techniques to lower the required ray count and samples per pixel. It includes algorithms for ray traced area light shadows, glossy reflections, ambient occlusion and diffuse global illumination.
Nsight for RT – a standalone developer tool that saves developers time by helping to debug and profile graphics applications built with DXR and other supported APIs.
Developers looking for further info on GameWorks RTX should head here.
NVIDIA, Microsoft, Epic Games Announce DXR Developer Spotlight Contest - Win A NVIDIA TITAN RTX Graphics Card
If you've got any development experience, you're in with a chance to win a NVIDIA TITAN RTX graphics card in our latest contest. To enter, make an Unreal Engine 4.22 tech demo featuring Microsoft DXR ray-traced global illumination, reflections or shadows.
A panel of judges from NVIDIA, Epic Games, and Microsoft will rate demos based on creativity, originality, technical achievement and usability, and three winners will be selected. Each will receive a NVIDIA TITAN RTX graphics card, as well as promotion on social media platforms, and developer support should you choose to continue working on your ray-traced project.
For a complete list of rules and requirements please head on over to the DXR Spotlight Contest page.
There's More To Come
With our announcements this week at GDC 2019, GeForce gamers will experience more ray tracing in even more games, this year and in years to come. Stay tuned to GeForce.com throughout the week for more ray-tracing reveals, trailers, and announcements. In the meantime, marvel at Project Sol Part 3, our latest real-time ray-traced cinematic:
© 1997 id Software LLC, a ZeniMax Media company. QUAKE, id, id Software, id Tech and related logos are registered trademarks or trademarks of id Software LLC in the U.S. and/or other countries. Bethesda, Bethesda Softworks, ZeniMax and related logos are registered trademarks or trademarks of ZeniMax Media Inc. in the U.S. and/or other countries. All Rights Reserved.
This product is based on or incorporates materials from the sources listed below (third party IP). Such licenses and notices are provided for informational purposes only.
Quake II: Copyright (C) 1997-2001 Id Software, Inc. Licensed under the terms of the GPLv2.
Q2VKPT: Copyright © 2018 Christoph Schied. Licensed under the terms of the GPLv2.
Quake2MaX "A Modscape Production": Textures from Quake2Max used in Quake2XP. Copyright © 2019 D Scott Boyce @scobotech. All Rights Reserved. Subject to Creative Commons license version 1.0. Roughness and specular channels were adjusted in texture maps to work with the Quake II RTX engine.
Q2XP Mod Pack: Used with permission from Arthur Galaktionov.
Q2Pro: Copyright © 2003-2011 Andrey Nazarov. Licensed under the terms of the GPLv2.