Our latest GeForce Game Ready driver delivers day-one support for Halo: Reach and a new Quake II RTX update, and enables NVIDIA Control Panel Image Sharpening in OpenGL and Vulkan games.
To download and install, simply fire up GeForce Experience and click the "Drivers" tab.
Game Ready For Halo: Reach
Halo: The Master Chief Collection features six Halo games, each remastered to take advantage of the PC's power, performance, and unique features and accessories. On December 3rd, Halo: Reach will be the first title from the compilation to become available, launching simultaneously on Steam and the Windows Store.
To start your journey through the much-loved Halo games, download and install our new GeForce Game Ready driver from GeForce Experience's Drivers tab, or our website, for an optimized experience. Pre-release benchmarks with the driver show the GeForce RTX 2060 exceeding 120 FPS at 4K with max settings, and the GeForce RTX 2080 SUPER running at over 200 frames per second!
Game Ready For Quake II RTX v1.2 Update
Quake II RTX is our free ray-traced remastering of the classic 1997 first-person shooter. Now, we've released a new update that adds new features and new graphics options, and further improves the already-amazing ray-traced graphics.
Learn all about the update in our Quake II RTX v1.2 article, and check out over a dozen interactive screenshots comparing Quake II RTX and Quake II OpenGL, and showing how version 1.2's improved ray tracing further refines image quality and immersion.
Image Sharpening Now Available In Vulkan and OpenGL Games
Last month, we introduced a new NVIDIA Control Panel Image Sharpening feature that enables GeForce gamers to improve clarity and sharpness in DirectX titles, and to easily upscale and sharpen.
Now, that feature is also available for OpenGL and Vulkan games, enabling you to improve your experience in virtually every game available.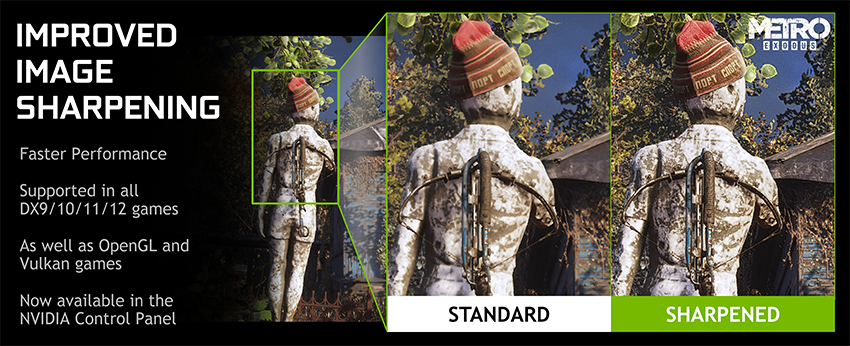 To use image sharpening on your system, open the NVIDIA Control Panel and navigate to 3D Settings > Manage 3D Settings, select Image Sharpening, configure your options, hit OK, then click Apply on the bottom right of the Control Panel window.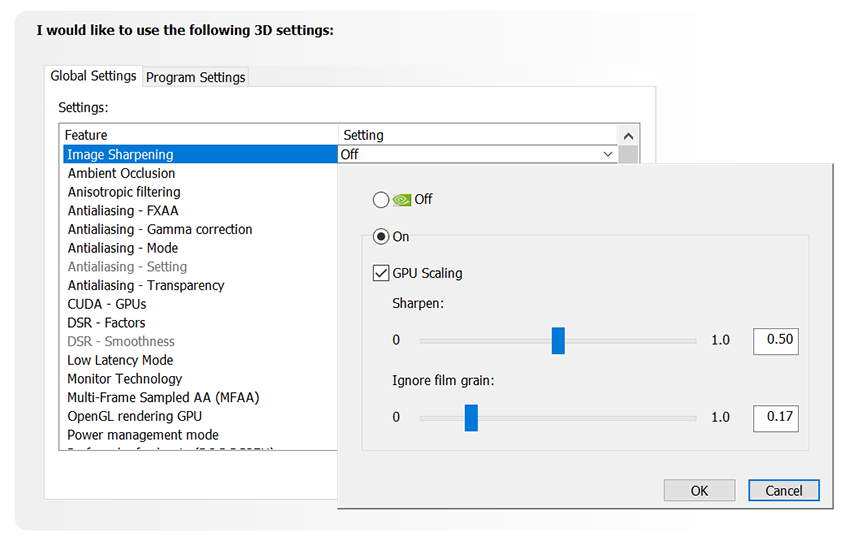 To selectively apply Sharpening and Scaling to specific games and apps on your system, select the Program Settings tab instead, navigate to the .exe in the dropdown, and apply Image Sharpening.
With the options enabled, textures will be clearer and game detail will be sharper, giving you an improved experience with just a few clicks.
GeForce Game Ready Driver - Download Now
You can download the new GeForce Game Ready 441.41 WHQL driver through GeForce Experience, our free, game-enhancing application, which records, streams gameplay, and more.
If you experience any technical issues with the new Game Ready drivers please post a detailed report on the GeForce.com Driver Feedback Forum, where our Customer Care team can better assist you. And if you're looking for a full list of fixes in this driver, for previously-reported issues, head here.