Our new GeForce Game Ready 384.94 WHQL drivers are optimized for LawBreakers' official release, EVE: Valkyrie's ultra graphics upgrade, Fortnite's Early Access release, ARK: Survival Evolved's official release, and the release of Hellblade: Senua's Sacrifice. To download and install, simply fire up GeForce Experience and click the "Drivers" tab.
Game Ready For LawBreakers
Boss Key Productions' LawBreakers launches August 8th with the very first implementation of ShadowPlay Highlights, a new GeForce Experience technology that ensures magic moments are always recorded. When playing, Double Kills, Dominations, and other notable events will be saved as video clips that can be quickly and easily uploaded for sharing on YouTube and Facebook. Learn more about the feature, and how to use it, in our LawBreakers ShadowPlay Highlights article.
In addition to ShadowPlay Highlights, GeForce Experience also gives you the ability to capture and stream the entirety of your gameplay sessions, take gameplay screenshots, automatically optimize your game settings with a single click, and quickly and easily download and install the LawBreakers Game Ready driver.
Seeing that LawBreakers is a fast-paced competitive online multiplayer first-person shooter, consistently-high framerates are important for attaining a smooth, stutter-free experience that won't throw your aim off or cost you the match in 'clutch or kick' situations. As such, our testing teams have spent countless hours in the latest version of LawBreakers to determine GPU recommendations for 60 FPS and 120 FPS gameplay. To see the results head on over to our LawBreakers Recommended GPU article.
To ensure you hit the same level of performance, download and install the new Game Ready driver before LawBreakers' release on August 8th for the definitive experience.
Game Ready For EVE: Valkyrie's Ultra Graphics Upgrade
CCP's EVE: Valkyrie is one of the most immersive and action-packed games on Virtual Reality headsets, placing you in the cockpit of a space fighter participating in battles in the EVE Online universe. Now, EVE: Valkyrie looks even better thanks to an update that introduces Volumetric Lighting and Anti-Aliasing effects from NVIDIA, numerous graphics enhancements from CCP, and performance-enhancing NVIDIA tech in the form of Lens Matched Shading and Multi-Res Shading. Learn more about this "Ultra Upgrade" in our article, and in the video below.
Our article also takes a deep dive into the performance benefits of the aforementioned Lens Matched Shading, demonstrating how the VRWorks technology gives you the performance to play with Ultra graphics in EVE: Valkyrie on GeForce GTX 10-Series graphics cards, and with higher framerates in many other VR games. Check it out here.
Game Ready For Fortnite's Early Access Release
Epic Games' long-awaited Fortnite is now in Early Access. Build forts during the day, defend them at night from the undead, and venture out to especially dangerous areas for the best gear and loot.
If you'd like to learn more about the game, which plays amazingly well at max settings at 1920x1080 on a GeForce GTX 1060, check out our Fortnite article that also includes additional GPU recommendations for gamers who play at 2560x1440 and 3840x2160.
Game Ready For ARK: Survival Evolved's Official Release
ARK: Survival Evolved, the dinosaur-themed survival action game, is exiting Early Access on August 8th. Today's driver adds Game Ready support for the graphically-intensive title, which last year added NVIDIA Ansel support.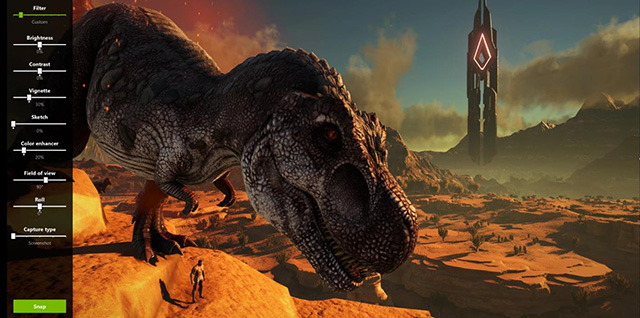 With NVIDIA Ansel you'll be able to capture personally-framed freecam screenshots, adjust the field of view and rotation of the screen, add optional Instagram-style filters, make 360° photospheres, take super resolution screenshots with incredible levels of detail, and save to shareable filetypes with a single click.
To use NVIDIA Ansel in ARK: Survival Evolved, ensure you have GeForce Experience installed, then hit Alt+F2 in solo games and you'll be able to capture incredible screenshots that were previously impossible to frame and snap.
Game Ready For Hellblade: Senua's Sacrifice
Created by Ninja Theory, the developers behind such games as Heavenly Sword and DmC: Devil May Cry, Hellblade: Senua's Sacrifice presents a nightmarish adventure filled with violence and terror, manifested by protagonist Senua's shattered mind.
Check out our preview article for more info, and get your system ready for the cinematic action-adventure game, which includes NVIDIA Ansel support, by downloading the new Game Ready driver.
GeForce Game Ready Driver - Download Now
You can download the new GeForce Game Ready drivers through GeForce Experience, our free, essential, game and system-enhancing application, which also records and streams gameplay, and grants you access to giveaways.
If you experience any technical issues with the new Game Ready drivers please post a detailed report on the GeForce.com Driver Feedback Forum, where our Customer Care team can better assist you. A list of fixes in this driver for previously-reported issues can be found here.