From 9am PT tomorrow, June 30th, to 9pm PT July 3rd, you can play the LawBreakers "Rise Up" PC beta for free by downloading the game from Steam. If you've not heard of LawBreakers before now, it's a fast-paced first-person shooter from Boss Key Productions, founded by Cliff Bleszinski, the former Epic Games design director who helped create several Unreal Tournament and Gears of War games.
The beta, which gives you a chance to try the game before its release on August 8th, includes a new map (Vertigo), a new game mode (Uplink), customization items for those who play, and a ton of changes and improvements developed since the last beta.
LawBreakers rewards inventive play and demands fast reactions in its action-filled arenas. To ensure your system doesn't crimp your style when shooting fools mid-air, download our new Game Ready driver, which is optimized for LawBreakers' "Rise Up" beta.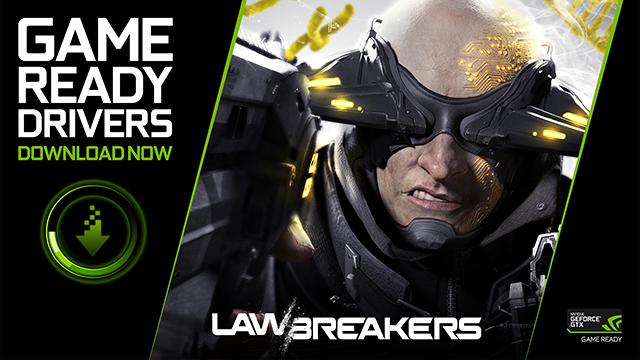 Recording and sharing incredible kills in fast-paced shooters has been a thing since the earliest days of networked first-person shooters and the internet, and in LawBreakers you can land truly spectacular kills and killstreaks. To make capturing and sharing these even easier, the release version of LawBreakers will support ShadowPlay Highlights, a new tech that automatically captures a player's best moments. Learn more here, and in the video below.
In the meantime, you can capture and stream entire matches with GeForce Experience, assuming you download and play the "Rise Up" beta that is. For more info on LawBreakers head here, and for a chance to play a day early click here.