Everyone's heard of Minecraft, the world's best-selling game, in which you craft a world out of blocks, and explore with friends across devices. It's played by tens of millions, of all ages and backgrounds, and is even used in classrooms worldwide.
At the core of Minecraft's success is its open world sandbox, where you do and make anything, and in recent years the possibilities of the sandbox have exploded with players creating new add-ons, as well as mods and shader packs that enhance Minecraft's appearance on PC. And now, together with Mojang, we have reached a stunning new level of realism with the introduction of real-time DXR raytracing for the Windows 10 edition of Minecraft.
Minecraft with RTX will refit the entire game with path tracing, a form of ray tracing featuring incredible levels of detail, affecting almost every pixel of every scene. You'll see lifelike lighting, reflections and shadows, plus so much more, exemplifying the power of ray tracing and demonstrating why game developers like Mojang and Microsoft are working together with NVIDIA to enhance upcoming blockbusters with ray tracing.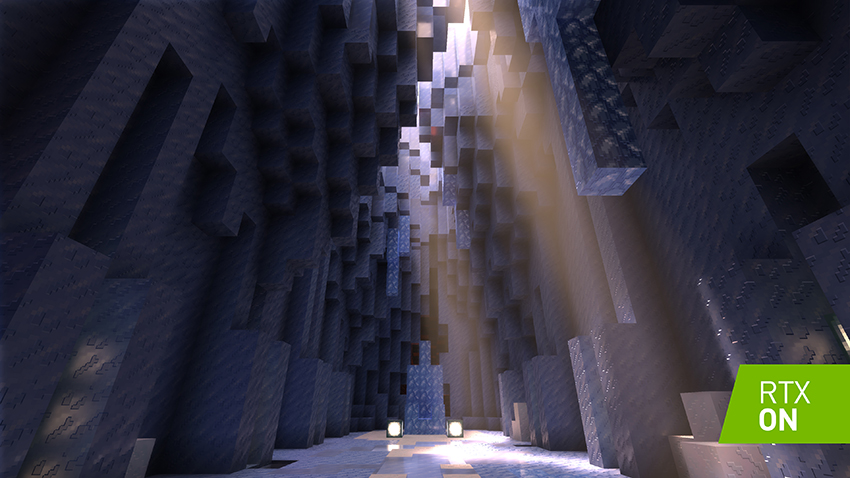 Click to open an interactive RTX ON-RTX OFF screenshot comparison
Minecraft is a dynamic world, where blocks can be removed or added en masse. NPCs and enemies roam the land, and other players zoom about in minecarts. To account for constantly-changing conditions, every ray-traced effect works in real-time, bringing lifelike visual effects to the stylized world of Minecraft in jaw-dropping fashion.
"Ray tracing sits at the center of what we think is next for Minecraft," said Saxs Persson, Franchise Creative Director of Minecraft at Microsoft. "RTX gives the Minecraft world a brand-new feel to it. In normal Minecraft, a block of gold just appears yellow, but with ray tracing turned on, you really get to see the specular highlight, you get to see the reflection, you can even see a mob reflected in it."
With ray tracing, nearly everything is visually improved. Lighting is upgraded to real-time global illumination, enabling light to realistically illuminate blocks and buildings as the world is modified. Emissive blocks like Glowstone and Lava can illuminate environments, along with other dynamic game elements. Water, glass and other reflective surfaces show accurate real-time reflections, mirroring their surroundings. Shading and shadowing gain lifelike accuracy. Clouds, fog and other atmospheric effects naturally change the look and feel of the world. Blocks gain extra depth and detail from normal maps, enabling shadows, lighting, specular reflectivity and ambient occlusion to further increase their fidelity and appearance. And on it goes, because the entire game is enhanced with raytracing.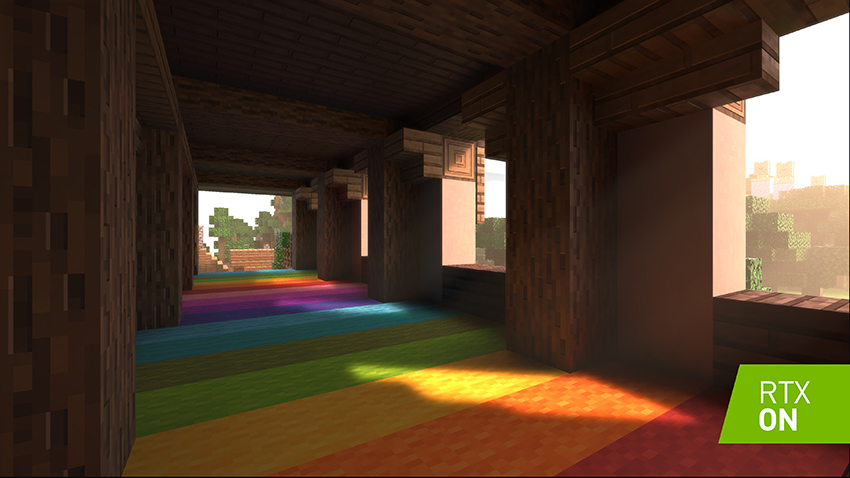 Click to open an interactive RTX ON-RTX OFF screenshot comparison
Minecraft probably has the most mods of any game, ever. So ray tracing will of course also be moddable, enabling players to generate endless ray traced content for themselves and others. And with the raytraced effects and capabilities of RTX Minecraft, new in-game designs that were previously impossible become a reality, be those a spooky ravine that fades into darkness, filled with hostile mobs drawn to the light of the player's torch; fun houses made of mirrors; or caves that glow with the precious resources or dangerous lava within.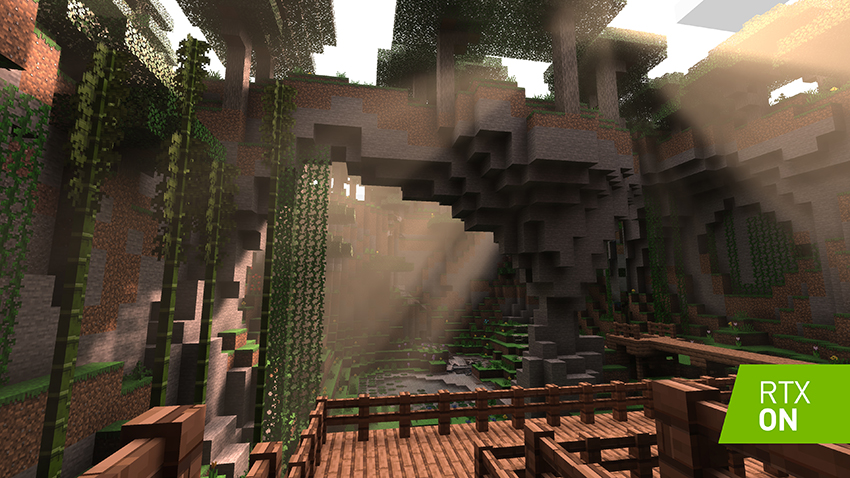 Click to open an interactive RTX ON-RTX OFF screenshot comparison
Minecraft is a game of creativity, exploration and engineering, and in Minecraft with RTX PC gamers will get to experience their Minecraft worlds like never before.
August 20th Update: To demonstrate the potential of Minecraft ray tracing, we've created some HD textures with realistic properties. For instance, in the video and images below you can see shiny walls realistically illuminated with multi-colored light from other blocks, wood and slate that react to light and shadow as they do in the real world, and water surfaces that accurately reflect their surroundings.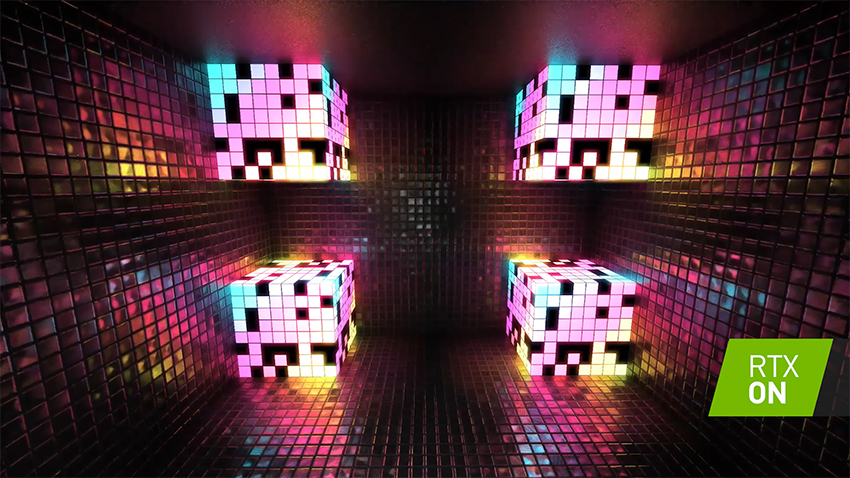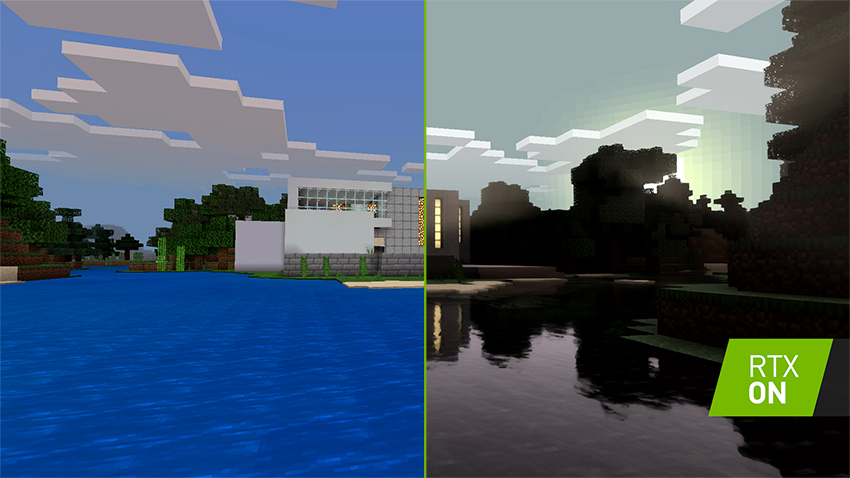 Click to open an interactive RTX ON-RTX OFF screenshot comparison
With HD textures, normal maps that add surface detail, and other enhancements, you'll be able to craft and explore high-fidelity worlds, realistic recreations of buildings and cities, and hyper realistic creations of your own design!
For more on the free Minecraft RTX update, stay tuned to GeForce.com. And head here, to learn about the ray tracing tech being added to other blockbuster games.