G-SYNC Compatible gaming monitors deliver a baseline Variable Refresh Rate (VRR) experience that makes your gaming smoother, clearer, and more enjoyable. For complete details, check out our announcement article.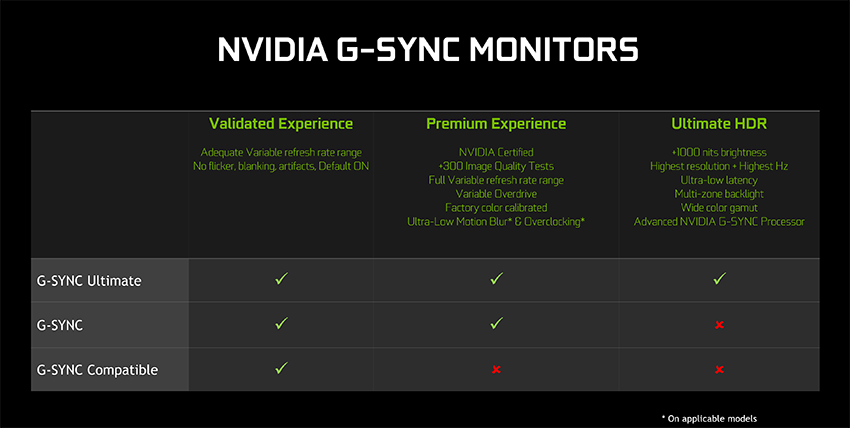 When we announced G-SYNC Compatible validation in January, only 12 of over 400 monitors met our validation criteria, which ensures buyers of compatible displays can simply plug and play.
In recent months, we've found an additional 5 monitors that ticked all the boxes, and now we're introducing support for a further 7, bringing the total number of G-SYNC Compatible gaming monitors to 24:
For a complete list of all G-SYNC, G-SYNC ULTIMATE and G-SYNC Compatible monitors, head here
Note, if an Adaptive Sync monitor isn't listed as being G-SYNC Compatible, you can try to enable VRR features manually from the NVIDIA Control Panel, but they may not work, or may only offer a suboptimal experience. Which is why we started G-SYNC Compatible validation, so you can purchase a display knowing with full confidence that it'll work with your GeForce GTX or GeForce RTX graphics card.
To update your system with support for the newest G-SYNC Compatible gaming monitors, download and install our new Game Ready Driver.
NVIDIA Surround Available Now For G-SYNC Compatible Displays
Recently, we introduced support for NVIDIA Surround when using G-SYNC Compatible displays. That means you can now run three G-SYNC Compatible monitors simultaneously via DisplayPort, and play compatible multi-monitor games with Variable Refresh Rate technology for a smoother, more enjoyable experience.
To enable this mode, you'll need:
A Turing-architecture GeForce RTX or GTX graphics card
Windows 10, version 1809 or later
Three identical G-SYNC Compatible gaming monitors
All monitors connected to the primary (master) GPU in SLI configurations
A Surround resolution set in the NVIDIA Control Panel, rather than using the three monitors separately
For example, if you had three 1920x1080 monitors, the resolution in the NVIDIA Control Panel must be set to 5760x1080 in Surround mode, rather than using the three monitors independently.
More G-SYNC Compatible Monitors, More Choices
If you're in the market for an entry level VRR experience, G-SYNC Compatible validation gives you a ton of new purchase possibilities, and the knowledge of which monitors will deliver baseline VRR benefits with your GeForce graphics card.
With the addition of a further seven displays, there's now even more choice of screen size, refresh rate, and display features. But if you want the absolute best gaming experience, we still recommend NVIDIA G-SYNC and G-SYNC ULTIMATE monitors: those with G-SYNC processors that have passed over 300 compatibility and quality tests, and feature a full refresh rate range from 1Hz to the display panel's max refresh rate, plus other advantages like variable overdrive, refresh rate overclocking, ultra low motion blur display modes, and industry-leading HDR with 1000 nits, full matrix backlight and DCI-P3 color.