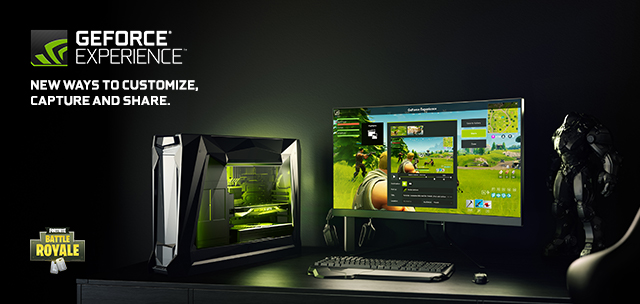 GeForce Experience is a free application that makes PC gaming accessible and effortless by automatically optimizing settings and updating drivers, and capturing and sharing gameplay with intuitive one-click controls and streamlined menus. And since its launch, GeForce Experience has been continuously improved and enhanced with new features like ShadowPlay Highlights' automatic capturing of your best moments, NVIDIA Ansel's photo mode, WhisperMode's quiet laptop gaming tweaks, and much more.
At CES 2018 we're announcing more improvements and features, which give you more ways to customize, capture and share your gaming and experiences. To learn more, keep reading.
NVIDIA Freestyle: Customize Your Game's Appearance In Real-Time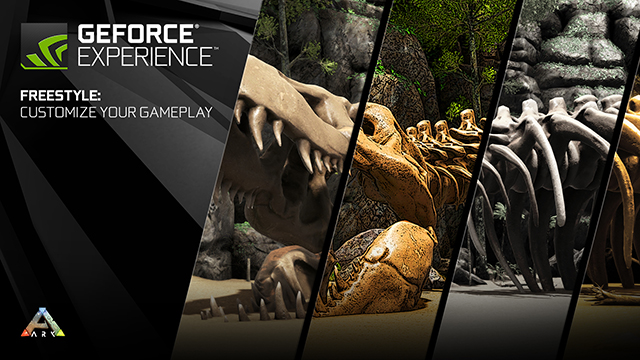 Today, we're unveiling NVIDIA Freestyle, a way for you to personally customize a game's appearance through the application of real-time post-processing filters. With Freestyle's options you can be more creative with your games, adding a retro war-themed filter for your favorite FPS, for example, or enhancing color and contrast to make a game look more photorealistic. Or maybe you're color-blind, like me, and want to make a style that makes it easier to differentiate between colors and see key features.
You can even use night mode, which reduces the amount of blue light emitted, so you can get to sleep easier after a night of gaming.
All of Freestyle's functions are easily applied through an in-game overlay, accessed by pressing "Alt+F3" in supported titles. There are 15 available filters, 38 different settings, and many possible combinations, enabling you to create a truly unique look for your gameplay with just a few clicks.
Here's how to start using NVIDIA Freestyle to enhance and customize your gameplay:
Install the latest GeForce Experience (GFE 3.12 or above) and download the latest Game Ready driver (390.65 or above).
Opt-in to the Freestyle beta in GeForce Experience through "Settings" > "General", and check "Enable Experimental Features".

Hit "Alt+Z" for the in-game overlay and click "Game Filter", or access Freestyle directly by pressing "Alt+F3".

With the Game Filter Freestyle overlay loaded, click on the "+" icon to add a new filter to your game, and again to stack more filters. You can save these combinations in any of the 3 provided slots that are assigned per game, and can cycle through these slots using a hotkey, mid-game, without re-opening the overlay. To assign custom keyboard shortcuts for these actions, press "Alt+Z" and navigate to "Settings" > "Keyboard Shortcuts."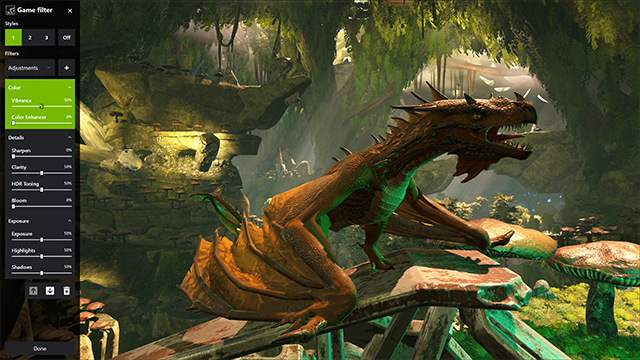 Some of our favorite combinations are "war cinema," which adds a Vignette filter, reduces the vibrance using the Color filter, and decreases Gamma using Contrast. Another favorite is "Eagle Eye," which increases vibrance through Color filter while sharpening the image using Details filter. With a full suite of powerful filters, you can customize your game to your liking.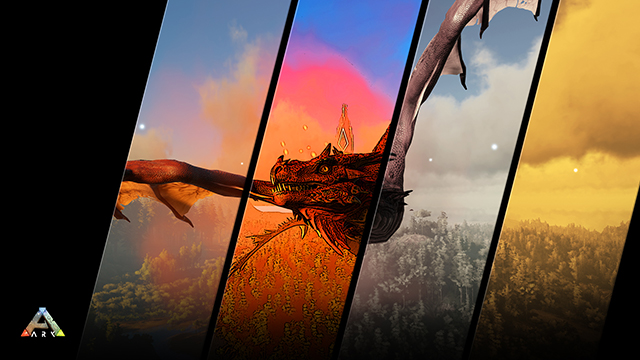 Four different filter combinations we created and applied to ARK: Survival Evolved. Make your own by pressing Alt+F3 during gameplay
Let us know what you think of Freestyle on Facebook and Twitter, and be sure to share your best filter combinations with others through Reddit, social media, and forums.
NVIDIA Ansel Photo Mode: Enhanced For Even Better Photo Customization
NVIDIA Ansel hands GeForce GTX gamers the tools to capture unique, professional-grade 2D, 360° and Virtual Reality 360° photos. Millions of shots have been snapped in 36 supported games, and now we're making Ansel even better with a refreshed design, new features, and integration into the "Alt+Z" Share overlay.

When you access Ansel in any supported game via the "Photo Mode" button in the "Alt+Z" overlay, or through the Ansel "Alt+F2" hotkey, you'll immediately notice that we have refreshed our overlay controls, added 8 new filters, and added the ability to combine multiple filters together.
Now, users have even more real-time editing tools to create stunning screenshots. To try them for yourself, download GeForce Experience 3.12 and our latest Game Ready driver (390.65 or above), and opt-in to the GeForce Experience beta program.
Customize, Capture and Share With GeForce Experience
We are excited to bring new and improved ways for gamers to customize, capture, and share their gameplay, with GeForce Experience's new Ansel and Freestyle features. And with ShadowPlay Highlights' addition to Fortnite Battle Royale, players can ensure their best moments are always recorded for instant, easy sharing. Update GeForce Experience and download the new driver now to try all of these new features!