As of today, two thirds of GeForce gamers are playing on systems with GeForce GTX 960-levels of performance, or with GPUs slower still, preventing them from enjoying high, responsive framerates, and the glorious levels of detail offered by AnthemTM, BattlefieldTM V, Metro Exodus and other modern games.
For gamers looking for an affordable option for reviving their systems' languishing performance, we're introducing the new GeForce GTX 1660 Ti, a plug-and-play straight swap for the vast majority of PCs begging for an upgrade. It's 3x faster than a GTX 960, 1.5x faster than a GTX 1060, and offers comparable performance to a GTX 1070.
And… surprise! It's available now from partners worldwide, starting at $279.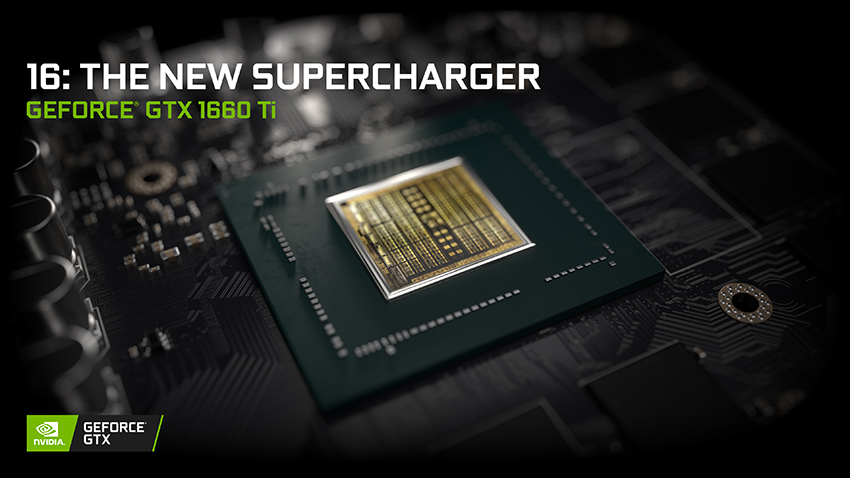 The GeForce GTX 1660 Ti is built on the Turing architecture, which debuted with the world's fastest graphics card, the GeForce RTX 2080 Ti. And like the GeForce RTX graphics cards, the GTX 1660 Ti features numerous architectural enhancements that accelerate performance, improve efficiency, and deliver a superior gaming experience.
In particular, Turing's shader innovations are of the greatest benefit, enabling the GTX 1660 Ti to excel in modern games with complex shaders, and to further extend its performance advantage over previous-generation GPUs.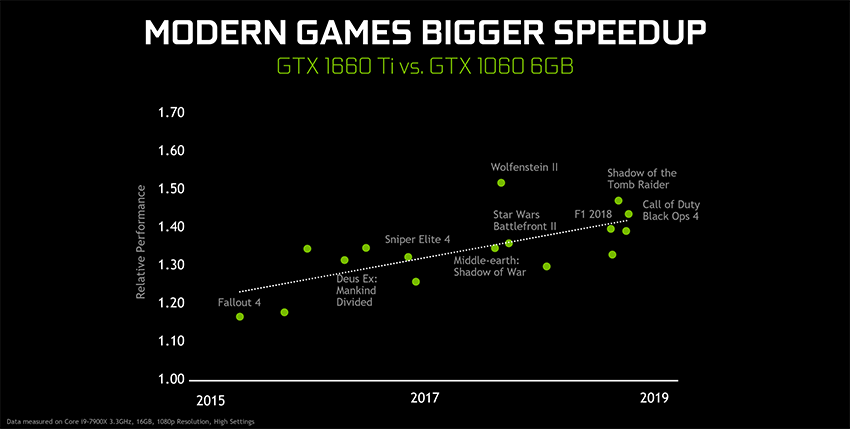 In terms of framerate, these enhancements enable you to hit 120 FPS in Apex Legends, Call of Duty: Black Ops 4 - Blackout, Fortnite and PUBG, 147 FPS in DOOM, 112 FPS in Wolfenstein II: The New Colossus, 80 FPS in Battlefield V, 74 FPS in The Witcher 3: Wild Hunt, and 70 FPS in Grand Theft Auto V, all at 1920x1080 with High settings.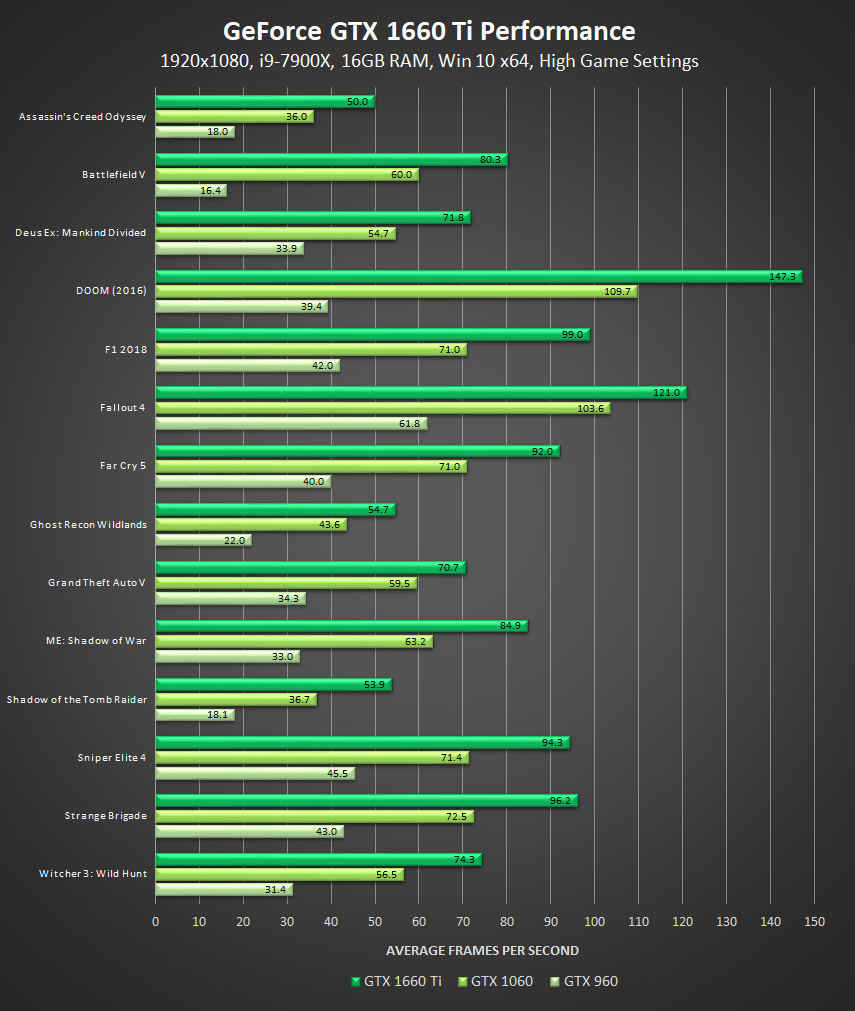 In addition to its architectural enhancements that accelerate the performance of these titles so significantly, the GTX 1660 Ti also supports our Adaptive Shading technology, which debuted in Wolfenstein II: The New Colossus. This boosts framerates by automatically concentrating shading horsepower on areas of the scene that need it the most, and as more developers integrate Adaptive Shading the faster GTX 1660 Ti will get, further increasing its lead over previous-generation GPUs.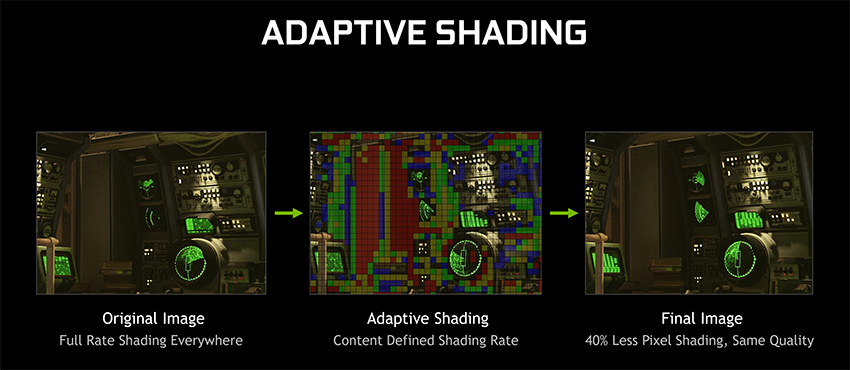 Other details of note: the GTX 1660 Ti features 6GB of super-fast GDDR6 VRAM, as used on GeForce RTX GPUs, and a 192-bit memory interface, giving it 50% more memory bandwidth than the GTX 1060. Out of the box, GPU Boost Clocks start at 1770 MHz, though several partner cards push that number higher, and some have advanced custom coolers that enable overclockers to hit up to 1950 MHz on air (in our testing). And power efficiency is up to 1.4x higher, enabling a substantial performance boost at the same 120 Watt TDP.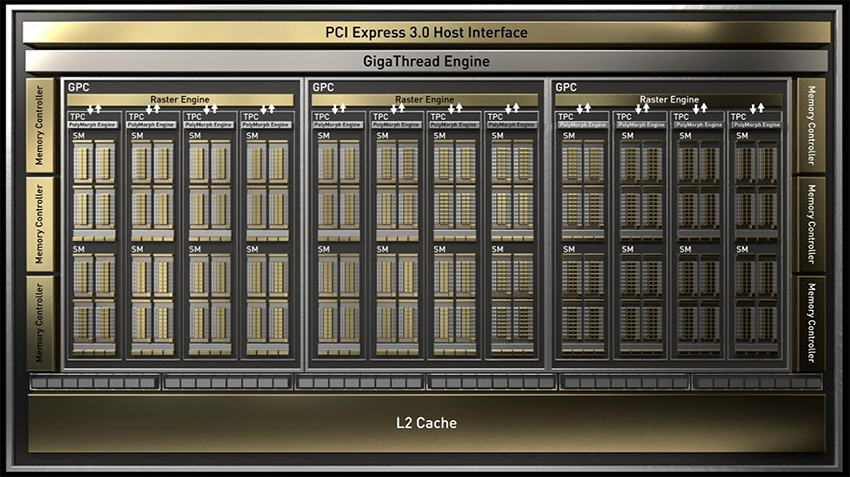 All this wonderous technical wizardry is of course supported by NVIDIA's unprecedented line-up of game and experience enhancing features.
GeForce Experience delivers game setting recommendations and updated, optimized drivers for all the biggest games; Ansel enables you snap in-game photos in hundreds of titles; Freestyle transforms the look of your game in real-time; Highlights captures your best gameplay moments from Fortnite, Metro Exodus, PUBG, and other titles; ShadowPlay enables you to stream and record uninterrupted gameplay; GameWorks effects enhance Metro Exodus, Shadow of the Tomb Raider and other leading titles; and GameStream enables you to enjoy your PC games from the comfort of your sofa.
Furthermore, even after a product's launched, we keep on working, adding value to your purchase over the years. In January, we added support for G-SYNC Compatible variable refresh rate displays to dozens of GeForce GPUs. These displays help you avoid tearing and VSync-induced input lag, and more, enhancing your experience when you're intently staring at your screen in tense battle royale matches and marathon multi-hour gaming sessions.
For buyers of the GTX 1660 Ti, G-SYNC Compatible monitors are a great upgrade that noticeably improve every second of your gameplay. Learn more here.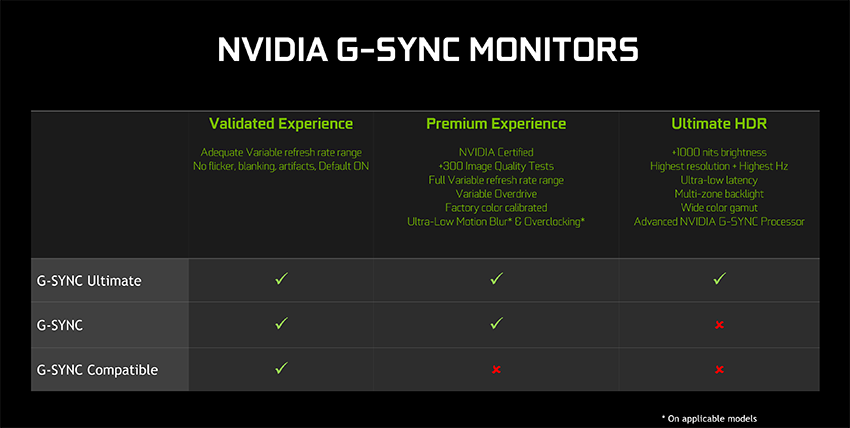 Most recently, we introduced an update to NVIDIA's Encoder (NVENC) in OBS Studio that improves performance and unlocks new image quality settings when broadcasting.
The GTX 1660 Ti comes equipped with the new Turing NVENC, the same NVIDIA Encoder found on RTX 20-Series GPUs. With this, and the new version of OBS Studio, you can game and stream from one GTX 1660 Ti PC without compromise, something that was previously impossible given the demands of live broadcasting. In other words, you can game at high detail levels and framerates, and simultaneously give your viewers a superior experience with a higher stream quality that has improved clarity and definition. For further details, head here.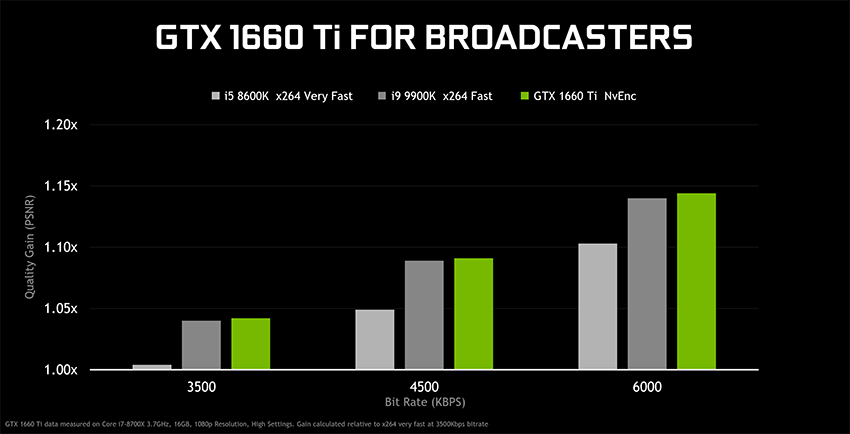 Introducing The GeForce GTX 1660 Ti
Altogether, the goodness presented above forms the GeForce GTX 1660 Ti, a perfect GPU for gamers wanting high framerates, amazing software support and detail levels at 1920x1080, the resolution of choice for over 60% of Steam users.
It's out now around the world, with prices starting at $279 here in the United States. For purchase options, check out our Store, where you can see current prices and availability on Amazon, Newegg, and other sites.