GeForce RTX graphics cards are the world's fastest, giving gamers the performance to enjoy the latest and greatest games at stunning levels of detail. On January 15th, the $349 GeForce RTX 2060 will deliver advanced ray tracing and AI features, plus levels of performance previously available only in high-end gaming GPUs, at a price point within reach of PC gamers worldwide.
Delivering max-setting 60+ FPS gaming at 1920x1080, and excellent high-setting performance at 2560x1440, the RTX 2060 offers an in-game experience that beats the GTX 1070 Ti and is on average 60% faster than the prior-generation GTX 1060. Furthermore, the RTX 2060 features the same AI and Ray Tracing technology as the RTX 2080 Ti, 2080 and 2070, enabling RTX 2060 owners to enjoy BattlefieldTM V at 60 frames per second, with amazing real-time ray-tracing effects enabled.
NEW TURING ARCHITECTURE BOOSTS MODERN GAMES
"For tens of millions of gamers everywhere, next-gen gaming starts today," said NVIDIA founder and CEO Jensen Huang, at the RTX 2060's unveiling at CES 2019. "Desktop gamers are demanding, and the RTX 2060 sets a new standard — an unbeatable price, extraordinary performance and real-time ray tracing that blurs the distinction between movies and games. This is a great moment for gamers and our industry."
GEFORCE RTX 2060: NEXT-GEN GAMING FOR TENS OF MILLIONS OF GAMERS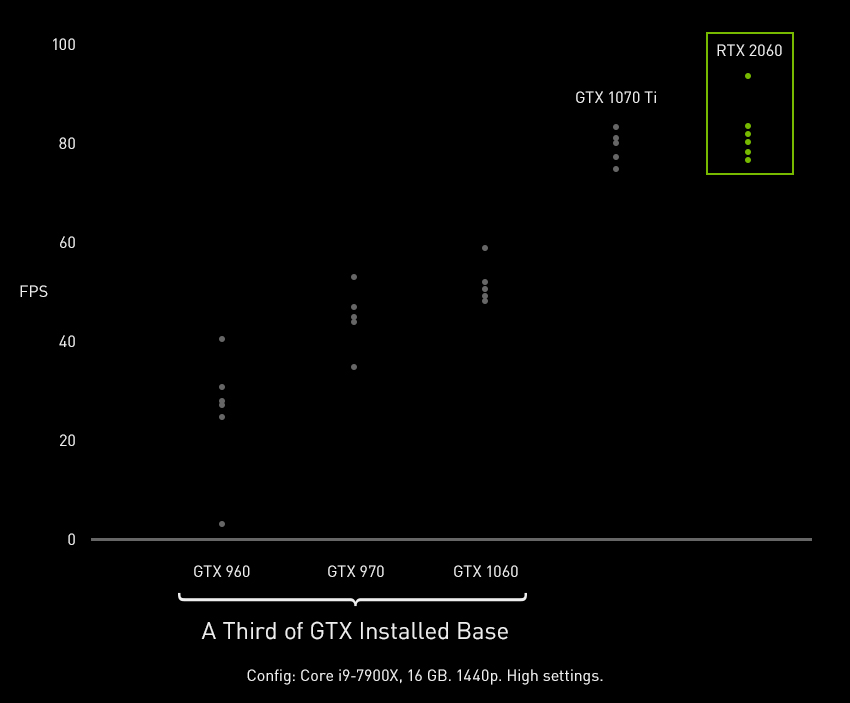 The GeForce RTX 2060 features 1,920 CUDA cores, 240 Tensor Cores that can deliver 52 teraflops of deep learning horsepower, 30 RT Cores that can cast 5 gigarays a second, 6 GB of the newest GDDR6 memory running at 14 Gbps, and a GPU boost clock of 1.68 GHz. Furthermore, users can significantly boost their GPU performance with manual overclocking (up to 2 GHz was achieved in our labs), or use NVIDIA's one-click OC Scanner technology in custom tools such as EVGA Precision XOC and MSI Afterburner to get rock-solid overclocks.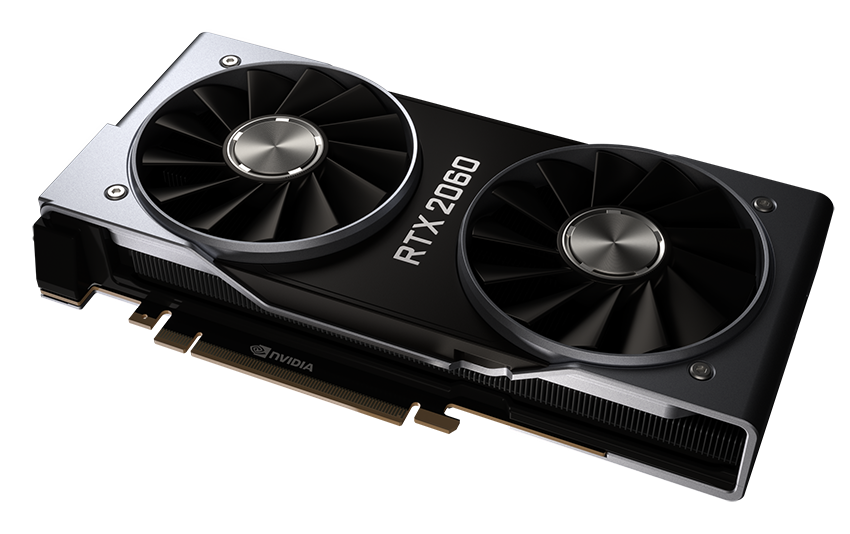 Like other NVIDIA graphics cards and laptops, the GeForce RTX 2060 is supported by a rich ecosystem of game and experience-enhancing technologies. NVIDIA Ansel enables you to capture custom screenshots in hundreds of games; NVIDIA Highlights captures your best gameplay moments in Fortnite, PUBG, Ring of Elysium, and many other titles; GeForce Experience offers one-click Optimal Playable Settings for the latest games, as well as driver updates, ShadowPlay gameplay recording, and more; and Freestyle lets you tweak the look of virtually every game.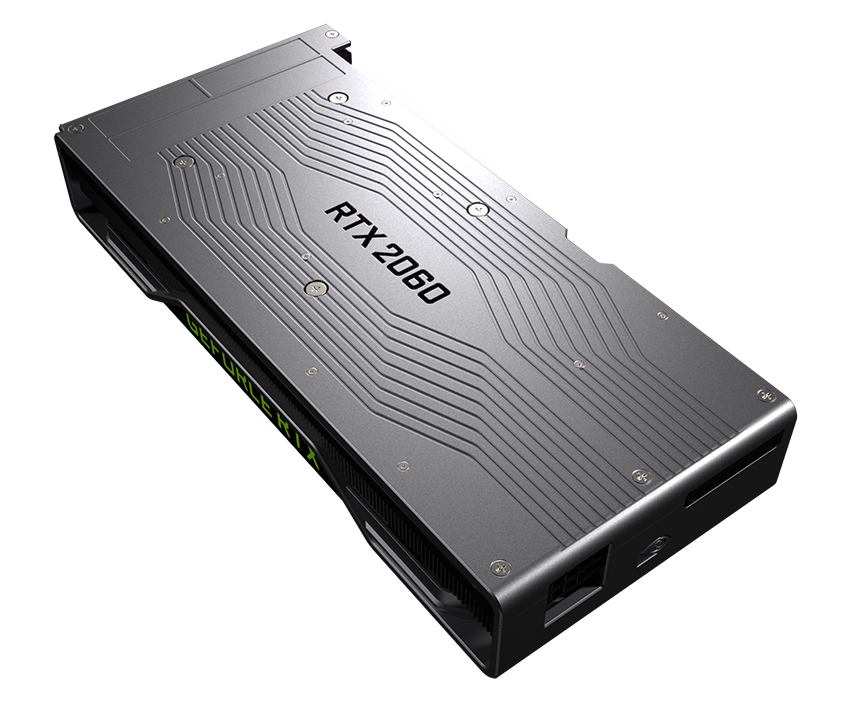 The GeForce RTX 2060 will be available beginning January 15th in systems built by Acer, Dell, HP and Lenovo, as well as by leading system builders worldwide.
Custom boards, including stock-clocked and factory-overclocked models, will also available starting January 15th from top add-in card providers, including ASUS, Colorful, EVGA, Gainward, Galaxy, Gigabyte, Innovision 3D, MSI, Palit, PNY and Zotac.
A stock-clocked RTX 2060 Founders Edition board — designed and built by NVIDIA — will also be available on that date, exclusively from our website.
Then, on January 29th, GeForce RTX 2060, 2070 and 2080 laptops will hit shop shelves, delivering excellent performance in a portable form factor.
In addition, select GeForce RTX 2060 graphics cards, laptops and PCs are eligible to receive a free copy of either Battlefield V or AnthemTM, for a limited time, as part of our new Game On bundle. The GeForce RTX 2060 is EA's recommended GPU for Anthem, and as such gives you a great experience in the upcoming high-fidelity multiplayer action game. Learn more about the bundle here.