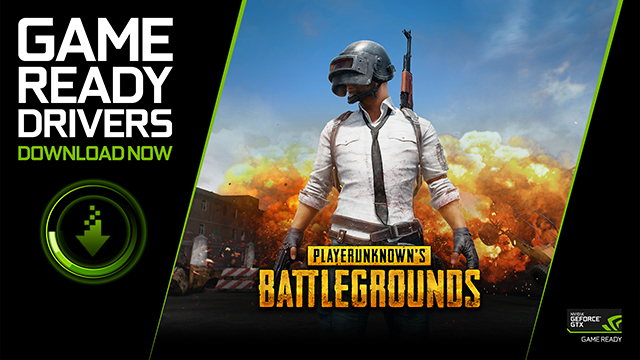 Our final Game Ready driver of 2017 is optimized for the year's most popular PC game, PLAYERUNKNOWN'S BATTLEGROUNDS (PUBG). To download and install, simply fire up GeForce Experience and click the "Drivers" tab.
Game Ready For PLAYERUNKNOWN'S BATTLEGROUNDS (PUBG)
PUBG launched in Early Access in March, and though relatively unknown to the wider world, PUBG was already a hit on Twitch thanks to several successful beta weekends and streams. Less than a month later, PUBG had enough concurrent players to dethrone several popular titles in the Steam Top 10, and by June sales were rocketing.
Today, over 25 million people own PUBG, making it the fastest-selling game in Steam history, the second-best selling Steam game ever (Counter-Strike: Global Offensive, released 2012, is #1), and the most-played Steam game of all time, with over 1 billion hours played, and with 2 million-more concurrent players than previous record holder Dota 2.
Now, PUBG is exiting Early Access with a new desert map, a new, game-changing vaulting mechanic, new guns, new vehicles, a replay system, a death cam, tweaks to the original Erangel map, and a whole load of optimization. And of course, there's our new Game Ready driver, with further optimizations and tweaks, delivering the fastest and smoothest PUBG experience of any platform.
Such is the level of optimization that you can now play PUBG at over 60 FPS, with High settings, at 1920x1080, on an affordable GeForce GTX 1060: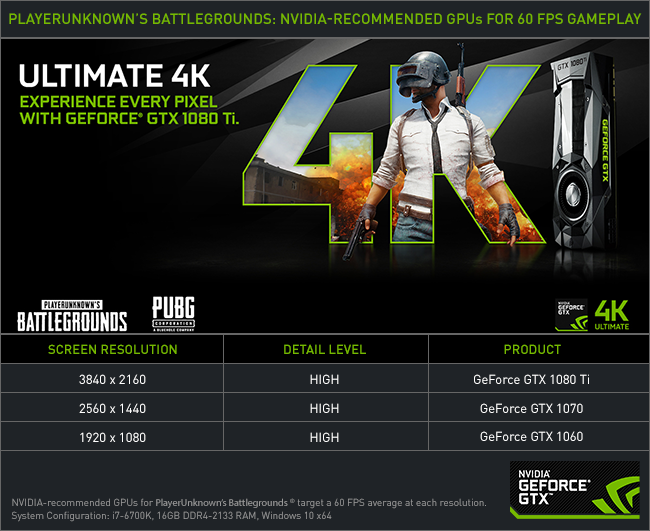 Learn more about our recommended GPUs for High and Ultra settings here
And in addition to delivering the performance to smoothly play PUBG, our recommended GeForce GTX graphics cards support a vast array of critically-acclaimed technologies, including ShadowPlay Highlights, an awesome feature that automatically records your PUBG kills, knockouts and deaths.
Your favorite clips can be quickly and easily shared through GeForce Experience, and should you be daunted by manually configuring the game's many graphics settings, GeForce Experience also includes an "Optimize" button that instantly tweaks your PUBG settings for a smooth experience on your specific system configuration.
So if you want to play the world's hottest game, make sure you play it on a GeForce GTX 10-Series graphics card for the fastest, smoothest performance, supported by ShadowPlay Highlights, ShadowPlay, HBAO+ ambient occlusion shadowing, desktop and laptop Optimal Playable Settings, and Game Ready drivers that will continue to optimize and improve your experience in PUBG and other games far into the future.
Installing NVIDIA Game Ready drivers ensures you receive the best possible experience the second a game launches. Behind the scenes this entails a whole lot of work, with NVIDIA engineers cranking away until the last available minute to squash bugs, and to optimize performance, frame times and input latency. In addition, teams across the globe liaise with game developers to integrate code changes for our drivers that further optimize GeForce GTX performance.
And when developers want to include support for enhancements like Ansel, HBAO+ or ShadowPlay Highlights, specialists at NVIDIA help them add the necessary features and code, and coordinate their release with the launch of the required driver. Some even go on-site at studios, working shoulder to shoulder with developers, editing source code to add new features and optimizations as there's no one can squeeze more performance from NVIDIA's drivers and technology than NVIDIA's own engineers.
For PUBG, that entailed hundreds of hours of work from over half a dozen teams in three continents. So make sure you download and install the new PUBG Game Ready driver for an optimized experience, either from the "Drivers" tab in GeForce Experience, or from our website.
If you experience any technical issues with the new Game Ready drivers please post a detailed report on the GeForce.com Driver Feedback Forum, where our Customer Care team can better assist you. A list of fixes in this driver for previously-reported issues can be found here.