On October 10th Warner Bros. Interactive Entertainment will release Middle-earth: Shadow of War, the much-anticipated sequel to 2014's critically-acclaimed Middle-earth: Shadow of Mordor. Like Shadow of Mordor, Shadow of War will take full advantage of the fastest GPUs and CPUs, enabling you to crank up image quality for a jaw-dropping experience, and to download an Ultra High Definition texture pack for the highest level of detail possible.
For gamers seeking this definitive experience, we've partnered with Warner Bros. Interactive Entertainment to launch a time-limited GeForce GTX Middle-earth: Shadow of War bundle. So from now until October 16th, 2017, purchases of select GeForce GTX 1080 Ti and GeForce GTX 1080 graphics cards, systems and laptops at participating retailers will come bundled with a Steam copy of Middle-earth: Shadow of War, playable from the moment of the game's release on October 10th.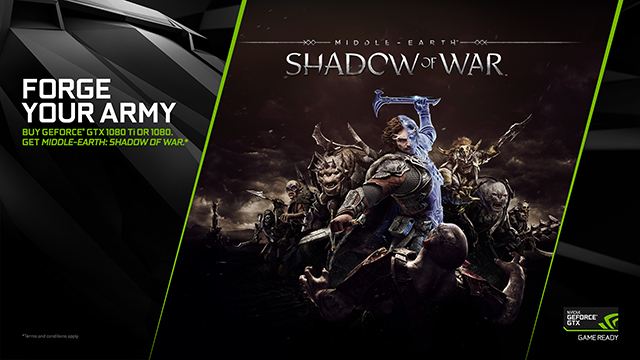 With the bundled GeForce GTX 1080 Ti and GeForce GTX 1080, you can enjoy high-resolution, high-detail 60 FPS gameplay in Shadow of War: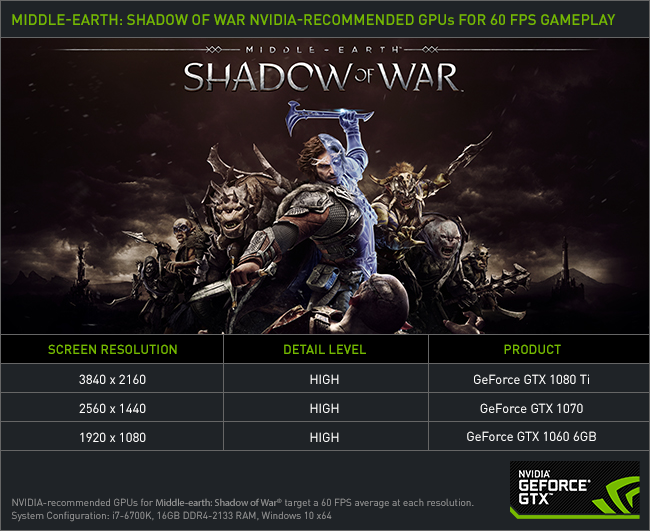 Or crank the detail level up to Ultra, though you will need to add a second graphics card for SLI if you desire the definitive experience, at 4K, at 60 FPS, with every graphics settings maxed out: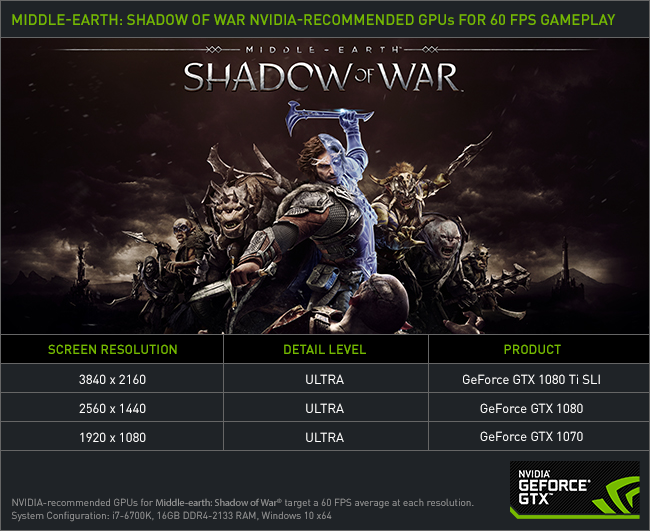 Our recommendations are based on extensive testing with Founders Edition graphics cards in Shadow of War's built-in benchmarking tool, which accurately mirrors performance in the most demanding moments of the game. This ensures that our recommended GeForce GTX graphics cards deliver a fantastic experience from start to finish.
In addition to delivering that excellent experience, our recommended and bundled graphics cards will enable Shadow of War players to capture unique, personally-framed screenshots with NVIDIA Ansel, a revolutionary game photography tool. Featuring a variety of tools and options, Ansel will allow you to reposition the camera to just about anywhere, add filters and image tweaks, and capture in 2D, 360, and super-high-resolution formats, before uploading straight to popular services and social media platforms.
As well as using Ansel, buyers and owners of GeForce GTX graphics cards will be able to use GeForce Experience to optimize Shadow of War's settings for the best possible experience, capture and stream all of their gameplay with ShadowPlay and the Share overlay, and play on their TV with GameStream. Learn more here.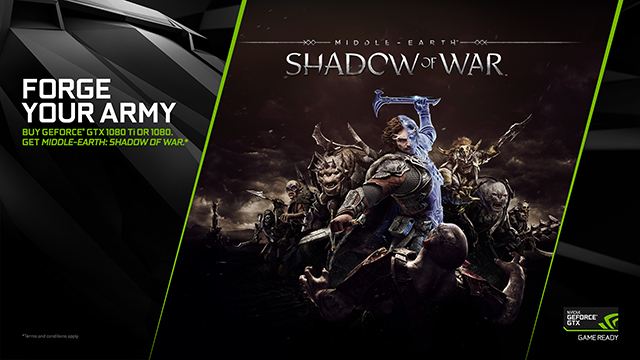 If you're ready to upgrade for the ultimate Shadow of War experience, and you like the sound of receiving a free copy of the game at the same time, head on over to our Middle-earth: Shadow of War bundle landing page to discover which stockists in your country are participating, and which GeForce GTX 1080 Ti and GTX 1080 graphics cards, systems and laptops are eligible.
If you are buying an eligible GeForce GTX GPU, system or laptop please ensure the seller is participating in the "Forge Your Army" Middle-earth: Shadow of War bundle; NVIDIA cannot provide download codes and coupons for purchases made at non-participating retailers and e-tailers.