The eagerly-awaited Star WarsTM BattlefrontTM II launches November 17th, giving gamers the opportunity to experience massive multiplayer battles and intense space combat set across all three Star Wars eras. The game will also feature a previously untold story in its single player campaign. In it, we follow a new hero: Commander Iden Versio, leader of the Empire's Inferno Squad, in events following Return of the JediTM.
As you can see from the trailer above, the developers at DICE, Motive and Criterion have once again raised the bar for graphical fidelity. At home, if you wish to experience this amazing level of detail for yourself, here are our recommendations for GeForce GTX graphics cards up to the task: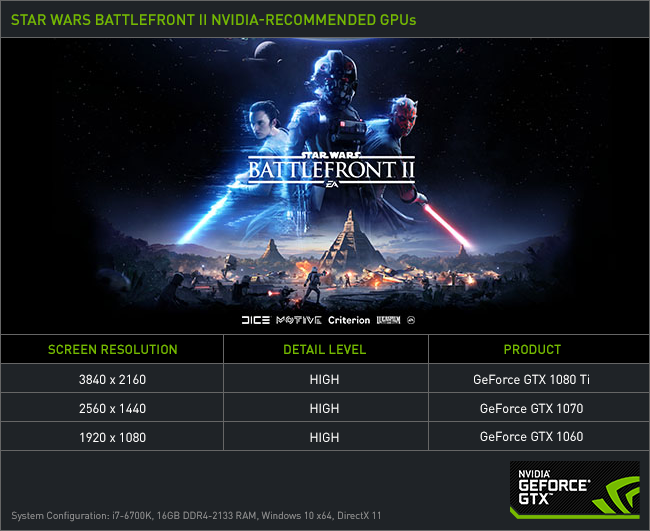 Based on testing in the graphically-advanced single-player campaign, we found the GeForce GTX 1060, recommended by EA and DICE, to be the GPU of choice for 1920x1080, High-detail gameplay. Running at an average of 72 FPS in Star Wars Battlefront II's campaign, at a High level of detail, the GTX 1060 delivered an excellent, super smooth experience in the most visually-demanding moments of the game, and an equally-smooth experience in multiplayer.
At 2560x1440, meanwhile, the GeForce GTX 1070 is recommended, running at over 66 FPS on average. And at 3840x2160, you'll want the world's fastest consumer graphics card, the GeForce GTX 1080 Ti, which runs at an average of 55 FPS at this demanding resolution, with a scrumptious level of detail, for an experience you can't match on any other platform or PC config.
In addition to delivering the performance to smoothly play Star Wars Battlefront II, the recommended GeForce GTX 10-Series graphics cards support our vast array of critically acclaimed technologies, giving you the definitive gaming experience, unmatched by any other platform. And if you're daunted by manually configuring the game's many graphics settings, load up GeForce Experience and click "Optimize" to instantly receive optimized Star Wars Battlefront II settings that ensure a smooth experience on your specific system configuration.
And of course, GeForce Experience will also enable you to quickly and easily download and install our Game Ready Driver for Star Wars Battlefront II, giving you the smoothest, fastest, most reliable experience possible the second the game launches.
Play Star Wars Battlefront II worldwide on November 17, 2017 on GeForce GTX-powered gaming PCs, and on GeForce Now for Mac.