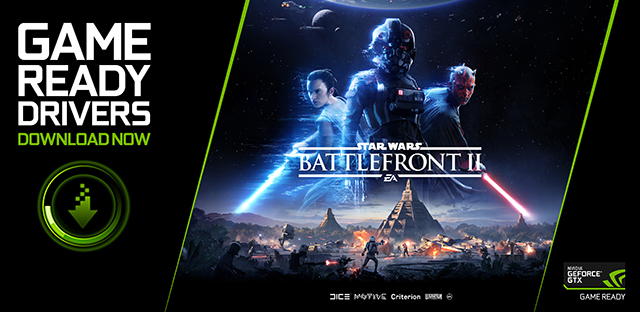 Our new GeForce Game Ready 388.31 WHQL drivers are optimized for Star WarsTM BattlefrontTM II and Injustice 2, and increase performance in Destiny 2 by up to 53%. To download and install, simply fire up GeForce Experience and click the "Drivers" tab.
Game Ready For Star Wars Battlefront II
The eagerly-awaited Star WarsTM BattlefrontTM II launches November 17th, giving gamers the opportunity to experience massive multiplayer battles and intense space combat set across all three Star Wars eras. The game will also feature a previously untold story in its single player campaign. In it, we follow a new hero: Commander Iden Versio, leader of the Empire's Inferno Squad, in events following Return of the JediTM.
For a high-definition experience, a GeForce GTX 1060 is recommended by recommended by EA and DICE, and is also recommended by us, having exceeded 60 FPS in our comprehensive benchmarking article.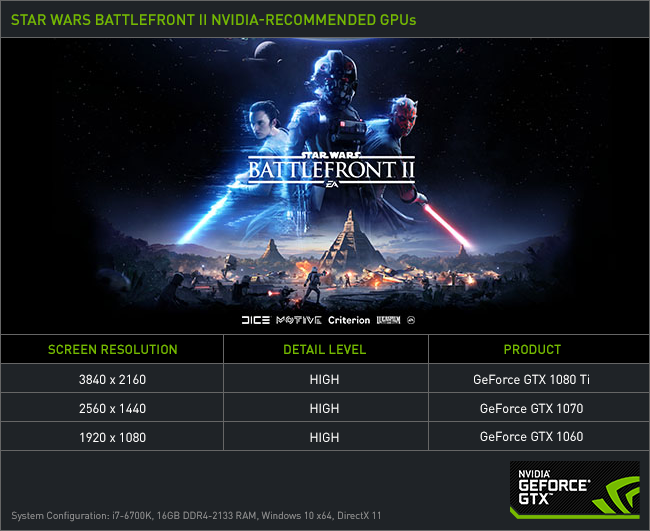 For further details, and info about performance at 2560x1440 and 3840x2160 (4K), be sure to check out our Star Wars Battlefront II Recommended Graphics Card article. For more info on Star Wars Battlefront II itself, check out the official website. And for the best possible experience in the game, be sure to download the new Game Ready driver, and optimize your settings in GeForce Experience.
Double-Digit Destiny 2 Performance Improvements
Our driver team spends a considerable amount of time developing optimizations and improvements for the latest games before they're launched, ensuring you have a great experience the second they're available. The work doesn't end at launch, however, as our team continually searches for further improvements in game code and our drivers, collaborating with developers whenever possible.
The fruits of this labor can be seen today in our new Game Ready driver, which introduces performance improvements of up to 53% in Destiny 2, giving you even-faster framerates. Alternatively, reinvest this new-found performance by cranking up game settings and the internal rendering resolution for an even-richer experience.
At 2560x1440, on our Intel Core i7-7820X system, which eliminates any CPU bottlenecks, our testing revealed performance improvements of up to 40% when using the new Game Ready driver, with an average improvement of 36.4% recorded across 6 different GPU configurations: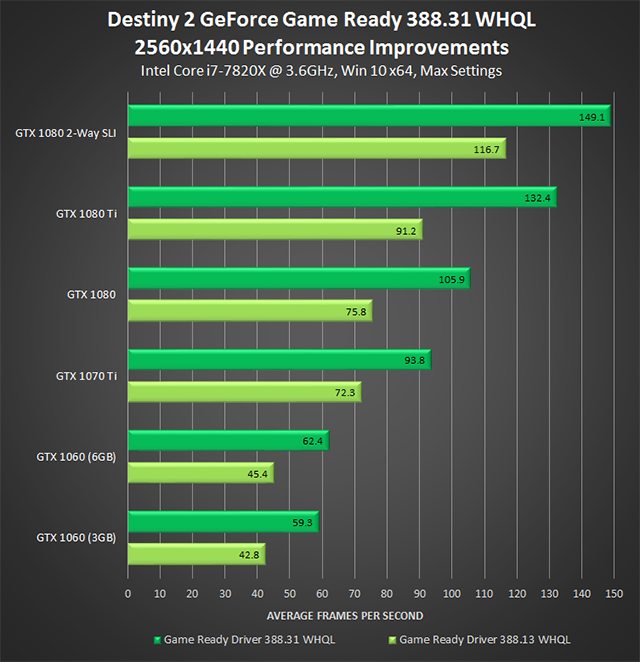 At 3840x2160, performance improves by an incredible 53% on the GeForce GTX 1080 Ti, enabling the world's fastest consumer graphics card to run our benchmark at 73 FPS, up from the 48 FPS recorded with our previous Game Ready driver. Together, the 4 GPU configurations tested saw an average improvement of 46.6%, with the single-GPU configs reporting improvements no lower than 45%.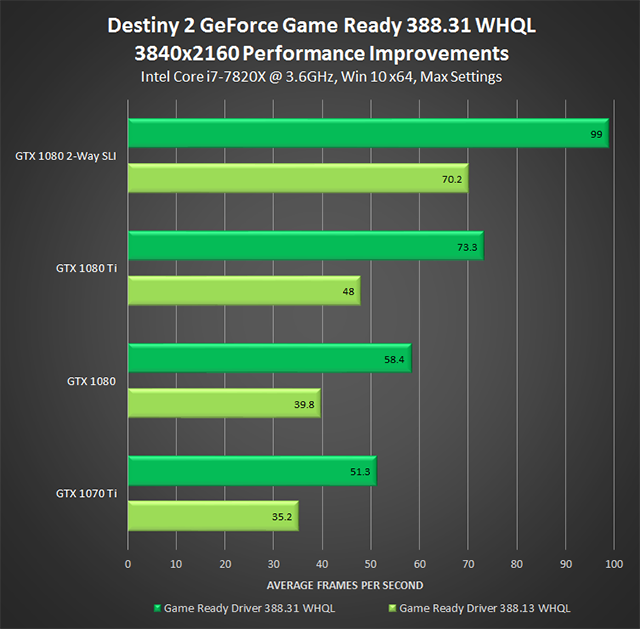 Destiny 2 GeForce Game Ready 388.31 WHQL Performance Improvement Summary
Graphics Card
2560x1440 Improvement
3840x2160 Improvement
GeForce GTX 1060 (3GB)
39%
GeForce GTX 1060 (6GB)
37%
GeForce GTX 1070 Ti
30%
46%
GeForce GTX 1080
40%
47%
GeForce GTX 1080 Ti
45%
53%
GeForce GTX 1080 2-Way SLI
28%
41%
To benefit from these optimizations at home all you need to do is download and install the new Game Ready driver, either from GeForce Experience or our website. Please note, performance gains will vary depending on game settings and system hardware, as is always the case.
Game Ready For Injustice 2
If you like fighting games, WB Games and NetherRealm Studios' Injustice 2 launches on PC on November 14th, with a conversion from famed conversion-specialists QLOC.
Being a fighting game, a locked 60 FPS is strongly recommended for minimizing input latency and avoiding frame skips, which can affect your inputs and cause you to miss crucial attacks and blocks. To get 60 FPS, the following system configurations are recommended by WB Games, NetherRealm Studios and QLOC:
Injustice 2 Minimum System Requirements
OS: 64-bit Windows 7 or later
CPU: Intel Core i5-750, 2.66 GHz / AMD Phenom II X4 965, 3.4 GHz or AMD Ryzen™ 3 1200, 3.1 GHz
RAM: 4 GB
HDD: 52 GB
GPU: NVIDIA GeForce GTX 570 or GTX 1050, or equivalent
DirectX: 11 Compatible video card or equivalent
Injustice 2 Recommended System Requirements
OS: 64-bit Windows 7 or later
CPU: Intel Core i3-2100, 3.10 GHz / AMD FX-6300, 3.5 GHz or AMD Ryzen™ 5 1400, 3.2 GHz Memory: 8 GB RAM
RAM: 8GB
HDD: 30GB
GPU: NVIDIA GeForce GTX 780 [modern equivalent, NVIDIA GeForce GTX 1060]
DirectX: 11 Compatible video card or equivalent
Whichever GeForce GTX GPU you use to pummel your opponents, be sure to get the most from it in Injustice 2 by download and installing the new Game Ready driver, and optimizing your settings with a single click in GeForce Experience.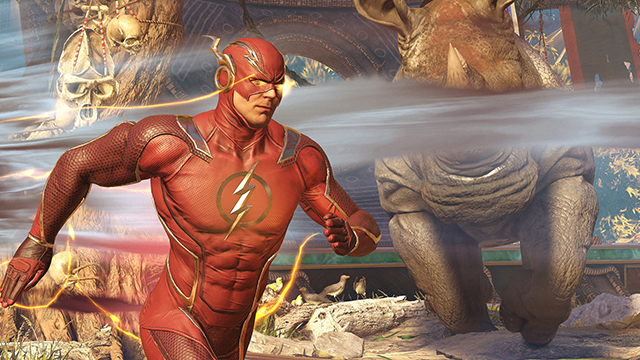 GeForce Game Ready Driver - Download Now
You can download the new GeForce Game Ready drivers through GeForce Experience, our free, essential, game and system-enhancing application, which also records and streams gameplay, and grants you access to giveaways.
If you experience any technical issues with the new Game Ready drivers please post a detailed report on the GeForce.com Driver Feedback Forum, where our Customer Care team can better assist you. A list of fixes in this driver for previously-reported issues can be found here.