If you love strategy games, Sega and Creative Assembly's Total War: WARHAMMER II is grandmaster of them all, offering control of an entire empire on the turn-based world map, and real-time control of soldiers in massive battles involving thousands of friends and foes.
Available September 28th, Total War: WARHAMMER II improves upon everything seen in the first meeting of Total War and WARHAMMER, whilst adding new features. And in a forthcoming update, owners of both the original game and the sequel can combine their two world maps together into one gigantic play area for a lengthy grand strategy campaign.
With so much going on, developer Creative Assembly has put their orks to work, optimizing the engine so gamers with older systems can play, and those with faster PCs can up the ante with more units and more eye-candy.
For GeForce GTX gamers, we put our testing teams to task to discover the GPUs that deliver a smooth 60 FPS experience in graphically-intensive 1v1, 20 unit vs 20 unit battles. This is the same setup used by Creative Assembly for their recommend specs, though we push things further with a more graphically-complex map, and additional testing for higher resolutions: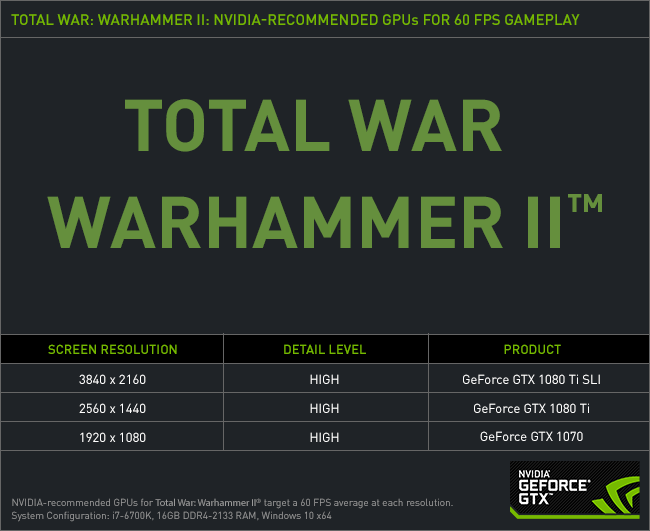 Based on our in-depth testing, the $379 MSRP GeForce GTX 1070 is the GPU of choice for 1920x1080, 60 FPS, High-detail gameplay in Total War: WARHAMMER II. At 2560x1440, stepping up the GeForce GTX 1080 Ti is recommended, and at 3840x2160 you'll want a pair of GTX 1080 Tis running in SLI to power this very demanding scenario.
If you wish to increase graphical fidelity to Ultra, or beyond, look to the GTX 1080 at 1920x1080, and SLI configurations for 2560x1440. Or if you're happy with a lower framerate, pair a more affordable CPU and GPU config with a G-SYNC monitor to mask frame rate variances.
In addition to delivering the performance to smoothly play Total War: WARHAMMER II, the recommended GeForce GTX 10-Series graphics cards support our vast array of critically acclaimed technologies, giving you the definitive gaming experience, unmatched by any other platform. And if you're daunted by manually configuring the game's many graphics settings, load up GeForce Experience and click "Optimize" to instantly receive optimized settings that ensure a smooth 60 FPS experience on your specific system configuration.
And shortly before Total War: WARHAMMER II's September 28th release, you can download our GeForce GTX Total War: WARHAMMER II Game Ready driver to get the smoothest, fastest, most reliable experience possible.