Watch Dogs®: Legion, the 3rd installment in the Watch Dogs franchise, wowed all when unveiled at E3 this year, thanks to its new, innovative 'play as anyone' gameplay that lets you recruit literally anyone from the game world, including granny hackers, to take back London. Between that, it's 60+ E3 awards and nominations, and its near-future London setting, the hype made Watch Dogs: Legion one of the most anticipated 2020 games by the end of the show.
PC gamers looking forward to Watch Dogs: Legion also received some extra exciting news: NVIDIA would once again be partnering with Ubisoft to help craft the definitive Watch Dogs PC experience, as we previously did for both Watch Dogs® and Watch Dogs 2®.
Now, we can now share an early look at our work on Watch Dogs: Legion, which includes the addition of realistic, real-time ray-traced reflections. These high-fidelity, immersive reflections replace cube maps and screen space reflections, enabling windows, puddles, cars, and other surfaces to accurately reflect their surroundings, characters in the world, and the chaos caused by the player.
Watch Dogs: Legion's near-future London features plenty of rain, many dynamic advertisements, and hundreds of glass-covered skyscrapers, shops and homes, making it a perfect world for high-fidelity ray-traced reflections. And at night in the rain, Trafalgar Square, Camden, and other tourist hotspots will truly shine, with multicolored transparent reflections seen across reflective surfaces, mirroring the appearance of reflections in the real world.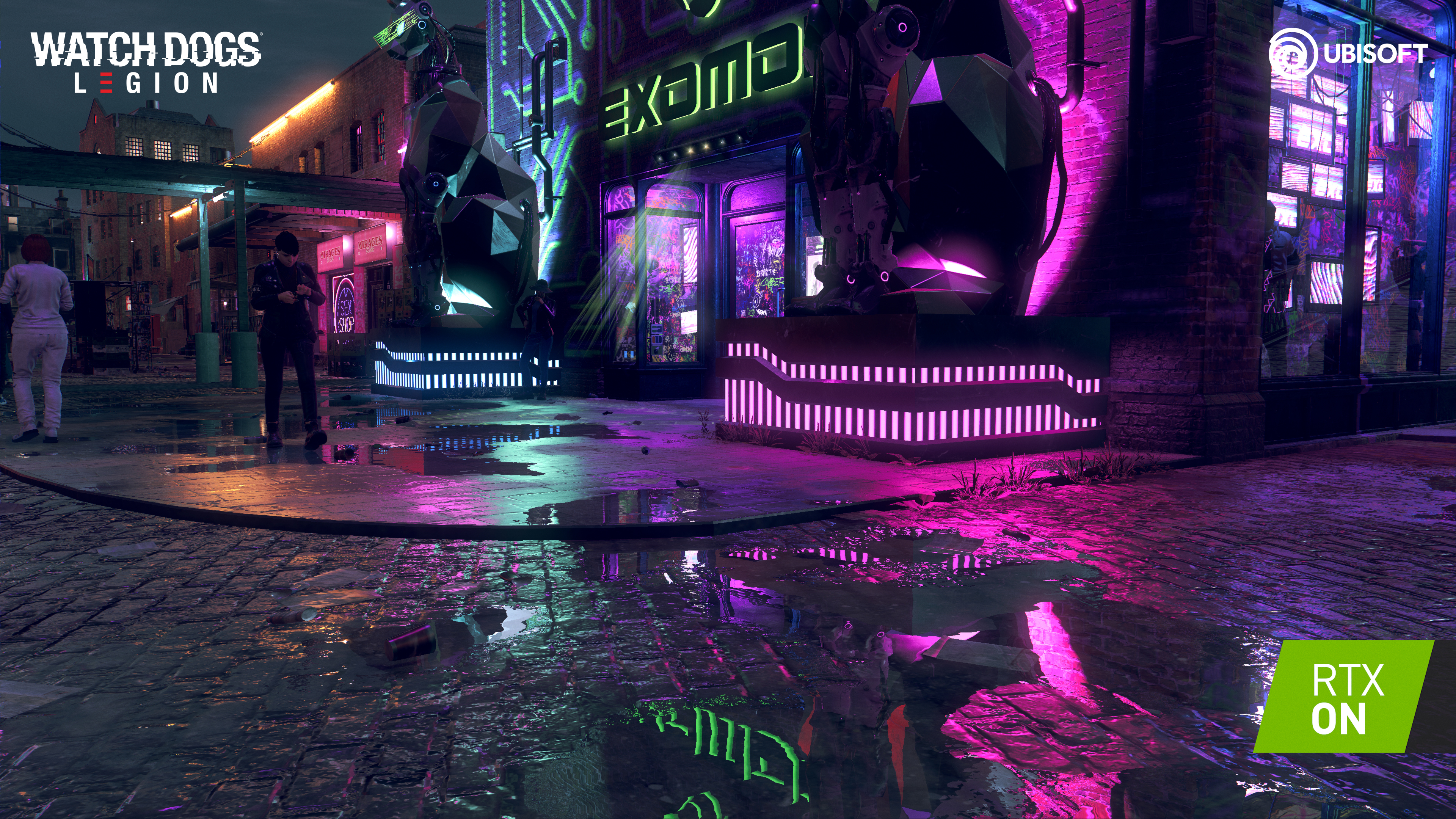 Click to open an interactive RTX ON-RTX OFF screenshot comparison
Watch Dogs: Legion will launch March 2020. Before then, we'll have plenty more to share regarding the advanced technology you'll experience on PC, so stay tuned to GeForce.com. In the meantime, check out another couple of awesome ray-traced Watch Dogs: Legion PC screenshots: