Our new GeForce Game Ready driver is optimized for World of Warcraft: Battle For Azeroth and Monster Hunter: World. To download and install, simply fire up GeForce Experience and click the "Drivers" tab.
Game Ready For World of Warcraft: Battle For Azeroth
The eagerly-anticipated Battle For Azeroth expansion for World of Warcraft launches August 14th, and today's new Game Ready driver will ensure your experience is optimized and accelerated from the second you start playing.
If you'd like to learn more how GeForce GTX graphics cards and technologies can improve your World of Warcraft experience, check out our new Battle For Azeroth article, which also includes recommended GPUs for the three most popular gaming resolutions.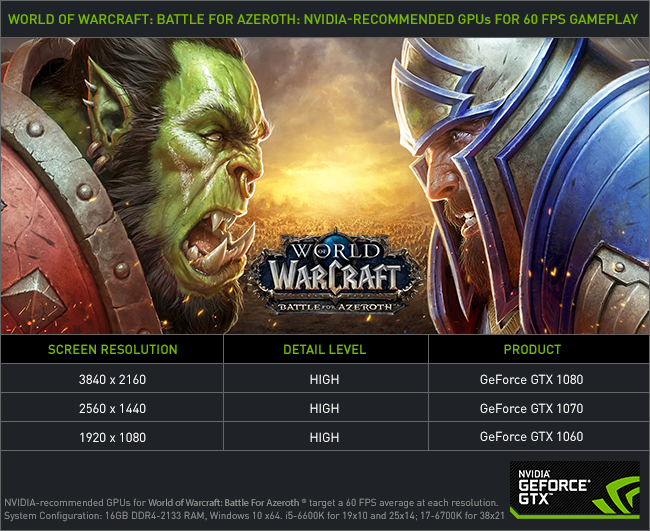 Game Ready For Monster Hunter: World
First released on January on consoles, Monster Hunter: World is a critically-acclaimed smash hit thanks to its increased accessibility, robust online co-op, addictive gameplay, and detailed graphics that bring the franchise's massive world and monsters to life like never before.
For the PC release, Capcom has gone all-out, cramming Monster Hunter: World with nearly two-dozen graphics settings, and a wide variety of control and configuration options.
To get the absolute most from your graphics card in this performance-intensive title, we recommend you download and install our new Game Ready drivers ahead of Monster Hunter: World's release on August 9th.
GeForce Game Ready Driver - Download Now
You can download the new GeForce Game Ready 398.82 WHQL drivers through GeForce Experience, our free, essential, game and system-enhancing application, which also records and streams gameplay, and grants you access to giveaways.
If you experience any technical issues with the new Game Ready drivers please post a detailed report on the GeForce.com Driver Feedback Forum, where our Customer Care team can better assist you. A list of fixes in this driver for previously-reported issues can be found here.