NVIDIA is committed to reducing GHG emissions from its operations. We work to reduce the impact of our campus operations in the following ways:
Increasing energy efficiency in our buildings
Reducing waste tonnage to landfills
Increasing computing and data-center efficiency
Raising employee awareness
To increase our building efficiency, we look to reduce water, waste and energy usage. Our environmental management committee has led the implementation of several initiatives in the United States and internationally to help us lessen our environmental impact. For example, we have implemented a building management system to control lighting; installed energy-efficient lighting, vending misers, and watt stoppers; and delamped 3,500 lights in the office area and in more than 100 vending machines throughout our offices.
In 2006, we joined the U.S. Environmental Protection Agency (EPA) Climate Leaders program, an industry-government partnership that works with companies to develop comprehensive climate change strategies. Our work with Climate Leaders will help us find ways to reduce our scope 1, 2, and 3 GHG emissions. We took the following measures in 2009 in conjunction with our participation in Climate Leaders:
Posted reminder signs in bathrooms that encourage employees to reduce their water and paper towel usage
Installed vending misers on refrigerated soda machines and delamping on all non-perishable snack & soda vending machines
Offered a discount at our coffee kiosk for employees who bring their own mugs
Reduced our garbage collection at employee cubicles to save plastic bags, with the goal of eventually eliminate plastic bags altogether
Implemented projects in Shenzhen and Taipei offices reducing power usage through delamping, turning off vending machines and turning off elevators and lights in the evening
Posted our goals and usage on an internal website so all employees know what we are trying to achieve

Lessening Impact at Headquarters
At our Santa Clara headquarters – home to 3,000 employees and contractors – we have undertaken several additional measures on top of our company-wide recycling and conservation initiatives to reduce our impact and engage employees.
Lessening conference impact Whenever feasible, we introduce environmentally sound elements at our annual industry conference. In 2009, we provided on site recycling, used biodegradable food packaging and created signage using biodegradable materials. We gave reusable water bottles as gifts and provided water stations, as well as made sure the event is located near public transportation.
Composting In 2009, we implemented a campus-wide composting program, which enabled us to eliminate the use of 312,000 plastic bags annually. As a result, we diverted 25 tons of waste per month from landfill, increasing our landfill diversion rate from 38 percent to 76 percent during the year.
Food Service We partnered with our food services vendor to implement local and organic food options and to offer biodegradable food containers and other utensils. We began purchasing biodegradable utensils and containers for our café and break rooms.
Green Purchasing Policy We include environmental considerations as one of our business requirements for office supplies products. As part of our procurement strategy, we purchase recycled paper for printing and copying needs. Our IT department is screening data-center equipment suppliers on the environmental performance of their products and their operations, using criteria such as sustainable transport and resource efficiency.
As part of supply-chain management effort, we rate our critical suppliers with which we conduct quarterly business reviews on environmental performance.
Water Conservation Our water-conservation effort focuses mainly on reducing water use in our data centers and in landscaping. For example, we have planted drought-tolerant plants and trees on our Santa Clara campus and conduct ongoing monitoring of landscape water. Through our turf reduction program, we have reduced the area of landscaped grass on our Santa Clara headquarters grounds and used deep mulch to reduce water evaporation. And we use air-side economization (an approach to cooling interior spaces by using outside air) to cool our data centers, which reduces both the amount of water and the amount of energy used in the process.
Transportation Initiatives We engage our employees in our efforts to reduce our environmental impacts through several programs aimed at employee commuting and travel. For example, in 2009 we began using Web conferencing to reduce business travel. We encourage the use of public transportation by allowing employees to purchase transit passes with pretax dollars, providing free shuttle service between offices and local rail stations, and purchasing shuttle buses that run on lower-emission compressed natural gas. And we promote bicycling to work by:
Offering showers and bike lockers
Encouraging employees to use Rideshare511.org Bike Mapper
Hosting annual Bike to Work Day activities
Promote use of nearby bike trail to closest public transportation

Increasing Computing and Datacenter Efficiency
Data centers are a key factor in our energy and emissions reduction efforts. According to a
recent study
by McKinsey & Co., by the year 2020, data centers are projected to pass the airline industry as a source of GHG emissions. We are working to improve data center efficiency with a view to reducing the impact of our data centers on our environmental footprint.
Hardware Recycling
Where feasible, we reuse and recycle IT hardware within our operations. For example, in 2009 we reused:
more than 7,200 pieces of hardware, including computers, printers, and peripherals, saving nearly $600,000; and
425 printed circuit boards from our own product recycling library, saving more than $150,000.
We partnered with Digital Realty Trust, a leader in data-center solutions, to open our new data center in a building certified to the U.S. Green Building Council's Leadership in Energy and Environmental Design (LEED) Platinum standard, the highest standard attainable. This data center was the second active data center in the U.S. to be awarded the LEED Platinum certification.
Before placing servers in our data center, we measure their computing efficiency. We use virtualization software to optimize the load on server racks; currently, 60 percent of our corporate servers are virtualized. We are monitoring the power usage of our data centers.
Our goal for 2010 is to staff a full-time employee to optimize our compute farm operations.

Raising Employee Awareness: Visualize Green Ideas
Our Visualize Green employee program is designed to raise awareness and enthusiasm among our employees for our environmental efforts. Employees post ideas to an online community, and we implement the ones that have the biggest potential to save money and reduce our environmental impacts. In 2009, we received 130 suggestions, 30 percent of which we implemented or plan to implement in the near future. A sample ROI snapshot from some of the projects includes saving over $30,000, 330 trees, 5,100 gallons of water, and 11,000 lbs of motor oil.
Employee Ideas generated by Visualize Green Ideas in 2009: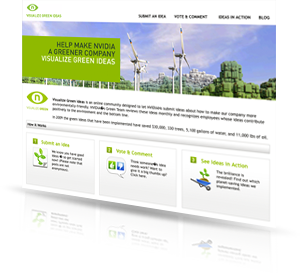 Employee Ideas generated by Visualize Green Ideas in 2009:
Providing bike storage at our Bangalore office
Offering a discount at coffee kiosks if you bring your own mug
Posting "These Come from Trees" stickers near paper towel dispensers
Labeling of local/organic seafood and produce in café
Reducing trash pickup in our HQ offices
Adding "vending misers" to snack machines to reduce energy usage
Implementing efficiency measures in Shenzhen and Taipei such as increasing air-conditioning temperature and turning off lights and elevators in the evening
GIVE US YOUR FEEDBACK
Tell us how we did on our first global citizenship report. Your input can help shape our future priorities. After giving feedback, you can see responses from other stakeholders.