"It gives me great pride to see NVIDIA employees around the world open their hearts to others, and to know that their care for others is equaled by their passion to create technologies that change the world."
-- Jensen Huang, President and Chief Executive Officer
As the drivers of NVIDIA's philanthropic efforts, employees feel invested in the company's contributions, fostering engagement throughout our corporate culture. Here are particular ways in which they are involved:
Employee direction
Volunteerism

Employee Direction
While all employees are encouraged to volunteer their time or services, some employees choose to lead through serving in these positions:
Board of directors:
Employees lead the NVIDIA Foundation and set the vision, strategy, and overall direction for its programs.
Local committees:
At NVIDIA locations worldwide, employees run local committees to make decisions about fundraisers and volunteer projects, coordinating everything from food drives to disaster-relief efforts. More than 150 employees worldwide are involved in local committees.
Program committees:
Employees passionate about particular projects, such as Project Inspire or a High Impact grant, work to ensure that NVIDIA's involvement is successful and as impactful as it can be.

Volunteerism
We're gratified by the high level of engagement among our employees. Here are some of the ways in which we support employees' participation in their communities, including activities above and beyond official NVIDIA-organized events:
Disaster Response
When employees raise funds for disaster relief efforts, the NVIDIA Foundation will often match their donations or contribute a separate sum.
Matching Programs
We care about our employees' favorite causes and support them with matching grants.

Team matching: When two or more employees partner for a sports-related charitable event (such as a marathon), the NVIDIA Foundation match what they raise from other employees.

Individual matching: We launched in 2009 a dollar-for-dollar matching program for U.S. employees, with a maximum of $500 per year per employee. Internationally, we match donations made during office fundraisers that have been planned by local committees.

Time matching: We are launching in 2010 a program to match employee volunteer time with cash. For every five hours of time that U.S. employees donate to nonprofits, we'll donate $50.

Project Inspire
As our signature community-impact program, Project Inspire involves more than 1,750 employee volunteers in all of our offices every year.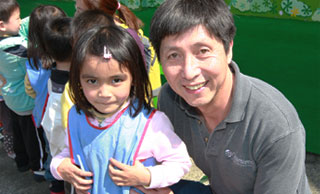 Employees in action: Disaster response
Employees donated $140,000 in 2009 to rebuilding efforts in Taiwan in the aftermath of Typhoon Morakot. The NVIDIA Foundation subsequently donated $20,000 and
NVIDIA Research
made a technology donation to leading Asia-Pacific universities, in the hopes that advancing weather research will one day save lives.
High-Impact Grant Program
With our High Impact Grant Program, employees identify nonprofits they believe are doing particularly important, transformative work in their communities. The NVIDIA Foundation reviews the applications and releases a list of finalists for employee vote. Five organizations are selected every year. In 2009, the grant award was $30,000; in 2010, it will be increased to $50,000.
Learn more about High Impact Grants
High Impact Grant Program 2009 Recipients
Friends of Hue—Created a peer education program to improve hygiene in a region of Vietnam.
Philip Hayden Foundation—Supports children in China who have been abandoned due to special needs.
Room to Read—Created books in Hindi and English to be distributed to children who visit Room to Read libraries in India.
Shared Adventures—Funded events in Silicon Valley where 200 special needs participants could experiment with kayaking, scuba diving and beach wheelchairs, as well as fly on a plane or helicopter.
SOAR—Enables poor children in China and Taiwan to attend school.
GIVE US YOUR FEEDBACK
Tell us how we did on our first global citizenship report. Your input can help shape our future priorities. After giving feedback, you can see responses from other stakeholders.