GeForce Experience is the easiest way to update your drivers, optimize your games, and share your victories. It's used by tens of millions of gamers worldwide, and sharing your greatest gaming moments is now even easier with GeForce Experience 3.0.
Easily Access Shadowplay features with New GeForce Experience 3.0 Overlay
You'll discover the much-loved ShadowPlay has been upgraded to the even-better Share Overlay UI. Simply hit the "Alt+Z" hotkey or the Share

icon to access the powerful capture and record features you know and love.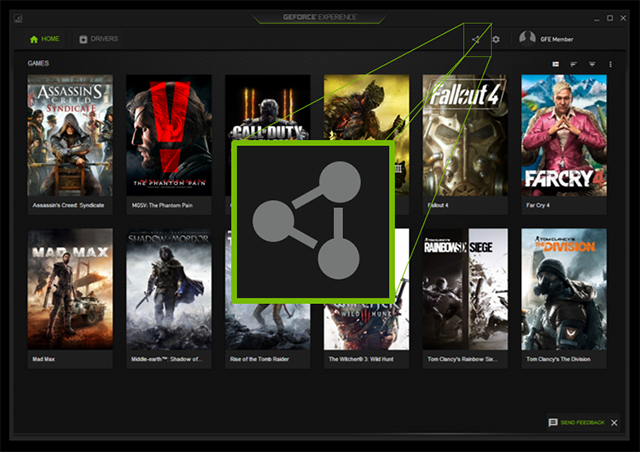 Instant Replay and Record
With this overlay you can easily tap into GeForce Experience's ability to record gameplay at 60FPS at up to 4K, for both full screen and windowed modes. Automatically record the last 20 minutes with "Instant Replay," (formerly known as Shadowmode) and toggle manual recording with "Record".

Improved Broadcasting Capabilities
Broadcasting to Twitch or YouTube Live has never been this easy - simply click on "Broadcast" and select your preferred livestream service before streaming at up to 1080p 60FPS. We've also improved this experience by reducing the system resources required.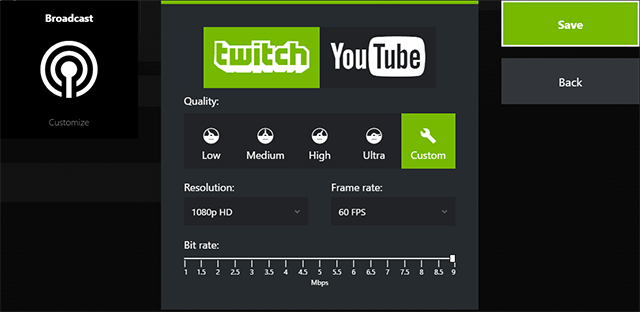 In-Game Screenshot Capture with 4K Upload
Now you can capture and upload screenshots without leaving your game, and without using additional 3rd party applications. Simply hit "Alt+F1" to save a screenshot to the Gallery.

You can easily upload your favorite shots to Google Photos or Imgur at up to 3840x2160. And with GeForce Experience 3.0, our users have a larger file-size limit (up to 12MB) than if uploaded through directly through the web.

GeForce Experience Share Preferences
To connect to your accounts, such as Google, Imgur, YouTube, or Twitch, or change your settings, simply click on "Preferences".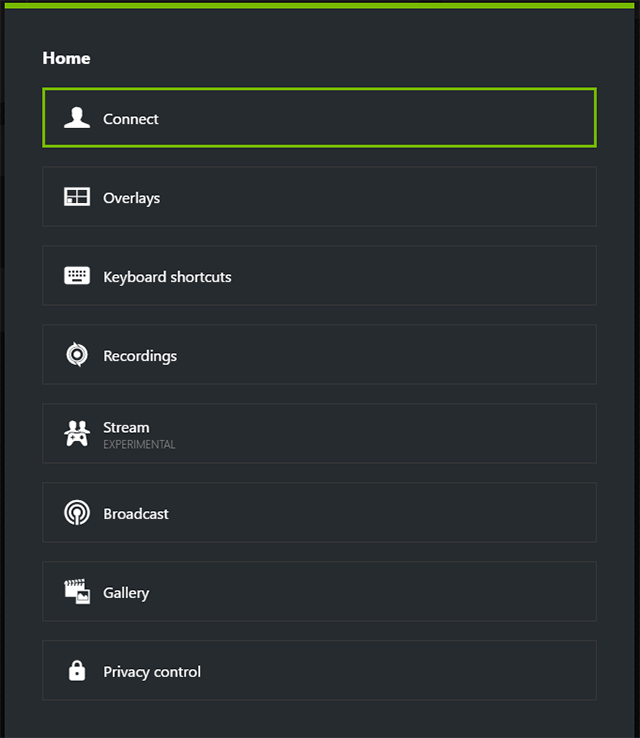 You can also change your overlay preferences to add info showing your FPS, camera output, or viewers watching your broadcast, and also change your keyboard shortcuts for quick access to GeForce Experience's features.
You can connect to Google, Imgur, YouTube, and Twitch through "Connect".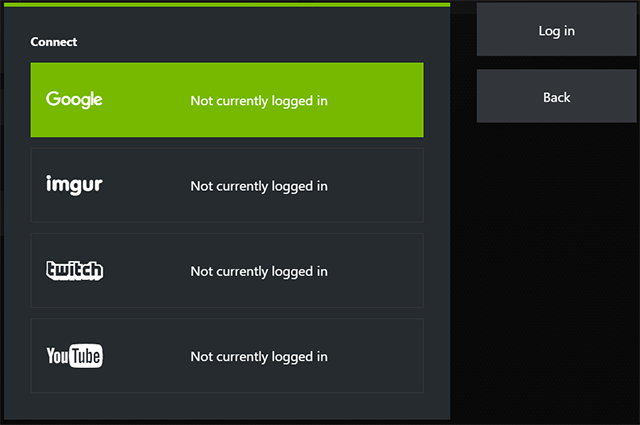 You can add indicators and cameras through "Overlay".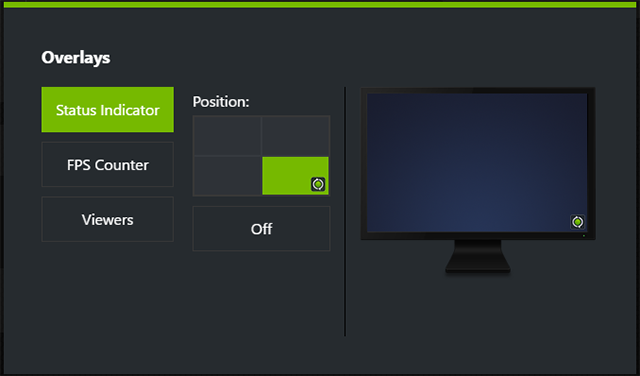 Set your hotkeys (General, Capture, Record, Broadcast) through the "Keyboard Shortcuts" screen.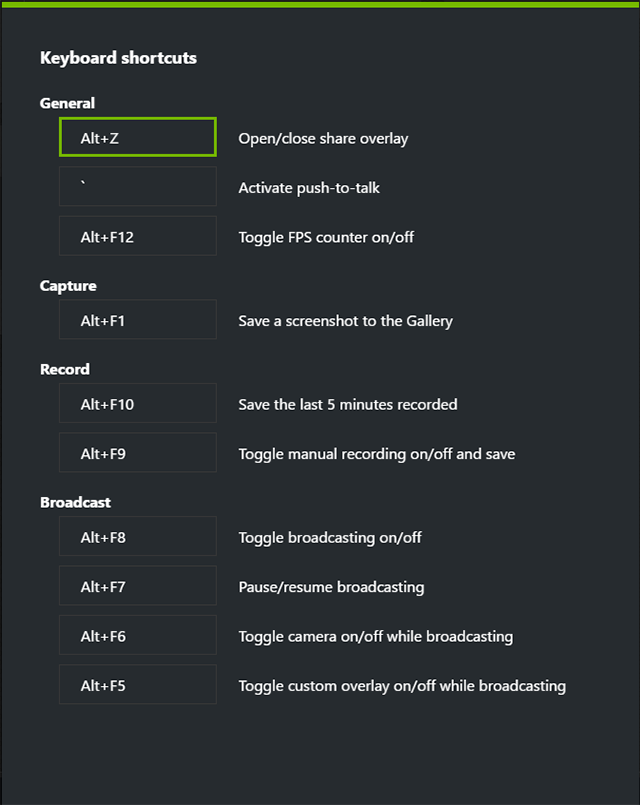 And enable desktop capture by going to "Privacy Control".

Share your Gameplay with your Friends (Experimental)
We've also provided a new way to play co-op with your friends, even if they're not in the same room. You can easily share your screen and controls, take turns tackling a level, or play compatible games in co-op. All they have to do is open up a Chrome browser and they can immediately join your session.
To enable this feature, simply go to your Preferences and enable "Allow experimental features".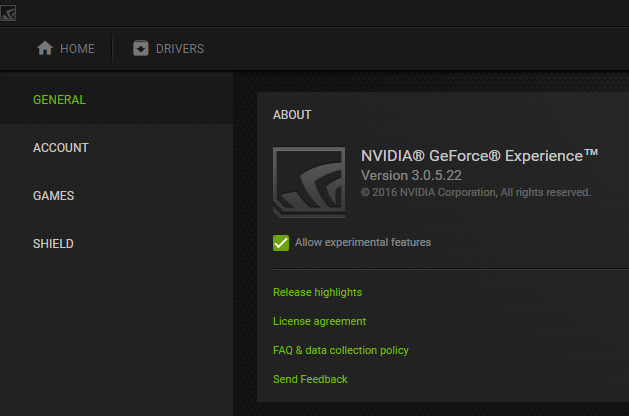 Access the overlay with "Alt+Z" and you'll see a new feature called "Stream".

Type in your friend's email and they'll receive the invite, which will install and open up the GeForce Experience Chrome app in the Chrome web browser.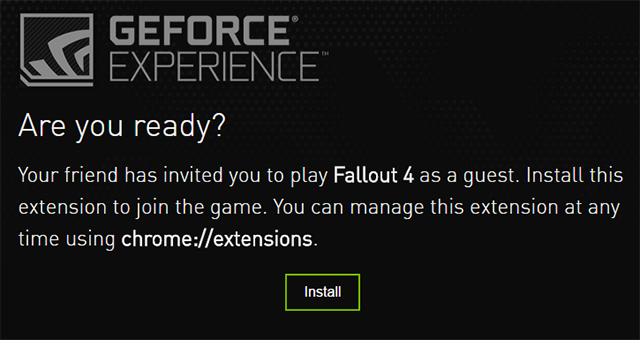 Now you can pass controls and share the same screen. So enjoy beating tough levels or playing in a co-op mode, or simple have your friend watch while you play. It's fast, fun, and a whole new way to enjoy PC games.
GeForce Experience 3.0: Download Now
To try out GeForce Experience 3.0, download through GeForce.com. Send feedback or feature requests via the feedback form on the bottom right of the GeForce Experience 3.0 window, or leave your comments in this GeForce.com Forum thread.