After years of teases, dev kits, and E3 demos, retail versions of head-tracking virtual reality headsets are finally on their way to PC gamers, with the $599 Oculus Rift and the $799 HTC Vive shipping to early adopters. In the first of our GeForce Garage videos exploring the first wave of Virtual Reality gear and games, we're going to show you how to build a VR-ready gaming rig that's got plenty of muscle to drive either the Rift or the Vive, as well as the games you'll play on them, for just a hair over $800.
If you've been lucky enough to try out the Rift or the Vive already, even in their developer's kit iterations, you already know that VR is capable of delivering incredibly immersive experiences that are a huge leap forward compared to traditional 3D gaming. But that dazzling 360-degree view of deep space from the bubble cockpit of a fighter in EVE: Valkyrie doesn't come easy: A typical VR game requires seven times the processing power of a standard 3D game running 30 frames per second at 1920x1080.
Fortunately, the minimum specs recommended for a good VR experience aren't as lofty as you may have feared. In fact, it's possible that your current rig might already exceed them, or require only a single component upgrade—your GPU.
The easiest way to assess your system's readiness for VR gaming is by comparing your specs to the minimum recommendations shown here:

Desktop Requirements:
GPU: NVIDIA GeForce GTX 970 or greater
CPU: Intel Core i5- 4590 equivalent or greater
Memory/RAM: 8GB+ RAM
Video Output: 1x HDMI 1.3
Ports: 3x USB 3.0
OS: Windows 7 SP1 (64bit) or higher
Driver: GeForce 359 or newer
Oh, wait, no… it gets even easier: Just launch GeForce Experience, click the "My Rig" tab, and on that page click the "Virtual Reality" tab. GeForce Experience will report on whether or not your system meets the minimum spec for VR, and if not, which components fall short of the mark.
But if your rig's already wheezing under the load of a standard 3D game, your best bet might be to allow it to retire with dignity and build a new system from the ground up—one that's not only up to the challenge of delivering a reliable, immersive VR experience today, but also capable enough to keep up with incremental upgrades in the future.
In our video above, we show you how to do just that, first walking you through the components and then putting them together so you can witness firsthand how the system holds up in VR as we turn our enemies into space debris in EVE: Valkyrie.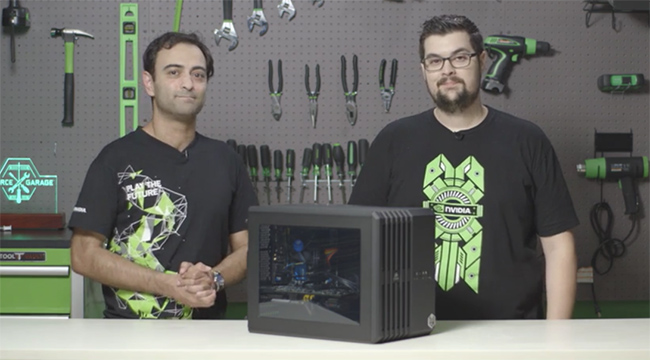 VR Ready Rig Specs
Component

Product

Price*

Graphics Card

EVGA GeForce GTX 970

CPU

Intel I5-4590 3.3GHz

Motherboard

ASRock H97M-ITX

RAM

Corsair Vengeance 8GB (2 x 4GB) DDR3 1600MHz

Storage

WD 1TB 7200 RPM

PSU

EVGA 500W

Chassis

Corsair Air 240

Total Price
*Please note: All prices are those at the time of writing.
When you're ready to dive into VR, you can use our accompanying PDF as both a shopping list for components, and a simple guide for putting them all together all the way through to the moment when you plug in your headset and start flying the unfriendly Valkyrie skies.