Bloober Team's Layers of Fear established the Polish studio as masters of psychological horror, and today they're launching The Medium, their latest horrific game. Featuring a unique mechanic whereby players tackle challenges and puzzles simultaneously in two realities, The Medium offers a new experience for fans of the genre.
For the PC edition of The Medium, NVIDIA has worked with Bloober Team to introduce three immersion-enhancing ray-traced effects, and our performance accelerating NVIDIA DLSS technology, giving GeForce RTX gamers a superior experience. In fact, playing The Medium with RTX ON (ray tracing and DLSS) provides the best visual experience at equivalent or higher frame rates than RTX OFF (no ray tracing or DLSS).
NVIDIA DLSS
With gameplay occurring simultaneously in two different realities, The Medium essentially renders two games at once, greatly increasing the demands on your GPU. To help, we've collaborated with Bloober Team to bring our critically acclaimed AI-accelerated NVIDIA DLSS to The Medium, boosting performance by up to 100%.
NVIDIA DLSS is available for both DirectX 11 and DirectX 12 in The Medium, can be used with or without ray tracing, and has three presets: High, which equates to 'DLSS Quality', is recommended for 1920x1080; Medium, which equates to 'DLSS Balanced', is recommended for 2560x1440; Low, which equates to 'DLSS Performance', is recommended for 3840x2160.
In addition to greatly accelerating performance, NVIDIA DLSS also matches or exceeds the fidelity of The Medium's temporal anti-aliasing technique, further improving the experience for GeForce RTX gamers.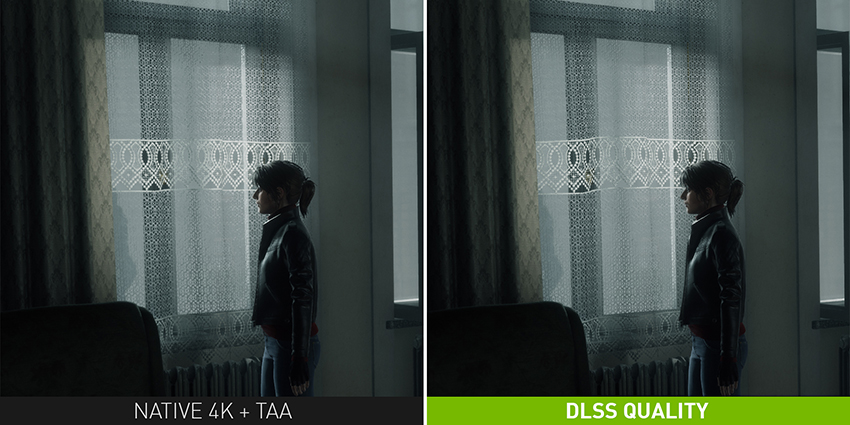 Click to view fullscreen comparison
Altogether, NVIDIA DLSS gives GeForce RTX gamers a faster, high-fidelity experience, as you can see in our new The Medium NVIDIA DLSS video:
Ray Tracing
The horrifying dual realities of The Medium are enhanced with ray-traced reflections, ray-traced ambient occlusion, and ray-traced transparent reflections, greatly increasing immersion, realism and fidelity. And with NVIDIA DLSS, we give you the performance to enjoy these effects on a wide range of configurations.
Ray-Traced Ambient Occlusion
Ambient occlusion helps ground objects and gives scenes a realistic sense of depth by calculating the extent to which objects occlude light. Based on the results, subtle shadows are added around objects and geometry.
Using ray tracing, the fidelity and accuracy of ambient occlusion effects can be significantly increased, improving immersion and revealing more detail on and around objects.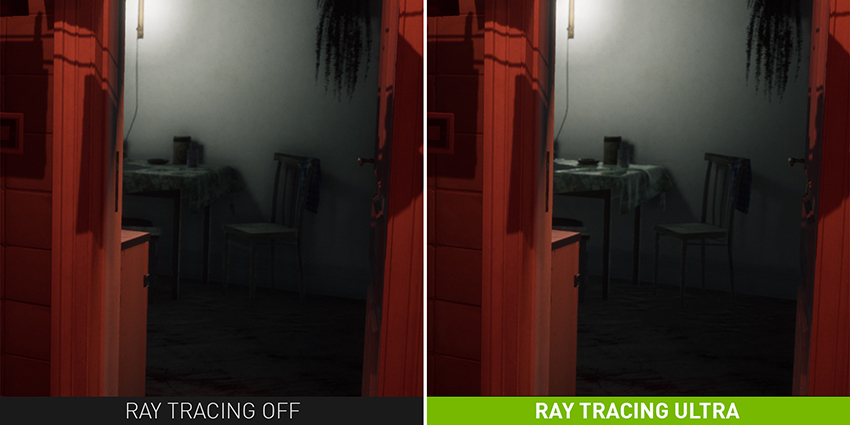 Click to view fullscreen comparison
Ray-Traced Reflections
Reflections are the most immediate beneficiary of ray tracing, coming to life with accurate, high-res detail that is otherwise impossible to render. In The Medium, these ray-traced reflections are applied to all suitably reflective surfaces, adding reflective detail that is otherwise missing, and enhancing previously-seen screen space reflections.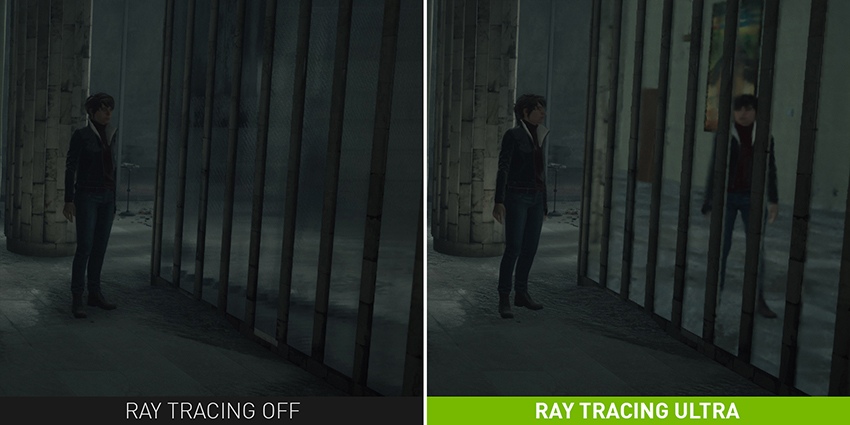 Click to view fullscreen comparison
As in other titles, enhanced reflections noticeably improve scene detail, realism and immersion, giving GeForce RTX gamers an even-better experience. And when Ray Tracing is set to "Ultra", the quality of reflections is further improved.
Ray-Traced Transparent Reflections
Glass, windows, and other transparent surfaces and objects feature ray-traced reflections when The Medium's "Ultra" Ray Tracing mode is enabled. Using Hybrid Translucency, the environment, character, NPCs and other game elements can be reflected on transparent surfaces just as they are on opaque ones.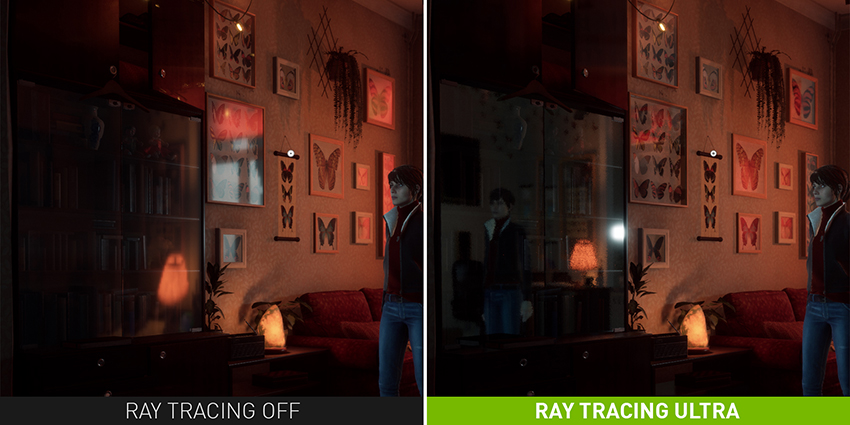 Click to view fullscreen comparison
New reflections are seen, existing screen space reflections are improved upon, and overall scene detail, realism and immersion are improved, taking fidelity up an extra notch.
Ray-Traced Settings
The Medium handles its ray tracing options differently than other titles, as the transition from reality to a split reality results in the rendering of a second game, decreasing FPS. To help clarify, here's a breakdown of how The Medium's Off/On/Ultra Ray Tracing options work:
| | | | |
| --- | --- | --- | --- |
| | Off | Ray Tracing On | Ray Tracing Ultra |
| RT Ambient Occlusion | - | Enabled in single-reality view | Enabled in single and split-reality view |
| RT Reflections | - | Enabled in select locations in single-reality view | Enabled in most locations in single and split-reality view |
| RT Transparent Reflections | - | Disabled | Enabled in single and split-reality view |
| RT Reflection Enhancements | - | Disabled | Higher-fidelity reflections in single and split-reality view |
"Split-reality" refers to instances where The Medium's protagonist interacts with the world and its characters in two realities simultaneously, often using a supernatural ability to explore areas inaccessible in the real world.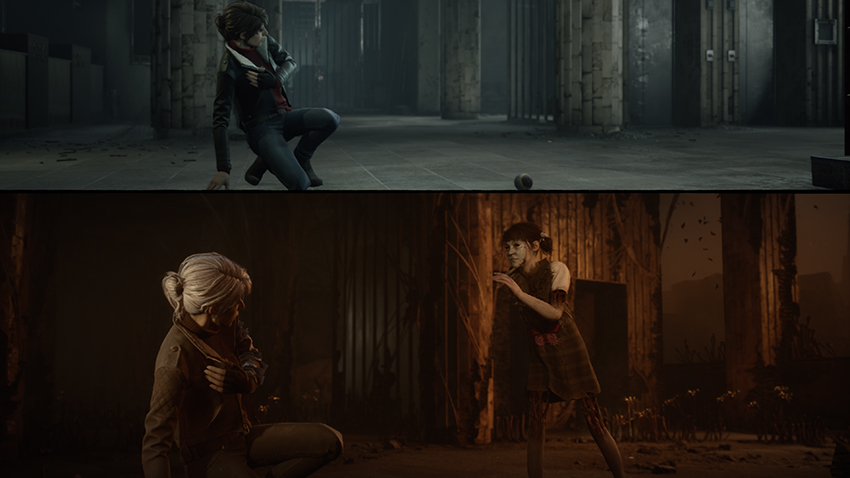 Realities often look different, and therefore require their own set of effects and new rays to be traced, essentially doubling the workload for your graphics card. Per Bloober Team, split-reality accounts for about a third of the gameplay, so users with less performant systems will still be able to enjoy ray tracing in the majority of The Medium.
Get Game Ready For The Medium With Our New Driver
If you like what you see and want to explore The Medium's world of psychological horror at its very best, with ray tracing and DLSS, be sure to download and install our newest Game Ready Driver. There are day 1 optimizations and enhancements, and our usual raft of improvements for all the games you're playing.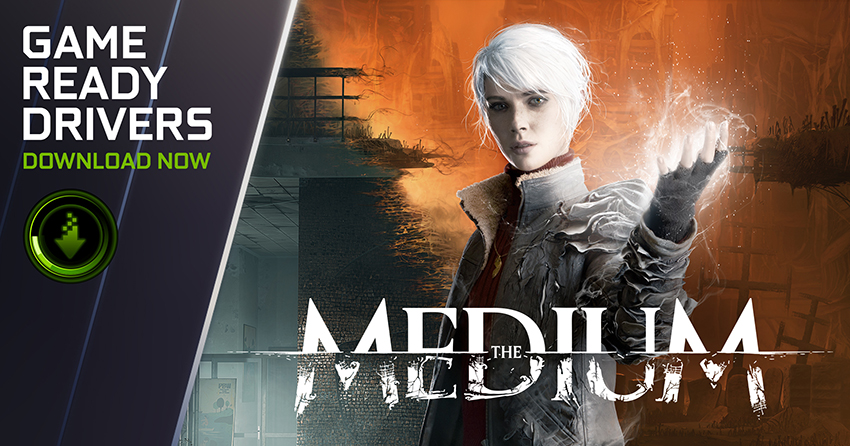 Mystery Comes to GeForce NOW Thursday
If you don't own a ray tracing-capable PC, or you're away from your rig, you can still play The Medium with DLSS and beautifully ray traced graphics. And it's no mystery, it's streaming on GeForce NOW as the headline game in this week's GFN Thursday release!
All members, including gamers on free memberships, will be able to stream The Medium on launch day. Founders members have instant access to the game allowing them to skip the queue during peak hours, extended session lengths and can play with the highest quality visuals thanks to RTX and DLSS technologies.
Both the Steam and Epic Games Store versions are streaming with GeForce NOW. Buy the game once and play it on your PC, plus stream it to nearly any PC, Mac, Chromebook, SHIELD, Android or iOS device.
The Medium, Out Now
You can download and play The Medium today from Steam, the Epic Game Store, and from Microsoft on Game Pass. For further information and links, head on over to the game's official website.