Gamers and game developers recognize that reducing system latency is key to a great gaming experience and is why there has been such tremendous growth in NVIDIA Reflex's low latency ecosystem over the past year. Reflex is supported in 8 of the top 10 competitive shooters including Apex Legends, Valorant and Fortnite. Over 20 million GeForce players compete with Reflex ON each month. And our Reflex Analyzer, which allows players to easily measure system latency, is supported by over 50 mice and displays.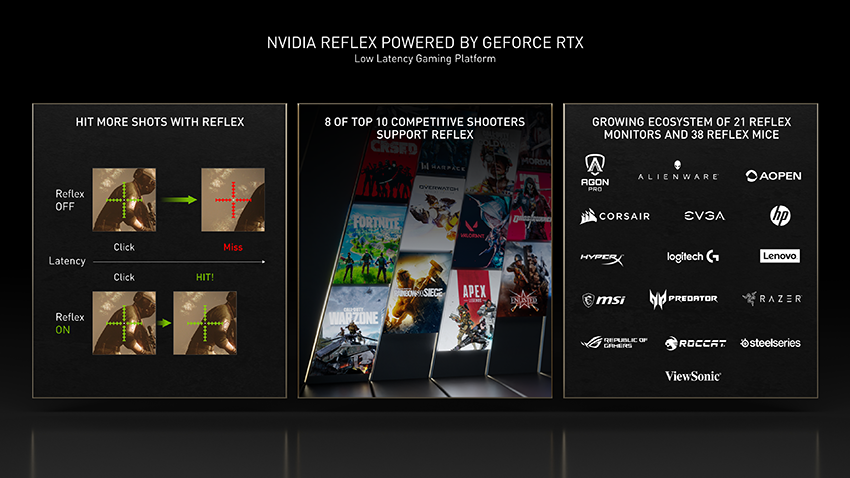 Today, we are announcing 7 more Reflex games, 6 new Reflex mice, 6 new Reflex monitors including next generation 1440p G-SYNC esports displays, and a new Reflex feature that makes latency measurement easier than ever before. For more information, keep reading.
Reflex Expanding to New Game Genres
Most players prefer to be battling the boss, not their PC. Responsive games are more immersive, less frustrating, and enable players to be more precise with their inputs. For this reason, competitive shooters have quickly latched onto NVIDIA Reflex low latency gaming, with over 20 competitive shooters supporting the technology. But platformers, fighting games and sims benefit from the same reduction in system latency. 7 more games with Reflex are on the way, extending our low latency gaming technology into new genres.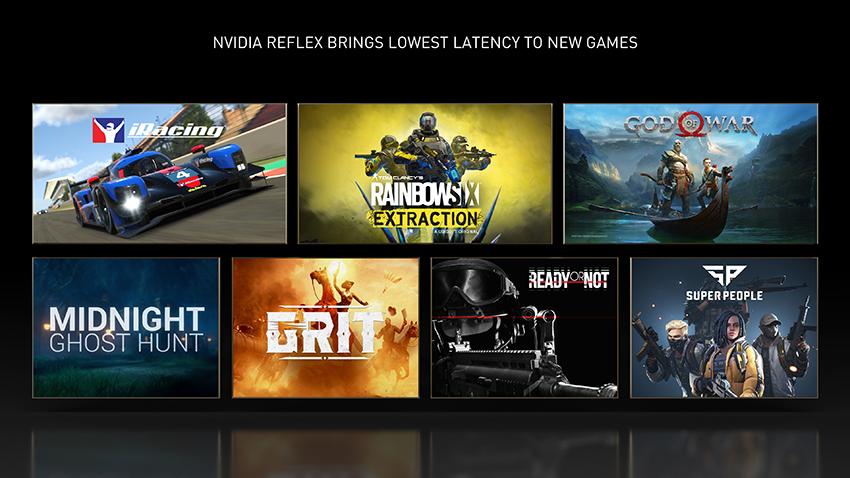 NVIDIA Reflex Makes God of War More Responsive
2018's God of War is one of the best action games ever made, with engrossing characters, an excellent story, a mesmerizing world to explore, and dazzling battles and sequences. On January 14th, the PC edition goes live, featuring enhanced graphics, exclusive PC features, HDR, our AI-powered performance accelerating NVIDIA DLSS technology, and the latency-optimizing NVIDIA Reflex.
God of War's fast action and spectacular combos are key to overcoming the game's most difficult challenges. If your PC's system latency is high, gameplay feels sluggish and controls are unresponsive. Combos are harder to chain, tricky jumps are mistimed, and the experience feels slow. NVIDIA Reflex will deliver responsive gameplay allowing you to beat the boss with tighter dodges and combos.
Reflex Brings Lowest Latency to iRacing
iRacing is the world's premier online racing simulator featuring real world cars and tracks digitally replicated with millimeter accuracy. It is used for training by the world's best race car drivers, including professional racers from NASCAR, Indycar, sports cars, off road trucks, World of Outlaws and Grand Prix circuits. And allows people from all over the world to participate in online races and esport championships.
Because precision and milliseconds matter, iRacing will be supporting NVIDIA Reflex to reduce system latency and deliver the most responsive driving experience.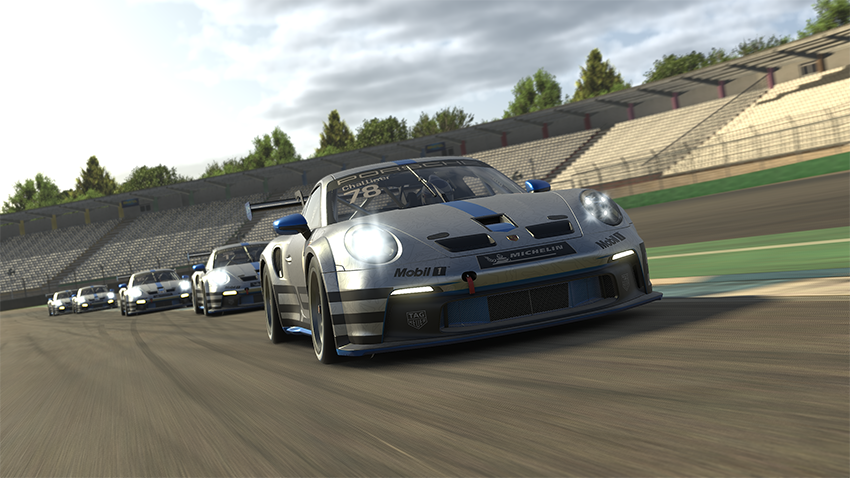 "When designing a physical race car, we spend considerable resources assuring that steering, throttle, and braking systems are highly responsive to the driver's commands," said Chris Gilligan, Chief Information Officer, Competition & Engineering for Joe Gibbs Racing. "For our iRacing esports teams, the same is true, but instead of engineering physical systems, we must ensure that driver inputs are fed into the simulation engine with minimal delay. Minimizing this latency between the driver control systems, the sim engine, and the video display are not only key for providing a sense of realism, but also allows drivers to hone their car control skills in a virtual environment."
"The technology in simulated racing is always evolving, especially as it elevates our ability to be more precise behind the sim wheel," said Nick Ottinger, William Byron Racing esports driver and 2020 eNASCAR Coca-Cola iRacing Series Champion. "This is a must to perform at our very best, and NVIDIA's Reflex technology is going to take it to the next level. I can't wait to experience what they have to offer."
Even More Reflex Games
NVIDIA Reflex is also coming soon to these great games:
Reflex Comes to New 1440p G-SYNC Esports Displays
With the global growth in esports, the demand for esports displays has been doubling each year. 1080p displays have ruled esports for over a decade - as the lower resolution has enabled higher framerates and faster refresh rates. With today's high-end GeForce RTX GPUs rendering esports games above 360 FPS at 1440p - the industry is primed for a change.
Today, we are taking esports to the next level with a new category of esports displays -- 1440p, 27" G-SYNC and up to 360Hz with new Esports Vibrance and the Reflex Latency Analyzer. These displays are also Dual-Format, allowing gamers the option to play at 1080p, 25". With new G-SYNC Esports Displays at 1440p and 360Hz, gamers can play their best with zero compromise. The future of esports monitors is here with new displays available soon from AOC, ASUS, MSI, and Viewsonic.
In addition to new 1440p G-SYNC Esports Displays, we are announcing two 4k displays from Asus and Acer - both equipped with NVIDIA Esports Vibrance and Reflex Analyzer.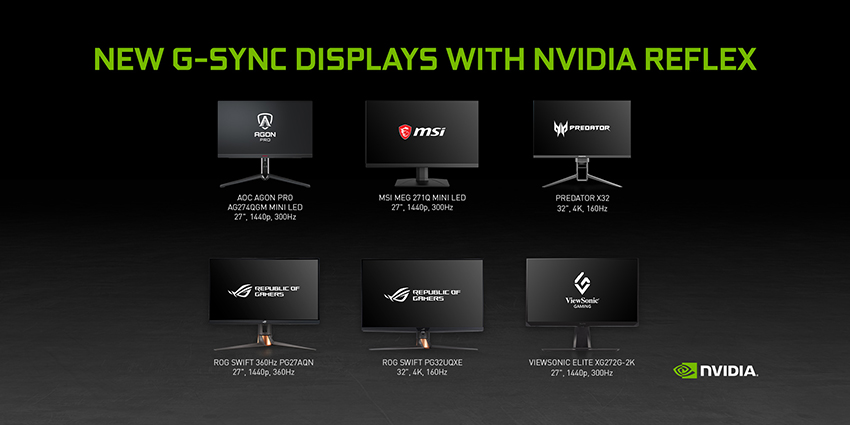 To learn more about the advantages of these new displays, read our detailed G-SYNC article here.
Over 35 Reflex Mice to Choose From
Reflex Mice unlock the capability to measure full system latency when paired with a Reflex Analyzer display. Simply plug your Reflex Mouse into the proper USB port on a Reflex compatible display and you are good to go. Today, we are announcing 6 new Reflex Mice from Alienware, AGON, CORSAIR, EVGA, and Logitech.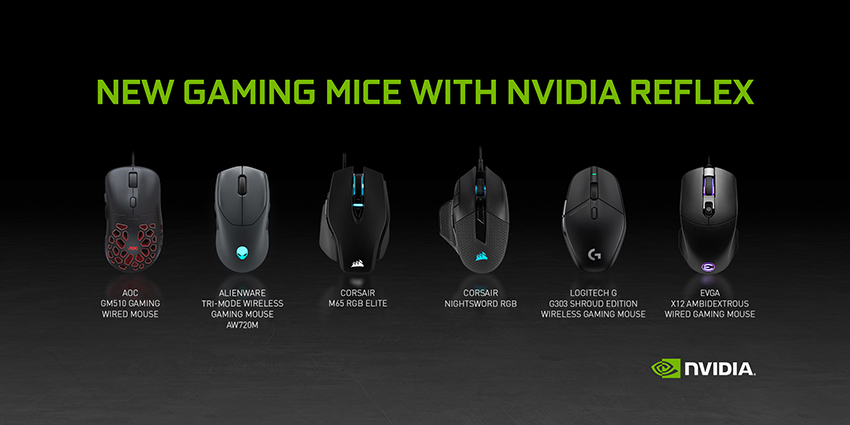 For the full lineup of NVIDIA Reflex compatible mice, visit our Reflex partner page.
Latency Measurement is now Automatic
With our upcoming release of GeForce Experience, Reflex Analyzer will now automatically configure itself - making latency measurement a 1-click experience and incredibly easy to use. All gamers have to do is plug their mouse into the Reflex USB port on their Reflex monitor and hit Alt + R. Gamers can switch weapons, use weapons without muzzle flashes, and measure latency while they play the game.
The Reflex Analyzer flash indicator will now be controlled by GeForce Experience and shown when the performance overlay is enabled. Gamers with a Reflex Mouse will be provided full end to end system latency measurements while gamers without a Reflex Mouse can still measure PC + Display Latency.
To use automatic configuration on your Reflex Analyzer display in a supported Reflex game like RIOT's Valorant, grab the upcoming release of GeForce Experience out later this month, and the latest game ready driver.
Reflex Keeps Getting Better
What was once a system latency reduction technology built into your favorite first person shooters has become the defacto solution for low latency gaming. Reflex reduces system latency actively with software and hardware optimizations and enables gamers to find the lowest latency settings with the easy to use Reflex Analyzer.
You can get the latest Reflex compatible gear here and stay tuned for more Reflex news and updates.