Fatshark's Warhammer: End Times - Vermintide and Warhammer: Vermintide 2 are phenomenally successful, much-loved four-player co-op action games set in the End Times of the Warhammer Fantasy franchise. On November 30th, Fatshark leaps thousands of years into the grimdark future to bring gamers Warhammer 40,000: Darktide, the hotly-anticipated follow-up set in 41st millenium.
Head to the industrial city of Tertium to combat the forces of Chaos, using Vermintide 2's lauded melee system and a range of deadly Warhammer 40,000 weapons. Personalize your playstyle with a character creation system, and delve deep into the city to put a stop to the horrors that lurk.
At launch, Warhammer 40,000: Darktide will be loaded with game-enhancing technologies that give GeForce RTX gamers the definitive experience. NVIDIA DLSS will accelerate performance significantly, NVIDIA Reflex will reduce system latency, making gameplay more responsive, and ray-traced reflections and global illumination lighting will take your graphics to the next level.
Upgrade to a GeForce RTX 3090 Ti, 3090, 3080 Ti, 3080, 3070 Ti, 3070, 3060 Ti, 3060 desktop or graphics card before December 8th and you'll receive a digital Steam copy of Warhammer 40,000: Darktide - Imperial Edition, a $59.99 value!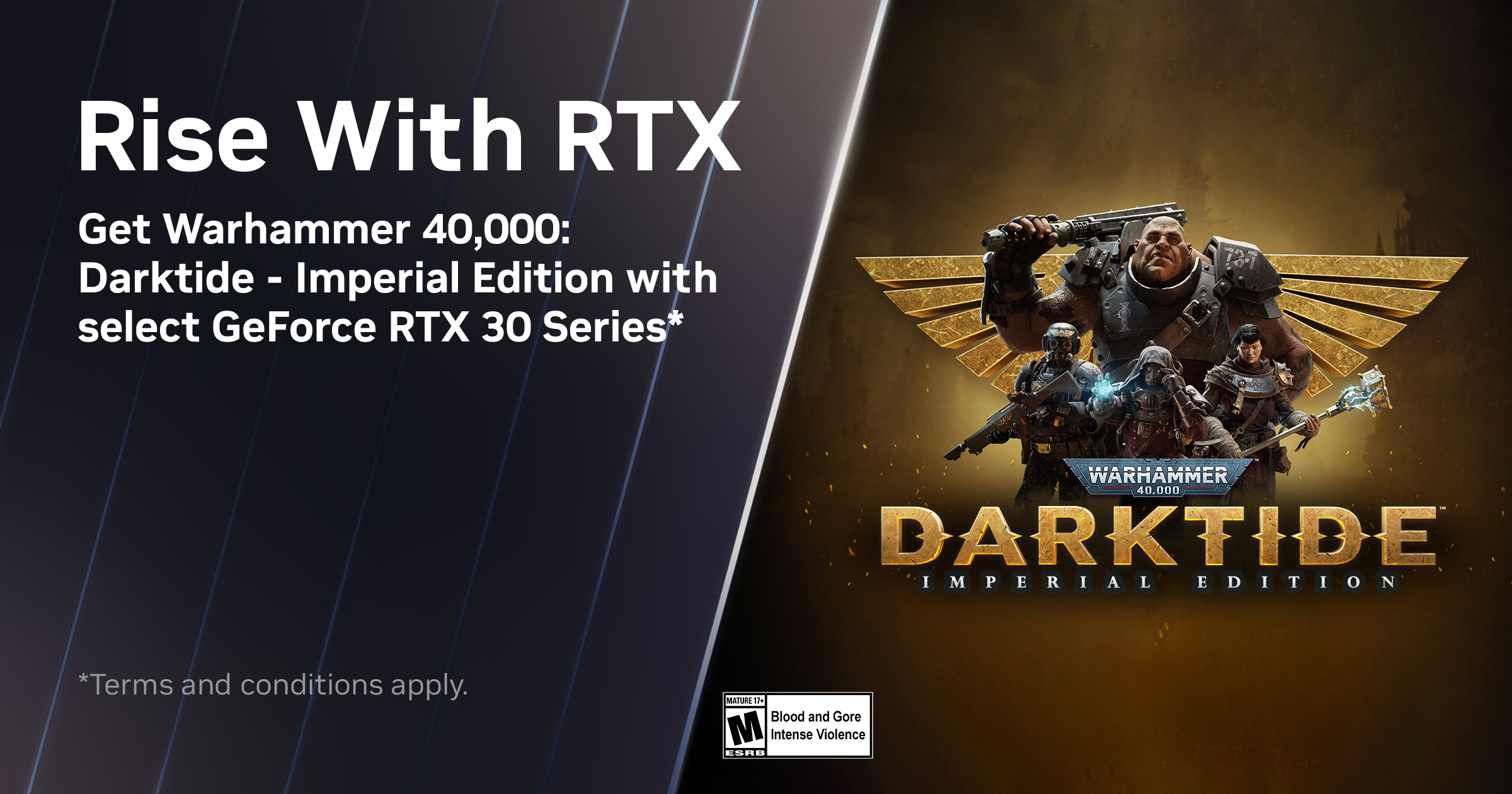 The Imperial Edition includes:
A Steam digital copy of Warhammer 40,000: Darktide, which unlocks November 30th

The Loyalist Pack: Purge heresy in style with these 4 unique class outfits, 8 weapon skin patterns, one set of headgear as well as an Ogryn body tattoo.

A Mortis Veteran Portrait Frame: A cosmetic portrait frame used to pay tribute to the fallen defenders of Tertium Hive.

The Caducades Backpack: A cosmetic backpack for human characters. Scavenged from the fallen troops of Cadia, this backpack has been repurposed to serve those still alive and fighting.

And 2500 Aquilas (premium currency)
If you're unable to upgrade to a GeForce RTX PC at this time, you can still enjoy Warhammer 40,000: Darktide with #RTXON by streaming it from the cloud thanks to NVIDIA GeForce NOW. Members can play over 1,000 of the real and full PC versions of games they already own from Steam, Epic Games Store, Ubisoft Connect, and GOG.com.
GeForce NOW's RTX 3080 Membership gives you the power of a GeForce RTX 3080-class PC in the cloud, enabling streaming sessions at up to 1440p on PC and Mac, 4K HDR on NVIDIA SHIELD, and up to 120 FPS on select android devices. Head over to the GeForce NOW website to learn more.
Warhammer 40,000: Darktide - Imperial Edition Bundle GeForce RTX Bundle Available Now
The new Warhammer 40,000: Darktide - Imperial Edition GeForce RTX 30 Series Bundle is available now until December 8th, 2022.
You'll find eligible GPUs and desktops at numerous system builders and retailers worldwide. Head to the Warhammer 40,000: Darktide - Imperial Edition bundle homepage to see the complete list of participating partners in your country.
Once you've bought any qualifying product, you'll receive email instructions on how to redeem your bundle, and just a few clicks later you'll instantly add Warhammer 40,000: Darktide - Imperial Edition to your Steam account. And by installing our Game Ready Driver that'll be released shortly before the game's launch, your new hardware will be ready to rock and roll, delivering the definitive experience in this critically-acclaimed game.
While supplies last. Bundle applies for qualifying desktops and GPUs: GeForce RTX 3090 Ti, GeForce RTX 3090, GeForce RTX 3080 Ti, GeForce RTX 3080, GeForce RTX 3070 Ti, GeForce RTX 3070, GeForce RTX 3060 Ti, GeForce RTX 3060. Please see Terms & Conditions for a full list of qualifying partner products. Games must be redeemed via GeForce Experience™ application on a qualifying desktop or GPU. Customers must meet the age requirement for the game to redeem. Regional/Country Requirements: Some codes require that they be redeemed in specific regions or countries. Please redeem the code in the appropriate region/country. Full terms apply.