The 2022 Formula 1Ⓡ season has introduced game-changing Ground Effect car designs that allow drivers to race closely and make frequent overtakes, shaking up the order, and making for a more exciting spectacle. 9 races into the season, 2022 is already looking to be a classic, and this weekend F1Ⓡ heads to Silverstone in sunny England, the birthplace of the Formula 1Ⓡ championship format way back in 1950.
The Silverstone race weekend is also an apt time to debut the British-made F1Ⓡ 22 video game from Codemasters and Electronic Arts. Featuring an extensive update to virtually every system to accommodate the new rules and aerodynamics, F1Ⓡ 22 enables fans to take virtual control of the drivers from all 10 teams, or drop in as themselves, to see if they can best the likes of Max Verstappen, Lewis Hamilton, and Charles Leclerc.
In addition, F1Ⓡ 22 introduces F1's new Sprint races, new interactive pit stop and formation lap mechanics to make or break your race, all the latest track additions and changes, a new F1 Life social hub, official PC VR support, and a whole lot more. Purchasing the Champions Edition grants you immediate access to the game, 3 days early; the general release follows on July 1st, just in time for the Silverstone race weekend.
If you own a GeForce RTX graphics card, desktop, or laptop, you can get the definitive F1Ⓡ 22 experience thanks to the addition of NVIDIA DLSS and four high-fidelity ray tracing effects.
NVIDIA DLSS is our groundbreaking AI rendering technology that's available in over 180 games, increasing graphics performance using dedicated Tensor Core AI processors on GeForce RTX GPUs. By tapping into the power of a deep learning neural network, we boost frame rates significantly, and generate beautiful, sharp images for your games.
With the performance provided by NVIDIA DLSS, GeForce RTX gamers will have the headroom to enable F1Ⓡ 22's immersive ray-traced effects, which add high-fidelity opaque reflections, transparent reflections, ambient occlusion, and shadows. See the perfectly-buffed race cars of Formula 1Ⓡ with pixel-perfect reflections, wander the paddock with realistic reflections on its many glass facades, race through a world with accurate occlusion shadows, and see everything shadowed with unparalleled detail. See ray tracing and DLSS in action in our new 4K comparison video:
At 4K, with max settings and every ray-traced effect enabled, NVIDIA DLSS accelerates performance with the power of a 1000 horsepower F1Ⓡ car, boosting frame rates by over 2X, enabling users with GeForce RTX 3060 Tis, or higher, to charge through the pack in each race at 60 FPS or higher.
If you're racing off to EA Play, Origin, or Steam to play F1Ⓡ 22, be sure to download and install our new F1Ⓡ 22 Game Ready Driver, which will optimize your GeForce RTX PC or laptop for peak performance.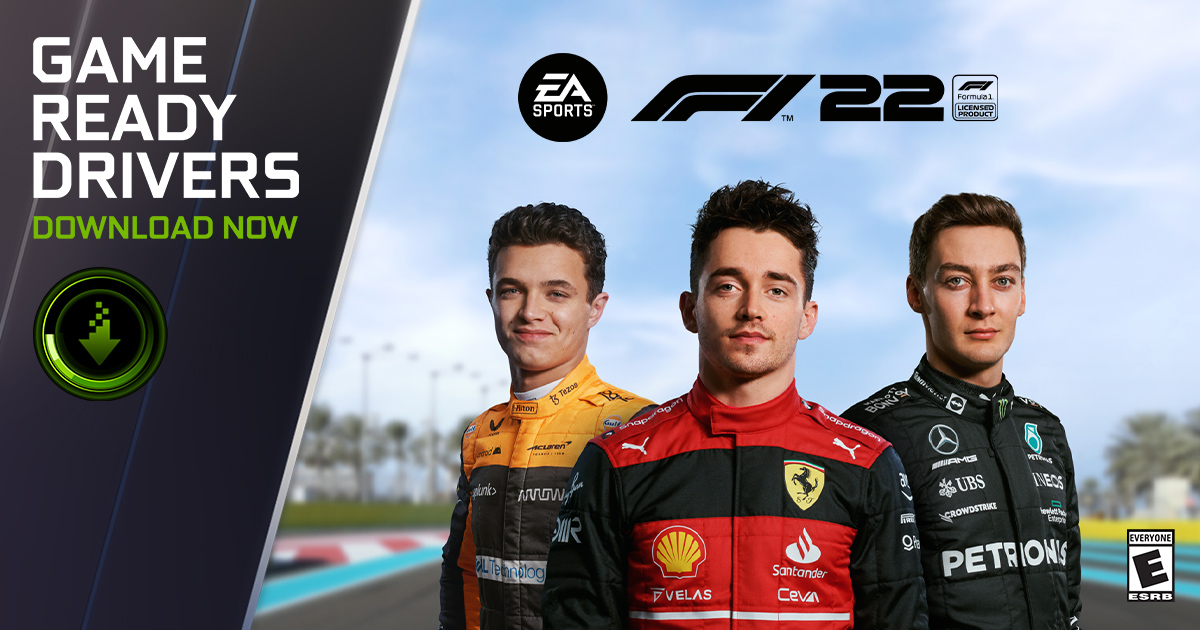 Get further info about F1Ⓡ 22 on the official website, and stay tuned to GeForce.com for announcements about the addition of RTX tech to other leading games.