The need for performance and portability has fueled laptop growth well beyond the overall PC market. At the forefront of high performance laptops is NVIDIA, with transformative technologies that have increased performance, efficiency and portability.
Today, we welcome a new era of laptop computing, powered by the NVIDIA Ada Lovelace architecture, GeForce RTX 40 Series Laptop GPUs, and new 5th generation Max-Q technologies, including DLSS 3, which combine to bring users up to 4X faster performance – our greatest generational leap ever.
Introducing GeForce RTX 40 Series Laptops
From February 8th, our critically acclaimed GeForce RTX 40 Series GPUs come to laptops with the launch of GeForce RTX 4090 and 4080 laptops, followed by GeForce RTX 4070, 4060, and 4050 Laptop GPUs on February 22nd. Prices start at $999.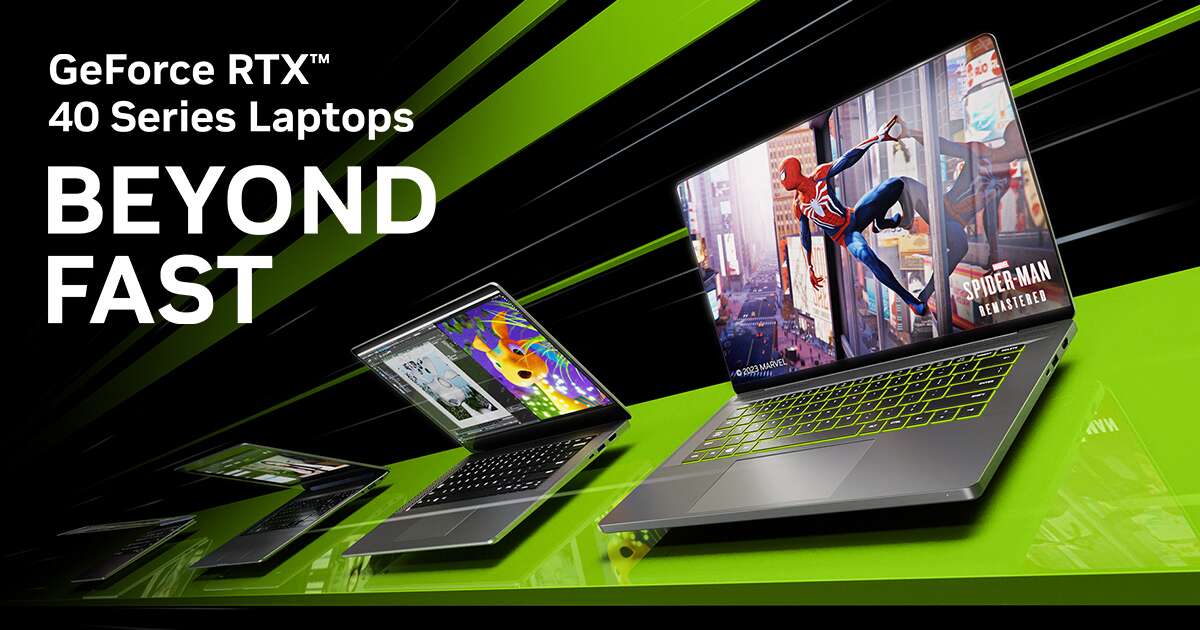 The world's fastest laptops, powered by GeForce RTX 4090 and 4080 Laptop GPUs run up to 3X more efficiently than our previous-generation flagship laptops, enabling users to game at previously impossible detail levels and speeds, and to power through creative workloads in a fraction of the time, all in thin and light form factors.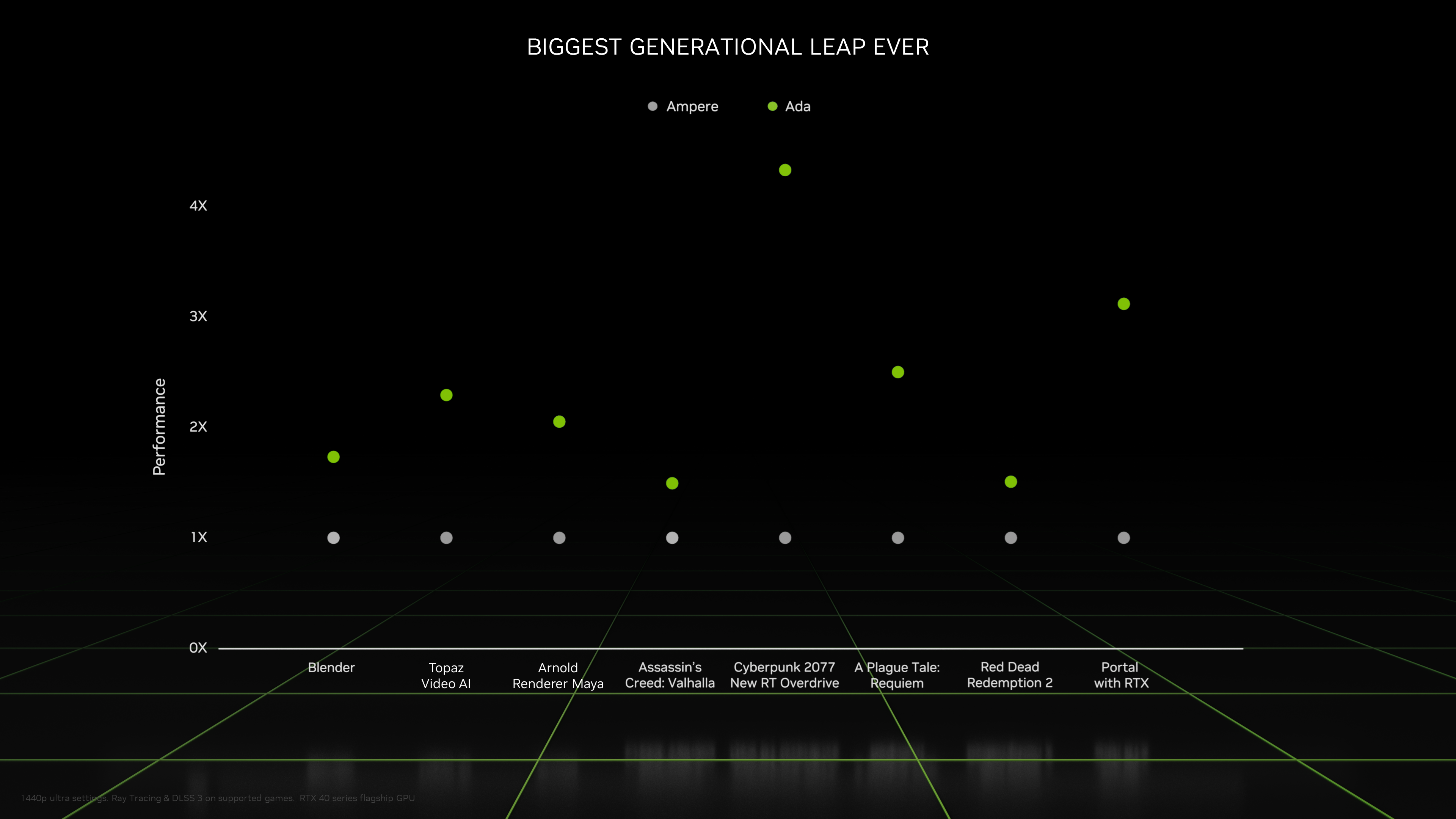 Play A Plague Tale: Requiem, Microsoft Flight Simulator, F1Ⓡ 22, Loopmancer, F.I.S.T.: Forged In Shadow Torch, and more at Ultra settings at over 100 FPS. Collaborate in 3D scenes with Omniverse at a smooth 4K60 with DLSS 3. Export videos in half the time with Ada's dual AV1 encoders. And connect three 4K displays for the ultimate immersive experience in professional-grade driving simulators.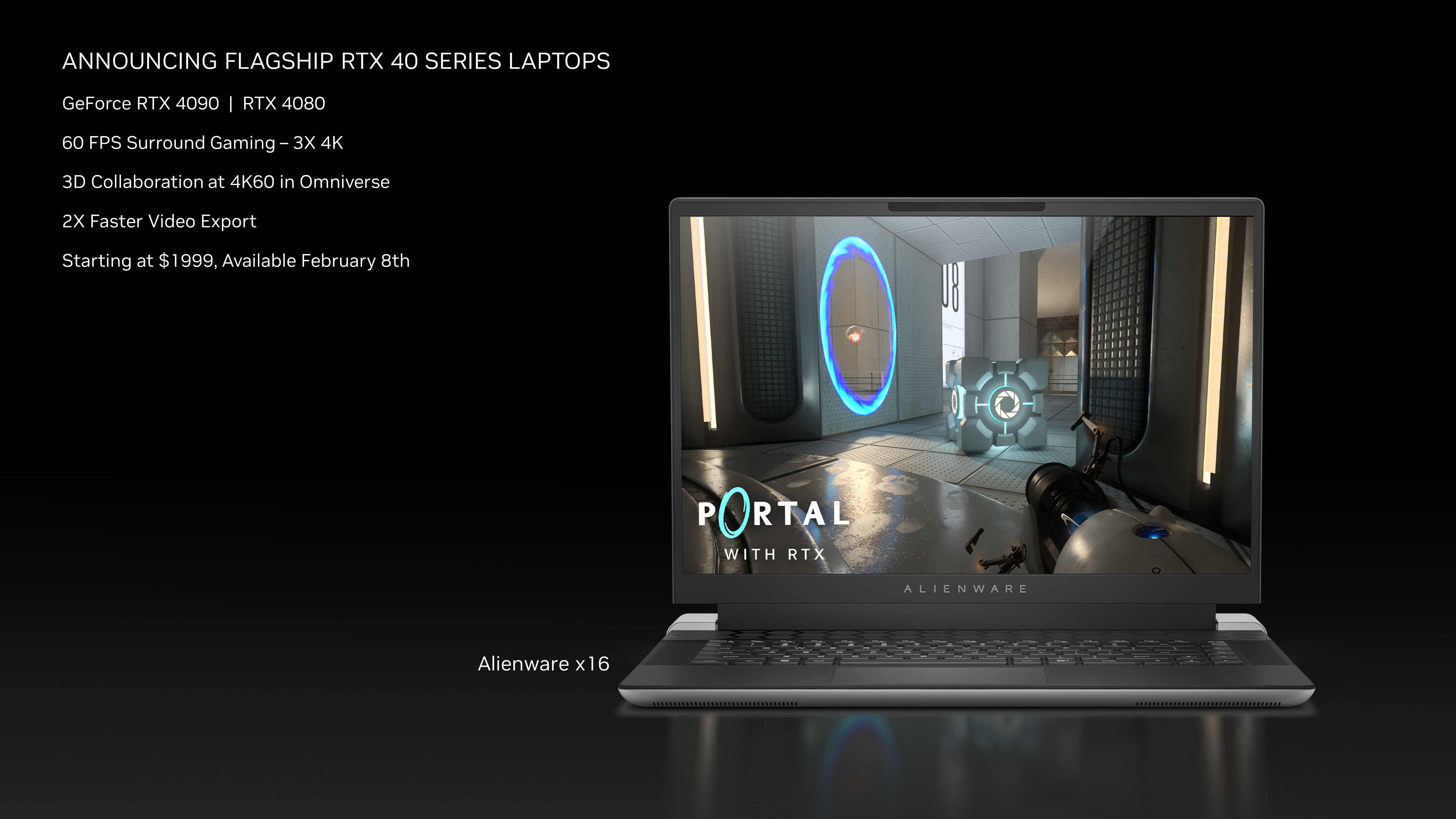 GeForce RTX 4070, 4060 and 4050 Laptop GPUs deliver up to RTX 3080 flagship class performance at one-third of the power, improving thinness, acoustics, and thermals.
Play at up to 80 FPS at 1440p in Cyberpunk 2077 at Ultra settings, render complex Blender scenes in mere minutes, and take advantage of Ada's AV1 encoder for better quality video editing and live streaming.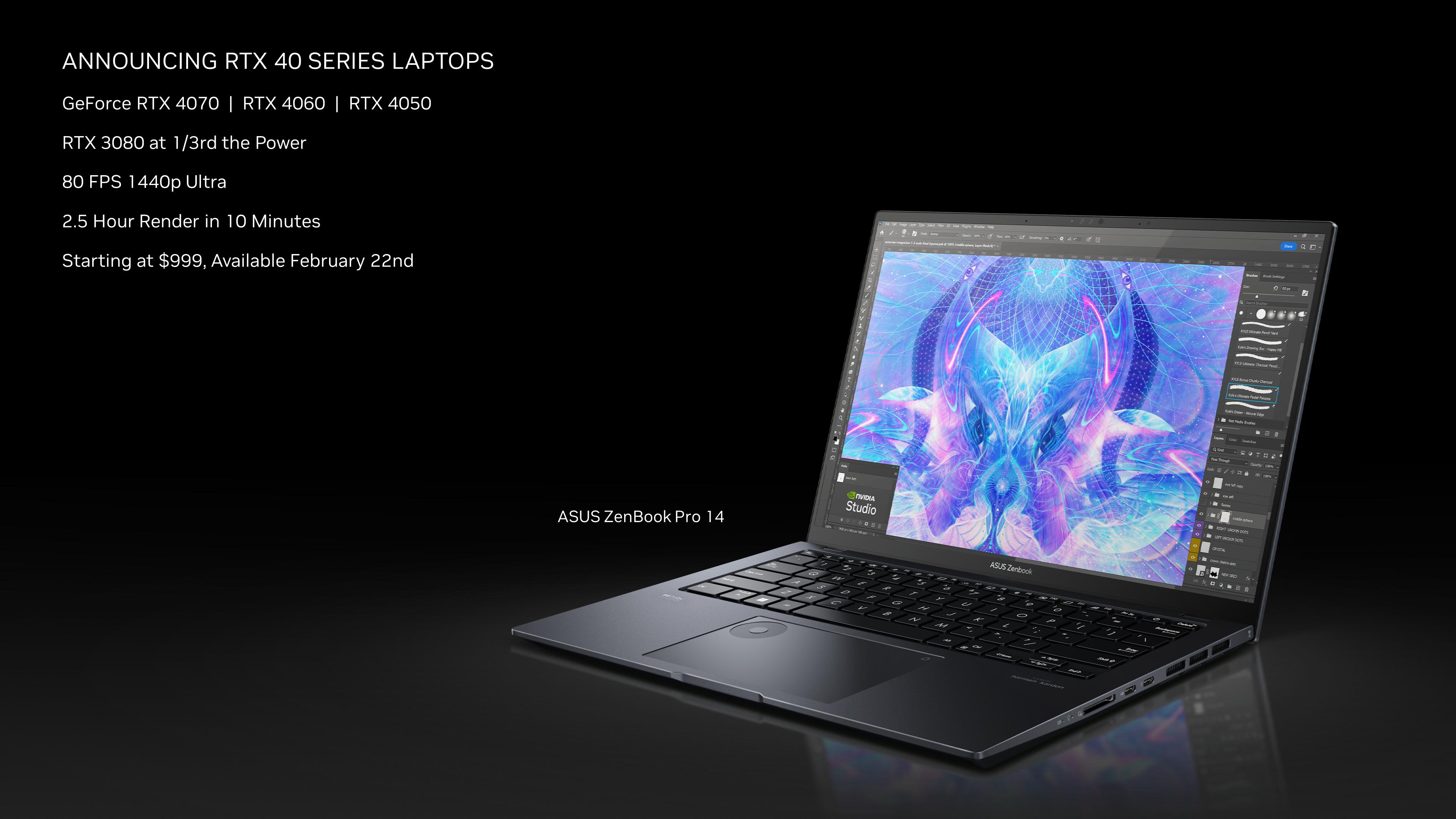 The Ada architecture delivers such incredible improvements in all regards that we can now bring high performance laptop GPUs to 14" devices, the fastest growing laptop form factor. These smaller laptops are lightweight, slip into virtually any bag, and are perfect for students and people on the go. But before now, 95% were limited to basic tasks and apps.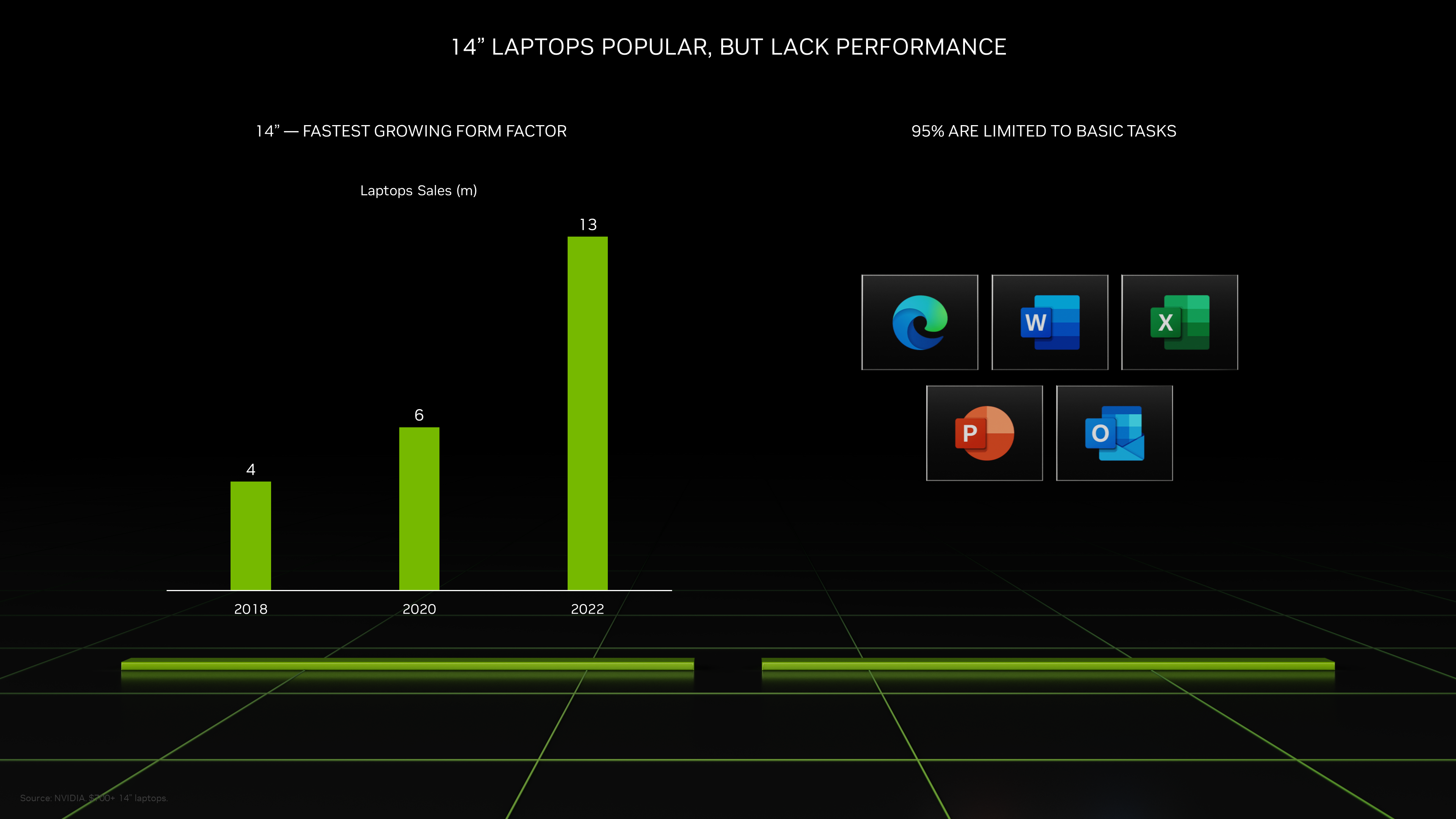 With the power of Ada and 5th generation Max-Q Technologies, 14" laptop performance has increased by 20X, turning them into portable powerhouses capable of any task. Render 3D in Blender, edit video in Adobe Premiere Pro, livestream with NVIDIA Broadcast AI effects and the NVIDIA encoder in OBS, and play the latest games at ultra settings and fluid frame rates.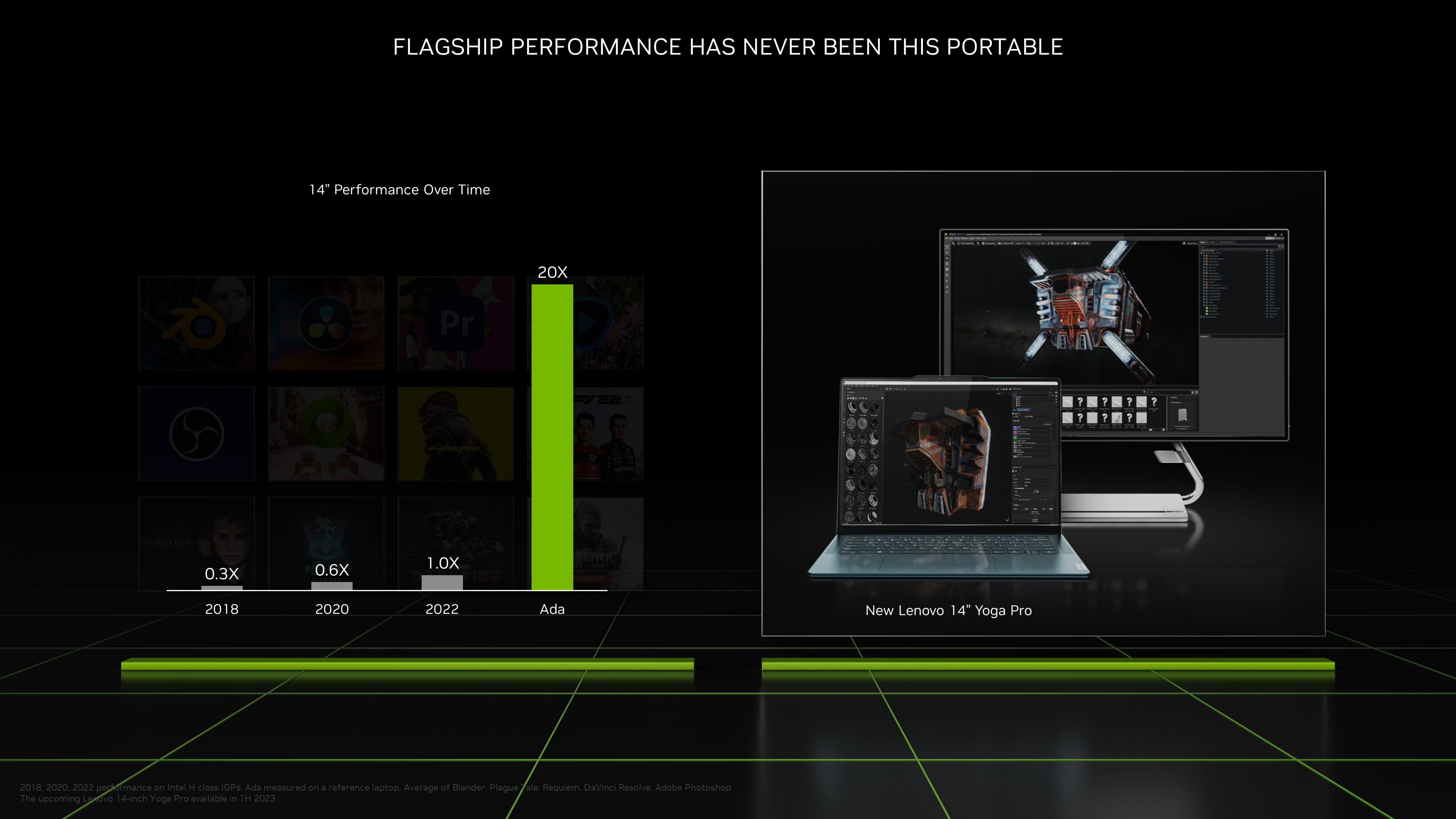 5th Generation Max-Q Technologies
NVIDIA revolutionized laptops in 2017, when we reimagined gaming laptop design with an extreme focus on efficiency. Working with laptop OEM partners we developed a system design approach that delivers high performance in thin gaming and Studio laptops, called Max-Q. Every aspect was optimized for power efficiency, from the GPU architecture to the laptop layout and construction, to core systems and graphics software. And we developed Optimal Settings for laptops applied via GeForce Experience. It fundamentally changed how laptops are built.
Power and thermal constraints are the ultimate barriers to delivering high performance, thin, portable laptops, and Max-Q delivered a new level of efficiency that now enables our partners to create 14" GeForce RTX 40 Series models.
With each new GPU generation, Max-Q has improved thanks to continual innovation, and today alongside the launch of our GeForce RTX 40 Series Laptops, we're introducing 5th Generation Max-Q Technologies, which radically enhance efficiency, and further accelerate gaming performance.
Ada High Efficiency On-Chip Memory sees the GPU's memory get a redesign that vastly improves power efficiency, with double the bandwidth, over 10x the capacity, and improved clock gating. Tri-Speed Memory Control enables the GPU to switch to new, lower power memory states dynamically, improving power efficiency when the system is idle or using low intensity apps. And Ultra Low Voltage GDDR6 boosts GPU efficiency via the integration of the lowest voltage graphics memory ever.
Additionally, NVIDIA DLSS 3 has been incorporated into many Max-Q technologies, including Whisper Mode and Battery Boost 2.0, improving performance, increasing battery life, and reducing noise. These two features improve acoustics and battery life, respectively, and leverage DLSS 3 to further boost efficiency.
DLSS 3 uses AI and Tensor Cores to reduce the amount of rendering required by your GPU, improving frame rates by up to 4X when performance isn't limited. When you optimize using Whisper Mode, power usage plummets and efficiency increases, in turn lowering system temperatures, reducing the speed at which fans run, giving users a quieter experience. And when you're operating on battery, it helps you game for up to 2X as long.
Altogether, Max-Q has increased laptop efficiency by 22X over the past 6 years, giving users a massive boost to battery life, and much more efficient plugged-in performance.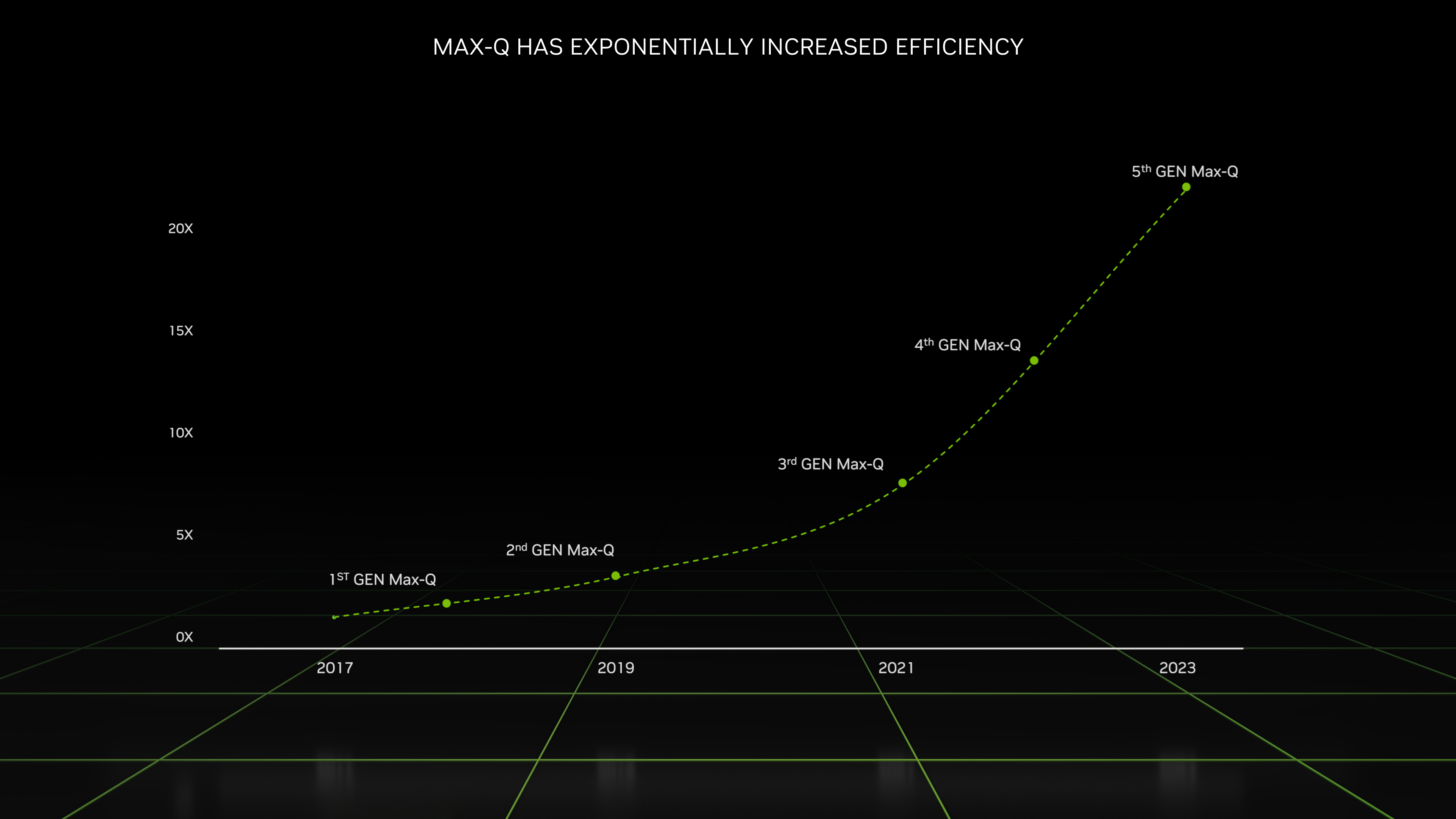 How The Ada Architecture Makes Laptops, Games & Apps Better
The NVIDIA Ada Lovelace architecture at the heart of GeForce RTX 40 Series Laptop GPUs also delivers up to 3X efficiency improvements.
For livestreamers, the new AV1 encoders will bring a massive boost in encoding efficiency, enabling 4K60 at 10 Mbps streams, whereas with H.264 users have to use 20 or even 25 Mbps to get good quality at 4K.
For users editing video, further efficiency gains come courtesy of the new NVENC dual AV1 encoders in GeForce RTX 4080 and 4090 GPUs, which can use both encoders in parallel to export videos at up to 2x faster.
Gamers and creators can also benefit from several new Ada technologies to further improve performance:


3rd Generation Ray Tracing Cores greatly accelerate ray tracing game performance and 3D renders. Compared to previous-generation GeForce RTX laptop GPUs, GeForce RTX 40 Series laptops deliver up to 2X ray tracing performance.
4th Generation Tensor Cores accelerate AI by 2X compared to the previous generation, and together with the new Optical Flow Accelerator enables DLSS 3, which can multiply performance even in CPU-limited games such as Microsoft Flight Simulator.
Shader Execution Reordering improves frame rates by up to 25% when integrated into ray-traced games, such as Portal with RTX.
Opacity Micro-Maps and Displaced Micro-Meshes help game developers optimize detailed worlds in ray-traced games, ensuring GeForce RTX 40 Series gamers will experience even faster performance.
Every existing GeForce innovation and enhancement is also available for buyers of GeForce RTX 40 Series Laptops, including NVIDIA Reflex system latency reduction, G-SYNC on the laptop display and connected external displays, GeForce Experience one-click overclocking and game optimization, Shadowplay recording and streaming, and so much more.
New DLSS & Ray-Traced Games To Play On Your Laptop
Head over to our new RTX games article to learn about the latest and greatest tiles adding DLSS and advanced ray-traced effects. Over 250 released games and apps already support DLSS, and many of 2023's most anticipated titles will also incorporate its game-changing AI-powered tech. With all of the above tech incorporated into GeForce RTX 40 Series laptops, the definitive experience in each title will be found on GeForce.
New NVIDIA Studio Announcements For Creators
Over a third of GeForce laptop owners use creative and STEM applications. GeForce RTX users can take advantage of all the app accelerations in NVIDIA Studio — 110+ RTX accelerated apps and exclusive NVIDIA software: Omniverse, Canvas, Broadcast and the soon-to-be-released RTX Remix. And NVIDIA Studio validated laptops provide built-for-creator laptops that come preloaded with exclusive NVIDIA Studio software and optimized to take advantage of Studio benefits.
Today, we've made many new NVIDIA Studio announcements, which you can read about in detail in our latest NVIDIA Studio article. Here are a few of the highlights:
New GeForce RTX 40 Series GPUs, including new GeForce laptops, power NVIDIA Omniverse creative workflows. 3D creators can take advantage of a new suite of generative AI tools and experimental plug-ins using the power of AI as the ultimate creative assistant, including an alpha Blender release with new AI integrations.
Built on Omniverse, NVIDIA RTX Remix is the easiest way to mod classic games – where AI, software, and hardware come together to enable fans to channel their creativity and reimagine the games we all grew up loving. The modding community can't wait to get their hands on Remix and we've announced that it's entering early access soon.
NVIDIA Broadcast adds Eye Contact, a new feature that uses AI to make it appear as if you're looking directly at the camera, even when glancing to the side or taking notes. This new feature allows for better audience engagement, and makes you appear fully invested in the conversation at all times. Look for the update later in January.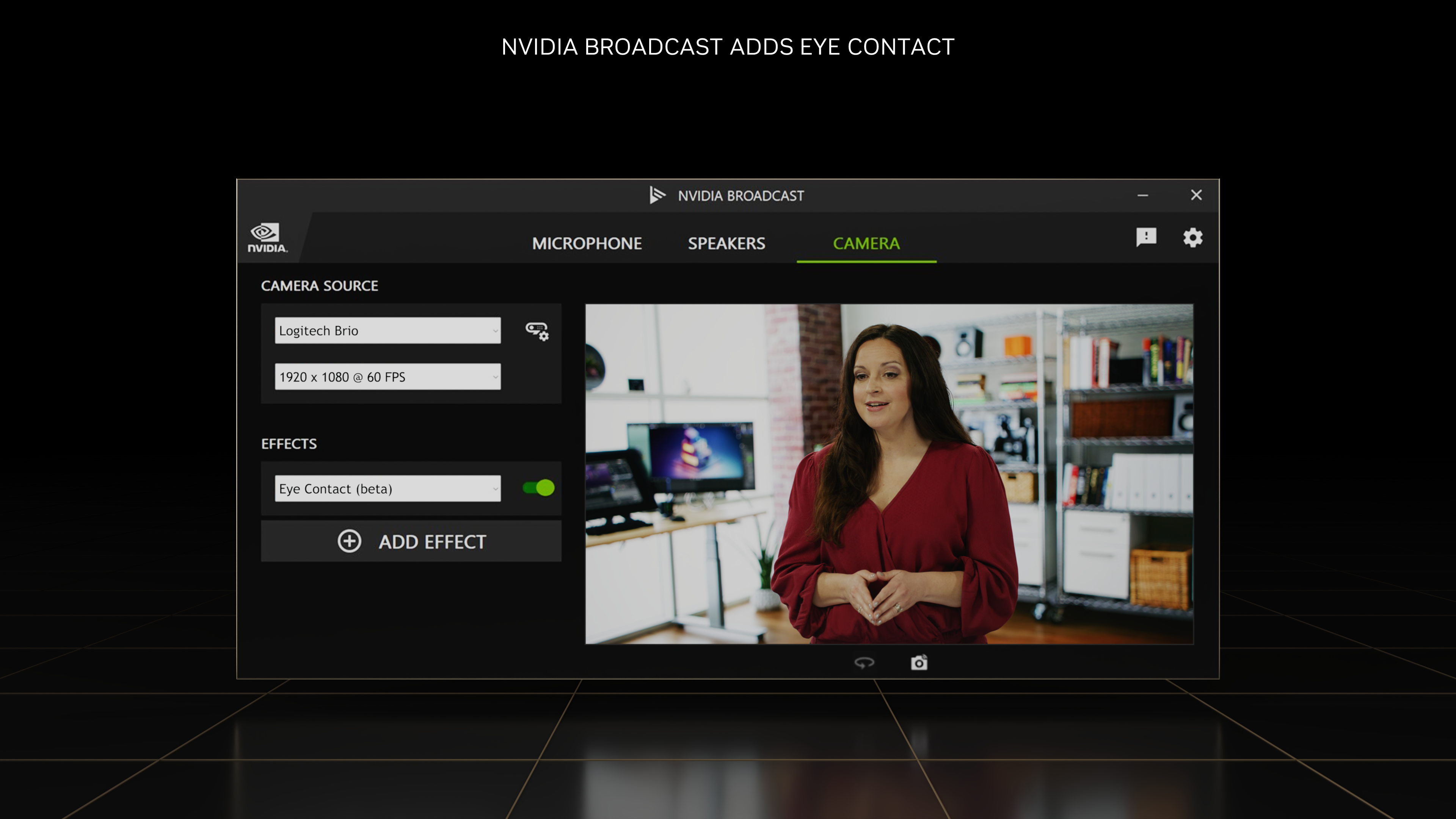 Over half of RTX users run their display at resolutions above 1080p, but over 90% of online video is 1080p or lower, resulting in upscaling that further degrades the picture. In February, we're releasing RTX Video Super Resolution, which uses AI to improve the quality of any video streamed through Google Chrome and Microsoft Edge browsers on GeForce RTX 30 and 40 Series GPUs. Support for GeForce RTX 20 Series GPUs will come in a later update.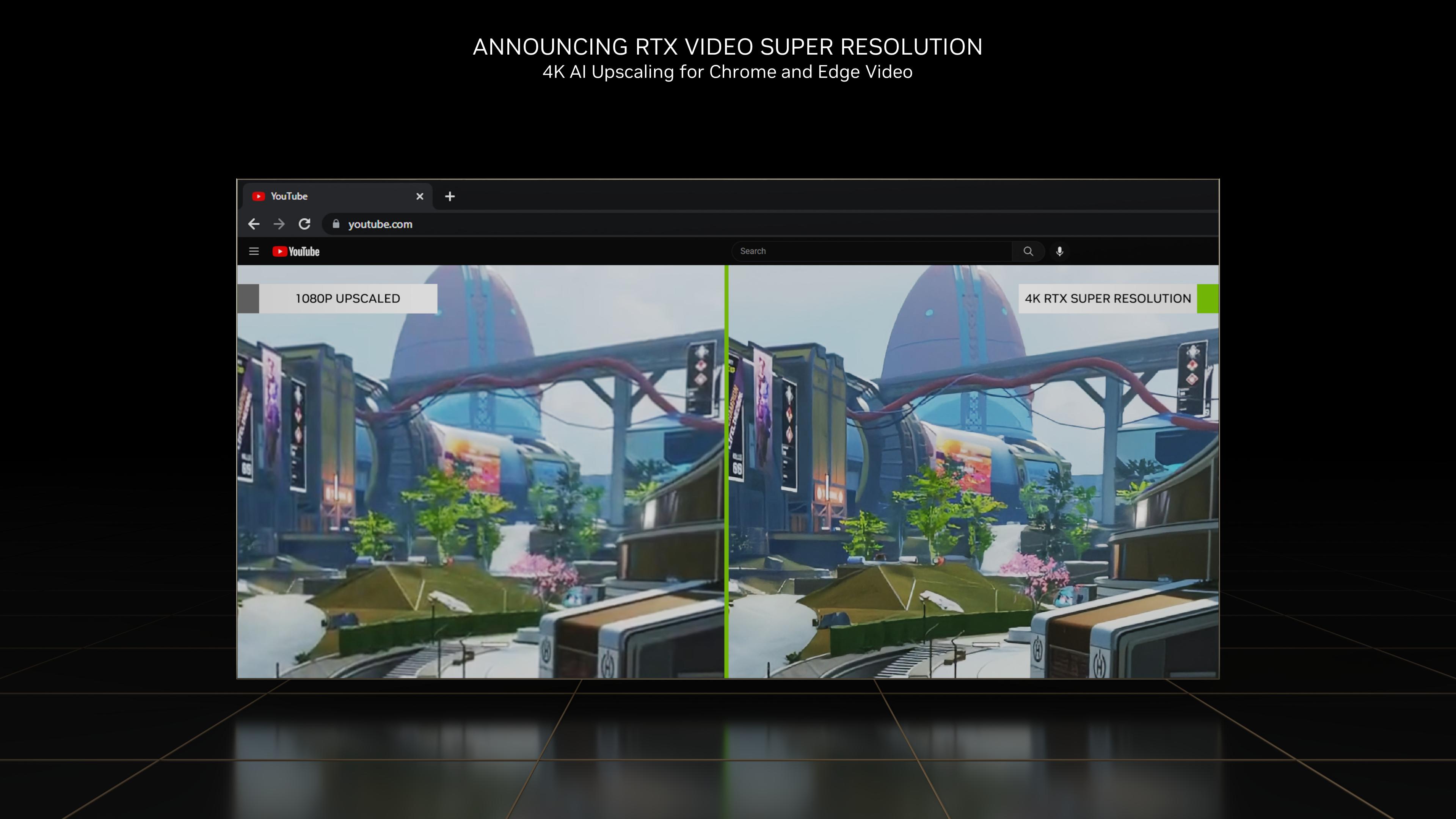 NVIDIA Canvas turns basic brushstrokes into photorealistic landscapes in seconds. We are adding a new feature - Canvas 360 - that will turn Canvas' vistas into exportable spherical maps that can be loaded into a 3D app, such as Unreal Engine, Unity, or Blender, to use as environmental maps to set the ambient lighting of your scenes. The update to Canvas is coming later in Q1.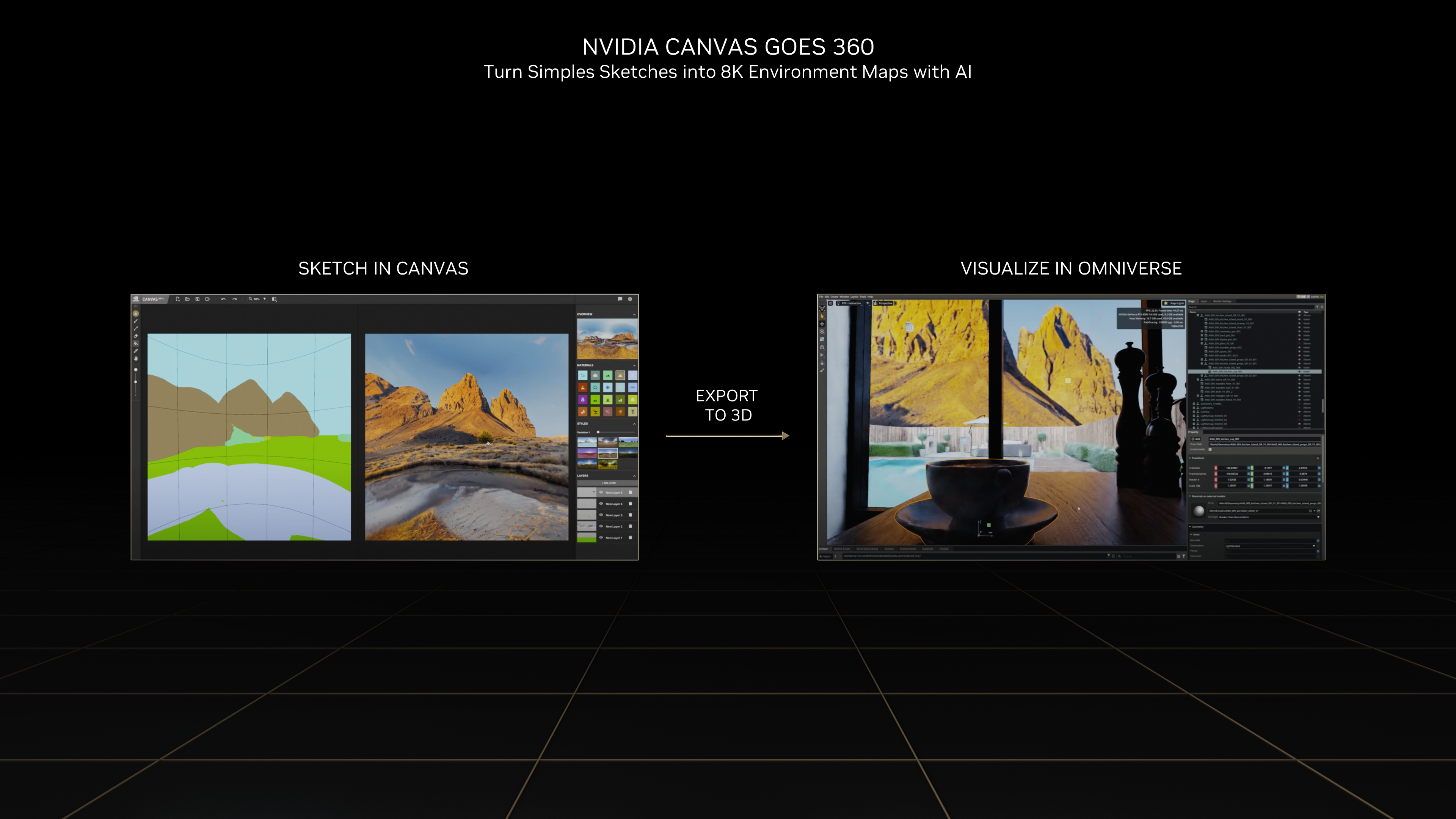 There's much more, for NVIDIA Omniverse and other applications, so be sure to check out the new NVIDIA Studio blog for details.
GeForce RTX 40 Series Laptops: Available From February 8th
If you want to accelerate your gameplay, make bigger, better creative projects in less time, and accelerate your work, GeForce RTX 4090 and 4080 laptops are available beginning February 8th, starting at $1999, followed by GeForce RTX 4070, 4060, and 4050 laptops on February 22nd, with prices starting at just $999.
A huge variety of models from Acer, Alienware, ASUS, Dell, Gigabyte, HP, Lenovo, MSI, Razer and Samsung are coming soon, so be sure to check out their websites for further details.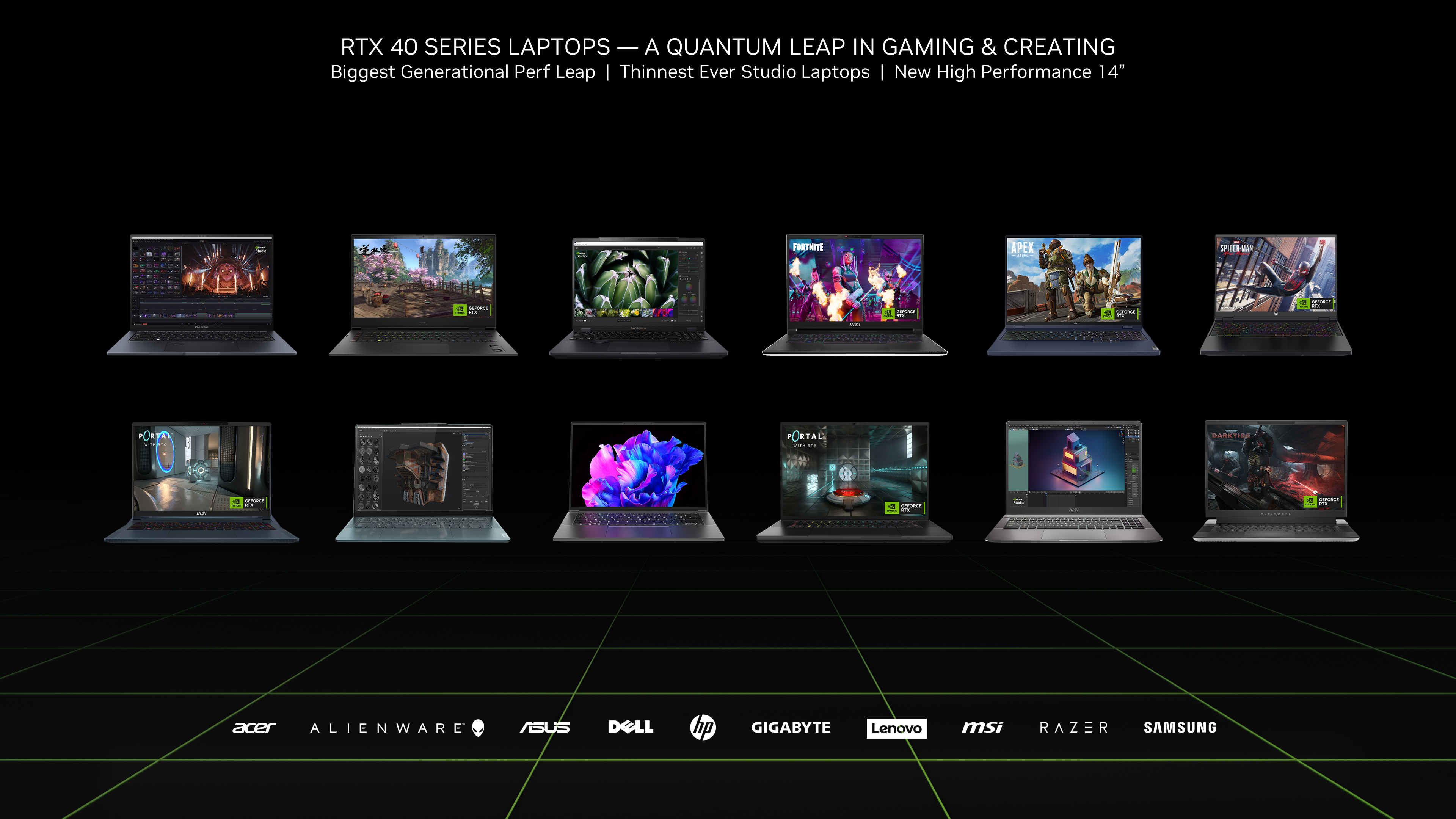 For more new game and tech announcements, head on over to GeForce.com.