NVIDIA and Bethesda have partnered to bring our full slate of game-changing technologies to Redfall, an open-world, co-op FPS from Arkane Austin, the award-winning team behind Prey and Dishonored. In Redfall, the island town is under siege by a legion of vampires who have blocked out the sun and cut the citizens off from the outside world. Explore the open world, ally yourself with a handful of survivors against the creatures threatening to bleed the town dry, and immerse yourself in a deep story campaign as you unravel the mystery behind the vampires' appearance.
To celebrate our technical partnership, we're introducing the new Redfall Bite Back Edition GeForce RTX 40 Series Bundle, available now until April 11th. Buyers of eligible GeForce RTX 4070 Ti, 4080 and 4090 graphics cards, desktop PCs, or GeForce RTX 4080 and 4090 Laptops from select retailers and etailers will receive Redfall Bite Back Edition, a $99.99 value.
Venture into the darkness and overcome the vampire legion with AI-powered NVIDIA DLSS 3 for maximum performance, and NVIDIA Reflex for enhanced responsiveness. And enjoy immersive ray-traced effects, arriving alongside a post-launch update.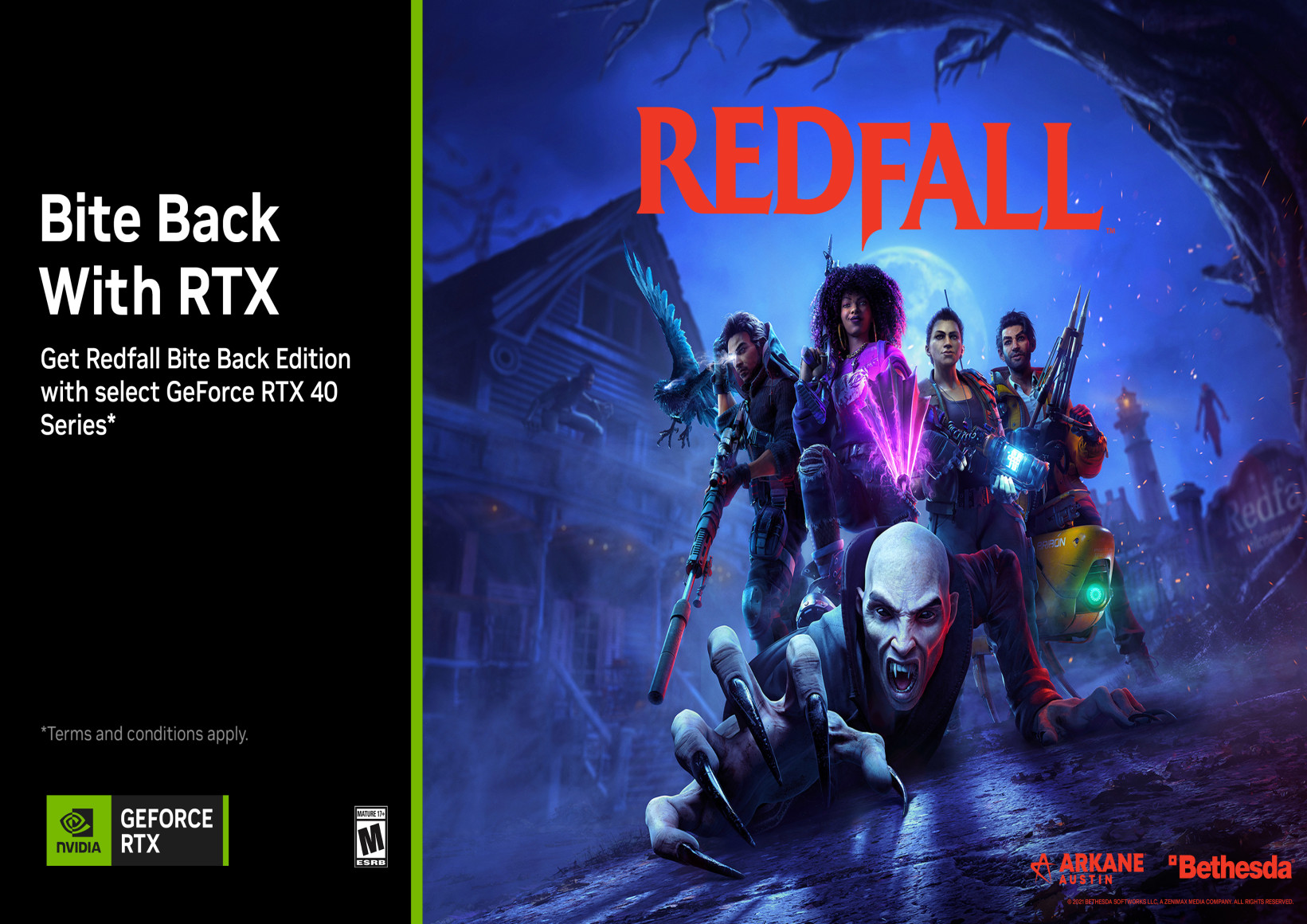 The Redfall Bite Back Edition includes:
A Steam PC digital copy of Redfall, which unlocks May 2nd
Redfall Hero Pass with two future heroes
Laser Beam Multi-Weapon Skin
Tactical Knife Stake Weapon Attachment
Northern Expedition Devinder Outfit
Eyes in the Dark Jacob Outfit
War Clothes Layla Outfit
Engineer Volunteer Remi Outfit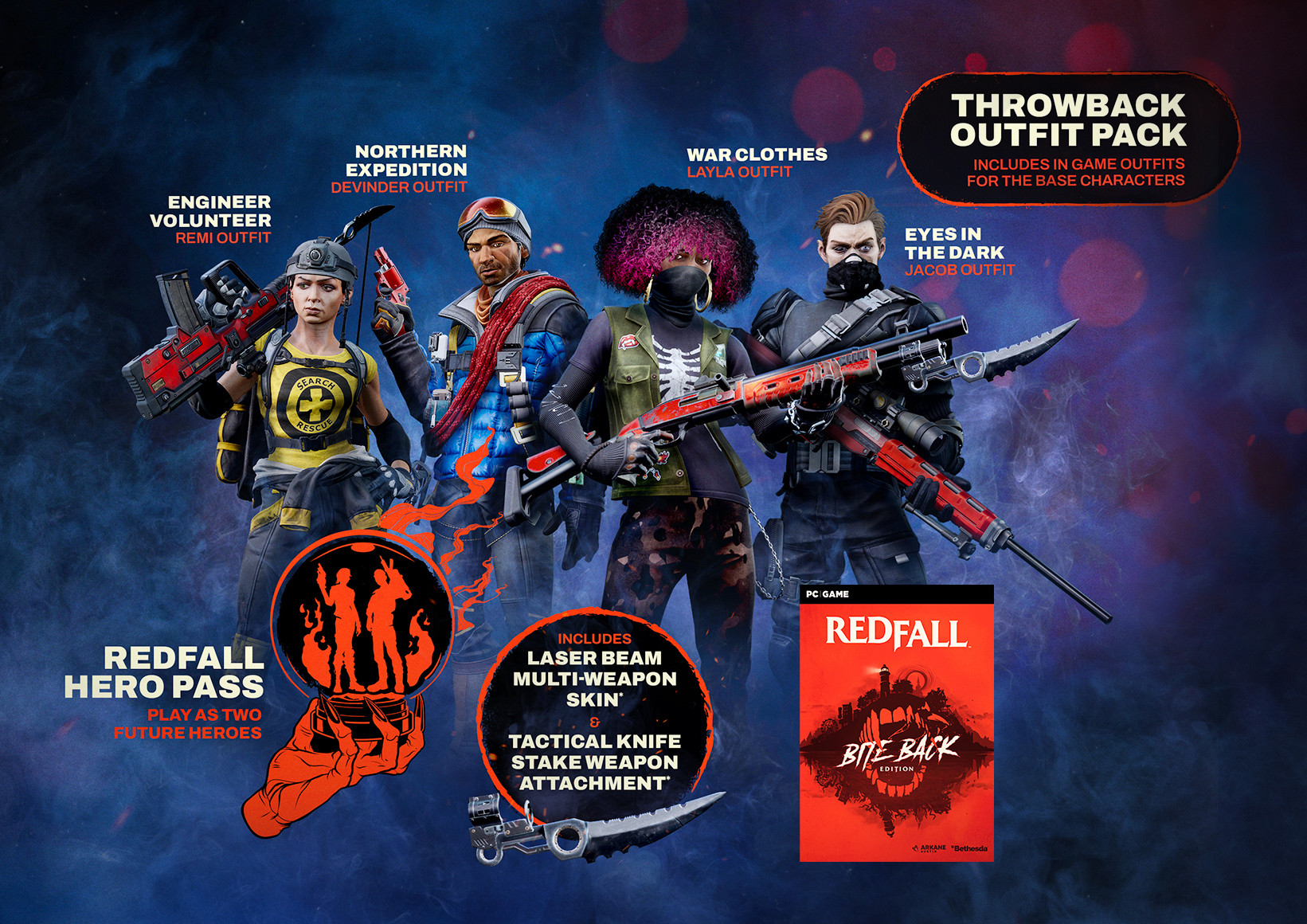 You'll find eligible GPUs, desktops and laptops at numerous system builders and retailers worldwide. Head to the Redfall Bite Back Edition bundle homepage to see the complete list of participating partners in your country.
Once you've bought any qualifying product, you'll receive email instructions on how to redeem your bundle, and just a few clicks later you'll instantly add Redfall Bite Back Edition to your Steam account. And by installing our Game Ready Driver that'll be released shortly before the game's launch, your new hardware will be ready to rock and roll, delivering the definitive experience in this highly anticipated game.
While supplies last. Bundle applies for qualifying GeForce RTX 4090, GeForce RTX 4080, GeForce RTX 4070 Ti desktop or graphics card or a GeForce RTX 4090 or GeForce RTX 4080 Laptop GPU. Please see Terms & Conditions for a full list of qualifying partner products. Games must be redeemed via GeForce Experience™ application on a qualifying desktop, graphics card or laptop. Customers must meet the age requirement for the game to redeem. Regional/Country Requirements: Some codes require that they be redeemed in specific regions or countries. Please redeem the code in the appropriate region/country. Full terms apply.
© 2023 ZeniMax Media Inc. Developed in association with Arkane Studios. Redfall, Arkane, Bethesda, Bethesda Softworks, ZeniMax, and related logos are registered trademarks or trademarks of ZeniMax Media Inc. in the U.S. and/or other countries. All Rights Reserved.