Our latest GeForce Game Ready driver is optimized for Apex Legends, Devil May Cry 5 and Tom Clancy's The Division II, and adds support for three new G-SYNC Compatible gaming monitors.
To download and install, simply fire up GeForce Experience and click the "Drivers" tab.
Game Ready For Apex Legends and More
Our newest Game Ready Driver introduces optimizations and updates for Apex Legends, Devil May Cry 5, and Tom Clancy's The Division II, giving you the best possible experience from the second you start playing.
In addition, we continue to optimize and improve already-released games, such as Metro Exodus, AnthemTM, and BattlefieldTM V, which are included in our new GeForce RTX Triple Threat Bundle.
This bundle gets you a copy of each game* with eligible GeForce RTX 2080 Ti or 2080 GPUs, desktops or laptops. Or, if you buy a GeForce RTX 2070 or 2060 GPU, desktop or laptop, you can pick one of the three games to take home and enjoy at high detail levels and framerates.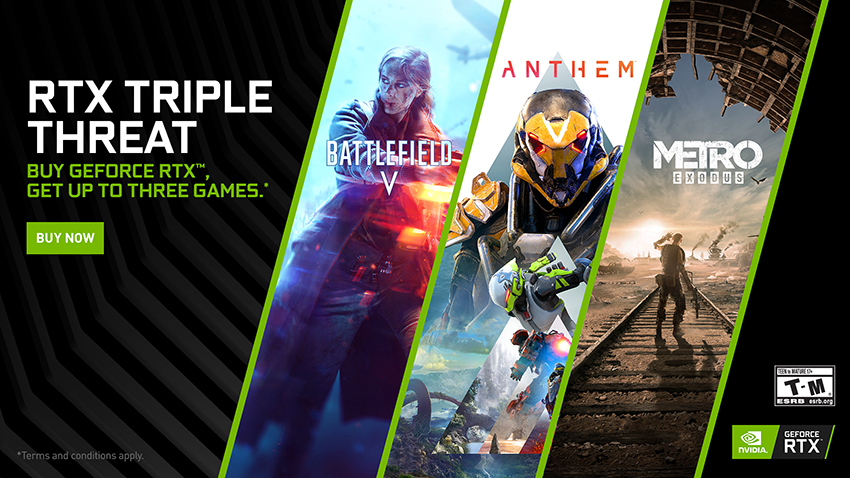 For further details, head here.
More G-SYNC Compatible Displays
In January, our Game Ready Drivers introduced support for G-SYNC Compatible displays - monitors that deliver a baseline Variable Refresh Rate (VRR) experience that makes your gaming smoother, clearer, and more enjoyable.
Today, our newest driver is adding support for three additional monitors that have passed G-SYNC Compatible validation. This means there's no blanking, pulsing, flickering, ghosting or other artificating during VRR gaming. And that they can operate in VRR at any game framerate by supporting a VRR range of at least 2.4:1 (e.g. 60Hz-144Hz), in addition to offering a seamless experience by enabling VRR by default when the driver is installed and the monitor plugged in.
12 monitors were already rated as G-SYNC Compatible, bringing us to 15 with today's addition of the:
Acer ED273 A
Acer XF250Q
BenQ XL2540-B / ZOWIE XL LCD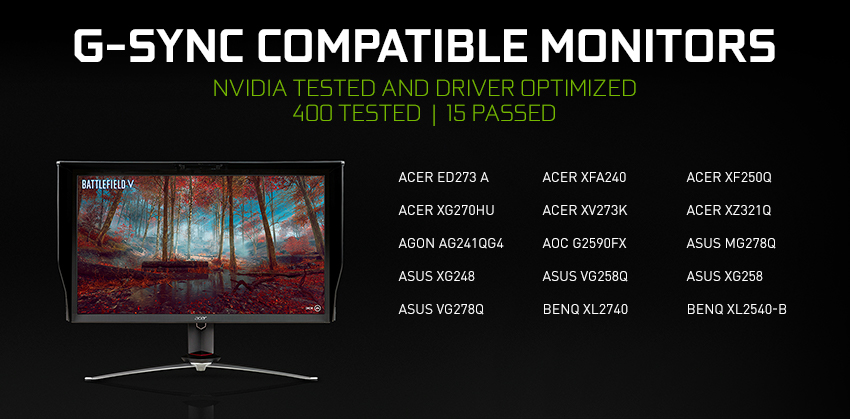 If you're in the market for an entry level VRR experience, the G-SYNC Compatible program gives you a ton of new purchase possibilities, and the knowledge of which monitors will deliver baseline VRR benefits with your GeForce graphics card.
For further info check out our G-SYNC Compatible article, and the complete list of G-SYNC monitors.
GeForce Game Ready Driver - Download Now
You can download the new GeForce Game Ready 419.35 WHQL drivers through GeForce Experience, our free, game-enhancing application, which records and streams gameplay, and grants you access to giveaways.
If you experience any technical issues with the new Game Ready drivers please post a detailed report on the GeForce.com Driver Feedback Forum, where our Customer Care team can better assist you. A list of fixes in this driver for previously-reported issues can be found here.
*Anthem Standard Edition; Battlefield V Standard Edition; Metro Exodus Standard Edition