Our latest NVIDIA Studio Driver provides optimal support for the latest releases of top creative applications, including Maxon's Cinema 4D R21 update.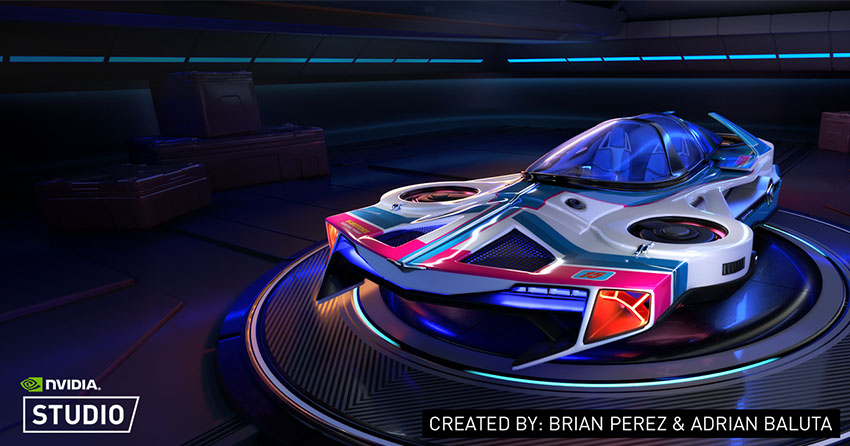 Cinema 4D is a leading animation and modeling package that allows artists to create stunning 3D content and visual effects. Released this week, Cinema 4D R21 brings new capabilities including a new Caps and Bevel system for extruding, shaping and animating 3D text and a new Field Force dynamics object permits optimized motion graphics. The app also supports a new materials system, which simplifies selection of materials available within any supported 3D renderer, such as Redshift. Redshift is a GPU-accelerated renderer that uses NVIDIA CUDA and OptiX for denoising and in a future release, will add OptiX support for RTX ray tracing.
The Studio driver released today also offers improved support for recent updates to Adobe Lightroom Classic 8.4, Adobe Substance Designer 2019.2, the full release of Blackmagic Design's DaVinci Resolve Studio 16.0, and Epic Games' Unreal Engine 4.23.
Adobe's Substance Designer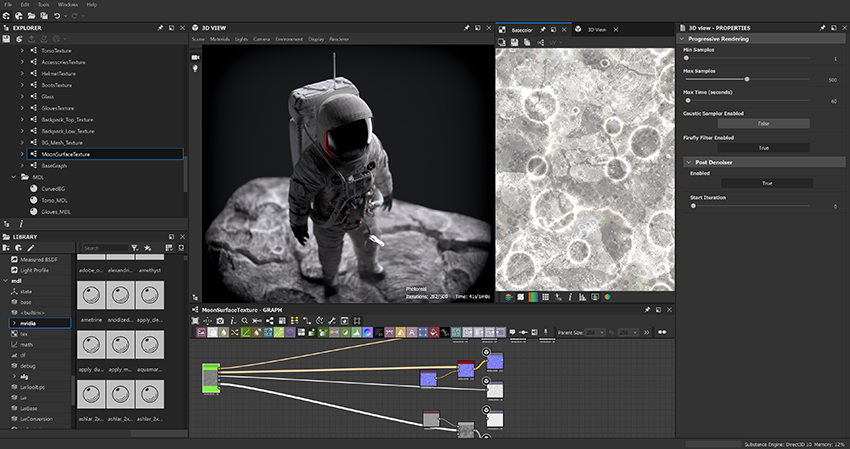 Modifying materials in Substance Designer 2019.2
The latest Substance Designer release contains a number of new features to speed up your material creation workflow. On top of RTX bakers already available, the release brings Iray support for RTX GPUs for fast, interactive material previews, and MDL 1.5 support for exporting MDL graphs to MDLE files.
Learn more about the latest Substance Designer update here.
Epic Games' Unreal Engine 4.23
The latest Unreal Engine 4.23 update includes a ton of new features, with RTX users getting ray tracing improvements including:
Performance and stability improvements, particularly for ray-traced scenes
Sampling improvements with Ray Tracer and Path Tracer
Newly supported geometry types and material types
Blackmagic Design DaVinci Resolve Studio 16 Exits Beta
Featuring new AI-powered features to make video editing and color grading easier and more powerful, Blackmagic Design's DaVinci Resolve Studio 16 makes use of several NVIDIA AI libraries, and the Tensor Cores found on the latest NVIDIA RTX GPUs, to accelerate inferencing. RTX-powered AI features include:
Speed Warp, which interpolates frames when changing the playback speed of videos resulting in smooth slow-motion with fewer artifacts
Super Scale, to increase footage resolution by up to 4x
Auto color and shot matching to accelerate the color grading workflow
Facial recognition for automatic tagging of clips for smart bins and tracking of facial features easy feature refinement
Stylize for creating artistic looks on video footage
"DaVinci Resolve 16 Studio uses the latest multiple GPU innovations for AI and deep learning," said Dan May, Blackmagic Design's USA president. "With the new DaVinci Neural Engine using NVIDIA CUDA 10 and TensorFlow acceleration, our tests show a better than 2x performance increase over previous NVIDIA GPUs. These same GPUs are also used for decoding and debayering Blackmagic RAW images which makes them an attractive investment."
Adobe Lightroom Classic
One of the most exciting new features in Adobe's Lightroom Classic 8.4 update is dramatically improved GPU acceleration that improves responsiveness on high-resolution displays by up to 6X, making work a whole lot faster. Lightroom Classic leverages RTX GPUs to speed up image adjustments, and accelerates rendering of images in the Library module's Grid view, Loupe view, and Filmstrip.
Enhance Details, an AI-based feature that refines RAW images enabling photographers to enlarge images without losing fine detail, is now further accelerated by taking full advantage of AI hardware acceleration in RTX GPUs.
Learn more about the latest Lightroom update here.
Learn more about how NVIDIA GPUs accelerate content creationand our new RTX Studio laptops, then download the latest Studio Driver and provide us your feedback on the NVIDIA forums.