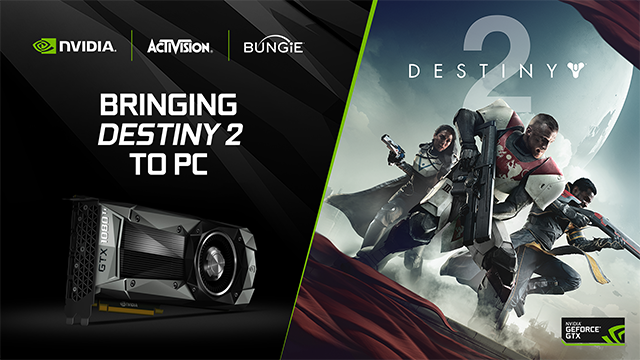 At a special GeForce GTX event at Gamescom in Cologne, Germany, NVIDIA, Activision, and Bungie took to the stage to announce the next steps in our Destiny 2 PC collaboration including adding HDR and SLI support to the game, and announcing the latest PC Beta Game Ready Driver, GeForce Experience PC Beta Giveaway, and the return of the GeForce GTX Destiny 2 Bundle. For all the details, read on.
Destiny 2's Tech Gets Enhanced With HDR & SLI
Earlier this year at E3 in Los Angeles, we announced a partnership with Activision and Bungie, enabling us to collaborate with the famed makers of Destiny 2 to enhance the PC edition of the game with new tech and features. Already, support for native 4K, 4K DSR, uncapped framerates, field of view modification, and GeForce Experience has been confirmed. And at Gamescom today we revealed that the game now supports HDR and SLI, too, with HDR available to test in the PC beta, which kicks off August 28th for Early Access players.
With a compatible TV or monitor, HDR enables higher peak brightness for stunning, vivid visuals, with bold saturated colors; tremendous contrast for richer, more natural dark scenes; and a wide gamut of colors close to what you experience on the highest-quality digital cinema screens. In the context of Destiny 2's sci-fi setting, you'll experience a dazzling display of color, brightness and contrast that was previously impossible to render, further improving your experience.
Since Destiny 2's PC unveiling back in May, the highly anticipated game has been demonstrated running at 4K on GeForce GTX 1080 Ti PCs. The experience is smooth, running at a solid 60 FPS. But to go faster we've dug into Destiny 2 with the help of Bungie's engineers to add SLI multi-GPU support, for those who want to take advantage of multiple-GPUs for even faster overall performance.
Get Ready For The PC Beta With Game Ready Drivers
All of those awesome features mentioned above will be available in the PC Beta, which begins August 28th for Early Access. To enable many of those features, and to ensure that GeForce GTX gamers have the best possible PC Beta experience from day one, we've worked with Activision and Bungie to create the Destiny 2 Beta Game Ready driver, which will be available starting on August 24th through GeForce Experience.
For the Destiny 2 beta we recommend equipping your system with a GeForce GTX 1060, or equivalent GPU. And if you are looking to play in stunning 4K, we recommend using the event spec, which is powered by the GeForce GTX 1080 Ti. For further details about the beta, along with the complete list of minimum and recommended system requirements, check out this article.
In addition to using that tech, you'll be able to use GeForce Experience to optimize your beta game settings for the best possible experience, and capture and stream all of your gameplay with ShadowPlay and the Share overlay. Learn more here.
Get Early Access To The Destiny 2 PC Beta With GeForce Experience
A key benefit to being a member of the GeForce Experience community is awesome giveaways, from game codes to graphics cards – and more! To celebrate Gamescom, NVIDIA will be giving some lucky GeForce Experience members a code for 24 hours Early Access to the Destiny 2 PC Beta!
Recipients will be informed via a notification within the GeForce Experience client on August 25.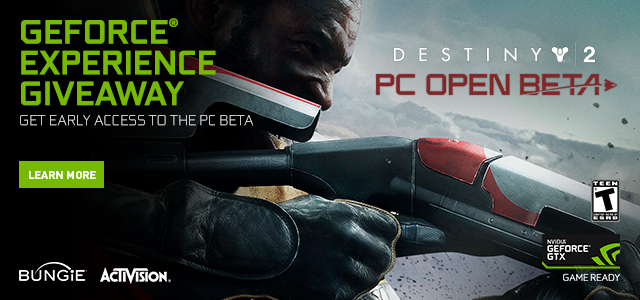 The GeForce GTX Destiny 2 Bundle Is Back For A Limited Time
Our Destiny 2 GeForce GTX bundle flew off the shelves back in June, and from today through to September 5th it is once again available with eligible GeForce GTX 1080 and 1080 Ti graphics cards, systems and laptops at participating partners. You'll get a blisteringly fast GPU, PC or laptop, and a copy of the game when it launches October 24th.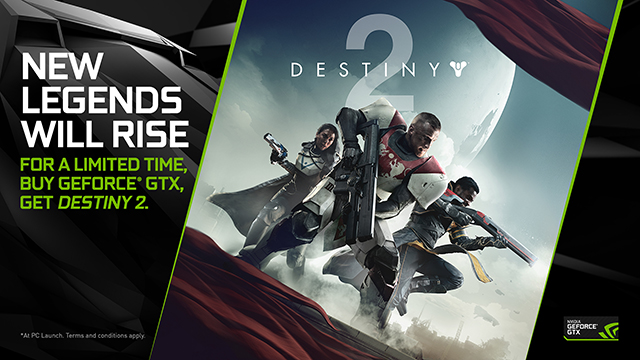 In addition, we can now announce that anyone who bought our bundle back in June, or buys it now, will also receive three in-game pre-order incentives at the game's launch, while supplies last: the Coldheart Exotic Rifle, the Kill Tracker Ghost, and the Salute emote. Simply redeem your game key in the Blizzard Battle.net app and the items will be waiting for you in October.
For a list of participating retailers and e-tailers in your country head on over to the Destiny 2 GeForce GTX bundle landing page. And for more on Destiny 2 for PC, stay tuned to GeForce.com.