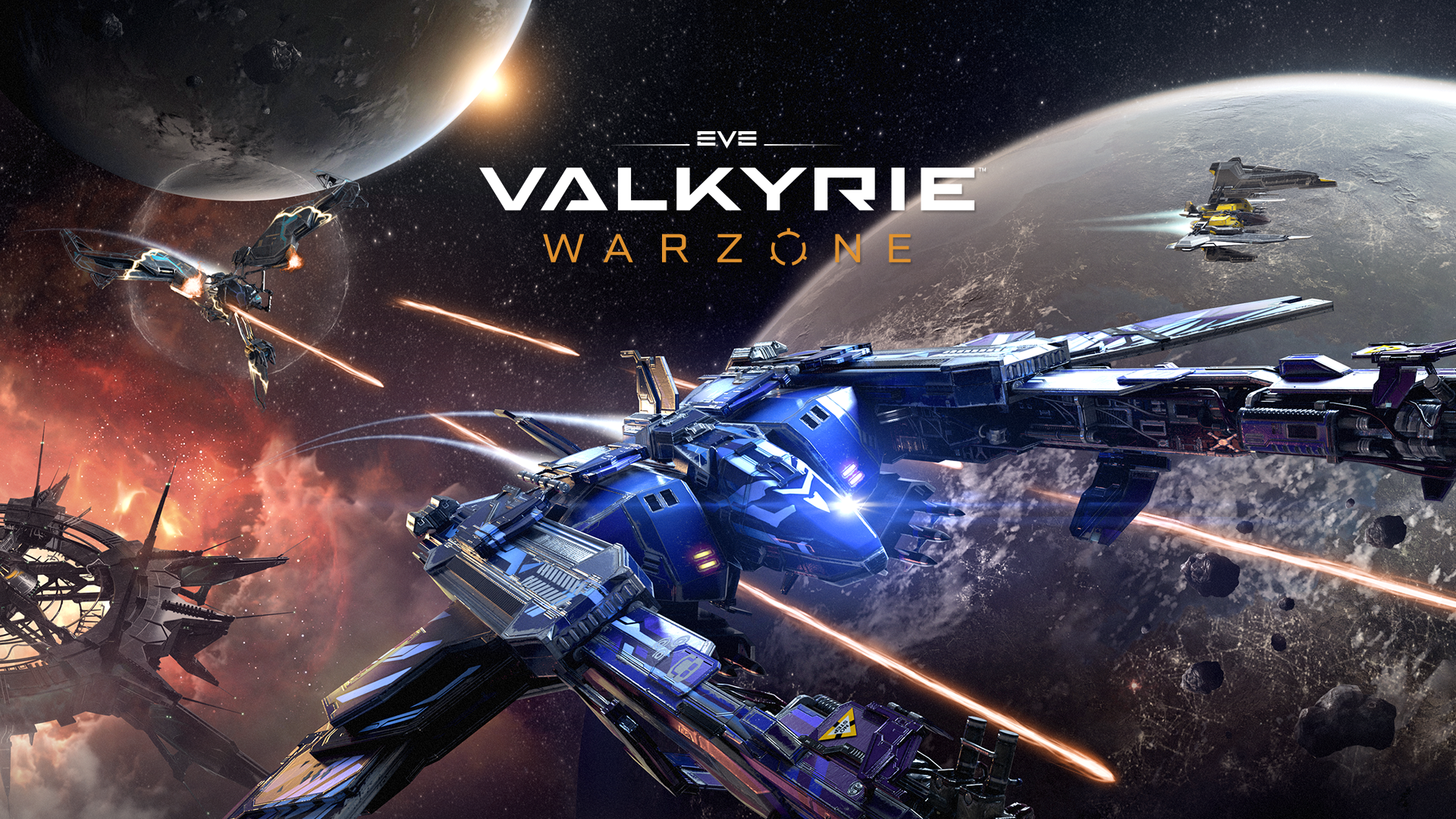 CCP's original EVE: Valkyrie launched on the PC as a VR-exclusive, and was celebrated for its exciting ship-to-ship combat in deep space. But now, the developers have completely overhauled the game and re-released it as EVE: Valkyrie – Warzone, for desktops and VR headsets, with full PS4 cross-platform compatibility. That's right, you can play on a monitor, and pit your skills against VR users and the console crowd to see who comes out on top.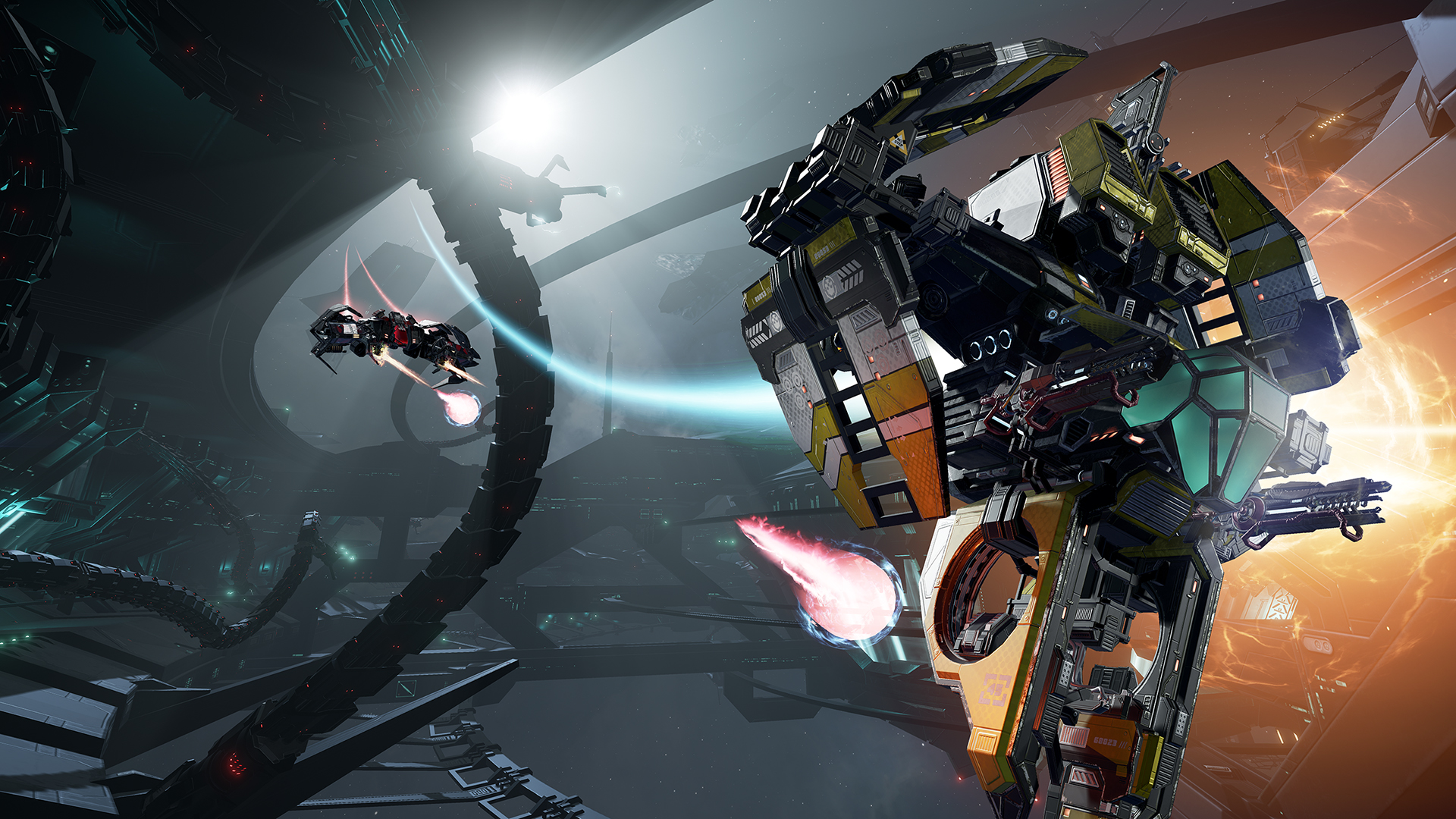 Supporting the game's intense, warlike atmosphere is a whole slew of technologies, first implemented a few months back in VR, and now available for desktops, that boost the visuals. Up first there's NVIDIA Multi-Sample G-Buffer Anti-Aliasing (MSGAA), an advanced version of anti-aliasing that creates fewer jagged lines up close and far away. More noticeably there's NVIDIA Volumetric Lighting, which produces "God Rays", bright, dazzling spears of light that shoot out from strong light sources, such as the sun. And supporting the action are a whole slew of new lighting and shadow enhancements. For detailed info, and screenshot comparisons showing the improvements, head here.
Another inclusion is NVIDIA Multi-Res Shading (MRS). This tech increases the performance of the game by decreasing the resolution on the outer edges of your screen by 30%, but leaving the visuals in the center of the screen untouched. Since you're typically focused on the middle of your panel, MRS is an effective solution at bumping up the frames-per-second without noticeably lowering overall image quality, and is especially beneficial on higher-resolution monitors where the outer-edge resolution reduction is less apparent.
At minimum, we recorded a 14.5% performance improvement with MRS, which increased to a whopping 51% when the area of the screen affected by MRS is increased by an additional 5% on each side, and the resolution in the affected area is further reduced. As a result, with Multi-Res Shading for desktops, laptops and VR headsets, NVIDIA GeForce GTX 900 and 10-Series gamers can get even more performance from games, enabling the use of higher screen resolutions and higher-quality settings, increasing image quality where it counts – the focal point of the screen.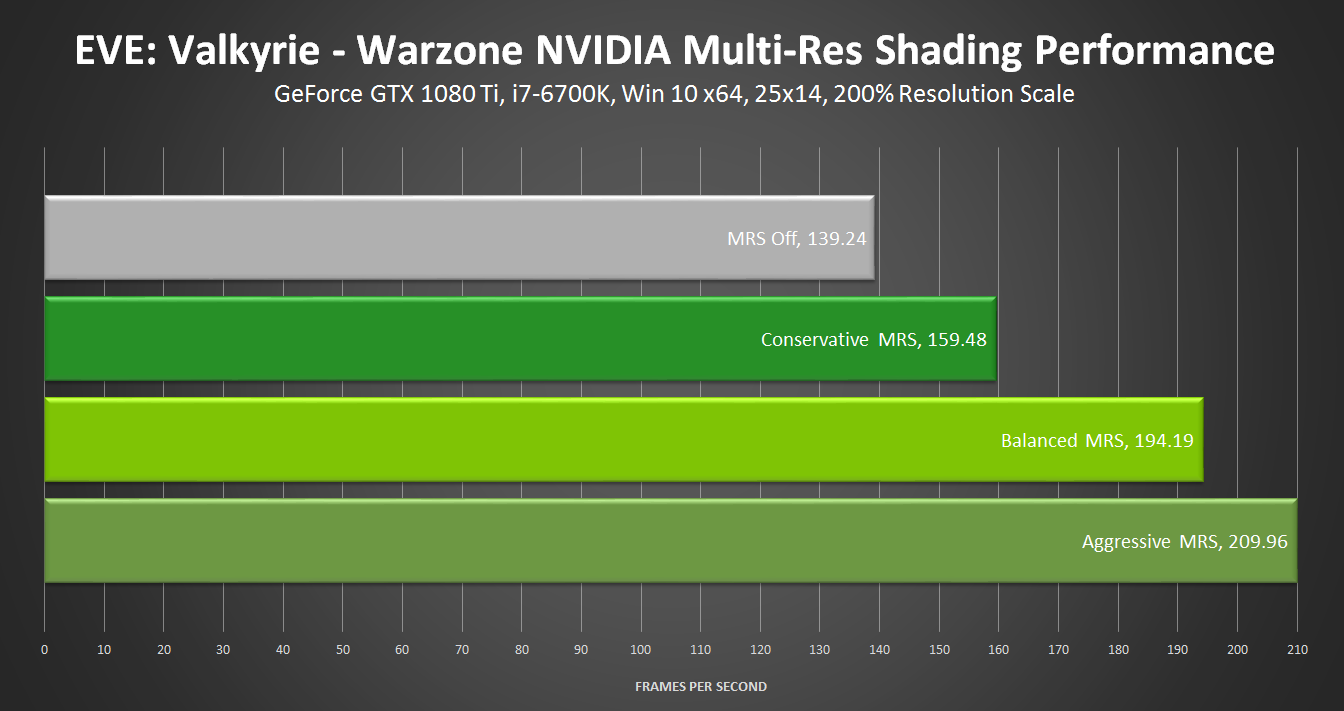 In addition to the pumped-up graphics and advanced technologies seen in EVE: Valkyrie – Warzone, there's a lot more to the game than just a pretty face. For starters, there's a large variety of next-generation ships to pilot, with different roles and flying mechanics for each. Plus, all the ships are accessible right away. As CCP states: "All classes are unlocked for all pilots, and each ship has its own unique progression tree. Fly and fight your way."
Assault-class ships are a good choice for rookies and veterans alike, thanks to their well-rounded versatility. The Heavy class is akin to a flying tank: slow and cumbersome, but remarkably strong – a perfect selection if you enjoy the concept of jumping inside a mobile weapons platform. And then there are the Support classes, which can harness a buff-beam to sap opponents' shields or heal teammates. The Support ships aren't just passive onlookers though, and some of them are perfectly suited for combat. Topping it all off is a specialized Covert class ship, named the Shadow, complete with the ability to cloak itself in battle and surprise opponents from within their midst.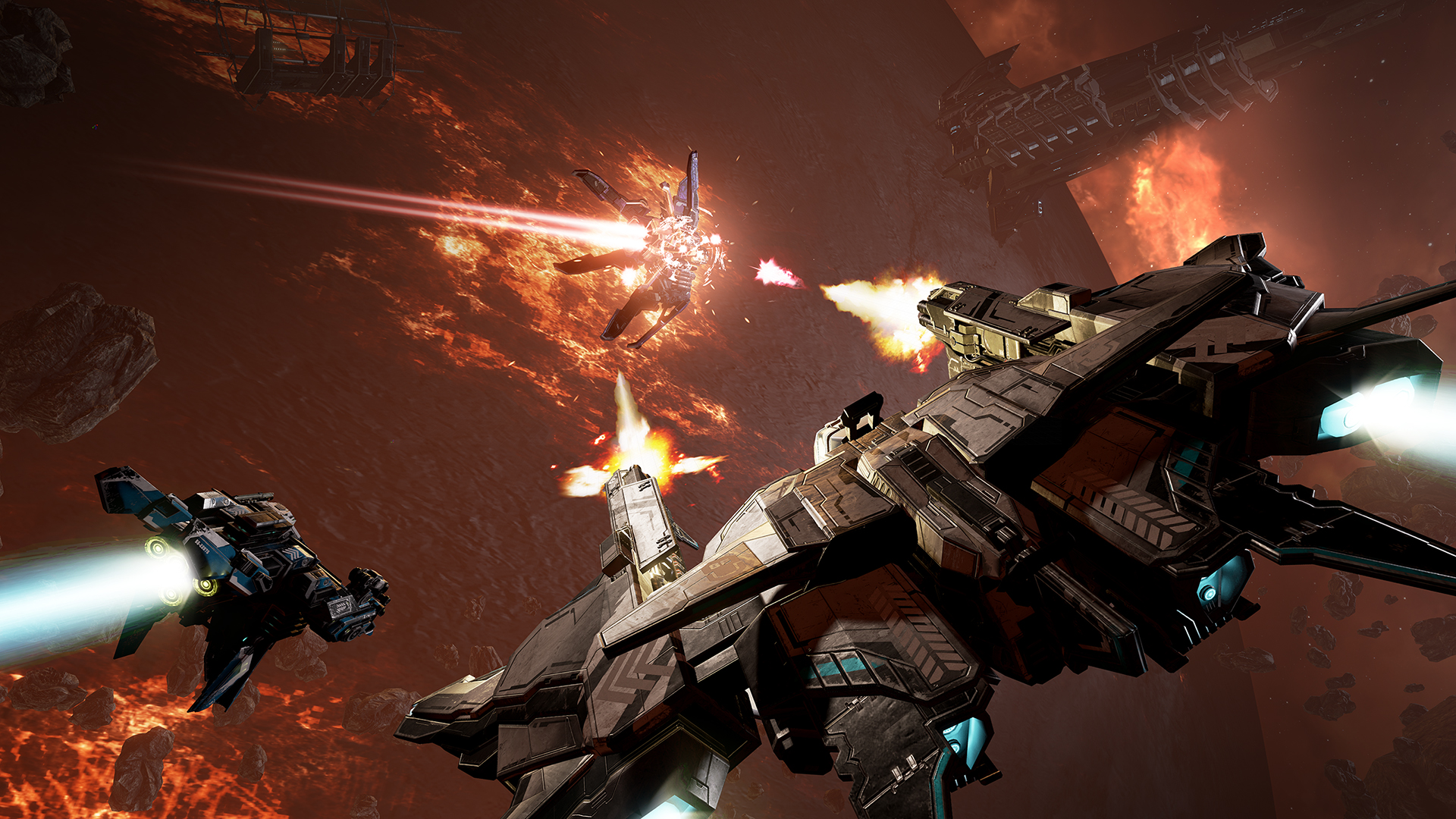 There are other new features, too, such as powerful Ultra abilities which can be activated to devastating effect. To charge an Ultra ability faster than usual (for yourself and your wingmen), all you need to do is collect Salvage, dropped by pulverized ships in the heat of battle. As you rank up and complete daily challenges and events, you'll obtain Spoils of War to obtain Loot Capsules, which appear in common, rare, and epic varieties. These can used to customize and tweak the personalization of your ships. The game's older economy is history too, and in its place is a more streamlined XP system. XP is now awarded on a per-ship basis instead of per-class, and with the XP, you'll create handy ship modifications to aid you in the field.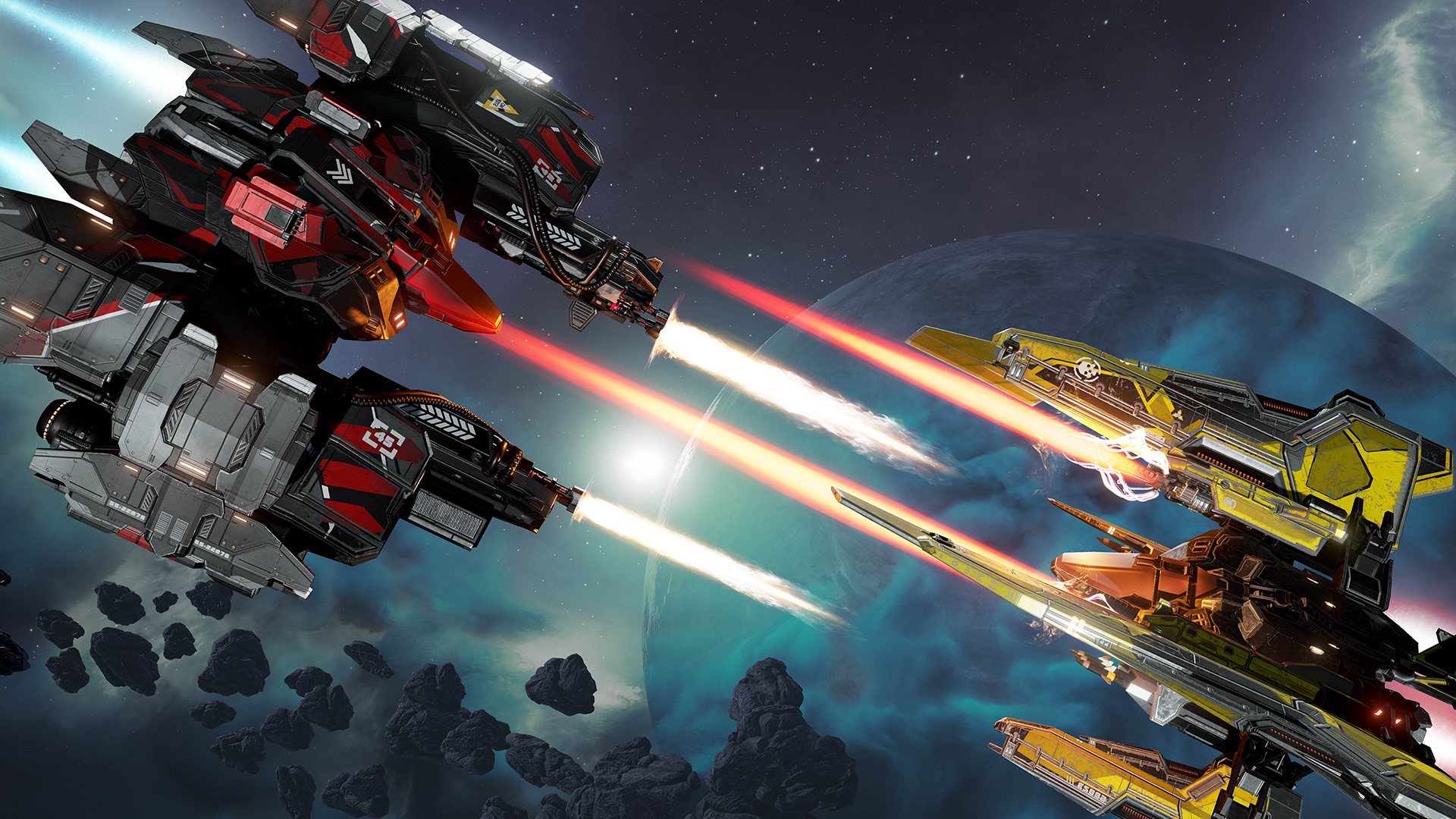 There are plenty of intriguing environments to traverse, too. You'll go to battle in nine custom multiplayer arenas along with two brand-new maps: Fleet (a Sisters of EVE space station) and Outpost (an enigmatic Drifter base). CCP also added their own take on capture the flag, titled Extraction Mode. "[The new mode] mixes combat and navigational challenge in new and exciting ways," said CCP, "encouraging pilots to use the environment to their advantage. Most importantly though, it makes team-play—and team-tactics—a key component of success."
You can purchase EVE: Valkyrie – Warzone on Steam (including SteamVR), as well as the Oculus Store. For more info on the game, CCP has a detailed set of dev blogs, and a highly useful pilot training section. And by playing it with a GeForce GTX graphics card, you'll enjoy a superior experience, thanks to Volumetric Lighting, MSGAA, NVIDIA Multi-Res Shading, and other GeForce GTX technologies.
For the best possible performance and experience, be sure to download the new EVE: Valkyrie - Warzone Game Ready driver available through GeForce Experience.