Fallout 4 is one of 2015's most ambitious and immersive games, with a vast open world to explore and an enormous branching story to experience. The game also boasts an in-depth crafting system, the ability to build and deconstruct bases, a dynamic dialogue system and other exciting new features. Bethesda went all out to make it the best-looking Fallout game yet, and the result is a much more visually rich game with a variety of settings and a whole new dynamic weather system that gives the world extra depth.
But if that's not enough, you can go one step further and use Fallout 4's ever-growing library of community-made mods to give it an extra graphical push. We've picked out five of the best Fallout 4 mods that'll give the game an assortment of visual makeovers—they're all available to download now and, best of all, they're free.
Note: Mods are a wonderful thing and can greatly enhance your gaming experience. However, incorrect use of certain mods can result in unpleasant things like corrupt save game files and games not launching. Always read mod author's installation instructions carefully, back up save files and other important files, and proceed with caution.
True Storms – Wasteland Edition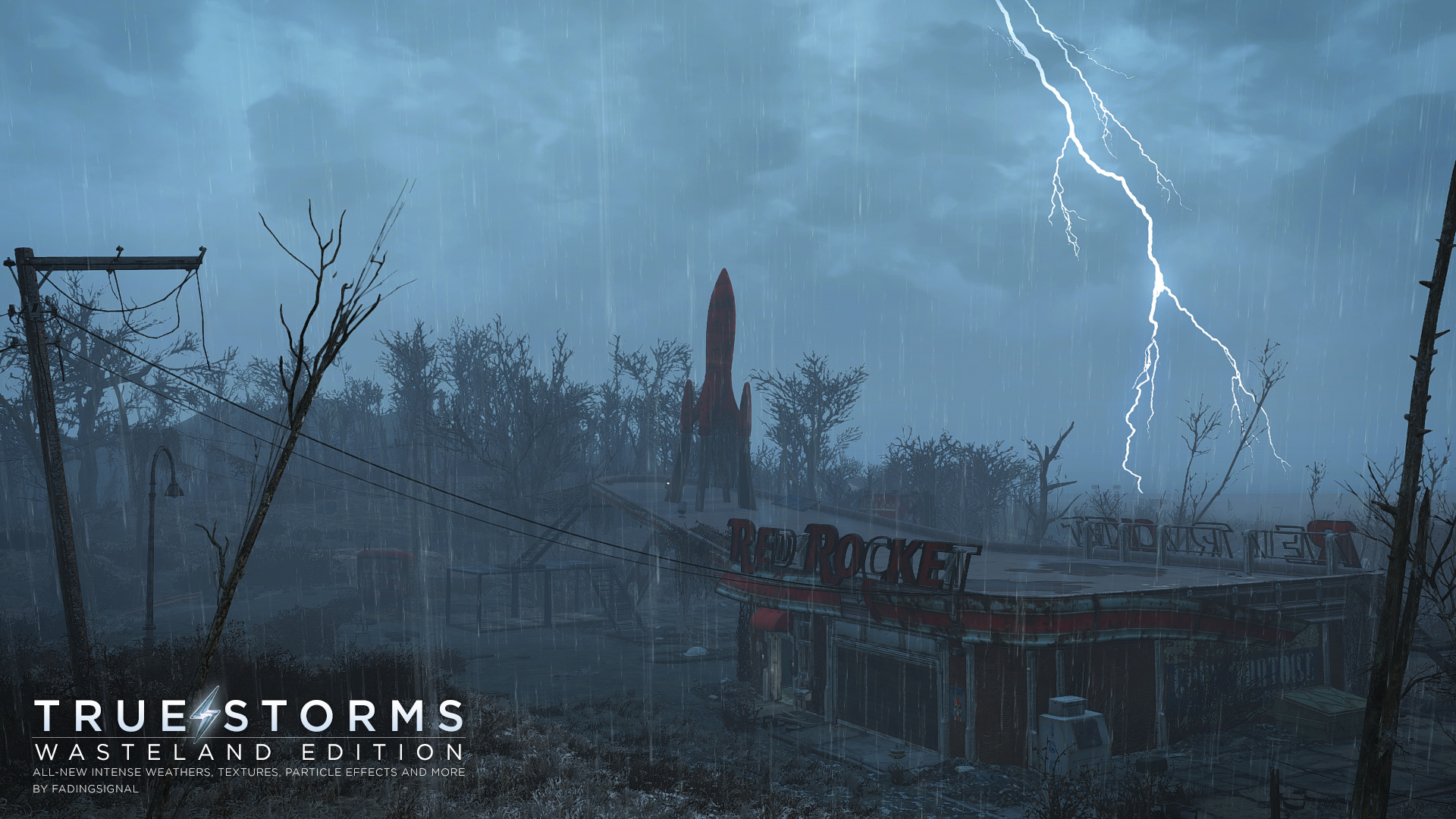 Fallout 4's weather is good, but if you've been thinking it could use a little more pizzazz then you're going to love this mod. (And if many of you may be familiar with its Skyrim predecessor.) True Storms – Wasteland Edition gives Fallout 4's storms a complete overhaul, with intense new visuals – including fork and sheet lightning, 20 new thunder sounds, new weather types including radiation rain, heavy dust storms and thick fog, and much more.
The mod also does away with the white rain you tend to get at night, with proper alpha blending and lighting for rain particles. It even adds a volume slider for thunder and rain sounds so that you can get them sounding just right with your rig.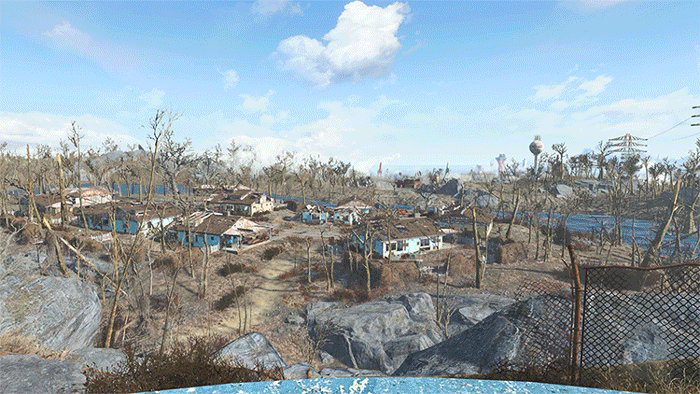 Moving Fallout 4 northeast to New England allowed the developers to give the game a much more rich and vibrant look than the blasted deserts and townships of earlier titles. However, you can take this a step further by adding seasons with the Fallout 4 Seasons Project. Created by mixing and matching different textures from various mods, it enables you play through Fallout 4 at different times of year.
There are four season packs to choose from. Fall provides bright autumn foliage and plants, plus a harvest time look for appropriate crops. Winter kills off all the foliage and dumps snow everywhere. Spring makes everything more colorful with green crops and bright blooming flowers. And Summer tones down the green a bit, has fewer flowers and adds a harvest time look for appropriate crops. Future plans include actual falling snow for winter, improved tree leaves for all seasons and possibly the ability to install all four seasons at once so that they can switch automatically.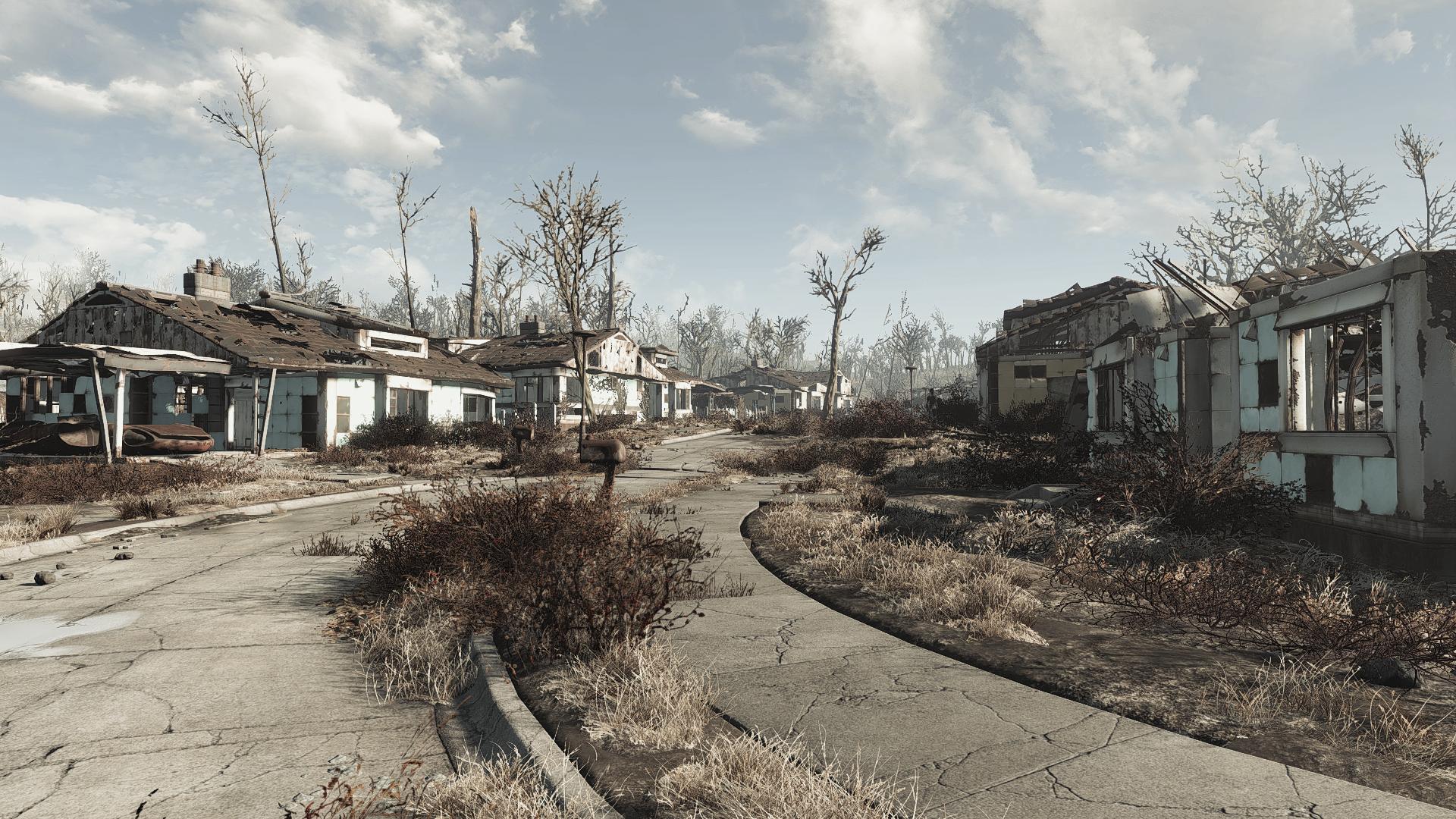 Of course, if all these bright colors are a bit much for you and you want Fallout 4 to look more like the older Fallout games, this mod has you covered. Decay is a Reshade preset that attempts to recreate the visual mood of previous Fallout games by making everything look bleaker, moodier and more desaturated.
It comes with four presets: Decay is the full-on version, giving the game a drastically desaturated and moody color change, Morbid keeps things bleak but is a bit brighter and more colorful than Decay, Mild sits about halfway between the two, and Darkay looks closest to standard Fallout 4, still desaturated but more vibrant than the others.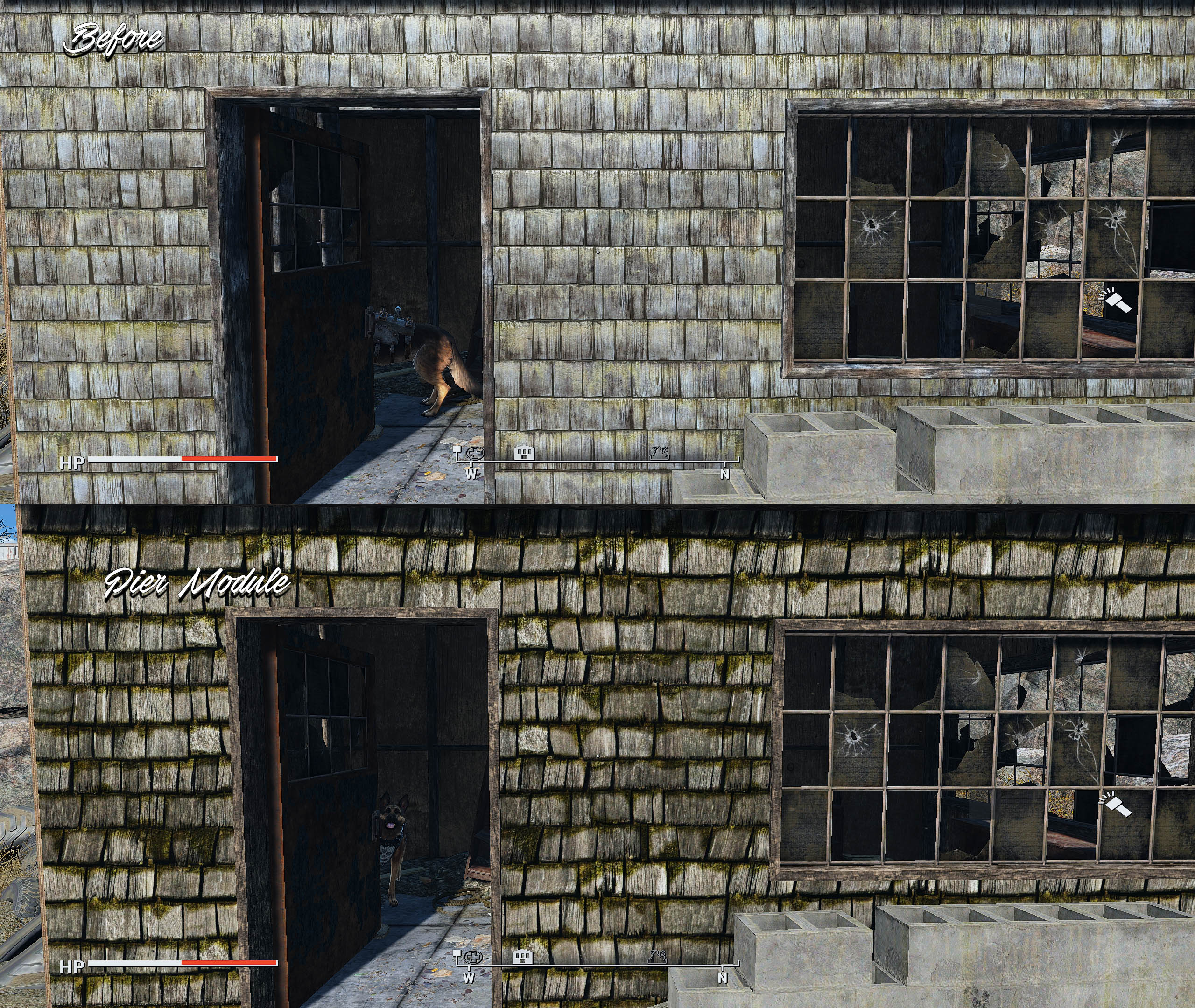 Fallout 4 looks amazing in 4K, but if you're finding that some of the textures don't cope well with the transition to super high resolutions then help is at hand.
Haul'd Out 4K is an ongoing project to overhaul Fallout 4's textures for 4K, and also updates some normal and specular maps to enhance the game's looks even more. It's being released in modules. The Pier module retextures all the game's boardwalks, pier shacks, pier stones, beach fences (as well as lobster pots in 2K). Meanwhile, the Warehouse module retextures all warehouses, greenhouses and sheds, and includes broken reinforced windows, dirty fibreglass greenhouse planters, peeling paint and rusted metal textures, and dirty cracked concrete.
Note that the Pier module shares assets from both the Warehouse and Better Settlements & Camps files, so they are now both required to get the full overhaul and have all items retextured. Keep an eye on the Haul'd Out 4K page for further updates.
Improved and Expanded Everything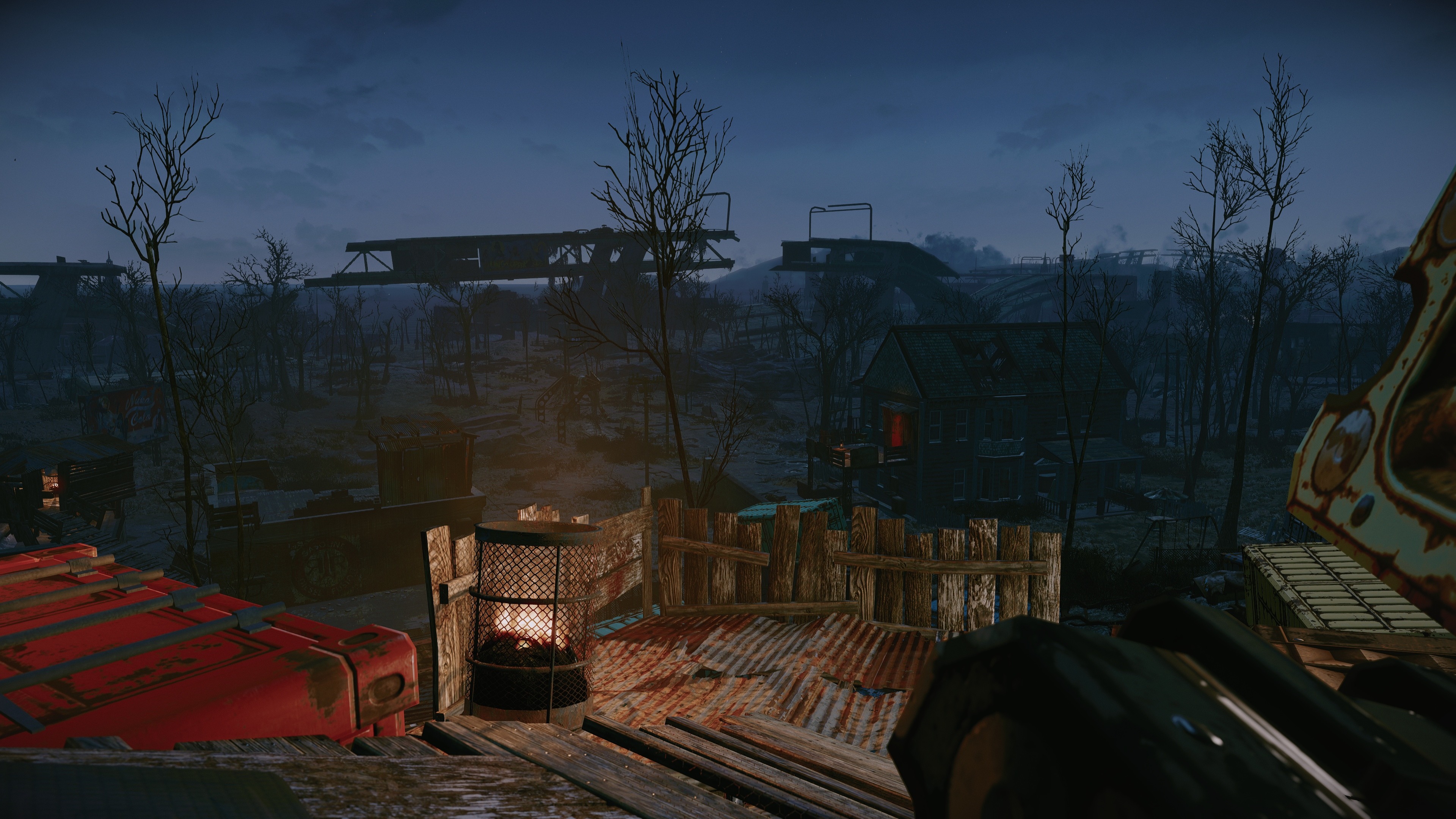 Finally, if you want to give Fallout 4's graphics the ultimate boost in one easy package, check out Improved and Expanded Everything. It's a preset for ENBseries that quite simply gives the game some visual enhancements that result in more realistic lighting and textures to surfaces in the game.
It uses processes such as temporal luminance-based sharpening, special filmic tone mapping, realistic film grain, 3D color grading, cine-bloom and S-curve contrast adjustment to thoroughly enhance Fallout 4's graphics.
For the best PC experience with Fallout 4, NVIDIA recommends you have a rig powered by an NVIDIA GeForce GTX 970 for 1920x1080 gaming or a GTX 980 Ti for 2560x1440 gaming.
Know of any other cool graphics mods for Fallout 4 or another game on PC? Tell us what your favorite mods are by sharing links or even screenshots of your modded game in the comments section below.