Our new GeForce Game Ready 378.66 WHQL drivers are optimized for For Honor, Halo Wars 2, Sniper Elite 4, and the release of NVIDIA Ansel for Paragon.
To download and install, simply fire up GeForce Experience and click the "Drivers" tab.
Game Ready For Ubisoft's For Honor
Over 3 million players participated in the For Honor open beta this weekend, and now the melee action game is on sale and available to play forever more. If you're unfamiliar with For Honor, it's a fast-paced single-player and multiplayer action game that has Knights, Samurai and Vikings competing in visceral hand-to-hand combat across a variety of game modes, which encompass everything from 1-on-1 duels to 4-on-4 scrums with additional AI enemies.
On PC, For Honor is loaded with unique PC tech that enhances your experience through the addition of new visual effects and new ways to enjoy the game. To name but a few examples, there's support for NVIDIA Ansel, a powerful tool for taking incredible screenshots; Surround and Ultrawide for immersive monitor setups; SLI for improved performance; and DSR for improved image quality. Get the complete lowdown in our For Honor PC technology article.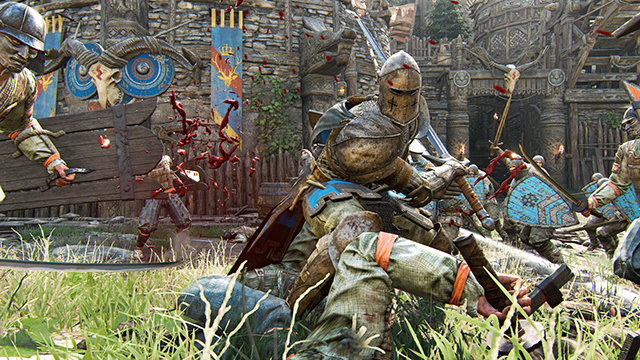 To play For Honor, Ubisoft and NVIDIA recommend the GeForce GTX 1060 for an excellent High-quality experience at 1920x1080, the most popular gaming resolution. For higher detail levels, resolutions and framerates, we recommend the GeForce GTX 1070, GeForce GTX 1080, and high-performance SLI configurations. Learn more in our For Honor GPU recommendation article.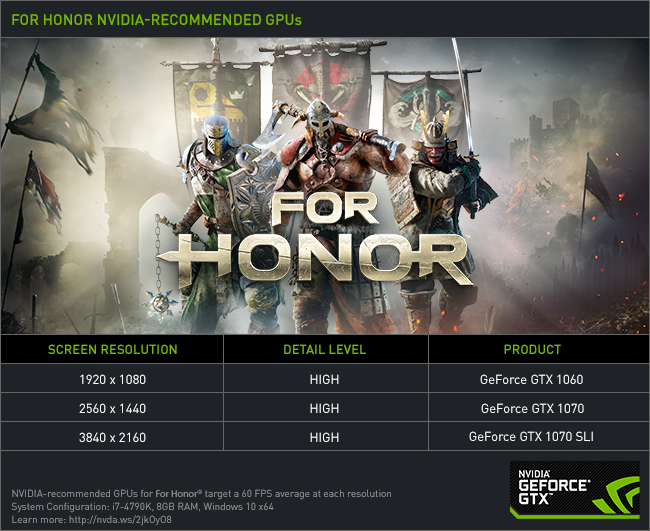 If you also need to know the CPU and RAM requirements for For Honor, they're available to peruse below, along with minimum system requirements:
For Honor Official Minimum System Requirements For 720p 30 FPS
If you're entering the fray in For Honor on a GeForce GTX system, be sure to grab the new Game Ready driver for an optimized experience with full support for DSR, Surround, SLI, and many other technologies and effects. And should you need assistance with optimizing the game's options for your system, GeForce Experience is ready and waiting with one-click optimal settings.
If you've yet to get a GPU, system or laptop for For Honor, however, please note the game is currently bundled with select GeForce GTX GPUs, systems and laptops at participating retailers. Learn more here.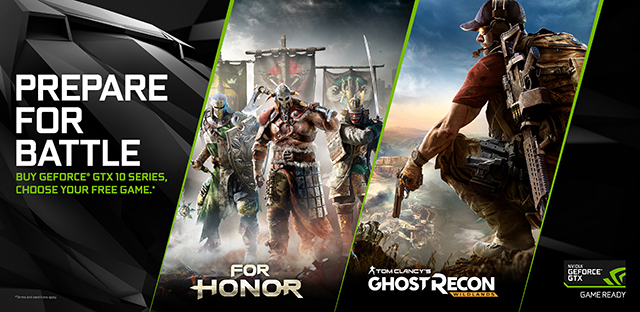 Game Ready For Paragon's NVIDIA Ansel Update
Paragon is a constantly-updated, direct-control, third-person, action-orientated MOBA from Epic Games. Today, Paragon is being updated once more, and included in the new update is support for NVIDIA Ansel, which is enabled by downloading and installing the new Game Ready driver.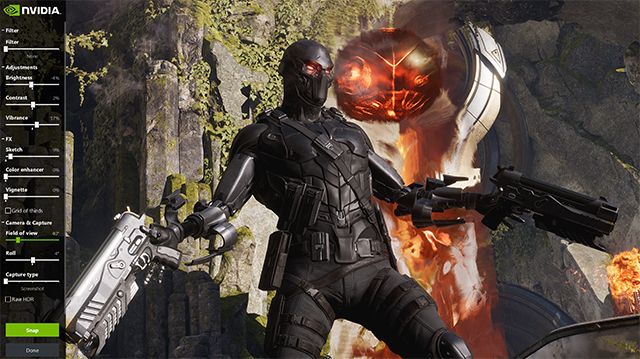 With NVIDIA Ansel you can capture personally-framed freecam screenshots, adjust the field of view and rotation of the screen, add optional Instagram-style filters, and save to shareable filetypes with a single click. Simply hit Alt+F2 during replays and you'll be able to capture incredible screenshots that were previously impossible to frame and snap. For complete details, head on over to our Paragon NVIDIA Ansel article.
Game Ready For Halo Wars 2
Halo Wars is a Real Time Strategy spin-off of the super popular Halo first-person shooters. The original Halo Wars launched in 2009 on Xbox 360, and is now available for PC, and on March 21st Halo Wars 2 will launch on PC and Xbox One as an Xbox Play Anywhere game (buy the game on one platform and you can also play on the other using cloud saves via the unified PC and Xbox account system).
Halo Wars 2 includes a cinematic and story-led campaign, and an extensive multiplayer mode, which you can learn about in our in-depth Halo Wars and Halo Wars 2 article. On the technical front, a GeForce GTX 1060 or GeForce GTX 970 is recommended by Microsoft for a high-fidelity experience.
Halo Wars 2 Official Minimum System Requirements
For the definitive experience in both Halo Wars and Halo Wars 2 be sure to download and install the new Game Ready driver.
Game Ready For Sniper Elite 4
If you like sniping World War II Nazis, Sniper Elite 4 is out now on PC. For this fourth installment the action moves to occupied Italy, and the levels open up, enabling the longest-range sniping seen to date in the long-running franchise.
For a high-quality experience on PC, the developers over at Rebellion recommend gamers arm up with a GeForce GTX 1060 or GeForce GTX 970, though if you wish to use the built-in supersampling option you'll need the more powerful GeForce GTX 1070 and GeForce GTX 1080.
Sniper Elite 4 Official Minimum System Requirements
Sniper Elite 4 Official Recommended System Requirements
For the optimal sniping experience, and one-click optimal settings, download and install GeForce Experience and the new Game Ready driver.
GeForce Game Ready Driver - Download Now
You can download the new GeForce Game Ready drivers through GeForce Experience, our free, essential, game and system-enhancing application, which also records and streams gameplay, and grants you access to giveaways.
If you experience any technical issues with the new Game Ready drivers please post a detailed report on the GeForce.com Driver Feedback Forum, where our Customer Care team can better assist you. A list of fixes in this driver for previously-reported issues can be found here.