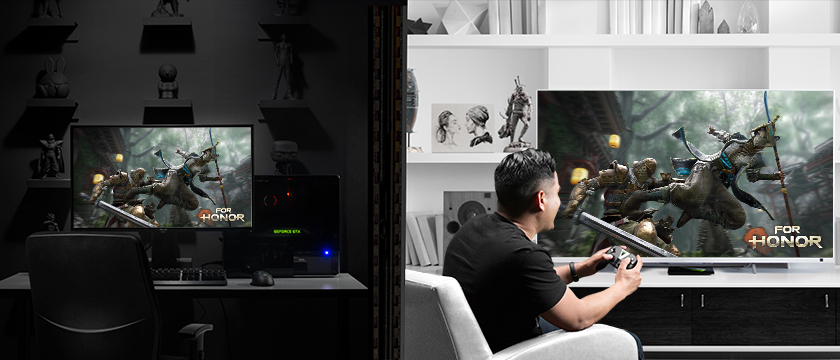 Ubisoft's For Honor has all the makings of a new hit franchise: jaw-dropping visuals, glorious action and a bevy of modes where players engage in blisteringly intense weapons-based combat as one of three historical warriors: Knights, Samurai and Vikings.
One of the best ways to enjoy the game is seated in front of your gaming monitor that's hooked up to a powerful gaming PC equipped with a high performance video card like NVIDIA's GeForce GTX 10 series graphics cards.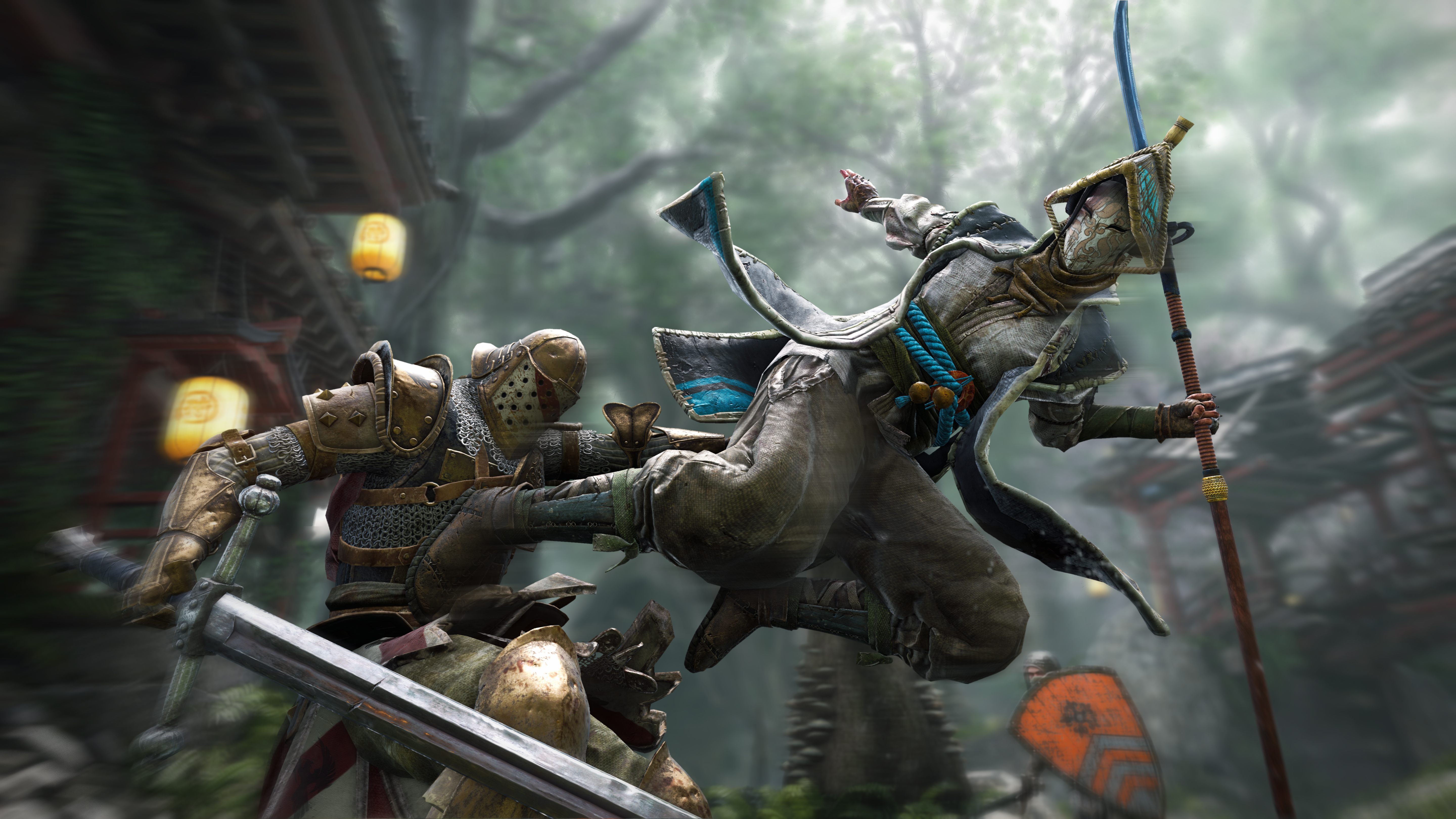 The Power of GameStream
But what if you want to dominate For Honor's virtual battlefield from the comfort of your living room, or invite a friend over to join you in the fight for glory? Normally, this would be quite a feat. It would mean turning off your gaming PC and unplugging all the strategically placed cords, but NVIDIA SHIELD TV owners don't have to suffer that fate. Thanks to NVIDIA GameStream, you can have the best of both worlds and instantly cast Ubisoft's action epic from your PC to your SHIELD device.
It all starts with your gaming PC equipped with a compatible GTX video card. This will let you experience For Honor in all its glory while also unlocking the potential to take advantage of GameStream. Here are the official minimum and recommended system requirements for playing For Honor.
For Honor Official Minimum System Requirements For 720p 30 FPS
CPU: Intel Core i3-550 or AMD Phenom II X4 955, or equivalent
RAM: 4GB
OS: Windows 7, Windows 8.1 or Windows 10 (64-bit versions)
For Honor Official Recommended System Requirements For 1080p 60 FPS
CPU: Intel Core i5-2500K or AMD FX-6350 or equivalent
GPU: GeForce GTX 1060 or GeForce GTX 970
RAM: 8GB
OS: Windows 7, Windows 8.1 or Windows 10 (64-bit versions)
In order to cast For Honor to GameStream, you will need at least a GeForce GTX 600 series graphics card and a GeForce Experience account. Make sure to download it and sign up for a free account. This handy tool will ensure you have the latest drivers to optimize your games for the best performance possible. It also gives you access to cool features like NVIDIA Ansel, which lets you capture stunning in-game 360-degree screenshots.
The next critical component is a SHIELD TV. This capable streaming device is powered by the Tegra X1 processor. It offers 4K HDR performance and lets you stream games, movies, and TV shows to your TV. It also connects to your compatible gaming rig so you can access your gaming library on your TV.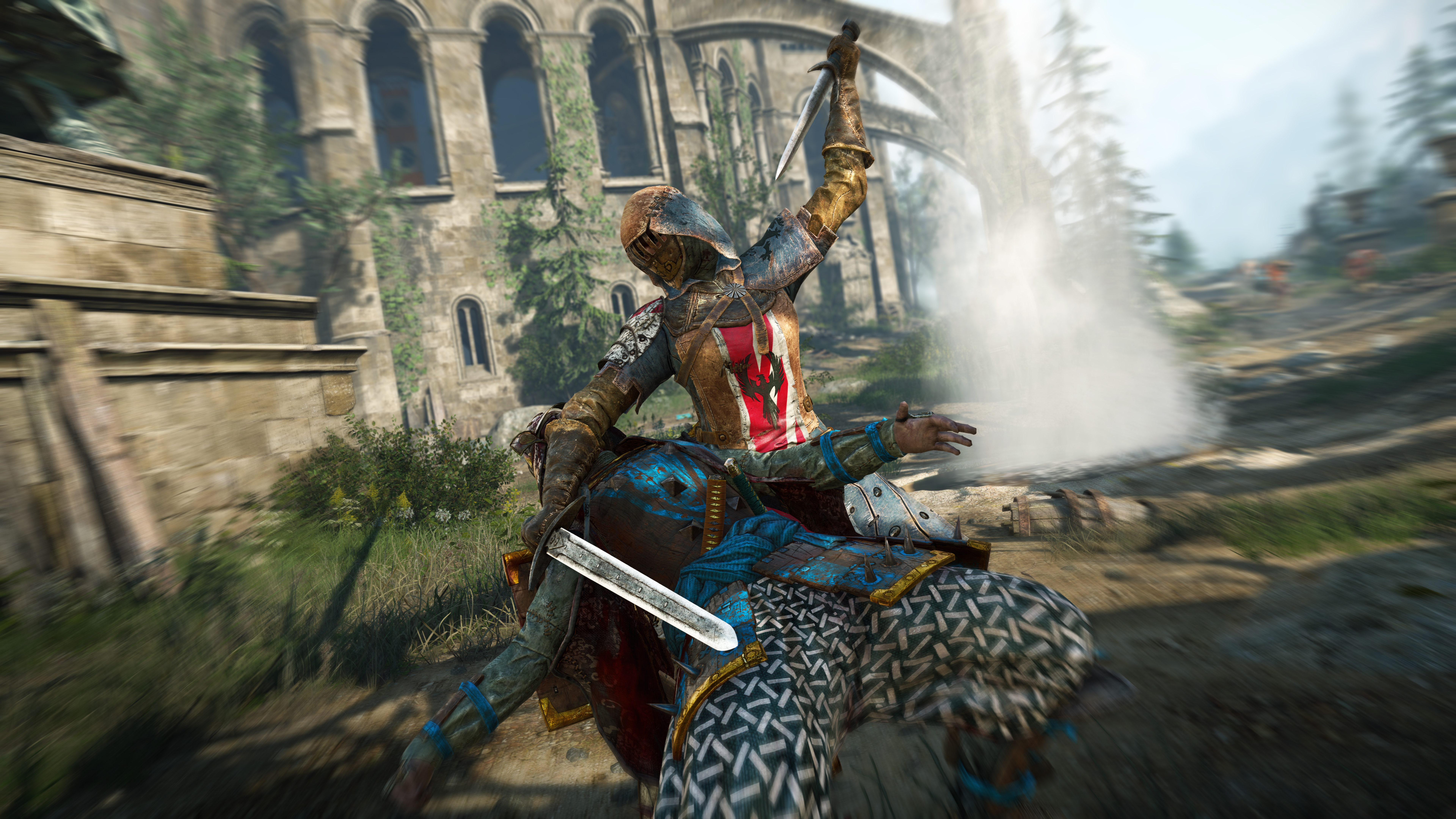 All Gain, No Pain
Once you have the setup ready, all you have to do is connect your PC to your SHIELD TV then access For Honor through the GameStream feature. For Honor will boot up and you're now free to sit back and start your virtual conquest.
You'll also feel every bone crunching blow thanks to the haptic feedback in the SHIELD controller. Feel more comfortable with a keyboard and mouse? You can hook those up through Bluetooth and get down to business. For Honor's epic soundtrack and audio effects will also shine, especially if you have a 5.1 surround sound setup.
Benefits Galore
But surely, there's some sort of tradeoff for this kind convenience, right? GameStream is designed to offer the best performance possible, so you won't have to sacrifice a thing. It leverages the power of your GTX video card and the SHIELD TV to provide a streaming experience that's both visually stunning and incredibly smooth. And it all happens over your existing Wi-Fi network, which just adds to the convenience.* A wired Ethernet connection is recommended to experience the game in 1080p at 60fps with the SHIELD Experience Upgrade 5.1 update installed on your device.
GameStream is yet another example of the many benefits that come with gaming on NVIDIA hardware. SHIELD TV owners already get a compelling combination of power and ease of use, and with GameStream, they also have the option to take high-quality games like For Honor from their gaming PC to their living room or on the go. Over three hundred titles have been GameStream-optimized, and more are coming soon. You can also manually add any game you want, so you can take advantage no matter what your favorite titles are.
*NVIDIA recommends Internet bandwidth of 10 Mbps from your PC down to SHIELD and 2 Mbps from SHIELD up to your PC. Your streaming experience may vary depending on the quality of your Internet.