Our new GeForce Game Ready 373.06 WHQL drivers are optimized for the upcoming release of Gears of War 4, Mafia 3, and Shadow Warrior 2. To download and install, simply fire up GeForce Experience and click the "Drivers" tab.
Game Ready For Gears of War 4
The eagerly anticipated Gears of War 4 is available from October 7th with a purchase of the game's Ultimate Edition, and from October 11th for everyone else and buyers of GeForce GTX graphics cards, systems and laptops bundled with the game. Designed from the ground-up with the PC in mind, there are nearly three-dozen graphics settings, numerous other configuration options for displays and input devices, and support for NVIDIA G-SYNC and other technologies.
To learn more, check out our comprehensive Gears of War 4 Graphics and Performance Guide, which deconstructs and explains each graphics setting to show its visual impact and performance cost, examines overall performance, and reveals additional information about the game that you won't find anywhere else.
If you're just looking for Gears of War 4 system requirements, however, the graphic below and our system spec article tell all.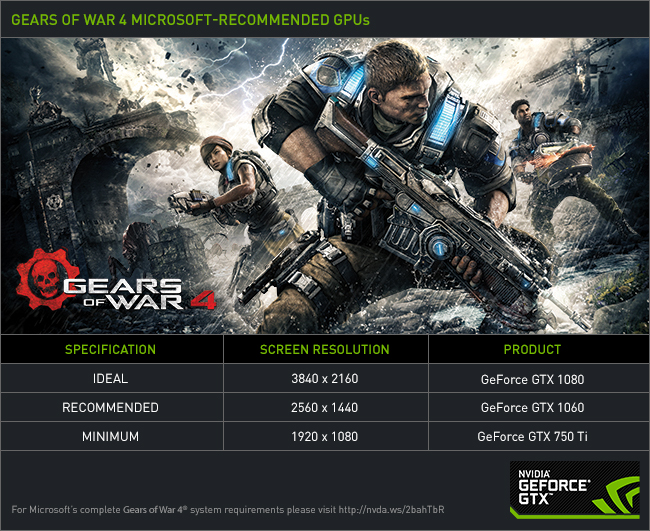 If you want to grab a GPU, system or laptop capable of showing Gears of War 4 in all its glory, select models are currently bundled with a free full game Gears of War 4 download at participating retailers and e-tailers. Learn more in our Gears of War 4 bundle article.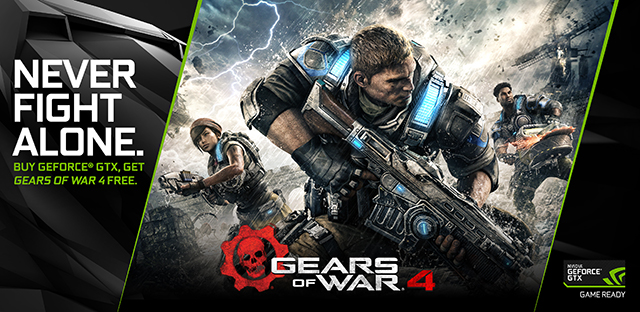 Once you've geared up and got Gears of War 4 (pre)loaded, grab our new Game Ready driver for the best possible experience. And if you need to quickly configure your graphics settings, load up GeForce Experience, our free, essential, game and system-enhancing application.
Game Ready For Mafia 3
Illusion Softworks broke new ground back in 2002, creating the unique and critically acclaimed Mafia, which combined a mature, multi-layered story with realistic driving and gunplay, and incredible open-world graphics. In 2010 Mafia II was released, and now six years later, Mafia 3 will be released on October 7th, once again delivering an engaging, mature story in a gorgeously-rendered open world.
If you're intending to take over the mob-ravaged New Orleans, make sure you download our new Game Ready driver to snag the latest optimizations for the open world action game.
Game Ready For Shadow Warrior 2
Lo Wang returns for more over the top action in Shadow Warrior 2, which slashes its way onto Steam on October 13th. And now, thanks to four-player online co-op, you can play with several Wangs at once to ramp the craziness up to eleven.
For the smoothest shooting and slashing experience be sure to grab our new Game Ready driver.
GeForce Game Ready Driver - Download Now
You can download the new GeForce Game Ready drivers through GeForce Experience, our free, essential, game and system-enhancing application, which also records and streams gameplay, and grants you access to giveaways.
If you experience any technical issues with the new Game Ready drivers please post a detailed report on the GeForce.com Driver Feedback Forum, where our Customer Care team can better assist you. A list of fixes in this driver for previously-reported issues can be found here.