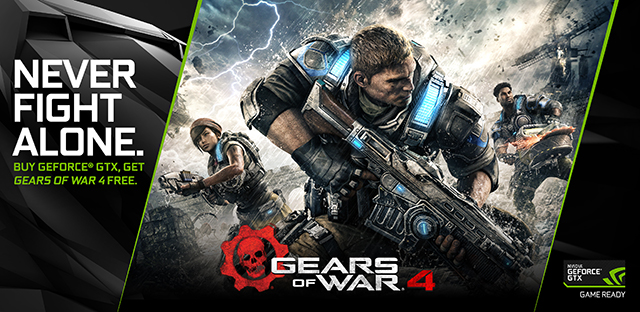 Gears of War 4 launches October 11th on both PC and Xbox One, and includes cross-platform online campaign co-op, cross-platform online Horde mode gameplay, and platform-specific competitive multiplayer. In addition, the PC version boasts enhanced graphics, support for 4K and 21:9 resolutions, and a multitude of options that enable PC gamers to customize the experience to their liking.
The Microsoft recommended GPU for Gears of War 4 is the GeForce GTX 1060, which will deliver an incredible experience on PC. But if you're looking for even more power for higher resolutions and framerates, select GeForce GTX 1080 and 1070 graphics cards, systems and laptops are now bundled with a full game download of Gears of War 4. Additionally, as an Xbox Play Anywhere title, bundle buyers can also play Gears of War 4 on Xbox One for no additional charge.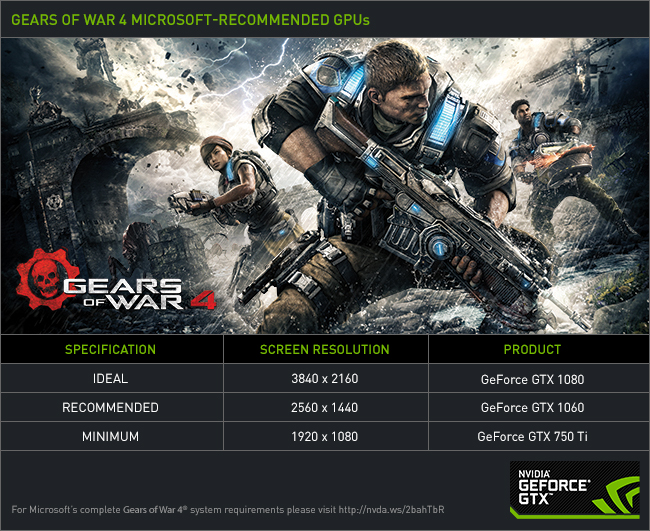 For an "Ideal" 4K Gears of War 4 experience, with everything set to max, Microsoft recommends the GeForce GTX 1080. To see how that experience looks and plays, check out the 4K Gears of War 4 PC gameplay video below.
When playing Gears of War 4, you'll be able to modify the look of the game with nearly three-dozen graphics settings, covering Anti-Aliasing, Ambient Occlusion, Level of Detail, Effects, Lighting, Shadows, Textures, and much, much more. Or if you're unsure of what they do and how they'll affect your game and performance, let GeForce Experience automatically configure them with a single click, giving you the ideal balance between performance and image quality.
The Gears of War 4 NVIDIA GeForce GTX Game Ready bundle is available now – head over the Gears of War 4 bundle landing page to discover which stockists in your country are participating, and which GeForce GTX 1080 and 1070 graphics cards, systems and laptops are included.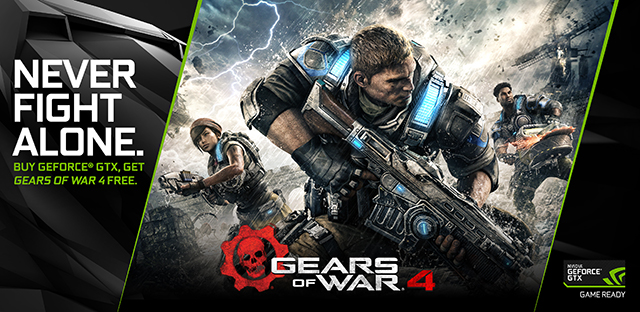 If you are buying an eligible GeForce GTX GPU, system or laptop please ensure the seller is participating in the Gears of War 4 GeForce GTX bundle; NVIDIA cannot provide download codes and coupons for purchases made at non-participating retailers and e-tailers.