Attendees of Gamescom 2016 will be the first to go hands-on with Gears of War 4 on PC. They'll get to play at 4K on GeForce GTX 1080-powered PCs, and will experience a 10-minute slice of gameplay that unveils new enemies and hands them control of new, devastating weapons.
Understandably most of you can't jump on a plane or train and pop on over to Germany for a quick visit just to play Gears of War 4, so we've teamed up with Microsoft to bring you a recording of the new demo. Captured at 4K on a GeForce GTX 1080 PC, the embedded video below gives you a near-identical look at the Gamescom gameplay demo from the comfort of your home, and an excellent taste of the PC edition of the game, which launches worldwide October 11th.
With Microsoft's new Xbox Play Anywhere initiative, buying a digital copy of Gears of War 4 allows you to play on an Xbox One or on a DirectX 12-compatible PC at no additional cost. Should you go this route you'll be in for a treat thanks to the addition of more than two-dozen graphics settings, enabling you to increase the resolution and quality of textures, effects and other game elements, and to make full use of your PC's power through the addition of dynamic super-sampling that enhances graphical fidelity when performance permits.
Those with lower-spec machines shouldn't feel left out however as the game also scales down for older hardware, as revealed by Microsoft's Gears of War 4 system requirements: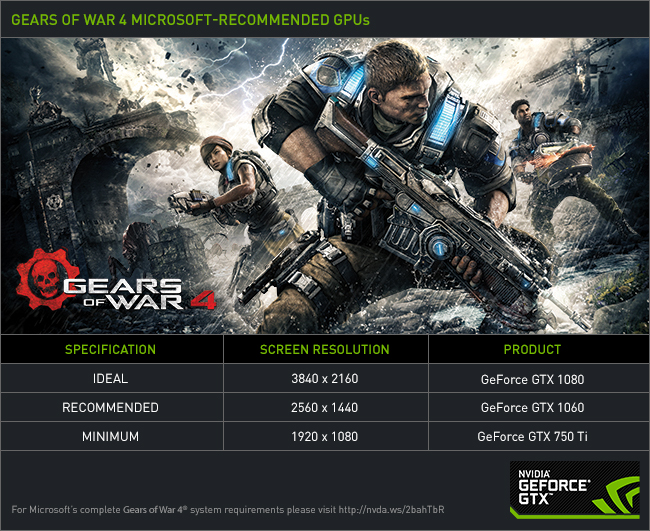 | | | | |
| --- | --- | --- | --- |
| | MINIMUM | RECOMMENDED | IDEAL |
| OS | Windows 10 Anniversary Ed. | Windows 10 Anniversary Ed. | Windows 10 Anniversary Ed. |
| DirectX | | | |
| CPU | | | |
| GPU | | | |
| VRAM | | | |
| RAM | | | |
| HDD | | | |
| Monitor | | | |
For more on the PC edition of Gears of War 4 stay tuned to GeForce.com and the NGN YouTube channel - our team are on the show floor at Gamescom and will be bringing you interviews and more for Gears of War 4, and other Microsoft PC games.