GeForce Experience is the easiest way to update your drivers, optimize your games and share your victories. It's used by tens of millions of gamers worldwide, and today we're releasing a beta of the new GeForce Experience, featuring a top-to-bottom redesign, improved features, and more.
To thank GeForce Experience users for testing and providing feedback on the beta, we're holding weekly giveaways of the GeForce GTX 1080, the world's fastest and most advanced graphics card. Simply log in to the new GeForce Experience beta with your NVIDIA account and keep an eye on your email to see if you've been selected. Also, check back often for new rewards, including game codes, early beta access for upcoming games, and more.
Also, keep an eye on GeForce.com over the coming months for more exciting news on feature updates and giveaways. In the meantime, let's take a whistle-stop tour of the new GeForce Experience.
New Fast and Lightweight User Interface
Every element of GeForce Experience has received a makeover in this new version. We've simplified the Home Page with a modern user interface, made information, games and Optimal Playable Settings accessible with a single click, and accelerated every action. And behind the scenes, the new GeForce Experience uses 2X less memory and loads up to 3X faster.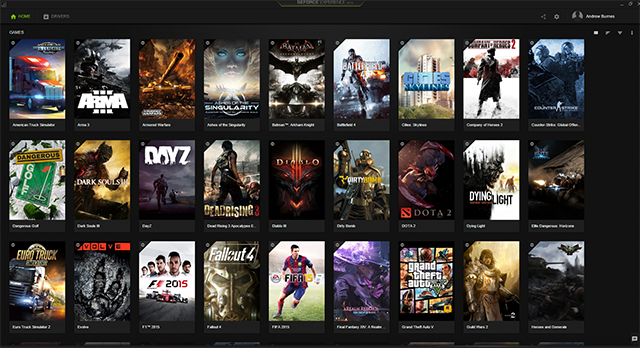 Learn About Game Ready Drivers & See The Latest News From NVIDIA
With 90% of GeForce GTX gamers downloading driver updates through GeForce Experience, users can now learn about the games optimized in each Game Ready driver directly from the Drivers tab, and read other recent stories from NVIDIA.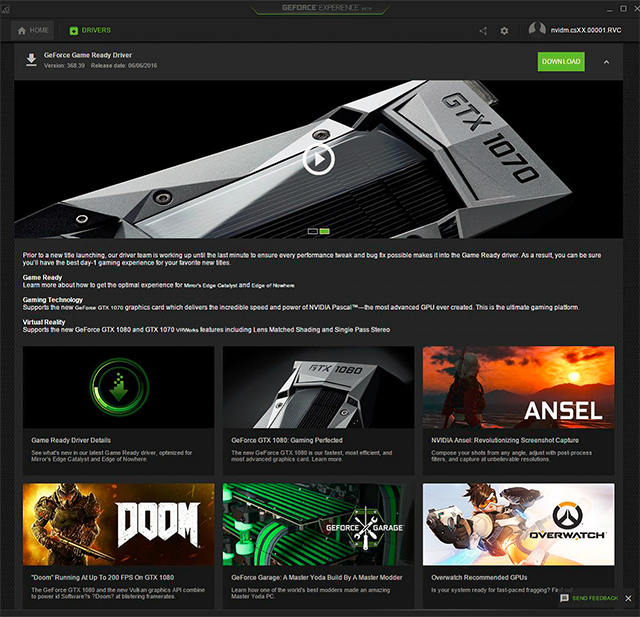 GeForce Experience Share
If you're upgrading from the public branch of the original GeForce Experience client, you'll discover the much-loved ShadowPlay has been upgraded to the even-better Share Overlay UI.
The features shown in the above video were enhanced in October 2015, December 2015 and January 2016, and have been refined further still for the new GeForce Experience. Now, GeForce Experience can record gameplay at 60 FPS, at up to 4K, in fullscreen and windowed modes, and upload a complete or trimmed clip to YouTube; livestream to Twitch and YouTube Gaming at 1080p60; capture and edit screenshots, and upload them straight to Imgur, without leaving the game; show your FPS during gameplay; and let a friend jump into your game via Chrome to either watch, take control of your character, or play in co-op. And from today, these features are all available on Optimus notebooks, too.
Automatic Entry For Rewards, Game Codes, Early Beta Access & More!
With the new GeForce Experience we're introducing an accounts sign-on that will make users automatically eligible for game and hardware giveaways, grant users access to new game betas, log them into GameStream, and more.
To sign-in you can either use an existing Google account, or can create a new account with NVIDIA. This account is a single sign-on across GeForce Experience, SHIELD and GeForce NOW.
The New GeForce Experience: Download The Beta Now
If you're already using GeForce Experience 2.0 Beta, simply check for updates in the client itself to download and install the new GeForce Experience beta. If you're coming from the original GeForce Experience, download and run the GeForce Experience Beta installer from GeForce.com.
And if you have any feedback or feature requests for the new GeForce Experience please send them to us via the feedback form on the bottom right of the GeForce Experience 3.0 window, or leave your comments in this GeForce.com Forum thread.
This is just the start for the new GeForce Experience. We can't wait to show you the other exciting features in development!